In this special report, Iggy Swind and Sophia Bigg-Storm find out what the famous crime-busting Meddling Kids – Scooby-Doo and Friends – missed when they caught Flagman trying to pull a political swifty. Swind and Bigg-Storm reveal who Flagman really works for and what his prime puppeteer, Jon van Smille-Ling-Assassin, didn't want Nu Zillun's Kiwi Tax Flock to see going on behind Flagman's epic flappy-flag theatre. [Contains adult themes. 8 minute read]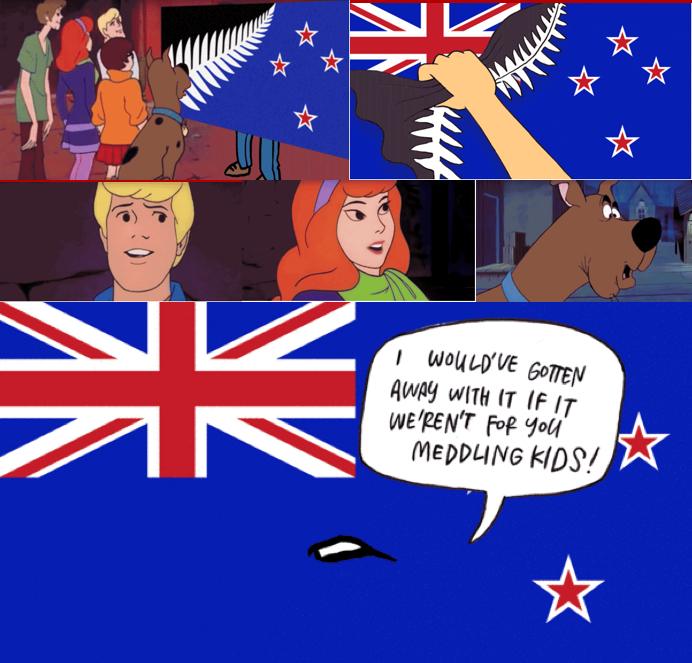 Reporting by Iggy Swind and Sophia Bigg-Storm
The Meddling Kids just didn't understand why Flagman wanted a new flag face so bad.
It seemed so brazen to the Meddling Kids that Flagman would attempt to get the Kiwi Tax Flock of the South Pacific tax haven called Nu Zillun to not only vote for a new flag, while he tried to swindle them with his planned $1.3 squillion face transplant operation.
But there was even more brazen to come than the Meddling Kids had deduced.
Scooby-Doo and Friends figured out only the surface layers of an egg so golden it would have made the Fee-fi-fo-fum Giant up the beanstalk cream his industrial revolution-era jeans if he was still around – but for Jack and his 'fucking axe'. More specifically, it was Scooby-Doo's famously unshaven friend Shaggy who saw that had Flagman succeeded, all of the Queen's insignia, all of the Queen's official tax haven state uniforms, and all the Queen's flappy flaggy-ensigns would have had to go.
"Look out Kiwi Flock", Shaggy said chomping on a cheeseburger, "here comes the Great Big Daddy Taxdock."
The clue to the real intent behind the now-defunct ruse to change the Nu Zillun Tax Farm's flappy flaggy-ensign can be arrived at with a little thinky-logic. If you contemplate all the news stories a new flag would have generated in the Make-Real World – had the majority of Nu Zillun's Kiwi Tax Flock voted for the proposed 'Beach Towel' design instead of the old 'Colonial-Suppression-of-Rebel-Natives-Who-Wouldn't-Take-a-Land-Grab-Quietly' flappy flag – you see an incessant PR exercise, right? It would have been like the creepy Kiwi Tax Uncle that some Kiwi Tax Chicks always remember for leering at their bits when they were little and naked, playing in the City of London Corporation's sand. The new beach towel would have cued surfacy conversations for those caught under the creepy Kiwi Tax Uncle's spell like the CIA's zombie-fied MK-ULTRA Tax Flock victims.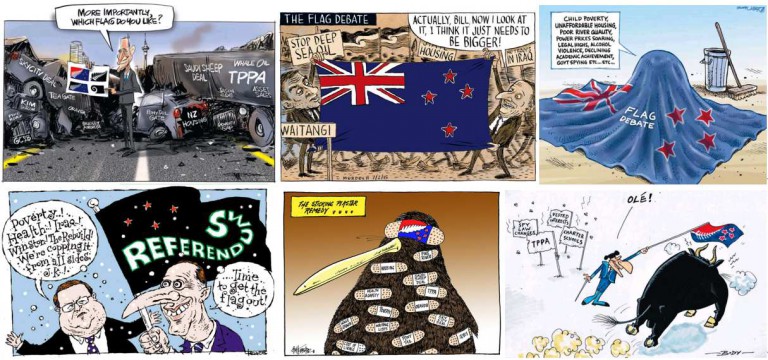 While several special investigators wielding colouring-in pencils found that Flagman has used his Flag Change Campaign to get his political puppet, Jon van Smille-Ling-Assassin, to front what looked like a PR exercise run by egotistical school prefects competing to be selected for school captain, their 'cracked-the-case' colouring-in pencil efforts did not make the front-page lead-story nightly 'news' that they deserved. In a world becoming over-populated with the Undead after every mediocre 'news bulletin', it seems epically incredible that these Special Pencil Agents found van Smille-Ling-Assassin had not only deployed the Flag Change Campaign like a banker conjuring credit from almost carbonless air – that is, with brazenly magical confidence tricks.
The Special Pencil Agents also found that the flappy Flag Change Campaign was patented as a communications device designed to work as a mechanism of distraction.

It turns out, Flagman and his friends of the Crooked Posh Class that live high up on the Them-There-Hill-Streets-with-Views have surveyed the Kiwi Tax Flock's thinky-thoughts across the Nu Zillun Tax Haven-scape by issue and demographic over Relentless Polling Time. With this thinky-thought data they have created a psychic map they call Kiwi No-Brainer to better manipulate the Kiwi Tax Flock's thinky-minds.
Professsor of Monkey Wrench Communications Sigmund Pasifeck at the University of Tāmaki Makaurau said, "It helps that Flagman and his Tax-Averse Crooked Friends are assisted by the Invertebrate Media Missionaries who – without fail – neglect to test for STDS [Standard Tactical Deceptions] when making the longest serialized and most widely-syndicated political soap: The News."
"So, all the discussion over the merits or their lack in various designs", continued Pasifeck, "the 'flawed' process and seeming lack of purpose, the 'We need a new one to differentiate ours from Stralia's Flag' and the 'Our Maturity as Tax Stakeholders' drivel-as-rhetoric, worked successfully to consume most of the Kiwi Tax Flock's attention time." Pasifeck added that the flag change campaign distracted the Kiwi Tax Flock from "many important issues, the whammy of them all being – the Trans-Pacific Mega-Cartel Treaty. That's the tricky essence fluid of Flagman's creepy narcissistic flappy-flaggy theatrics."
The majority of voting-age Kiwi Tax Flock did not know that while their attention was drawn to the Flaggy-ensign Referendum, "a stingy month-long window for flock submissions on the Trans-Pacific Mega Treaty quietly passed", said Pasifeck.
The passage of the Trans-Pacific Mega-Treaty toward ratification into law is being managed by Trans-Pacific Rail Inc., who brag on their website that they are 'Railroading Legislation Specialists'.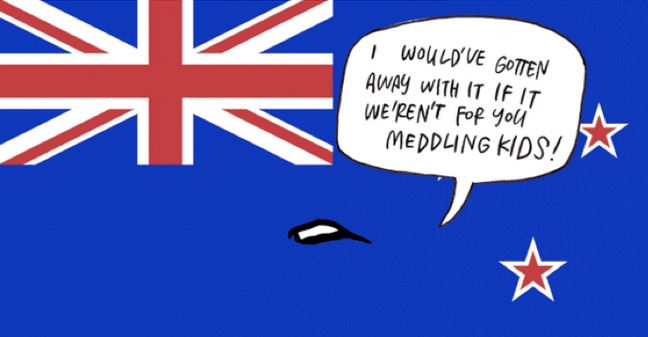 School of Dis-Empirement Studies Doctor Felicity Fingerprints at Dettonfeeze University said, "Flagman needed such a brazenly epic trick to get the Trans-Pacific Mega-Treaty over the line". Fingerprints, who knows the dangers of Standard Tactical Deceptions only too well, stated wryly, "STD's are often about what is omitted from an official treaty document such as the six squillion page vault door-stopper TPM text, as the native Maories of Nu Zillun well know."
Fingerprints said the transformational Trans-Pacific Mega Treaty is part of a broader, longer-range geo-political vision designed to position the Federated Tax Haven States as the pivot state upon which the emergent transnational empire turns. "Democracy is being off-shored", added Dr. Fingerprints, "to consensus-shaping global policy-planning Tax Shepherds who intend to permanently lock-in changes at an international or supranational level. The smarty-pants term for it is new constitutionalism. Their intention is, We, the Tax Flocks, fixed by place, and indigenous Tax Flocks, marginalized from their own ancestral lands, will be ushered into new enclosures, without enough of us understanding what's happening."
The School of Dis-Empirement Studies doctor says she laments the absenteeism of her famous Tax Flock students. "If only Scooby-Doo and his Friends would attend more of my lectures instead of cruising in their campervan, they would know that Flagman is the local agent of the Atlantic-Oceania Octopus that is fastily morphing itself into the weirdest empire in the sparkly starry UnFederatedVerse", Fingerprints sighed. "Historically, regimes get a new flappy flag when there's been a significant power shift. Flagman and van Smille-Ling-Assassin couldn't express a visionary purpose for the flappy flag change campaign, because the game would've been up."
Monkey Wrench Communications Professor Sigmund Pasifeck agreed with Doctor Fingerprints. "Without a new flag face", said Pasifeck, "Flagman's narcissistic ego will be traumoured. This defeat will turn Flagman into a loose cannon, so he'll be ignored while all the other functional psychopaths of the Atlantic-Oceania Octopus decide what to do with him. Being ignored is Flagman's biggest fear".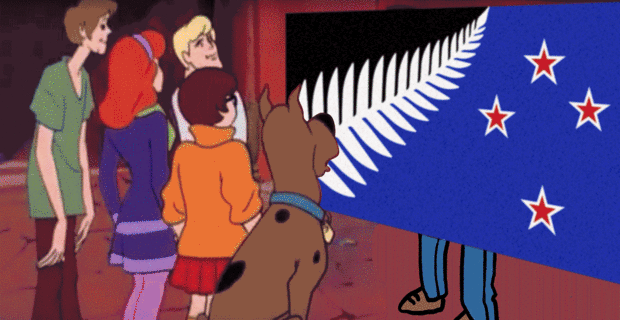 Looking out from her office window across the Waitemata Harbour at the lava-oozing volcanic island of Rangitoto, Doctor Fingerprints said, "I anticipated our famous friends would go off half-cocked. It's a problem because famous people can create more harm because they don't get the full extent of the problem". She added, "Scooby-Doo and his Friends have a profile, which means they can easily get the Invertebrate Media Missionaries to pay them fleeting attention. But, most Tax Flock Kiwis don't have Media Pulling Powers."
"So, after an experimental field trial over the summer", said Doctor Fingerprints with a beaming killer smile, "Our School of Dis-Empirement decided to teach a 'Dildo Offence Exercises Master Class' this semester." Fingerprints recalled a now-famous incident where one of her post-graduate students, Bunny Pitcher threw a sex toy at Flagman on Waitangi Day while yelling out, 'That's for screwing our democracy'.
The news footage went viral and was lampooned by comedian Jamie Gulliver on an American news-as-comedy show after Flagman had tweeted, "Someone send the gif to Jamie Gulliver so the whole world can see the lengths our Tax Kiwis go to so they can pull our media puppets strings". Monkey Wrench Communications Monkey Wrench Communications Sigmund Pasifeck said pleased to have the chance to talk about his favourite media phenomena, "We call these kinds of tactics 'crashing the news'".
Dr. Fingerprints stated the School of Dis-Empirement at Dettonfeeze University's History Department are normalizing organically spontaneous free-range disobedience behaviours. "It's crucial the student Kiwi Tax Flock learn the importance of arming themselves with dick toys, regardless of their sexual preferences", said Felicity Fingerprints. "In an era where the puppet string-assisted Invertebrate Media Missionaries actually block reasoned debate and prefer a cage fight over showing the nuances of a protest", Fingerprints stated with a raised eyebrow, "our history faculty believes Kiwi Tax Flock students need to learn how to take effective political risks with the dick sex toy if they are to pursue their free-range aspirations, preserve their flock rights and fight for a future that has dignity as its bedrock."
In the absence of Scooby-Doo and Friends from Dr. Fingerprints' Dis-Empirement classes, it seems that those Tax Kiwis Without Profiles (TK-WOPs) who don't want to join the Undead are all going to have to learn how to accurately wield a rubber dick. "The entire history faculty feels" added Fingerprints with a smirk, "that Nu Zillun's cast of political puppets, media missionaries and tax-averse super-rich oligarchs are asking for a season of serial dildo gob-smackings."
=========================
Iggy Swind and Sophia Bigg-Storm are alter-egos of Snoopman. By day, Snoopman toils as an undercover Tax Slave editing TV news in the South Pacific Tax Farm of New Zealand (known locally as Nu Zillun Inc.). By night, he transforms into the New Zealand Tax Farm's first media superhero, whose superpower is seeing through propaganda.
=========================
Thanks to the Special Pencil Agents: Rod Emmerson, Sharon Murdoch, Body, Malcolm Evans, Hubbard, Moreu, Trace Hodgson and Toby Morris.
Inspired by the hilarious Scooby-Doo rework by Special Pencil Agent Toby Morris
Related article: Insufficient Consent: John 'The Matador' Key's Flag Deception