Claims that Europeans 'discovered' lands in the 'New World' that were either already inhabited or known to indigenous and seafaring peoples have long confused think-u-lating people all around the world.
They need not be perplexed anymore.
A professor of colonial history at the University of Aotearoa has told an audience of sailors at the Royal New Zealand Sail-Tub Club why exactly Cook hoisted flags on the two largest islands of Māoriland and why it was crucial that a completed map of his 1769 voyage were published upon his return.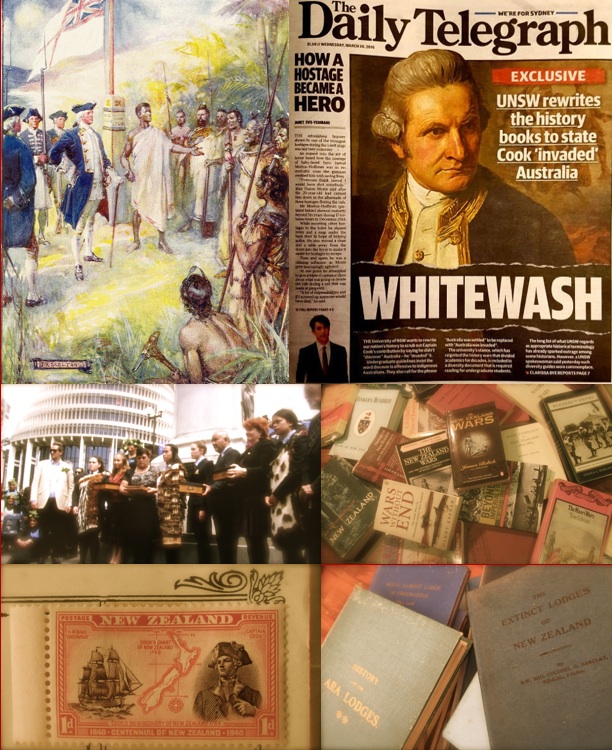 By Sophia Bigg-Storm and Iggy Swind
New Zealand's maritime history has struck rocks with revelations made by a University of Aotearoa professor, Professor Ika Pounamu, during a dinner speech to the Royal New Zealand Sail-Tub Club. The shock was not simply that a university professor would say something forthright about New Zealand's colonial past to the Royal New Zealand Sail-Tub Club in Auckland on April 8.
The shock was that the professor laid bare the secret mechanisms of empire to a host audience that knew more about knots, sails and navigational signals than the secret meanings behind 'discovery rituals' performed by Captain James Cook.
Professor Ika Pounamu revealed to the Royal Sail-Tub Club audience why exactly Captain Cook had laid claim to what came to be imaginatively called 'the South Island' and 'the North Island' – in the name of the Britannic King George III. Mixing with the Royal Sail-Tub Club members was a Who's-Who of Those-Who-Only-Sail-If-Someone-Happens-to-Be-There-Who-Can-Take-Professional-Photos-for-Immediate-Publication – and representatives of 13 Auckland iwi, who were invited because the club had realised it was high-tide-time they made friends with the tangata whenua of Tāmaki Makaurau.
However, the professor's speaking engagement was the result of a last-minute call-up after Heemi Kereopa, who was booked to present on the topic of waka-tanga, had to pull out due to an unscheduled family bereavement. President of the Royal New Zealand Sail-Tub Club Geoffrey Cedarspar said, "we asked our Māori neighbours if they would consider joining us as a combined crew in the annual Auckland Anniversary regatta on the Waitemata Harbour. And Ngāti Whātua said, first we need to become familiar with waka-tanga [or the culture of Māori canoes and sail-tubs].
Cedarspar said several club-members were appalled recently by the Kiwi Manipulator survey on DeathStarTV's website that had gained infamy over a "dog-whistling statement that suggested Māori get special treatment". Cedarspar leaned into us as though he was divulging a state secret that threatened national security, "The statement should've read, 'Class-based special privilege is rife among Pakeha Rich-Listers in the New Zealand tax haven'. Do you agree or disagree?' "
Professor Ika Pounamu kicked off his speech by announcing that one of his peoples' great strengths was their humour. He told the sailor-sprinkled audience, "us Maoris have long-joked that Europeans in a more enlightened time would come to see their 'superior forebears' the way 'the natives' came to see them." He reminded them his people had been ridiculed for being an uncivilized grass-skirt wearing race of savages. "To my Pakeha brothers and sisters gathered here tonight, your forebears failed to see that their own patriarchal forebears, such as those in Cook's time, were indigenous culture-destroying imperial schemers who wore sissy stockings".
At this point the 70 year-old professor, with the physique of a fit man of fifty, stripped off his clothes while his son and daughter held up a weaved mat that depicted his whakapapa. Pounamu put on a grass skirt and when his children took away the mat, the audience's amusement turned into a raucous laughter because all along he had been wearing white stockings like that of Captain James Cook in the picture on the wall behind him. Geoffrey Cedarspar said everyone was hooked by this piece of theatre.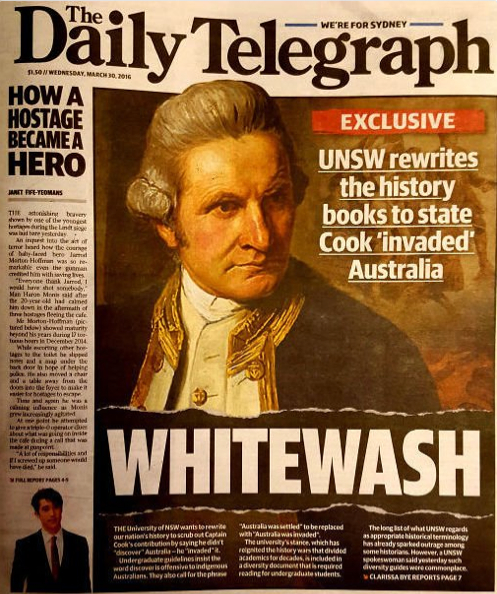 The professor's speech came soon after the Sydney Daily Telegraph had published a story headlined, "UNSW rewrites the history books to state Cook 'invaded' Australia". The newspaper had claimed that the University of New South Wales was advising its students to whitewash Australia's colonial past, because the tertiary institution had produced a teaching 'toolkit' that suggested students use words such as 'invasion' to describe the British 'discovery' and 'settlement' of Australia. A Sydney-based DJ, Kyle Sandilands chimed in on his radio show, saying: "All the flogs at uni reckon we invaded the joint … I'm not interested in who was here first and who did what, get over it, it's 200 years ago."
The professor's audience learned that colonial history scholars have found that the secret society of Freemasonry was used as a mechanism to spread the British Empire. Amid a handful of gasps around the room, the professor of colonial history said that Freemasonry, in turn, spread through the British Empire mostly through the military regiments, including the navy, as Jessica Harlands-Jacobs showed in her thinky-book, Builders of Empire: Freemasonry and British Imperialism, 1717-1927.
The Royal Sail-Tub Club audience heard that Captain Cook's secret instructions for his Endeavour voyage of 1769 were that he was to take possession of land with the "Consent of the Natives" and if he found the country uninhabited, he was to set up "Proper Marks and Inscriptions as first discoverers and possessors".
Pounamu noted Cook, who was not a Freemason, performed discovery rituals at two places in 'Queen Charlotte Sound', which is located at the top of the imaginatively-named South Island – or Te Wai-Pounamu, as Cook recorded the Māori name on his map of New Zealand. Cook performed a similar discovery ritual at a place he named Mercury Bay on the coast of the Coromandel region in the equally imaginatively named North Island. Pounamu eyed his captive audience through his jade-rimmed glasses, saying: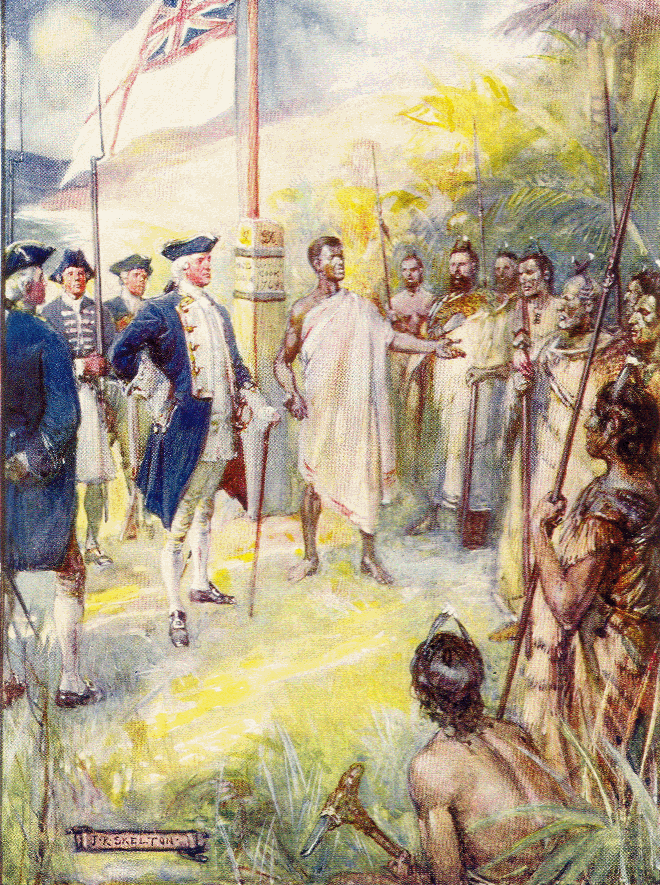 "At the highest point of a small island in Queen Charlotte Sound, located at the top of Te Wai-Pounamu, Captain James Cook cast my ancestors as inferior savages, unworthy of political rights over their bushy and coasty lands. Through his Tahitian navigator and interpreter, Tupaia, Cook actually asked a so-called 'old Indian man' if it was alright to erect two wooden poles with flags so that any ships that may pass would know these sailors had been there. Upon raising the Union flag, Cook then had the cheek to claim to take possession of the southern Māoriland in the name of King George III. Cook brazenly toasted with Māori and he gave the 'old Indian man' – a Māori chief – the empty wine bottle, to whom he had already given a threepence coin, which was the going rate for purchasing an acre of land off natives throughout the empire, and some spike nails with the King's arrow cut deep upon them".
The Masonic-filled London Royal Society persuaded the Lords of Admiralty to sponsor the Endeavour voyage, Pounamu stated. It turns out, a consensus was reached long ago by a secretive historical society known as the Dusty and Spidery Historical Archives of Masonic Intrigue and Native Subjugation that Cook dealt with the "consent issue" in a "rather rough and ready way", and that he had "overstepped his instructions". Pounamu said, "Cook hadn't. The Lords of the Admiralty were very clear that the British Empire had to beat other rival powers seizing any new great territories'".
In other words, Captain Cook's secret instructions, which were not published until 1928, were to slyly trick 'the natives' into saying 'yes' to raising red, white and blue coloured British flags (a novelty Māori would grow weary of). Cook, who had distinguished himself for his navigational charts of the St. Lawrence River during English Freemasonry's Seven Years War against French Templar Masonry for control of Quebec, was in no circumstances to explain the Venetian-influenced British Masonic Empire's history of conquest by stealth, the centuries-long struggle between French Templar Masonry and English Freemasonry, and nor the Doctrine of Discovery to any 'savage' race he might encounter, Pounamu told the Royal Sail-Tub members and guests. Pounamu added:
So, in essence, Captain Cook was a sissily-costumed Masonic puppet, and a sly-as-a-City-of-London-Corporation-bond-trading trickster, who 'gained consent' of 'te natives' by a deceptive construction upon the circumstances based on the absence of full disclosure".
Indeed, Cook viewed New Zealand, located about 13,000 miles from London, as a base for the British Masonic Empire in the South Pacific Ocean, which still needed to be cleared of ship-chomping, sailing-burning, fire-breathing teethy sea dragons by 'whalers' to make the seas safe for class-based British commerce, Pounamu said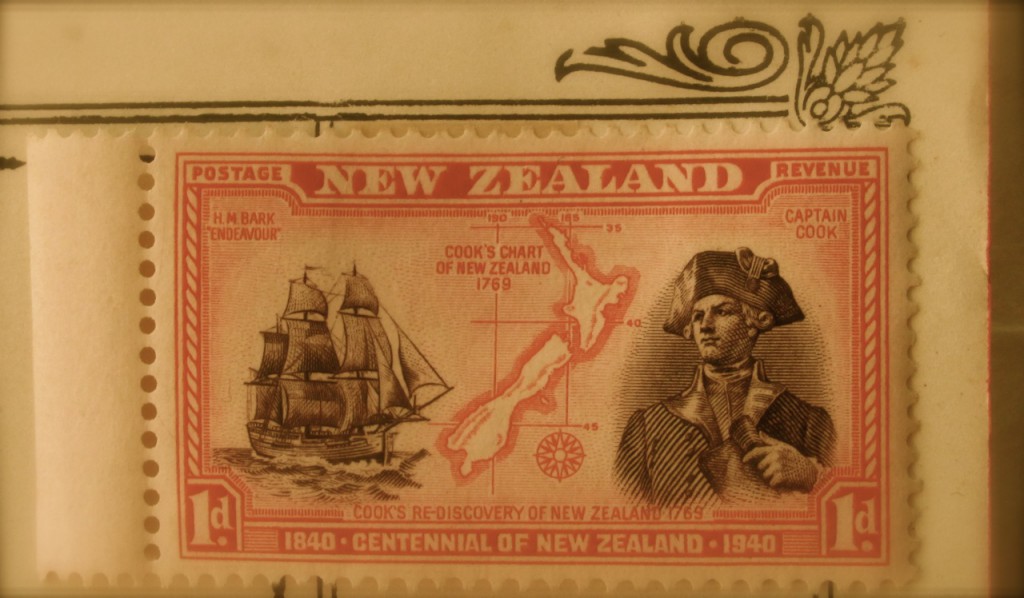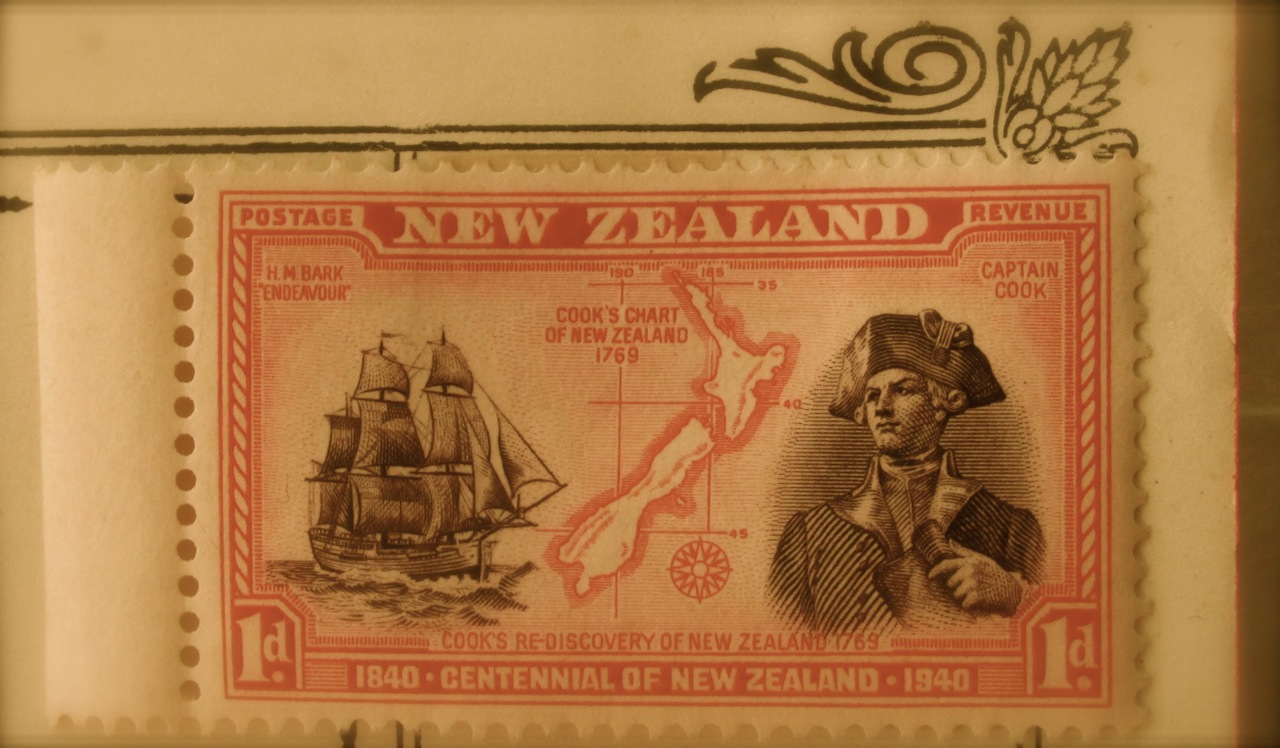 It turns out that Cook's 'discovery rituals' were one of ten elements of a secret international law agreement that was reached between European nations at a time when they were forming empires. The Doctrine of Discovery, which has been operational since the 15th Century, was designed to mitigate the chances of competing nations making expensive war with each other. It was thought it would easier to gain territory off savages who lacked full political rights because they were not Christians busy cutting vast swathes of forests for sheep and cattle to graze, as discovery scholars such as Professor Robert J. Miller, who published his findings in a thinky-book titled, Native America, Discovered and Conquered – have found. To this end, it was crucial that Cook's map of New Zealand be published to complete the 'First Discovery' began by the tardy Dutch explorer Abel Tasman.

The timing of the Aotearoa University professor's contentious last-minute dinner speech also came in the wake of a thinky-debate carved by an almost 13,000-signature petition, presented in wooden boxes by school students to politicians outside the Masonic-designed iconic Beehive building. Their petition called on the New Zealand government to include the teaching of the New Zealand Wars in the nation's learning-by-rote school curriculum. Despite the government declining to heed the petition, with an ironic logically flawed dumb-dumb argument that it wouldn't be right to "force schools" to teach the history of imperial-colonial military force to subjugate he tangata Māori, Professor Pounamu said that the New Zealand Wars, which took place between 1845-1872 across several regions in the 'North Island', "needed to be taught in all desky-schools, regardless of their socio-economic decile privilege, or its absenteeism".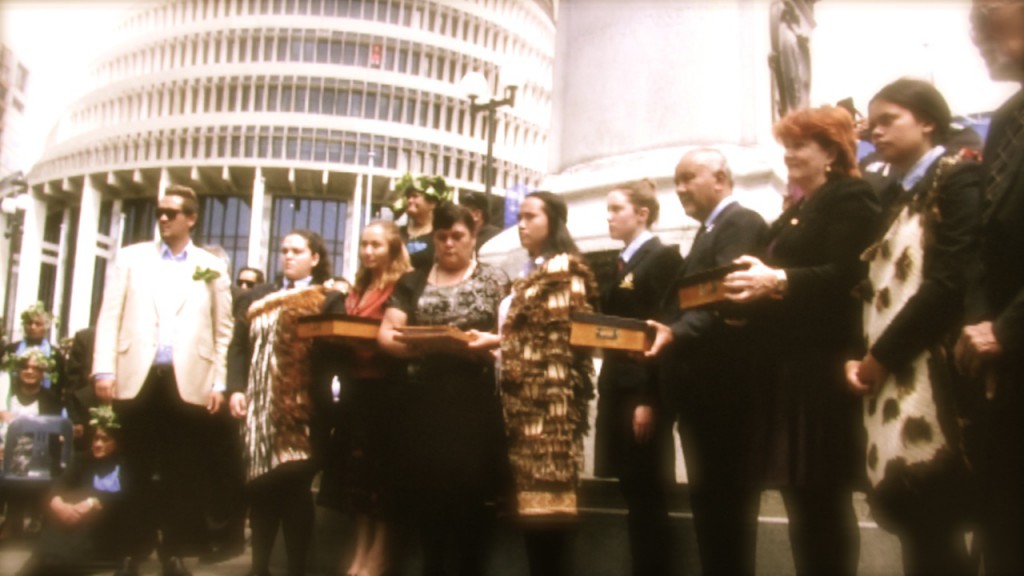 But, he added it "would be more correct to call the wars the 'British Masonic Imperial War Against the New Zealand Māori'." Professor Pounamu stated that the commander-in-chief of the New Zealand armed forces at the height of Masonic New Zealand Wars, Governor George Grey, should be referred to as Bro. Governor George Grey, to bring to the surface his membership in the Masonic brothers' unfriendly secret society. Indeed, by Christmas 1861 and at a time when Bro. Grey was faking peace, he had almost 2,500 soldiers building a military road, lined with dot-dot-dash telegraph poles and copper wiring, that would cut deep into Waikato territory. In 1862, Brother Grey bought two steamers for conversion into gunboats to finish charting the Waikato River, charts that Bro. Grey had started years earlier. Pounamu said Freemasonry was embedded across New Zealand's hymn-singing protestant political-commercial-military establishment. He stated:
"Freemasonry worked as a secret mechanism to get the job of empire done. A Masonic network often made legal what was immoral and unjust because they controlled the state-corporate apparatus. For instance, Brother Frederick Whitaker, an Auckland-based attorney and who as Premiere and Attorney General at the time of the Masonic Waikato Wars, was a key protagonist along with his business partner, Thomas Russell of the law firm, Whitaker & Russell. Thomas Russell, a Methodist lay preacher, was the primary founder of the Bank of New Zealand and the Minister of Colonial Defence in 1863-1864. The Bank of New Zealand, which was established by legislation and Royal Charter in 1861, and whose solicitors were Whitaker & Russell, became the mafia government's banker, brokering loans for the colonial government to prosecute its Masonic War to destroy the pesky and resilient communal economy of rebel savage Maories".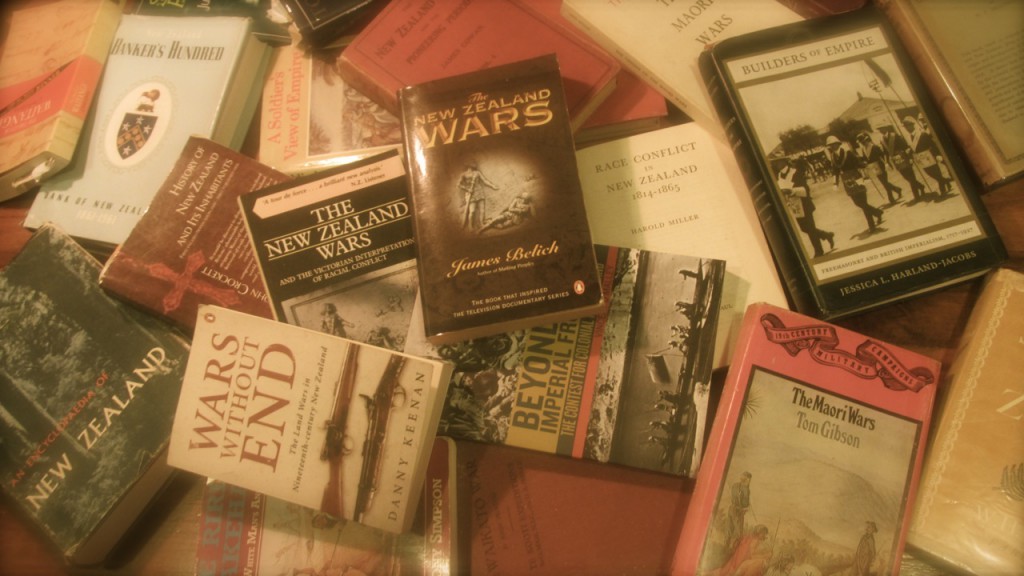 Furthermore, the land-swindling duo Whitaker and Russell were key protagonists behind crucial pieces of legislation, such as the Natives Lands Act of 1862, which ended the Crown's land-swindling monopoly on land purchases with Māori dating back to the fraud-ridden, rat-eaten Te Tiriti o Waitangi. Then, in 1863, the gangster-in-suits duo Whitaker and Russell were to drive the 'wedge of war' deeper with three more parliamentary acts. The first was the Suppression of Rebellion Act of 1863; the title of which I trust speaks for itself. The second was the New Zealand Settlement Act, which legalized the establishment of military towns on land belonging to Māori that the Masonic fraternity's Governor could construe were in rebellion against the Crown. And finally, the New Zealand Loan Act, that authorized 'borrowing' three million papery pounds of engraved land confiscation-backed bonds for a mass grave-consigning conflict that was named, in the grand tradition of the British Masonic Empire with those they blamed: the 'Maori Wars'.

The professor added it was of occult significance that the Royal Military College-trained navy Lieutenant Bro. Grey swindled his South Island Māori forebears by paying a symbolically sneaky £13,000 for the purchase of 30 million acres [nearly the entire 'South Island' – Ed]. Pounamu said the apron-totting, white-gloved, secret hand-shaking brotherhood often embedded the number 13 and multiples of it into events to signal they were advancing the game of empire together. In occult numerology, the number thirteen represents 'unity' and 'fraternal love', the professor said, to which several male club-members present nodded in agreement, and which caused a few of the Who's-Who Set to emit drink-spluttering gasps.
A drunken squawk-back radio shock-jock, Shane Flunket, interjected to ask the room that wasn't swaying with him, "Is Doctor Huhu juss one of those know-it-all Maories that DJ Kyle Sandilands would call a nerdy grub?" Sensing the palpable embarrassment among his hosts that he had been likened to a tree-stump dwelling bookish grub, the Māori professor countered with a dignity that too much spirits strip, saying:
"We can prove it. One of my PhD students, a Pakeha male with two Freemasons in his ancestry, discovered a bundle of New Zealand Freemason lodge and proceedings books while on a thinky-book-scouting mission around the North Island. Incredibly, he struck scholarly gold at the waxy candle-lit Witching Hour Shop of Rare Thinky-Books & Yellowy Parchments in Featherston, the Wairarapa town named after the first Agent General for New Zealand in London, Bro. Isaac Earl Featherston. It was Bro. Featherston, a land-swindling pastoralist, physician and politician, who bragged that the duty of New Zealand colonists was to 'smooth the pillow of a dying race'. My scholarly gold-finding student gained legal title to those books by forking-out $1300. So, Kyle Sandilands can stick the copy of the receipt in his wacki-bakki pipe, or whatever dreaming substance he inhales, and smoke it."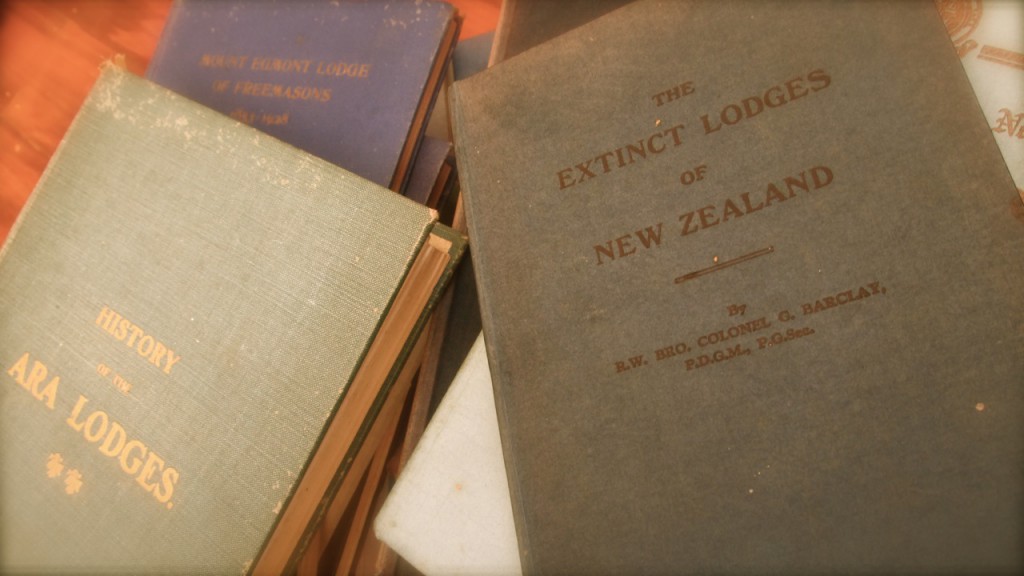 Professor Ngati-Pounamu finished his lecture-like speech saying:
"It was as if Cook and the Masonic Brothers thought that the whole imperial game would never backfire at some future date like a philandering Dr. Who kidding himself that all his jilted lovers would not one day construct a time machine together and track him down".
=============
Iggy Swind and Sophia Bigg-Storm are alter-egos of Snoopman. By day, Snoopman toils as an undercover Tax Slave, editing TV news in the South Pacific Tax Farm of New Zealand (known locally as Nu Zillun Inc.). By night, he transforms into the New Zealand Tax Farm's first media superhero, whose has Propaganda Sensing Powers.