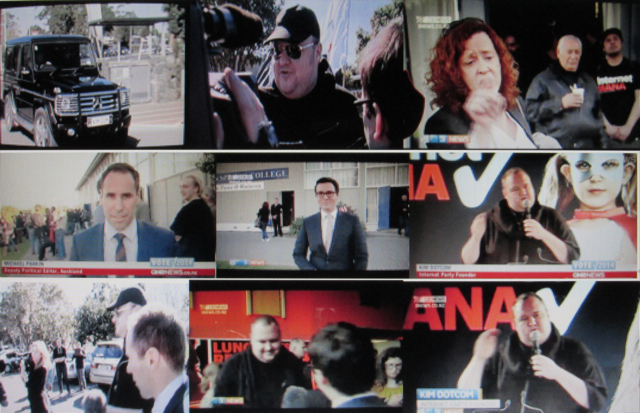 Kim Dotcom 'running'? Two TV news crews in hot pursuit.
Is Dotcom 'Whaledump', the hacker who has been getting even with a right-wing blogger, whose blog Whale Oil has been used as a means to attack the political opponents of the incumbent government in far-flung New Zealand?
That's how two journalists, working as undercover political hit-men armed with microphones, essentially framed their encounter with the founder of MegaUpload, who is wanted for alleged crimes against the anti-competitive Hollywood media cartels by the United States.
This is the intriguing story of two major TV news outlets in the 'free market' economy of New Zealand, who were working together with one covert agenda: derail a political party launch.
Their goal is to get the incumbent prime minister, John Phillip Key, and his political vehicle, the National Party, re-elected amid a political scandal called Dirty Politics.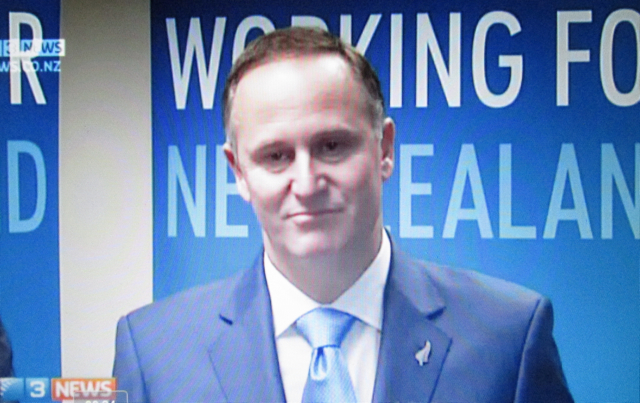 Part I: A 'Meeting of Minds'
By Steve Edwards AKA Snoopman
11 September 2014
Detecting Collusion in New Zealand's Media Environment
The election launch event for merged political party, Internet Mana, on Sunday 24 August 2014, has quickly become infamous, or badly famous, to New Zealand news audiences. But, not many, if any, have really understood why.
Etched in New Zealand news viewers' memories are scenes of the Internet Party press secretary's angry outbursts at the news media, Kim Dotcom 'hopping it' to a waiting car, and the Internet Party founder bragging about his hacking days 19 years prior.
For their part, two major news outlets, TV One and TV3 were able to dominate their audiences', and therefore, the country's perceptions with these scenes.
The two major news outlets both claimed in their Six O' Clock bulletins, OneNews and 3News, that the Internet Mana Party election launch first started to go awry when the Internet Party founder, Kim Dotcom, mentioned his hacking deeds of 19 years prior in his speech.[i]
However, several events converged that placed me in a unique position to investigate what occurred at the Internet Mana Party election launch. These events included my proximity to the Internet Mana Party election launch story; my knowledge of news media propaganda, power crimes (collusion, corruption, conspiracy), and crisis media rituals and my interest in following the Dirty Politics scandal.

I have learned from my source who was at the Internet Mana Party election launch that the two reporters from OneNews and 3News, Michael Parkin and Brook Sabin, respectively, conferred with each other while they waited for Kim Dotcom to arrive. My source personally witnessed this conversation.
Parkin and Sabin talked to one another regarding their intention to hit up Kim Dotcom to ask him if he was 'Whaledump', a name that referred to a Twitter account evidently set up by an anonymous hacker.

The Twitter account, named 'Whaledump' had been used to leak documents that were the basis for the book, Dirty Politics: How Attack Politics is Poisoning New Zealand's Political Environment, written by internationally-respected journalist, Nicky Hager.
The book lays out a compelling case that key insiders within the National Party, including the prime minister, outsourced the business of dirty political attacks such as minor scandals, smear campaigns and gaffs, to right wing bloggers, who in turn worked with political hit-men in the news media. The intent of their stratagem, an import from American politics, was to create the perception that the National Party and, especially, their leader, was removed from the dirty attacks against their political opponents.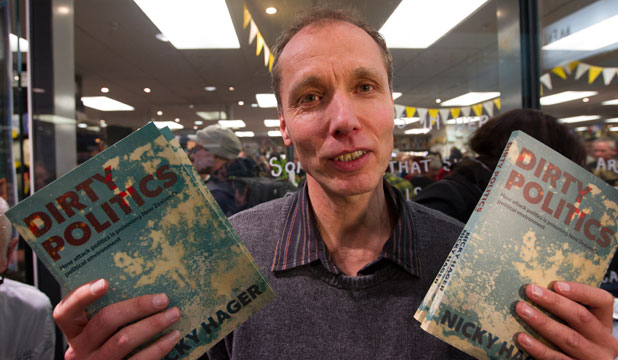 To those of us following the Dirty Politics scandal as it broke (the book was launched on August 13) and how it impacted on the election campaign, the bad publicity of the Internet Mana election launch had the hallmarks of a dirty political attack.
Thus, this 'meeting of minds' between the two reporters, Michael Parkin and Brook Sabin, is a crucial missing piece of the puzzle about what really happened at the Internet Mana Party launch.
As will become clear, this 'meeting of the minds' between the two major media outlets manifested as 'conscious parallel business behaviour' as cartel and conspiracy law theory could predict. Such parallel behaviour reveals 'conscious parallelism' which means commercial behaviour that displays the same pattern, wherein rivals are aware of their competitors' activities, and that the content of this awareness is factored into their actions.
My unique proximity to the Internet Mana Party election launch story started when I was editing Māori Television's account of the event for the Te Kāea news bulletin. I saw the raw footage as it came in.
I noticed Kim Dotcom saying he was not the secret source, Whaledump, as he stood in front of a small group of news crews. The first shot of his arrival captured Dotcom in his Mercedes jeep.
The raw footage at Māori Television also showed the OneNews reporter Michael Parkin tailing Dotcom as he walked to the school hall where the launch event was being held. Parkin repeated the same question, "Are you Whaledump?"

My first thought was, "Is Michael Parkin behind the eight-ball or being lazy?" I thought this, because I had read New Zealand journalist Toby Manhire's article about the Dirty Politics scandal in The Guardian the day before. In his article, "The Whale that Swallowed New Zealand's election campaign", Manhire reported that Nicky Hager had told him that if Kim Dotcom had been the anonymous source for his book, he would have "run a mile."[ii] (Manhire's story had come up in what has become journos' 'Go to Reliable Sources' news-feed of choice: Facebook).
Besides, TV3's and TVOne's behaviour was very odd because 3News has reported on Monday 18 August, six days before the Internet Mana Party launch, that the hacker had uploaded screenshots of emails to "Dotcom's Mega website, which provides encryption, making it hard to trace who the uploader might be." The article finished saying, "Dotcom has denied any involvement in the hacking."
In the same report "Whale Oil 'hacker' uploads email screenshots", 3News stated The New Zealand Herald had been in contact with the hacker before Nicky Hager's book Dirty Politics was launched.
So, TV3 and TVOne waited all week to get the same answer that The New Zealand Herald had already gotten from Dotcom, when they could have asked the Herald if they knew who the hacker was and whether Dotcom just played a minor role.
After I finished my shift, I saw TV3's 3News bulletin, which lead with the Internet Mana Party election launch story. I immediately knew that 3News was inaccurately reporting the event when anchor Caroline Robinson introduced the story. Robinson said:
Kia Ora, Good Evening. The Internet-Mana Party election launch has ended in farce with Kim Dotcom running from the building as journalists were sworn at. It all started when Kim Dotcom referred to hacking in his speech. And when journalists wanted to ask him more, it turned ugly. Here's Brook Sabin.
Because I had seen the raw Maori TV footage of Michael Parkin not accepting Kim Dotcom's denial that he was the secret hacker source, I knew that the Internet-Mana Party election launch's apparent 'farcical ending' did not all start, "when Kim Dotcom referred to hacking in his speech."
It all started with TV3's Brook Sabin and TV One's Michael Parkin 's decision to 'enjoin' in political hit-man tactics!
Frame-up Job: Adopting a 'Neutral Bystander' Posture
What is remarkable about both Brook Sabin's and Michael Parkin's stories for 3News and OneNews, respectively, are how similar they are in content, construction and framing. As news editors, reporters, producers, directors, executives and public relations' spin-doctors know, the way that a news story is framed is critical to how news audiences understand an event.
A news frame is the reconstruction of an event according to a particular focus, and what constitutes acceptable social discussion as opposed to politically dangerous lines of investigation, thought or ideas.[iii]
So, reporters, producers, camera operators, editors, and graphics illustrators have a lot of control over what makes into a news frame, which can be crudely depicted as the edge of a TV set, newspaper or magazine.
Both TV networks approached the Internet Mana Party launch stories with a crisis journalism ritual, wherein they worked with what I call a 'neutral bystander' posture. When crises arise, news outlets drop their 'business as usual' role and adopt the 'neutral bystander' posture'.[iv]
This affectation of neutrality is necessary to hide the fact that they have been complicit in creating the crisis, due to their institutional affiliations to powerful corporate and state actors.[v] Their 'dumb-dee-doo' 'neutral bystander' posture is critical to cover their prior unwillingness to investigate the conditions of a building crisis that were detectable before it blew wide open.
The approach of the reporters from OneNews and 3News to covering the Internet Mana Party event was to focus on Kim Dotcom, and frame him as the anonymous hacker that has provided the grist for the Dirty Politics scandal.
As can be seen from Michael Parkin's story, filed online as "Reporter called a puffed up little sh*t by Internet Party staffer", the OneNews reporter and deputy political editor hit up Dotcom as he got out of his Mercedes jeep. Parkin, who scripted his voice-overs to seamlessly hide how he had gotten the pictures he was after, stated, "Stepping out of the vehicle before the party launch, Kim Dotcom was keen to avoid Whaledump."

Dotcom told the two reporters, "Well, it's all wrong. And I have to say this, today we want to focus on our campaign launch. So, I'm not going to give you any interviews today because the news should be about what Internet Mana stands for."
Parkin persisted, "But, are you Whaledump?" as though Dotcom had not answered the question already.
The OneNews reporter had set-up Dotcom's arrival by showing his hasty departure first (at around 1 minute 38 seconds) to reinforce the idea that he was not being open about either being the person behind the Whaledump Twitter account leaks, or somehow connected to the hacker.
Parkin's pestering was in keeping with the well-worn tabloid journalism formula to set up a 'Pursuit Ritual', wherein the paparazzi get shots of their target to construct a perception that the subject is a criminal. In television news, the 'Pursuit Ritual' fills up a voice-over, and provides the network with shots it can replay over, and over, shaping viewers' perceptions.[vi]
Before the departure and arrival sequence, Parkin had started the story with footage of the telling-off that Pam Corkery gave Parkin and Sabin.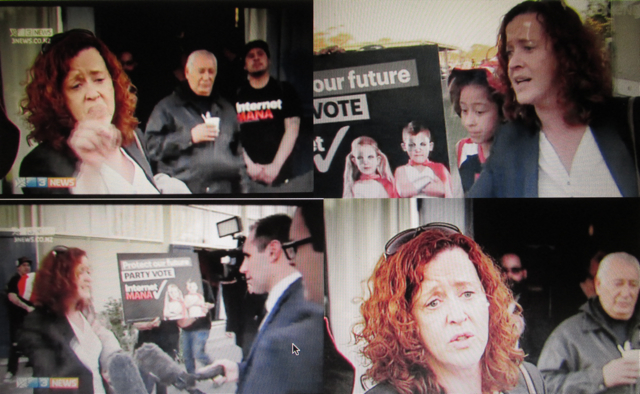 Parkin accompanied this video sequence with his manipulative and inaccurate opening voiceover, scripted from the neutral bystander posture. Parkin narrated:
Former MP-turned Internet Party press secretary Pam Corkery struggling with media relations. ("We've talked about homeless, starve-, oh, shssh," said Corkery. "Don't be a creep. Okay, we've talked about jobs today, and, and, people living in poverty. You want to interview Kim, who did said no interviews about a 19 year old story. You work in news, you puffed-up little shit"). Parkin continued, "An unexpected reaction to requests to ask Dotcom questions about comments in his speech at today's Internet Mana Party launch."
However, Corkery's reaction was not so unexpected as Parkin claimed.

Parkin and Sabin had worked as a team, armed with shotgun microphones, baiting Dotcom and Corkery to achieve their agenda. Their actions belie a well-worn mainstream news media strategy to go to an event pursuing a news agenda that is at odds with the purpose of the event and then blame the targeted group for losing control.
Amid her frustration, Internet Party press secretary Pam Corkery had angrily asked the two TV journalists, "When will you glove puppets of Cameron Slater just piss off?"
In referring to the right-wing blogger Cameron Slater, Corkery was essentially saying that Brook Sabin and Michael Parkin were political hit-men working covertly for the likes of Slater, who has used his popular Whale Oil blog to attack the National Party's political opponents since prior to the 2008 election, when Key won power.
Slater, along with other right-wing bloggers, such as Kiwiblog writer David Farrar, who has virtually lived a double-life as National's chief pollster, were exposed in mid-August by internationally-respected journalist Nicky Hager with his book, Dirty Politics: How Attack Politics is Poisoning New Zealand's Political Environment.[vii]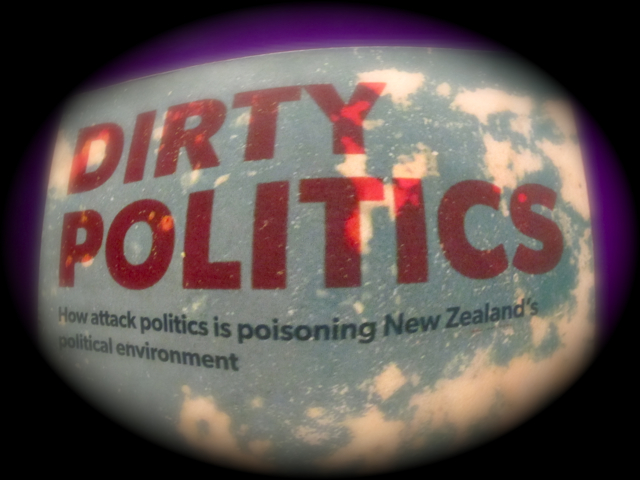 The key finding of Hager's book is that key insiders of the Key regime have been running a two-track public communications strategy, led by the prime minister's top PR-man and senior advisor, Jason Ede. This two-track strategy cast John Key as 'Mr Nice Guy', while using right-wing bloggers, and a sympathetic news media to attack National's opponents and influence the outcomes of elections.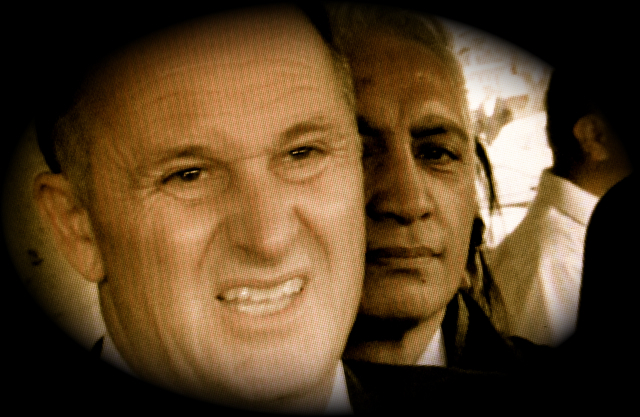 So, it is not surprising then, Brook Sabin and Michael Parkin failed to think about answering Corkery's question, "When will you glove puppets of Cameron Slater just piss off?"
Corkery was angry, because as a former journalist and ex-member of parliament, she could see how the media were playing the launch. The reporters had pre-decided not to focus on the combined party's policy proposals.
It was the news media's conscious parallel decision to frame the Internet-Mana launch of Sunday 24 August with an apparently earnest search for an answer to what was really a defunct question arrived at with a puzzlingly, logically flawed reasoning.
Dotcom's reference to hacking was more likely intended to work as a way to hint at the bombshell he has promised to deliver on Monday September 15 at Auckland's Town Hall. In the billing for this event, called 'The Moment of Truth', is Glenn Greenwald, the journalist most famous for breaking the leaks of ex-CIA and NSA whistleblower, Edward Snowden, in mid-2013, will be a guest. Wikileaks founder Julian Assange will also be speaking via a live-video feed.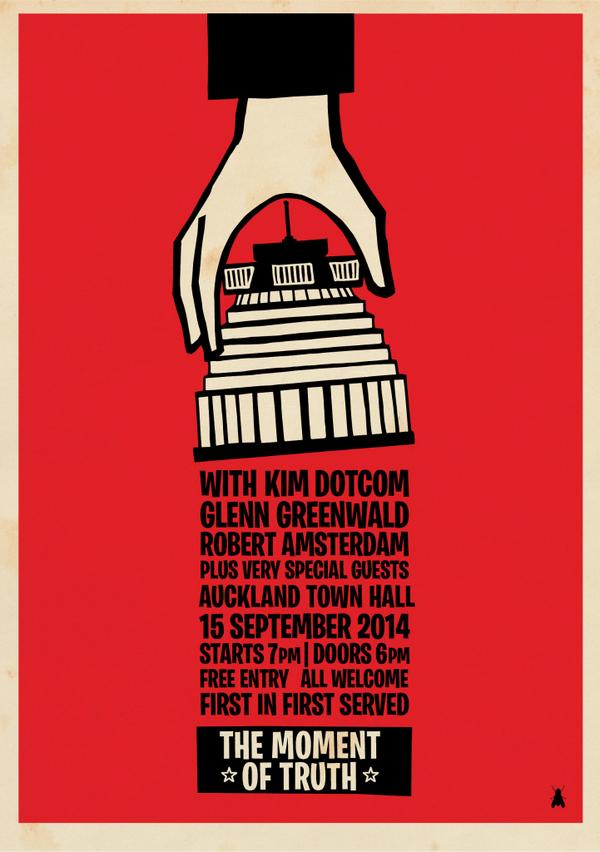 The sound-bite from Dotcom's speech in Auckland that both TV news outlets quoted. Dotcom said:
"And I hacked our German credit rating system, and put our prime minister's credit rating to zero because I didn't like the guy. And, you have all figured by now there's another prime minister I don't like." (Laughter and applause).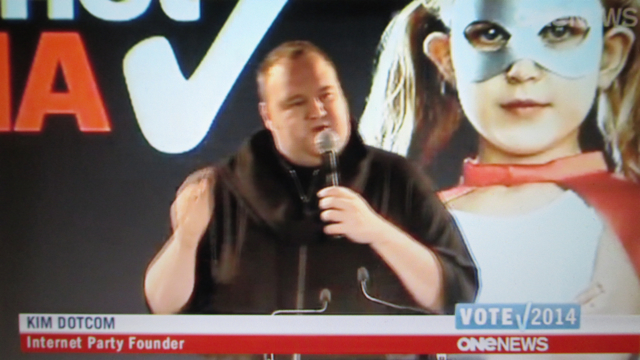 The two major media outlets was already aware of the reported speculation about Dotcom being Whaledump. So, it's highly likely that OneNews and 3News not only calculated that Dotcom would signal the upcoming Auckland's Town Hall meeting. But, there is also weight added that the two TV news outlets calculated that Dotcom would say these "explosive" lines, as OneNews' political editor Corrin Dann put it after the story played.
That's because, as one of my sources, who was at the Hastings Internet Mana public meeting on August 19, told me that Dotcom said the same things there as what was reported from the Auckland meeting. This source also specifically confirmed that Dotcom had said he hacked the German prime minister's credit rating and that Dotcom had talked about not liking "another prime minister " at the Hastings event.
"The Auckland media was ready and waiting to milk it to their advantage", my source from Hastings said.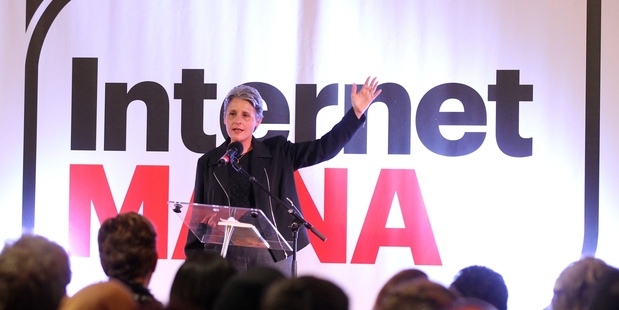 Furthermore, as OneNews Breakfast was forced to report the following morning, "Ms Harré says Mr Dotcom has told the story many times during the party's roadshow events around the country and it wasn't an explosive revelation."
Internet party leader Laila Harré went onto point out that Dotcom was quoted out of context and his words were juxtaposed with speculation that he was involved in the hacking behind Nicky Hager's book Dirty Politics.
"The next line in that story is when he went before the judge, the judge said, 'you've obviously got some smarts here why don't you use those to help these companies to help the Government improve its computer security", said Harré on OneNews Breakfast.
The Internet Party leader stated Dotcom took the judge's suggestion and arranged an interest-free $1 million dollar loan from the German government, created 50 jobs in the first year and paid the loan off in the second.

In other words, OneNews and 3News edited out the point of Dotcom's story, and misconstrued not only his vision for the New Zealand government to support hi-tech innovation, but also that he has the smarts to help pull it off.
The reference to New Zealand's prime minister is significant because Dotcom has stated that he will reveal on Monday September 15 that John Key knew about him and that the Government Communications Security Bureau (GCSB) was involved spying on him much earlier than Key has claimed. After the raid on his Coatesville mansion on January 20, 2012, a multi-state operation called Operation Debut designed to put "that criminal mastermind" "Billy Big Steps" behind bars, it was found that GCSB had illegally spied on Dotcom.
The Minister responsible for the GCSB and other spy agencies is John Key, who operates with a No-Surprises Doctrine, meaning he was to be kept fully informed of important matters.[viii][ix]
By following Dotcom around the Internet Mana launch, asking the same questions repeatedly that he had already answered, rather than showing the positive policies the combined political parties were trying to promote, the intention was to undermine Dotcom's credibility in the public's eye ahead of 'The Moment of Truth' night.
Like the 3News' introduction, which framed the event as ending in farce and that it all started with Dotcom mentioning hacking, the OneNews anchors also manipulated their audiences' perceptions to believe that their news crew had also been 'neutral bystanders', without explicitly stating the construct. Peter Williams and Bernadine Oliver-Kerby said:
"Just 27 days from the election now and patience over the Dirty Politics scandal is running thin across the political divide. In South Auckland, National's leader John Key was talking up new housing policy. But, across town at Internet Mana's campaign launch, journalists were facing a tirade from Laila Harré's media manager, as they tried to question Kim Dotcom. Our deputy political editor Michael Parkin details a bizarre performance at the Internet Mana launch."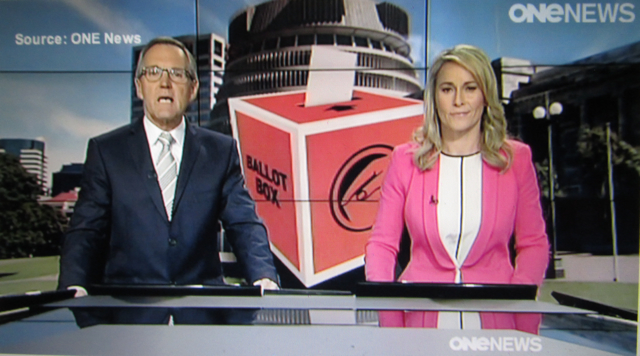 The introduction framed Internet Mana as 'the other' group, a ritualistic scapegoat treatment in which the dominate groups attacks those perceived to be the cause of a crisis. Here, we see both OneNews and 3News undermining Internet Mana to 'resolve' a crisis for the incumbent National Party and to restore its leaders' 'Mr Nice Guy' image.
Back in the OneNews' studio after the story played, news anchor Peter Williams and political editor Corrin Dann had an exchange that was designed to mask over the news network's sabotaging of Internet Mana's election launch.
What about Pam Corkey's meltdown at the Internet Mana launch? asked Peter Williams.
Well, just truly bizarre Peter. And they have been in contact. They've tried ta hose the story down. They didn't want us to, ah, run it, er, tonight. But, look, when Kim Dotcom makes a comment like that about hacking a German chancellor I should say, ah, whether it was a joke gone bad or not, he really should have known in this environment, with questions around Whaledump, that that was going to be explosive.
Dann's phrase "hose the story down" is telling, because the reporters Parkin and Sabin had, in effect, cast themselves as arsonists by feigning to be 'neutral bystanders'.
It gets worser.
The Hawke's Bay Today daily reported on Wednesday August 20, that Kim Dotcom said the previous evening at the Hastings Internet Mana public meeting, "By the way, on the record, I did not hack Whaleoil". (Hawke's Bay Today is carried online through The New Zealand Herald's website).
So, Corkery's anger was not "bizarre" (Peter Williams' and Corrin Dann's words). Rather, the parallel business behaviour of Parkin and Sabin, and therefore, OneNews and 3News, is quite brazen in "this environment" (Corrin Dann's words), as we shall see.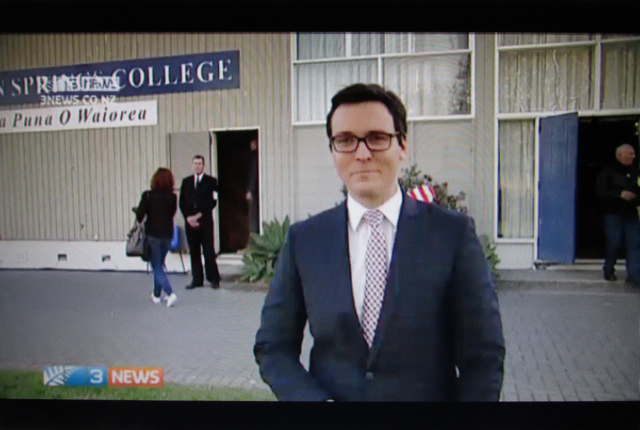 Brook Sabin's treatment is remarkably similar. Like Parkin's narrative, Sabin started with Corkery's angry outburst, Dotcom's hacking sound-bite on stage, a hongi between Dotcom with supporters, Sabin's PTC (Piece-to-Camera, for long, as pictured above) claiming Dotcom was in hiding while in the background, an antagonized Corkery soon heads toward Parkin to give him a growling.
After another Corkery telling-off sequence, Sabin scripted in the news crews' pursuit of Dotcom, whom he incorrectly claimed had run-off, when it was actually a brisk walk. Sabin then cut to Dotcom's arrival, just as Parkin had at this point in their identical narratives, with the Internet Party founder answering the question whether he was the secret source behind Hager's book, "Well, I said it's all wrong."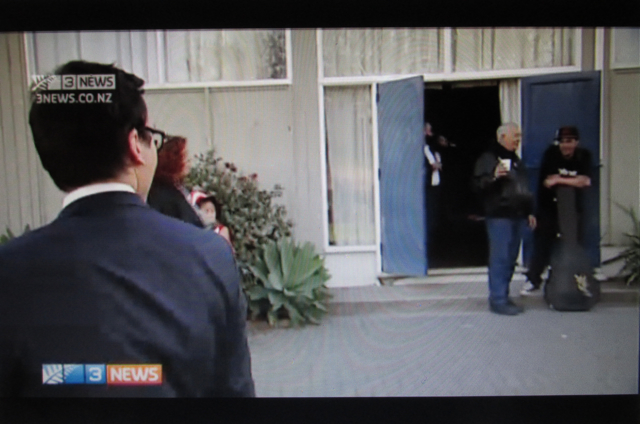 Next, Sabin cut to footage of himself applying the same tabloid tactic that Parkin had, a shot of himself (and his cameraman) blocking Dotcom as he tried to move through the hall foyer. (Parkin can be seen to the left of frame in the 3News footage, essentially working as Sabin's wingman).
Sabin asks, "Are you Whaledump?" Dotcom says, "Excuse me," as he tries to make headway through the crowded foyer. Sabin asks again, "Are you Whaledump?" Dotcom again says, "Excuse me." Then Dotcom adds, "No."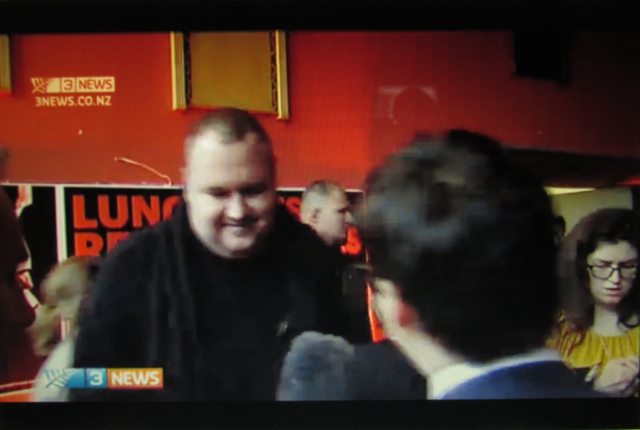 Sabin held to his 'neutral bystander' posture for his final piece-to-camera stand-up, as he said, to rub it in, that the Internet-Mana's campaign launch had been "completely derailed by talk of hacking, Kim Dotcom running off and media abuse".
From his position as a 'neutral bystander', Sabin was unwilling to acknowledge that he, along with Parkin, and their respective news producers, had in fact perpetrated "media abuse", a form of structural violence.[x]
Whereas, the story that I edited for Māori Television's Te Kāea news was a fair account of what the Internet Mana launch was meant to be about: a platform to promote its election campaign policies.
My source who was at the Internet Mana election launch in Auckland has told me that after Dotcom had left, Michael Parkin and Brook Sabin both burst out laughing.
The two political hit-men got what they came for. Metaphorically speaking, Parkin and Sabin acted as arsonists. But, now their pants are on fire.

As will be seen in Part II: Getting National 'Back on Track', the two major TV news outlets also advanced the game, in keeping with cartel game theory, by filing almost identical reports on the National Party election launch. These stories were soft on Key and the National Party over the Dirty Politics scandal and laid out their election launch housing policy platform, while denying the same treatment for the newcomer on the political scene, Internet Mana.
Final, Final Warning
This investigation has found that two major New Zealand TV Networks made a conscious parallel decision to frame the Internet-Mana launch of Sunday 24 August with the search for the answer to what would seem a defunct question about whether Dotcom was the hacker behind Hager's book.
It was not just the reporters Brook Sabin and Michael Parkin who were responsible for the political hit on the Internet-Mana election launch.
OneNews and 3News failed to do what the New Zealand monarch's top representative, Governor-General Sir Jerry Mateparae, said he expected of the news media at a Press Gallery dinner speech late last year.[xi]
Mateparae, or 'the GG', as the media refer to him in their non-celebrity moments, made clear that the media's role is to assist the communication of political issues, political party communications and how voters choices in a multi-party electoral environment can translate into seats in parliament. Being a militarist, the Governor-General framed his terms as "the rules of engagement".
If OneNews and 3News had a genuine reason to think that Kim Dotcom was the source of the leaks for Hager's Dirty Politics book, both networks had the resources to do two stories each, one that focused on Dotcom, the other on Internet Mana's launch policies.
After all, as will become clear in Part II: 'Back on Track' – Getting National's 'show back on the road', the two major TV News networks' main focus at the National Party's launch the same day was on their policy platform, in keeping with the Governor-General's "rules of engagement".
The two main TV networks failed to give the Internet-Mana Party combo a 'fair go', when it is the prime minister and his insiders' lying, deflecting and hiding from the scandal that they needed to be focused.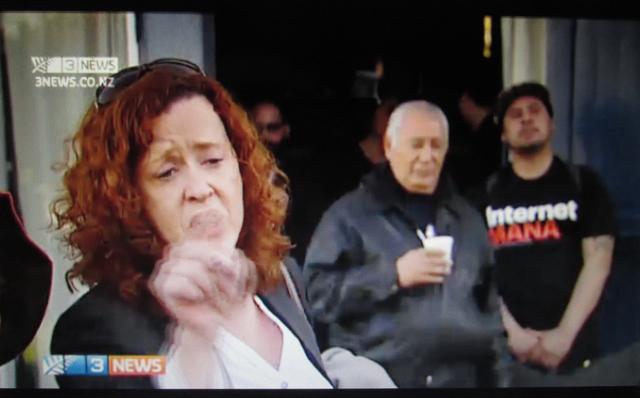 Applying cartel theory to the multi-party political environment, OneNews and 3News were, in effect, acting as 'glove puppets' or agents in the interests of the National Party and its big corporate sponsors to undermine the new 'market' entrant on the political scene: Internet-Mana.
The refusal of OneNews and 3News to supply coverage of the Internet-Mana Party's policy platforms is in keeping with how cartels practice asymmetric supply restrictions to market, wherein insiders get preference over non-complying rivals.
But it is also in keeping with the key finding of Hager's book, which is that key insiders of the Key regime have been running a two-track public communications strategy. This two-track strategy, which cast John Key as "Mr Nice Guy", relied on a covert operation that used right-wing bloggers, and a sympathetic news media to attack National's opponents and influence the outcomes of elections.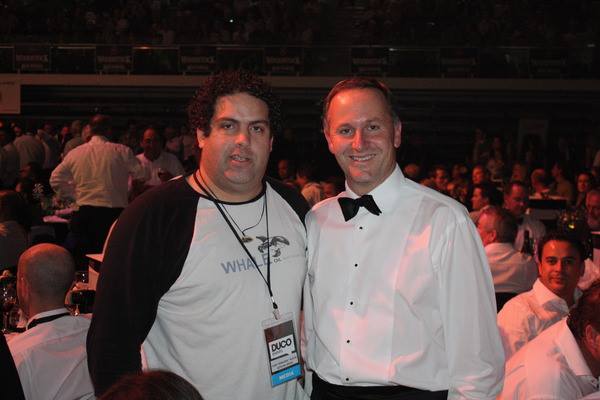 The idea of the dirty politics stratagem, an import from Republican party politics in the United States, where minor scandals, embarrassing smears, and gaffs are inflated out of proportion to their importance, is designed to turn young people and 'left'-leaning constituents off voting first. As Nicky Hager has compellingly argued, National's and John Key's strategy has been conducted with the Republican's lesson that conservative 'right'-wing voters still vote in a dirty political environment. It is a lesson that has been exported covertly around the world. The problem is global in scale.
So, Key's repeated projection of blame onto Nicky Hager for leading a "left-wing conspiracy" to "take an election off New Zealanders" is brazen. Especially, when it is remembered that 1,000,000 people of voting age did not vote in the last election, in a country of 4.5 million people (at the time of the 2011 'general' election).
In other words, dirty attack politics, with its modus operandi to cast the leader as friendly, wholesome and folksy or blokey (or whatever fits mainstream cultural norms and values), projects the idea to most people that politics is a mucky business, and cannot possibly be done 'above-board' in a clean, mature and fair way.
My key finding is 3News and OneNews colluded to 'derail' the Internet Mana party launch. The purpose was to create political hit pieces in the form of negative news stories that could be aired that evening and therefore create packaged stories to be quickly reproduced by all other news outlets. This 'political hit' strategy hinged on baiting Kim Dotcom about whether he was the secret source behind Nicky Hager's book, Dirty Politics: How Attack Politics is Poisoning New Zealand's Political Environment.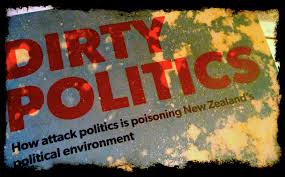 I recall what a well-respected professor, whose expertise is New Zealand's political economy and its news media, said to me on the subject of Dirty Politics.
"New Zealand's has a media environment where political hits are the norm. Where you work is a very unique place. Maori Television has the only newsroom in the country where the reporting is done above-board."[xii]
Indeed, as left-wing blogger Finn Macskasy reported in an article that appeared on The Daily Blog headlined, "Polls, propaganda, and Tracy Watkins", about biased media-funded polls, he reported blogger Neil Watts of Fearfactsexposed, a long-time commentator/critic of the Fairfax Media cartel as saying he had "heard from sources within Fairfax Media that their blatant goal is to get Key's Government re-elected."[xiii]
Earnest people who work in the news media, public relations, government departments, or who are members of the National Party, need to concern themselves with the dirty political hits that have gone on. As conspiracy law theory and cartel game theory predicts, such criminal groups will go on to make bigger and bolder plans if they are not stopped. So, such earnest people need to challenge such wrong-doing, whistle-blow if their complaints go nowhere and find allies. Failure to act can mean risking being a party to furtherance of conspiracy.[xiv]
The implications for New Zealand are extremely serious.
====================
SEE: ARMED WITH MICROPHONES: Part II – How Two 'Good News Cops' from Two Major TV News Got the Show Back on the Road-Track for the Beleaguered National Party – Part 2 of 2 at: https://snoopman.net.nz/?p=2217
====================
By day, Steve Edwards works as an ordinary mortal, editing news on contract to Māori Television. By night, he morphs into Snoopman, researching the wicked deeds of the powerful, and is Editor-in-Chief at Snoopman News.
====================
---
[ii] Toby Manhire. (2014, August 23). The whale that swallowed New Zealand's election campaign. The Guardian. Retrieved from http://www.theguardian.com/world/2014/aug/23/-sp-new-zealand-election-john-key-alleged-dirty-politics
[iii] Carragee, K. M. & Roefs, W. (2004). The neglect of power in recent framing research. Journal of Communication, 54, 214-233. Retrieved from http://www.wiley.com/bw/journal.asp?ref=0021-9916; Edwards. (2012). It's the financial oligarchy, stupid. p. 9. Retrieved fromhttp://hdl.handle.net/10292/5536; Gamson, W. A., Croteau, D., Hoynes, W., & Sasson, T. (1992). Media images and the social construction of reality. Annual Review of Sociology, 18, 373-393. doi:10.1146/annurev.so.18.080192.002105;
[v] As media scholar Herbert Schiller observed in The Mind Managers (1973), manipulation is so widespread, that a "myth of neutrality" pervades societies, in which manipulated populations think that the core institutions – "government, the media, education and science" – function without being overly compromised by vested interests. This myth of neutrality media ritual cements an authenticity of media institutions to legitimize ideologically constructed news frames (or angles) with a "common sense" façade that, as Fairclough observed in Media Discourse (1995), renders the underlying worldview invisible (p.42). SEE: Fairclough, N. (1995). Media Discourse. London: E. Arnold; Schiller, H. I. (1973). The Mind Managers. Boston: Bacon Press.
[vi] In Maori TV's Te Kaea News raw footage, Parkin and Sabin pursued Dotcom, with Parkin asking Dotcom a couple of more times, "Are you whaledump?" As it turned out, they did not need to make use of this footage, as their goading of Internet Party press secretary's Pam Corkery would deliver them pay-dirt).
[vii] Nicky Hager (2014). Dirty Politics: How Attack Politics is Poisoning New Zealand's Political Environment. Nelson; NZ: Craig Potton Publishing.
[ix] Ayres, I. (1987). How Cartels punish: A structural theory of self-enforcing collusion. Columbia Law Review, 87(2), 295-325. Retrieved from http://www.columbialawreview.org; Edwards. (2012). It's the financial oligarchy, stupid. p. 21-22. Retrieved from http://hdl.handle.net/10292/5536; Marks, R. D. (1986). Can conspiracy theory solve the "oligopoly problem"? Maryland Law Review, 45, 387-431. Retrieved from http://www.law.umaryland.edu/academics/journals/mdlr/
[x] Moreover, TV3's news anchor Caroline Robinson and Brook Sabin failed to disclose that the political reporter's father, Mike Sabin, is the incumbent National candidate for the large, black-sand rich Northland electorate. Mike Sabin was clearly chosen for his Māori heritage (as well as his institutional affiliations) by National to take on the popular Mana Party leader Hone Harawira, whose party joined forces with newcomer, the Internet Party, earlier this year. Brook Sabin's failure to disclose his conflict of interest in the story is ironic given that his father, Mike Sabin, who is of Tainui whakapapa (genealogy) on his mother's side, was proud to declare his Māori heritage during his Maiden parliamentary speech.
[xi] The Governor-General. (2013, November 9). Speech to a dinner in honour of the Parliamentary Press Gallery, Government House. Retrieved from http://gg.govt.nz/content/press-gallery-dinner
[xii] Private conversation with a New Zealand academic.
[xiii] Frank Macskasy. (2014, September 7). Polls, propaganda, and Tracy Watkins. Retrieved from http://thedailyblog.co.nz/2014/09/07/polls-propaganda-and-tracy-watkins/
[xiv] Katyal, N. K. (2002). Conspiracy theory. The Yale Law Journal, 112, 1307-1398. Retrieved from http://yalelawjournal.org/; Paul Marcus. (1977). Conspiracy: The Criminal Agreement, in Theory and in Practice. College of William & Mary Law School, William & Mary Law School Scholarship Repository; Marks, R. D. (1986). Can conspiracy theory solve the "oligopoly problem"? Maryland Law Review, 45, 387-431. Retrieved from http://www.law.umaryland.edu/academics/journals/mdlr/