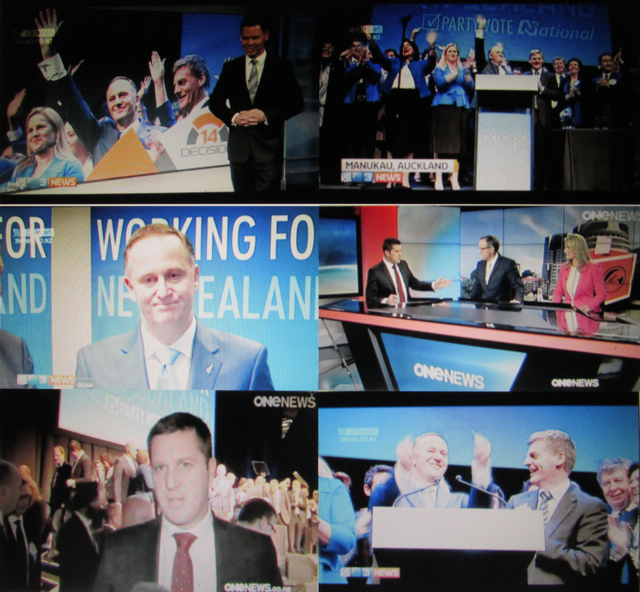 Critical-lite Coverage: Two reporters as 'Good News Cops' go easy on National at their election campaign launch.
Part II: 'Back on Track' – Getting National's 'show back on the road'
By Steve Edwards AKA Snoopman
11 September 2014
Good News Cops Pass Key a 'Get of Jail Free' Card
Since major news outlets will be the last to admit how they filter the news in the absence of obvious state censorship, comparing 'paired examples' of media treatments is an effective way to detect the biases at work in a propaganda media system.
The different treatments in paired examples of news stories, from a similar point in time, can reveal institutional allegiances and the underlying power relations, as described by American media scholars Edward S. Herman and Noam Chomsky in their book, Manufacturing Consent: The Political Economy of the Mass Media.[i]
So, with the myth of neutrality (described in Part I: A 'Meeting of Minds') and the manufacturing of consent in mind, the news media's light-touch treatment of John Key and National at their party campaign launch the same afternoon is worth some scrutiny.

3News' reporter and political editor Patrick Gower and OnesNews political editor Corrin Dann both filed critical-lite reports that focused mostly on National's housing policy. Their housing policy essentially amounted to tax-funded scheme to subsidize developers, banks, real estate agents and building supplies cartels in order to win votes from the wealthy, while playing naive Middle New Zealand wannabe first home-buyers as fools.
Both reports on the National Party election launch event included elaborate graphics to illustrate National's housing policy and included several sound-bites from John Key talking it up. Both included a brief almost identical sound-bite from Labour Party leader David Cunliffe dismissing the policy, essentially saying it would not solve the issue of over-inflated house-prices, but exacerbate it.
Standing in the 3News studio in front of a large video screen, a grinning Gower stated:
"Well, John Key expected his enemies to come up with some sort distraction today, but certainly not what we just saw. There were no leaks from the Dirty Politics hacker, leaving Key free to address another weakness, housing."

As we have seen, it was the 'conscious parallel business behaviour' of TV3's and TVNZ's political reporters, Brook Sabin and Michael Parkin, that provoked the "distraction" that Gower mentioned, by orchestrating political hit-pieces. Gower's statement that, "[t]here were no leaks from the Dirty Politics hacker" was also misleading because the Whaledump hacker did not take "a break", as Gower would claim after his story on the National Party election launch played.
Indeed, the anonymous hacker had adopted a persona, Rawshark.
As mentioned in Part I: A 'Meeting of Minds', on Sunday August 24, the Sunday Star-Times' Matt Nippert reported earlier in the day that Rawshark had sent the newspaper files totaling 50 megabytes, including invoices, corporate pitch documents and hundreds of pages of Facebook messaging. Nippert wrote that Rawshark communicated, "through encrypted emails routed through computers running the secure Tails operating system."
Gower's failure to report this not only made his reporting inaccurate. It also adds weight to my argument here that TV3 and TVOne were prepared to ignore a rival media outlet's reporting, and instead transition from the 'crisis journalism' neutral bystander posture that Parkin and Sabin employed at Internet Mana's campaign launch, and to a 'business as usual' treatment for the National Party election launch. But, to pull off this switch, they needed to deploy the other side of this  dirty maneouver: bait.
It was Parkin's and Sabin's job to hook Dotcom, Pam Corkery, or whoever would bite.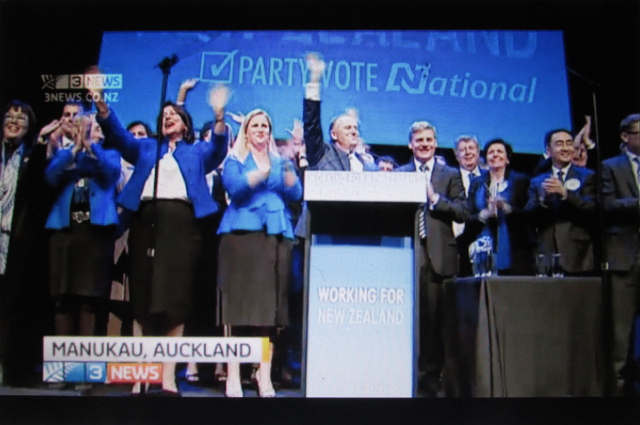 In his opening voice-over, the 3News political editor said to accompanying pictures of John Key and other National MP's on stage, waving and clapping to their audience, "John Key going hard to get National's campaign back on track."
Near the end of Gower's story, Key can be seen and heard meekly and nervously saying in a montage sequence, "We've moved on. Unless you can come up with something absolutely amazing. We've dealt with that issue. Thanks very much."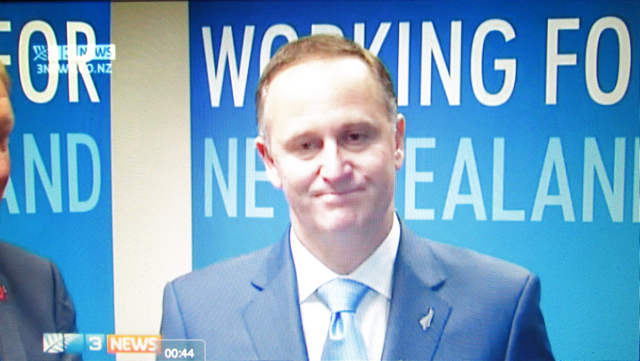 Losing his confidence, Key then scarpered out of there. Confidence, as any reporter should know, including Patrick Gower and Corrin Dann, is so crucial to all psychopaths, who must maintain their spell over their intended victims. Because a psychopath's biggest fear is everyone knowing that deep down inside, they are scaredy-cats and that they are not nice people.
In stark contrast to the unfair coverage both TV networks gave the Internet Mana Party, John Key and the National Party were given a strange 'business as usual' treatment that melded with ritualistic attempts to challenge Key on the Dirty Politics scandal. Indeed, Gower, along with the rest of the news media present, observed crisis journalism strictures, wherein reporters observe a 'respectful distance' from powerful figures.

This 'respectful distance' leaves key insiders free to cover-up evidence, and advance their game strategy according to the strictures of 'speed politics'. As Monash University professor of International Law Eric Wilson has argued in regard to criminal elite networks, "the essence of power crime is the control over definitions, perceptions, and appearances" (2009: 414; 2010: 21). ).
It is in this way, that "politics 'disappears into aesthetics' " – as Eric Wilson puts it (2009: 418; 2010: 11).
In his final voiceover, Gower gave-away the 3News game strategy when he said, "It's all about keeping brand Key clean", which was accompanied by a shot of National Party supporters kissing Key. Gower presented this statement as though it were merely National's election launch day plan, and not the covert strategy between 3News and OneNews to help #TeamKey get back into power.
Gower wrapped up his piece in the studio with a grin on his face, saying:
"the real victory for National today was what didn't happen. The Dirty Politics hacker took a break, at least for now. And everyday without new material is a win for Key. There's 27 days to go."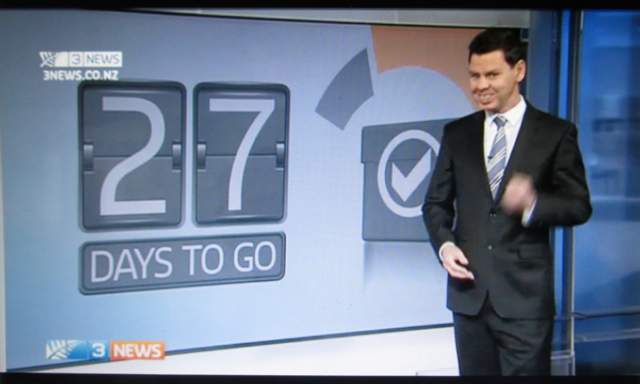 Alternatively, Patrick Gower could have done some digging himself, since the hacked material  provided ample opportunity to tell big picture stories. But, then that would mean growing out of endorsing nasty, underhanded and egotistical political hits.
As, political scientist E.E. Schattschneider argued, "the definition of alternatives is the supreme instrument of power" (1961: 68). It is in the so-called alternative media and Maori Television, where above-board reporting and critical, grown-up accounts of current events are occurring.
Meanwhile, on Sunday August 24, OneNews also filed a biased report "National Reboots election with housing plan", that focused on National's policy platform of housing, instead of challenging Key on his lies that the SIS had only briefed the Prime Minister's office on the Slater Official Information Act request and not him personally.
OneNews political editor Corrin Dann, who introduced the story, stated, "John Key needed to draw a line under this whole Dirty Politics saga, he got the big crowd, and to some extent he put the show back on the road." Notwithstanding that Dirty Politics is a scandal not a saga (a saga is Game of Thrones), Dann's deployment of the phrase, "the show back on the road" mirrored Gower's, "back on track" phrase.
So, National was being 'rebooted' for the last leg of the election 'road-track', while Internet Mana was scapegoated by political attack dogs for promoting wacky ideas, like ending the 30 year-long covert state policy to maintain unemployment at around 6- to 7% and Laila Harré actually telling it as it is. (Persistent unemployment weakens workers pay-bargaining power, which suits the investment class because higher worker's income reduce profits and, therefore, dividends to wealthy shareholders).
Apparently more Shock Doctrine 'therapy' is good for 'the economy'.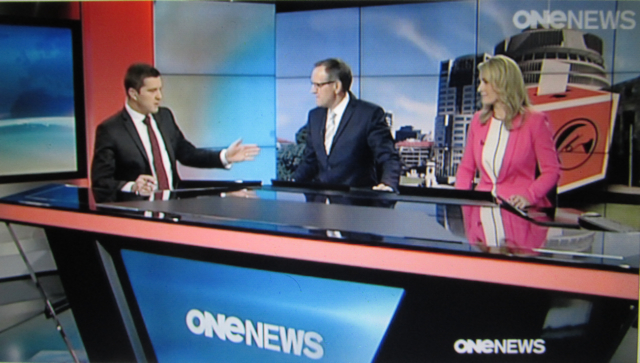 Like Gower, Dann included a montage sequence of Key avoiding answering questions over the Dirty Politics scandal. Dann placed this sequence in the middle of his story, "Well that's my answer and I think we've had a good chew on them.  And we're here to talk about housing. Yep, so, I've given my answer. And that's my answer. That's my answer", said Key. In other words, the answers that New Zealand's top lawmaker gave were non-answers.
A sock muppet could have been more articulate.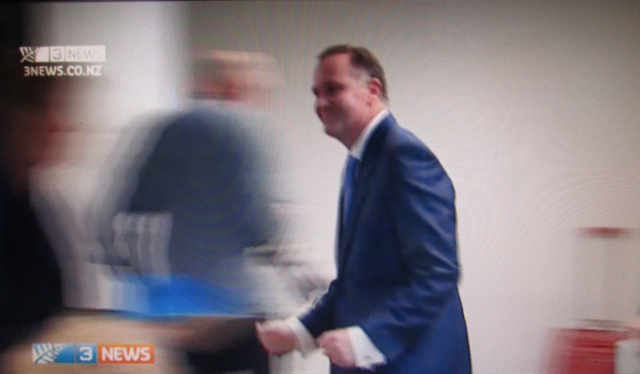 Political Hit-men At-Large
On Wednesday August 20, 3News reporter and political editor Patrick Gower told the prime minister in an interview that 3News had been given thousands of documents earlier that day by the person claiming to be the hacker source for Hager's book. Gower presented the story on the 6 o'clock August 20 bulletin as though the new information was obtained via the anonymous source's Twitter account, 'Whaledump'.

So, on the afternoon of Thursday 4 September, I rang 3News reporter and political editor Patrick Gower to ask him did he know who the source for Hager's book was? Gower was cagey and during the 5 to 10 minute phone call, did not answer any of my questions.
Gower is yet to respond to my questions that I emailed the same afternoon.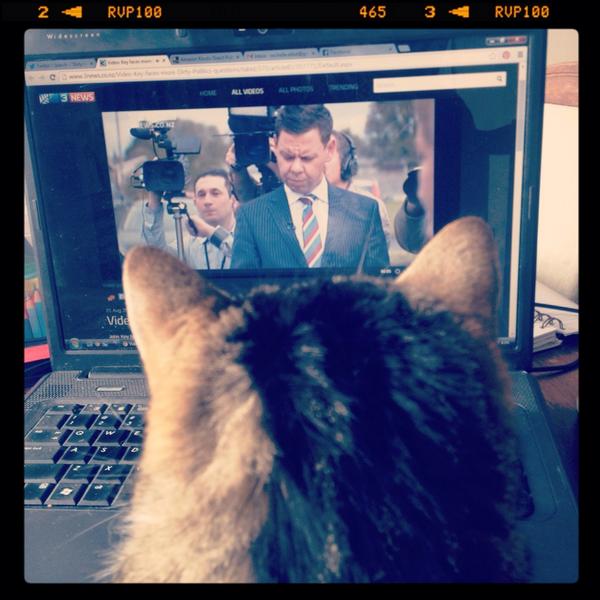 In effect, the two major TV networks had manipulated their news audiences by blaming Kim Dotcom and Pam Corkery for giving them the material for a story that did not focus on their party policies, even though they had decided that hacking was their 'angle', as was clear by their questions when Dotcom arrived.
Both news networks also focused on detailing National's housing policy, while they let John Key off the hook on the Dirty Politics scandal, despite the fact that Key was clearly nervous about facing numerous questions. None tried to follow him as he left hastily, nor harass him as he arrived, as they did with Kim Dotcom, which was evident on the unedited tape before I saw the 3News' and the OneNews' six o'clock bulletins. (See: Part I: A 'Meeting of Minds').

The two major media outlets behaviour indicates "conscious parallel business behaviour" or a "meeting of the minds", as cartel and conspiracy law theory could predict. Such parallel behaviour reveals "conscious parallelism" which means commercial behaviour that displays the same pattern, wherein rivals are aware of their competitors' activities, and that the content of this awareness is factored into their actions.
Both news outlets had the same treatment for both political party launches, even down to elaborate graphics to present National's housing policy, and no effort made to cover Internet-Mana's policy platforms, such as committing to full employment, instead of the persistent job destruction, that has been a covert state policy for 30 years.
In other words, OneNews and TV3 had already made a decision to take corrective action to help the National Party, while it baited the Internet Party founder on his arrival, selected that part of the entire launch where Dotcom bragged about his hacking 19 years ago, and ignored the important candidate speeches by Laila Harré and Annette Sykes. By colluding, the OneNews and TV3 players serve their secret goals, to reinforce the power of big corporate advertisers, investors, state elites, and bankers that back the pro-corporate party, National.
Thus, such "enjoinable conduct" can be expected to surface in the news again and again until the key perpetrators are rounded up, and jailed for deceiving their audiences, the New Zealand citizenry and subverting the country's capacity to strive for a 'free and open' society.

As for the media abuse that TV3's Brook Sabin claimed, the media abuse really came from the news media, especially OneNews and 3News, for their covert agenda or enjoinable conduct, to derail the reportage of the Internet-Mana campaign launch. Whereas, Māori Television's Te Kāea news' reports of the two party launches were what viewers need from a news service, mature coverage that summarized the issues, policies and engaged with some of the candidates.
This is critical, because major news outlets have ensured their manipulative techniques are not well understood by their 'targeted markets'. We know this, because a viewing of the documentary The Hollow Men, based on one of Nicky Hager's previous books of the same name, shows these manipulative techniques in action. If the news media had educated the public about them when the Hollow Men scandal broke in late 2006, then it is unlikely that New Zealand would have a media environment with political hit-men working in every newsroom, except Maori Television.[iii]
The mainstream news media have avoided providing a summary of all the political hit stories covered in Dirty Politics, depicting the players and showing how the news media actively amplified the minor dirty political attack scandals, smears and gaffs out of proportion.
Where is Jason Ede, one of the prime minister's senior advisors and top public relations man? Is he still running National's public relations? If so, does this mean the news media has been taking its cues from the same attack spin-doctor who was the key conduit between those National insiders and administration officials who found dirt as fodder for political attacks, the Prime Minister's Office, and the right-wing bloggers?
Why has the media avoided running lead story news on David Farrar? As National's chief pollster, which the public hardly knew, Farrar was well-placed to write articles on his popular right-wing blogsite, Kiwiblog, utilizing insider information about issues that National and it opponents were either strong or weak on, according to population demographics across the country, tracked over time.
These characters, along with others, and their dirty political attacks, including trivial scandals, smear campaigns, and gaffs blown out of proportion, are laid bare in Hager's book.
====================
SEE: ARMED WITH MICROPHONES: Part I – How and Why Two Political Hit-men from Two Major TV News Outlets Ambushed Kim Dotcom at the Internet Mana Party Election Launch Part 1 of 2 at: https://snoopman.net.nz/?p=2175
====================
By day, Steve Edwards works as an ordinary mortal, editing news on contract to Māori Television. By night, he morphs into Snoopman, researching the wicked deeds of the powerful, and is Editor-in-Chief at Snoopman News.
====================
---
[i] The dirty secret of New Zealand's mainstream media, that the super-rich owners, the executives, big advertisers (who are the big-daddy bucks primary audience), and pro-corporate editors, producers, and reporters do not want naive Middle New Zealand to know is that the economy of New Zealand is dominated by just four media corporations. These are: Fairfax Media, Sky TV & Prime, MediaWorks, APN News and Media. While TVNZ dominates on the state-owned side, it has been corporatized so that it is forced to obtain large revenues from big corporate advertisers. SEE: JMAD New Zealand Media Ownership Report 2013. Merja Myllylahti  (2013, November 28). Retrieved from: http://www.aut.ac.nz/study-at-aut/study-areas/communications/media-networks/journalism,-media-and-democracy-research-centre/journalists-and-projects
This means that as an institution, TVNZ looks, thinks and acts like a media cartel, or large corporation that dominates a market with mass produced cheap, bland product and is committed to promoting the interests of the wealthy and political powerful, just like the other dominant media cartels that comprise the mainstream media.
[ii] The meaning and origin of the expression: Scot free. The Phrase Finder. http://www.phrases.org.uk/meanings/scot%20free.html;
[iii] Private conversation with a well-respected New Zealand media scholar.
Wilson, E. (2009). Speed/pure war/power crime: Paul Virilio on the criminogenic accident and the virtual disappearance of the suicidal state. Crime, Law & Social Change, 51, 413-434. doi:10.1007/s10611-008-9168-7; Wilson, E. (2010, February). Crimes against reality: The global credit crisis, simulation, and criminogenic cyber-capitalism. Paper presented at the International Studies Association Annual Convention, New Orleans, LA. Retrieved from International Studies Association website: http://convention2.allacademic.com/one/isa/isa10/
Schattschneider, E. E. (1961). The Semi-sovereign People. New York: Holt, Rhinehart and Winston. In: Kosicki, Gerald M. (1993). "Problems and Opportunities in Agenda-Setting Research. Journal of Communication, Vol. 43.