New Zealand's 2017 election results have left the country in a similar position to the first MMP election in 1996. Like that first MMP election, seasoned political actor Winston Peters once again holds the 'balance of power' in his niche position as 'king-maker'. Like 1996, the two major fizzy drink parties flogged the same ol' two horse race political bidding war, on a limited set of issues, according to political strategies, policy frameworks, and tactics shaped by the unseen processes of political strategists, polling companies, think-tanks,  and P.R. agents – along with the dementia-afflicted Establishment Media – who always forget to tell the public we live in the world's premiere test facility for political manipulations, social engineering and tweaks to new technologies.
Whether it's 1996 or 2017.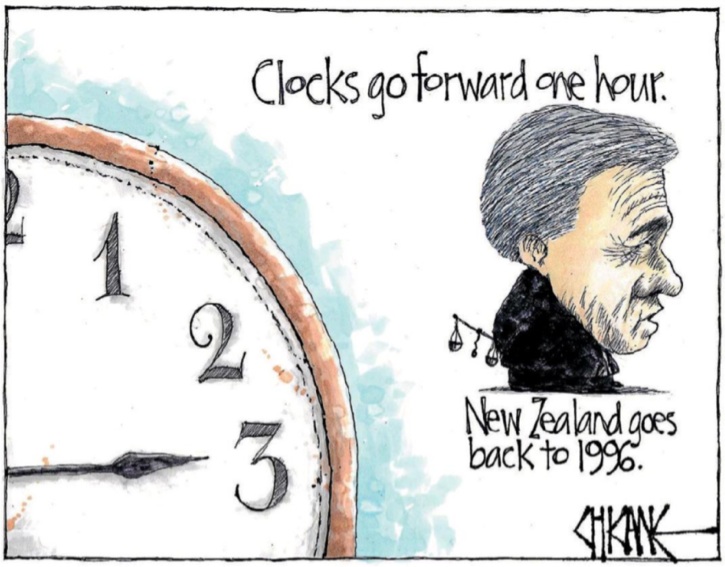 Like 1996, the 'left block' has failed to work together, show voters how to cast their two votes strategically in marginal seats, and have not learned from the excellent advice that Green MP Rod Donald failed to heed prior to first MMP election. That advice was the result of special study sponsored by then-millionaire Stephen Jennings. Then, as now, New Zealanders are none the wiser about both major political parties dark history in meting-out an economic warfare framework that was designed to make the country an unaffordable place to live – as then-Lange Government Finance Minister Roger Douglas bragged in a private conversation in 1986!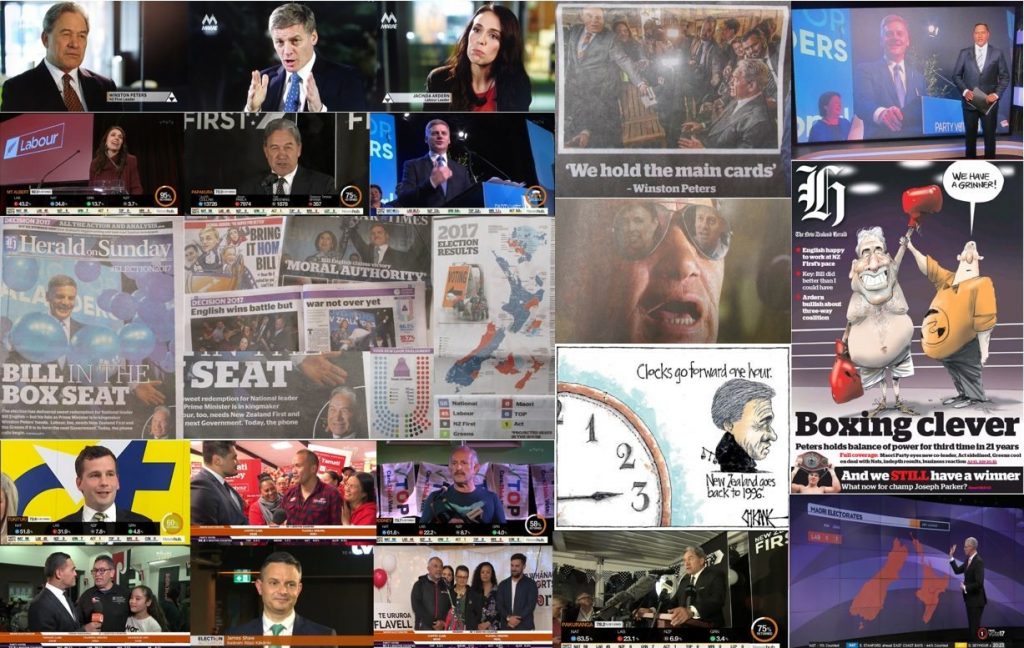 By Steve 'Snoopman' Edwards
Flogging the Same ol' Same ol' Strategy Horses
New Zealand's 2017 election looks like the result of the country's first MMP election in 1996, with seasoned political actor and leader of the Coke Zero New Zealand First Party Winston Peters once again holding the 'king-maker' 'balance of power' position. The fate of both major parties lay in Peters' hands, and if he plays the cards he has been dealt deftly, he could be the New Zealand Tax Farm Lab's next deputy prime minister.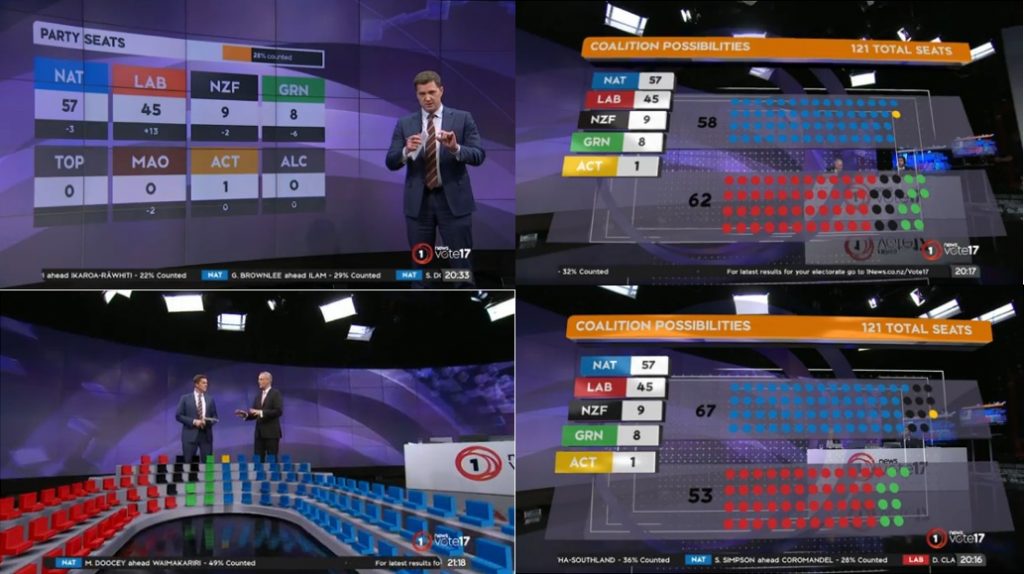 Like 1996, the 'right block' campaigned on the belief that its expensive machinery of pollsters, political strategists, think-tanks and right-wing media missionaries could deliver them a superior-edged emotional effect. In 2017 – and just seven weeks out from election – National's Tax Farmers were forced to compete with the rise of an ambitious female leader at the helm of the Labour Party amid discontent that Pepsi National had not addressed major issues that its Shock Therapists had inflicted on its opposition's base, as well as major crises that impacted on its own core constituents.
Meanwhile the 'left block' needed to be seen campaigning together to show the electorate that they could form a viable coalition government. National's Tax Farmers deployed its mainstay vote grabbing lolly scramble of 'tax cuts' and hit Labour's  Tax Farmers' proposals claiming they would open up an $11.7 billion budget hole.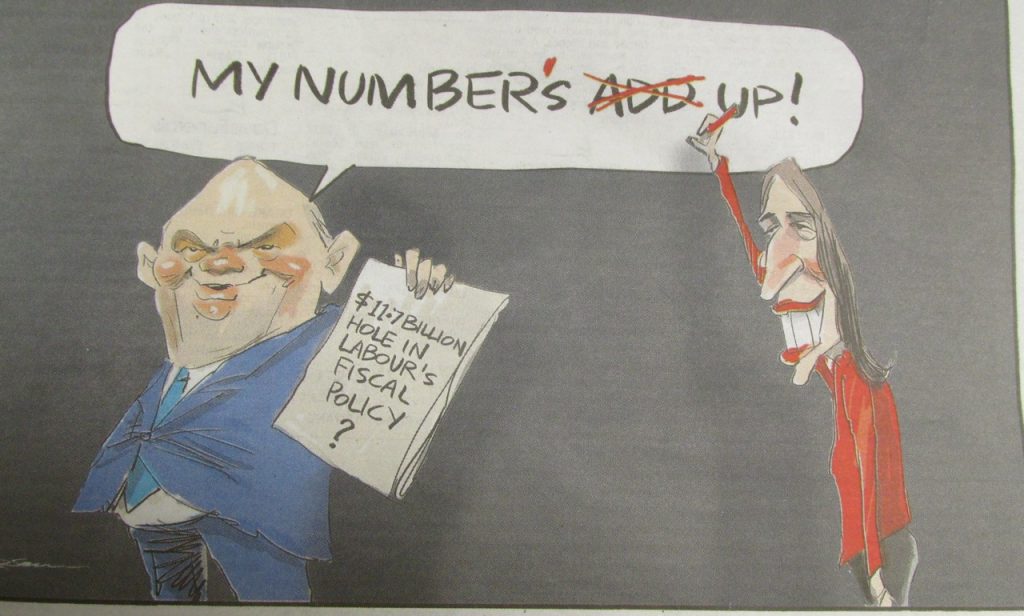 Meanwhile, Pepsi National was helped by three memorable dirty political attacks. The first saw the media pondering the possibility that Ardern's reproductive system might manifest a baby while in charge of the political system. The second was leaked information that Winston Peters had improperly received superannuation entitlements. The third was an astro-turf-esque political rally in Ardern's hometown of Morrinsville organized by past and present Federated Farmers presidents unhappy about Labour Cola's proposed water tax – which evidently would make the price of milk 2 cents a litre dearer – and the Green's Tax Farmers' pollution solutions.
Left Block Cold Shouldering
Among the 'left block', Labour in particular have themselves to blame.
Labour, still pursues its mainstay cold shoulder strategy in a political bidding war complete with 'star dust' knowing that the media would supply the mirror ball and disco lights. Like a couple that doesn't know how to fight with respect, Labour and the Greens have not come out the other side of hating each other, and consequently behave badly, stupidly, and arrogantly when under pressure. Labour needed to show leadership that it could form and manage a stable left-block government by making public appearances with the Greens. Labour Cola didn't and this is why it lost the 2014 election too.
Ironically, this is the essential lesson that their brown cousies, the Mana and the Maori parties were demonstrating by forming a pre-election coalition back in February 2017. Labour's Maori MPs unkindly responded with a move to take themselves off the Labour Party list, thereby positioning themselves to fight for electorate seats as candidates. The result was the Labour's Maori MPs took all seven Maori electorate seats. Just as ironically, this move means neither the Mana or Maori parties can get into parliament.
Labour Party strategists appeared to misread the generous space allocated by the media in the first month of Jacinda Ardern's tenure as the party's new leader. The logic underpinning Jacinda Ardern's sky-rocket ascent – dubbed the 'Jacinda Effect' – was due to the Pākehā-dominated ruling classes' need to deal with social stability through cosmetic adjustments. It would be politically implausible for a National Party-led government to make cosmetic adjustments on poverty, housing un-affordability, homelessness, and education, in the absence of strong political competition, as I said one month prior to the election. The effect was to create the appearance of a robust fight for policy on pressing issues, no matter which combination of party fizzy drinks formed a coalition. What Labour Cola's resurgence also shows is a phenomena that the CIA have long known – it only takes a month to indoctrinate a population.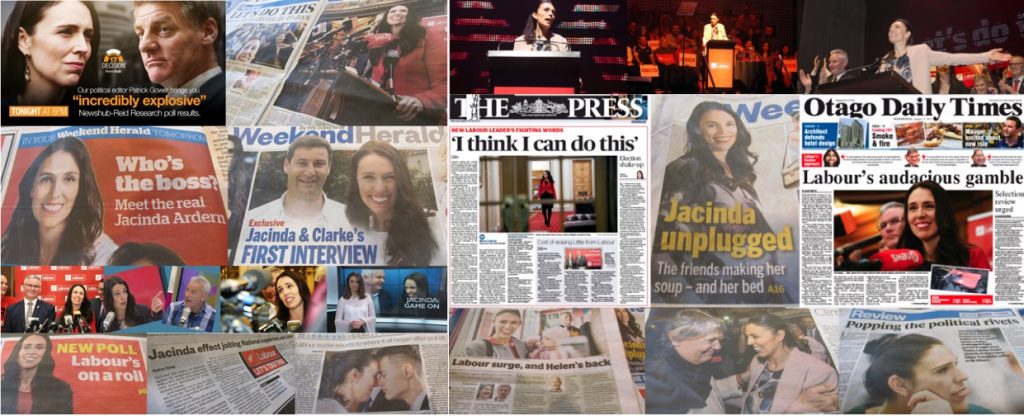 Whether unholy wittingly or unevenly not, New Zealand's neutrality-pretending news media showed they have the capacity to re-construct reality. Especially, when they are supplied with a political actor who has the charisma to work a room — as a result of their own pressure cooking, or Cullender Kitchen Utensil Rituals — to coerce a more palatable Kitchen Cabinet menu. The Media Missionaries could then market the revamped dietary fare to reinvigorate business by competing over the presentation of the new rivalrous selections to their primary and secondary consumers — big-noting advertisers and mass news audiences, respectively. By these poorly understood transmission mechanisms, in just one month, Labour Cola's party polling rocketed from a 20-year low of 24% popularity to 43%, over-taking the rival Pepsi National Party. Indeed, Massey University Professor Claire Robinson studied the front-page space of major newspapers from August 5 to 20, afforded to the two main party leaders. Robinson found that the ratio was in Jacinda Ardern's favour, her image got the lion's share appearing 86.6% of the time, to Bill English's who appeared in 13.3% out of the 94 images counted. In the second period Robinson studied, she found the allocation evened out somewhat, with Ardern getting 55% and English 45% of the frontpage image allocation. The comfortably-off Pākehā-dominated Establishment Media, landline-based Market Research Companies and Professional Commentariat are as neutral as Switzerland's banks are transparent.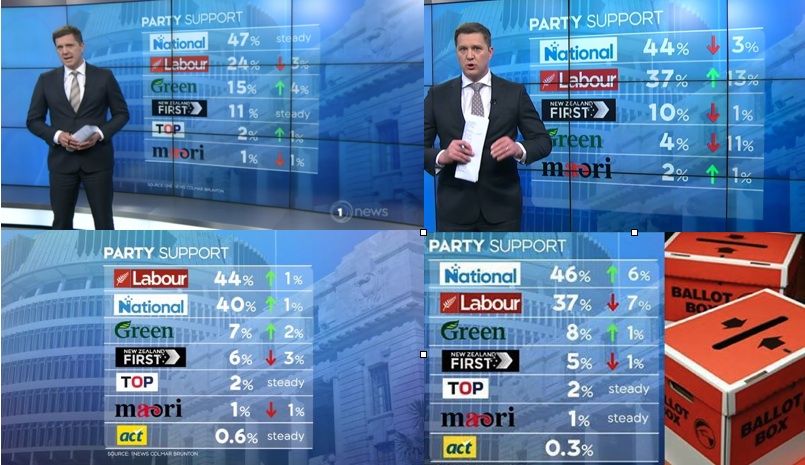 Not surprisingly, New Zealand's news media does a poor job of providing context about who drives events and why. Therefore, the warnings of a New Zealand-born billionaire in mid-2016 that were influential on this election was lost in transmission in the world's premiere test facility for political strategies, social engineering, and technologies.
The Influence of a Periodic Roundtable Billionaire
In his whistle-stop tour to Aotearoa in July 2016, New Zealand-born Rich Lister, Stephen Jennings, warned that the social problems visible in USA America and Europe would manifest here if New Zealand's policy-makers did not get ahead of the inequality issues such as around housing affordability, education and employment opportunities. When Jennings delivered a lecture to an ultra-right wing think-tank formerly known as the New Zealand Business Roundtable – he proposed selling off all state-owned enterprises (except where there were regulatory or competition concerns), corporate welfare-chartered schools and cutting Council restrictions on house building in Auckland. The Rich Lister, whose net worth is $1.1 billion, also endorsed Schweppes Tonic ACT Party Leader David Seymour's 2017 book entitled, Own Your Future, with a foreword. Jennings' influence was also detectable in the 'Mood of the Boardroom' survey of CEOs, who had realized that poverty was a pressing issue that needed non-emancipatory 'solutions' to head off social unrest and maintain the Rich Lister Civil Oligarchy's favoured private political system: Neo-Colonial Capitalism.

Jennings' lobbying efforts also influenced the thinking and behaviour of the Establishment Media, who had already turned on Key when his multi-year distraction mechanism, commonly known as the Flag Change Referendum, was ripped apart by voters in late March 2016. With this strategy torn in two pieces, Key the Matador & his Associates were left exposed to all of the crises that the Minister for the Department of Distractions had deflected New Zealand's Tax Herds' attention from. The Key Ministry's flag change plan was intended to work as a transmission mechanism to long-board the 'Smiling Assassin' to a fourth election victory by getting the Prime Minister to ride the equivalent of a surfie's wet-dream wave. Except, where a surfie's autism is generally harmless, Key-the-Matador's intentions weren't. Because, Key 'the Smiling Assassin' was, in fact, banking on riding a wave of patriotism to be generated from the imagined photo-ops of new flags on new uniforms, official stationery, licenses, passports, office building branding and flagpoles sporting the proposed 'Beach Towel' designs — in order to harvest votes.
On the cusp of something special? Merchant bankers Michael Fay and David Richwhite talked in the mid-1980s of transforming NZ into a 'Switzerland of the South Pacific', or a foreign exchange capital. Prior to the 2014 election, then-PM John Key repeatedly said NZ was "on the cusp of something special", without explaining himself.
It was, therefore, fascinating that in the immediate aftermath of Key's flaggy-decorated long-board breaking in half, that NZ Herald business reporter Fran O'Sullivan wrote an article entitled "Key's vision – Switzerland south" to reassure big corporates that he had their wealth growth interests firmly in mind. Key explained the wealthy find New Zealand appealing due to its developed, democratic jurisdiction, with a terrorism-free society and natural beauty far away from the world's troubles. At the end of July 2016, O'Sullivan followed up with a piece headlined, "Five critical issues weakening the appeal of Brand Key" in which she revealed that Key's mercurial voter-baiting "cusp of something special" mantra that he deployed during the 2014 election campaign, was code for 'his' Switzerland of the South Pacific vision. Evidently, this meant New Zealand was being transformed into a location for the wealthy to live, invest and relax. The Herald's seasoned business reporter noted Jennings' influence on corporate leaders, who had heeded his concerns that such uneven wealth distribution heightened the probability that social unrest would manifest in the very place the super-rich found attractive because of its distance from the upheavals occurring elsewhere. In her September 27 2016 piece headlined –  "Mood of the Boardroom: A Switzerland of the South Pacific" – O'Sullivan again reported that many CEOs found the 'Switzerland of the South Pacific' idea attributed to Key as attractive. Crucially,  she included Key's narrative that emphasized the Switzerland of the South Pacific vision also meant New Zealand would be a "secure haven" in a "restive world". With this emphasis, Key was signalling he had heeded the CEO's mood of concern about present social inequalities manifesting into future social unrest. For her part, O'Sullivan was working to support National's chances of re-election as the corporate community's preferred big political party.  Thus, Stephen Jennings' influence had been heeded also – at least at a sentiment level.
Marginal Seats & Strategic Voting in an MMP Environment
As I wrote five days prior to polling day, "[t]he 2017 election is Labour's to lose. They would do well to heed the lesson that the so-called left-block failed to shoot for in the first MMP election." Ironically, that unheeded lesson was the result of a special study group tasked with gauging how the first MMP election would likely unfold. Jennings privately sponsored and led a team of six in 1996.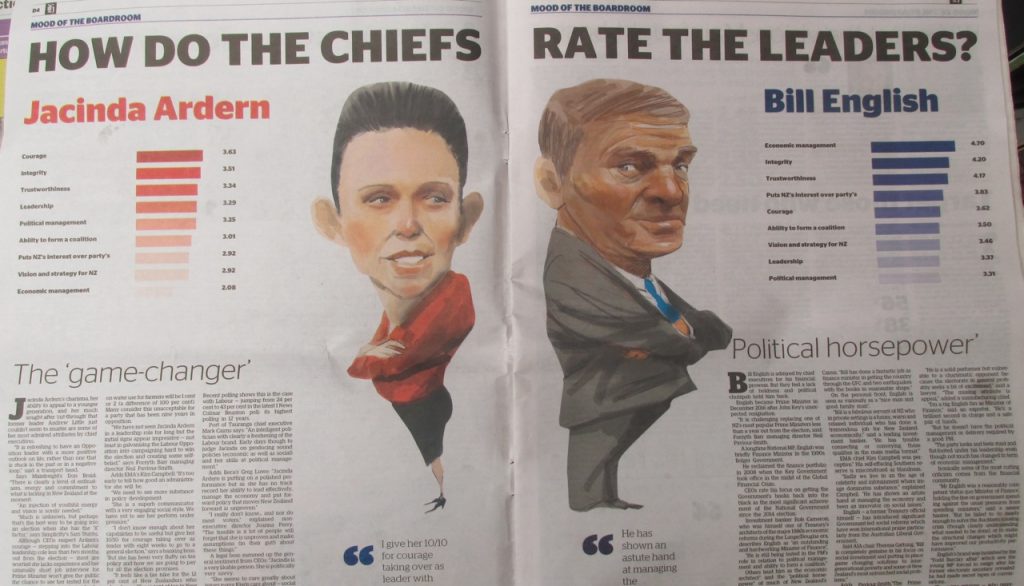 Back in 1996, when Stephen Jennings was based in Moscow, his group of six studied the political landscape of New Zealand across every electorate in order to predict the likely outcome. This secret group then traveled to Germany – with local body voting records, census, polling and telephone survey data, and electorate maps – where the now-billionaire Jennings gleaned the expert opinion off a German Green Party member familiar with Mixed Member Proportional election systems, while the group watched the periodic conversations they could not hear from an adjoining room, through one-way glass. Although they did not always get the reasons or the margins right, Jennings' secret group predicted accurately who would form the governments of New Zealand for seven elections, from 1996 to 2014!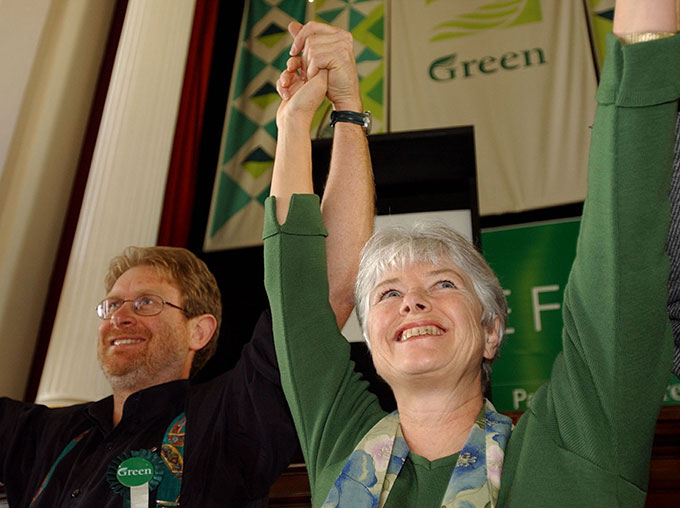 Lacking Killer Instinct: Green Party Co-leaders Rod Donald & Jeanette Fitzsimons passed up the opportunity to have cabinet positions in Clark's Labour government in 1999.
Twenty-one years ago, Green Party member and Alliance List candidate Rod Donald passed up the advice he was given to win the election. Donald was told to organize a very public event two days before polling day, at the marginal seat of Christchurch East with then-Labour Cola Party leader Helen Clark, Labour candidates Ruth Dyson and Lianne Dalziel and Fizzy Homebrand Alliance Party leader Jim Anderton. With himself lined up alongside these politicians, Donald was told this move would signal to voters that all was forgiven over the Labour-led 'free market' policy shocks of the 1980s and that with new leadership, the 'left block' parties can work together. It would have also communicated to lefties and swing voters how to vote strategically in the new MMP environment – as The Snoopman pointed out in "In a Land of Brain-washed Kiwis – Part 2: A Billionaire's Pep-talk to the 'Switzerland of the South Pacific' – New Zealand".
Two weeks after the 1996 election – which saw Bolger's Pepsi National form a coalition government with Roger Douglas's 7 MP-strong Schweppes Tonic ACT Party and Winston Peters' 15 MP-strong Coke Zero New Zealand First Party – Donald was told in Lyttleton he was stupid and arrogant for not heeding the advice. Furthermore, his Green Party, Labour and the Alliance would have been in power, instead of him being in parliament as an opposition Alliance List MP solely representing the Fizzy Feijoa Greens as "a well-paid set of ears." Amusingly, Rod Donald was also told off because the Greens failed to seek the advice of the German Green Party. The Greens' member was puzzled about how it was known that this action was exactly the move he needed to make with the Labour and Alliance leadership to form a Labour-led coalition government.
Happy Faces in 1996: Winston Peters and Jim Bolger form a doomed coalition government.
Subsequent to their loss in 1996, the Greens co-leaders Rod Donald and Jeanette Fitzsimons and Labour leader Helen Clark made it loud and clear prior to the 1999 election that they had consulted the German Green party on the workings of the MMP system. They worked strategically together, making public appearances to show voters they could form a viable coalition. Specifically, by giving the candidate vote to Labour and the party vote to the Greens or Alliance in marginal seats, they would ensure a Labour-led coalition government.
Indeed, if Jacinda Ardern had played a counter-intuitive move with a very public appearance at the summit of te Maungakiekie volcano 48 hours prior to the 'advanced voting period', Labour would likely have wrested at least six seats off National, while conceding one apiece to the Mana and Maori Party. [Taking advantage of the newly introduced 'advanced voting period' would have been shrewd because it was known to the Jennings' study group in 1996 that citizens in leafy suburbs know who they are going to vote for in local body elections – which have traditionally had three-week long voter polling periods – and that such well-healed citizens vote in the first three days].  With Labour's candidate Priyanca Radhakrishnan and the Greens candidate Chlöe Swarbrick, and flanked by her deputy Kelvin Davis, as well as Nanaia Mahuta, Greens leader James Shaw, Greens Te Tai Tonga candidate Metiria Turei and Schweppes Ginger Ale Māori Party leader Te Ururoa Flavell, Phoenix Cola Mana Party leader Hone Harawira, this 'Let's Do This Together' move would have delivered Ardern a stronger hand. By playing this counter-intuitive move, Labour would have had at least 49 seats, thereby cutting National's 58 seats to 52. For example, if lefty voters were advised to give their candidate vote to Labour and their party vote to the Greens in marginal seats, the 'left block' would've sent many of National's candidates packing. In the bell-wether electorate of Maungakiekie, if voters had shifted their candidate vote away from Green Party's Chlöe Swarbrick (2916) to Labour's candidate Priyanca Radhakrishnan (10329), Nationals Denise Lee (12,254) would not have had enough votes to win the electorate.
Strategic Fail: The Left-block missed the opportunity to decisively show the electorate it can work together, and now needs NZ First to teach them to know their MMP history.
Since its formation in 1996, Maungakiekie has been held by the party in government. With this bold move, Labour would've been signaling its intent to wrest seats off National, and the 'left block' would have won not only Maungakiekie, but also Auckland Central, Nelson, Waiarapa, Tukutuki, and Whanganui and returned the Maori Party and Mana Party. A summit meet-up on te Maungakiekie volcano would have been the election clincher.

Maungakiekie Meet-up: A high profile appearance at the bell-weather electorate of Maungakiekie by the left-block prior to the 'advanced voting period' would have signalled a critical development to voters – 'Let's Do This Together'.
Labour's and the Green's failure to heed the lesson of the first MMP election, in effect, showed: (1) institutional knowledge tools are held in poor regard; (2) conversations are yet to be mastered; and (3) a strategic failure to develop a steely campaign narrative to neuter dirty attack politics (by repeatedly spelling out the anti-democratic intent is to turn off young mortals and left wing citizens from voting — in the way that you might treat a Zombie out-break by hitting the infected as hard and as often as possible with planks, clubs and super-sized slingshots). Due to the left block's Identity Politics-infused habit of front-footing a conversation with an Always Being Right posture, and the right block's money bags politics-infused habit of front-hoofing a position with an Always Superior Resources posture, Cola Zero NZ First has been gifted the epic chance to lower NZ's Tax Farm Lab sugar footprint.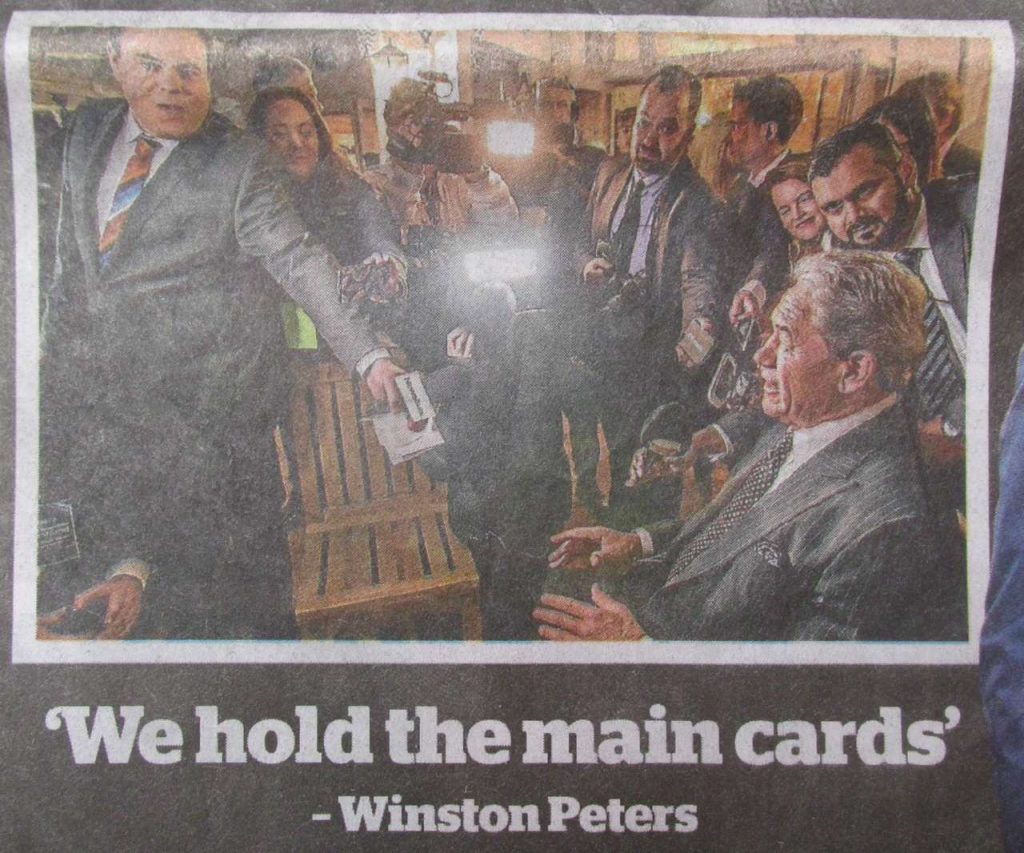 In this theatre, Peters will relish using the Voldermort word, Neo-Liberalism. Because Labour and National both set in train the Shock Doctrine economic warfare framework that exacerbated prior problems and added more, the two major parties won't fess up unless they are made to swallow those dead rats. Peters is one of the few political actors with the frankness, fire and flare who could spell out to we, the NZ Tax Herds, why we live in a crisis-ridden test facility for the world.
However.
Human Tax Farming or Imagining 'Finding Nemo'
The deep lesson for all New Zealanders is to see through the fizzy centralized power structure that is the Westminster Parliamentary Tax Farming system, to imagine the impossible — as law scholar Moana Jackson suggests. After-all, the Westminster Parliamentary Tax Farming system is a globalized franchise developed by the privately-owned municipality, the City of London Corporation. This is but one of the many facts left off the seven Treaty of Waitangi parchments. Indeed, as readers of my popular illustrated essay — "The Masonic New Zealand Wars: Freemasonry as a Secret Mechanism of Imperial Conquest During the Native Troubles"  — can now see via a sharper, triangulated lens, that an un-sanitized Aotearoan history emerges. That epic essay shows today's New Zealand host-population that a Tax Cattle debt-enslavement monetary system was formalized during the 'Maori Wars' by the royally chartered Bank of New Zealand. We – the Tax Cattle – are yet to emancipate ourselves from this hidden structural bondage inflicted by undead Colonial vampire snakes and maintained by Neo-Colonial Tax Farmers.
'We, the Kiwi and Iwi Tax Cattle' need to cooperate together to pursue emancipatory projects to escape 'the Green Economy Smart Grid' or a neo-'Switzerland of the South Pacific' that the political Tax Farmers' are constructing – wittingly or unwittingly – in collaboration with technocrats on behalf of unseen Rich Lister oligarchs, foreign and domestic. As I pointed out in Why Labour's Three Sacred Cows are National's Elephantine Room-mates, former Lange Government Finance Minister, Roger Douglas, bragged in a private conversation in December 1986 that the idea underpinning the 'free market reforms' was to transform NZ into a Switzerland of the South Pacific, with a top strata of wealthy people and that in 25 years most New Zealanders would not be able to afford to live in NZ.
If we think about how our lives are working out, are we as happy as the Tax Farmers' best election night smiles?

Whether we are a stressed-out Herne Bay Pākehā professional class couple with 2.2 reserved children — who were ripped from the Netherworlds with neither soul, or property portfolio, and skill-less, lacking a life strategy and devoid of callous ambition — are we that happy? Or a Samoan couple, who hold down six cleaning jobs, including one at the New Zealand Herald, whose four children were called to this world from the Christian Congregational Church of Samoa's netherworld? Or a working class family, Māori or Pākehā, who had the nouse to never sell the bach in Raglan bought in the 1960s and who see the country transforming into a billionaires bolt-hole location? Whoever it is you squeeze lovingly, you would have to admit that bona fide happiness can't be got from endorsing the squeezing of the host population with undead centralized power structures?
Regardless of whether the centralized power structure is directed by Neo-Colonial Capitalist's like the Big Four Accountancy Fox's in charge of writing the Tax Chicken Coop legislation, or the Bilderberger-NATO-Cambridge Analytica fighting factions, or the Chinese Communist Party Oligarchy fused with the post-Soviet Russian Oligarchy partnership, these New World Order factions will not deliver us freedom, happiness or the beautiful anarchy that unregulated, unmarketable and uncontrollable love can deliver for all New Zealanders.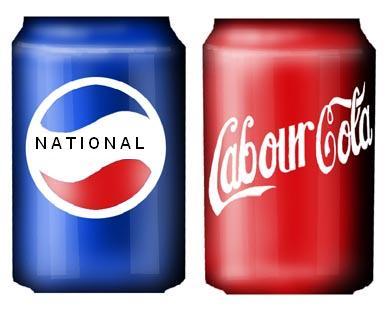 No party's can can. No matter what fizz it contains.
Because the place we get to from here, where we serially get a slim set of choices each selection campaign will be no party venue. Especially when you consider that the hidden transmission mechanisms to reconstruct reality in order to present a revamped dietary menu was, in part, the result of a billionaire lobbying to the corporate class for structural adjustments to the economy to mitigate the very impacts that he played in instrumental role in causing.
What can we do now?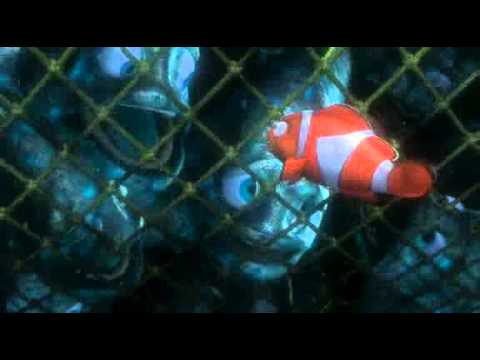 The 'Swim Down' scene in Finding Nemo is inspirational.
Don't you think?
Produced by Meddling Kids 2017