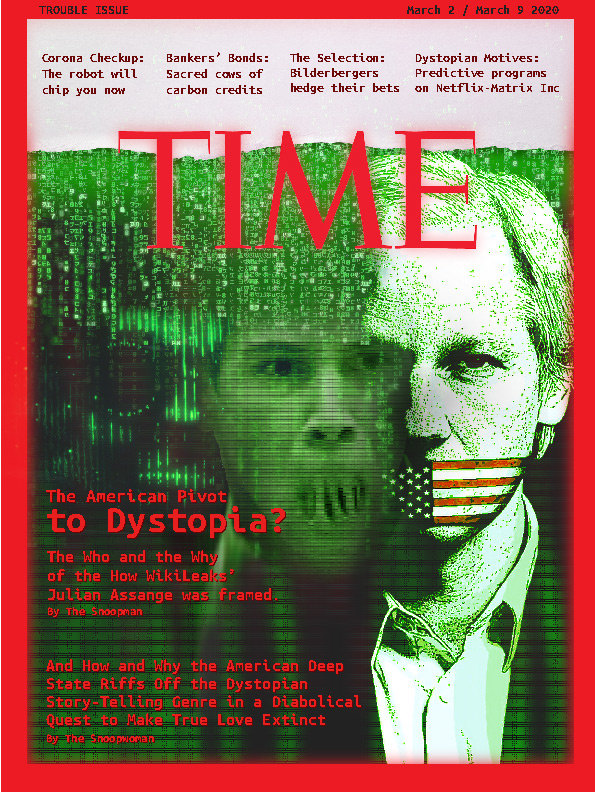 This potentially precedent-setting trans-jurisdictional trial of Julian Assange — the founding publisher of the whistle-blower web-platform, Wikileaks — boils down to a gambit to construct a global defacto-journalism licensing system. Shockingly, Her Majesty's Government of the United Kingdom is attempting to 'murder' political asylum in the potentially precedent-setting extradition trial In this special report, The Snoopman finds that it is now the intention of the sovereign parliament of the United Kingdom, in conspiracy with the United States Government, that persons are now extraditable for political offences, in spite of the Extradition Act, the UK-US Extradition Treaty and centuries of trans-Atlantic liberty.
By The Snoopman
America's Most Wanted Man
The Australian born founder of the whistle-blower web-platform, WikiLeaks, Julian Assange, is America's most wanted man. Assange stands accused by the governments of the United Kingdom and the United States for aiding and abetting in acts construed to be espionage, instead of journalism, and he is ultimately deemed to have assisted terrorists.
The shocking key finding of this investigation is that this potentially precedent-setting trans-jurisdictional case boils down to a gambit to construct a global defacto-licensing system for journalists in a post-9/11 dystopian world where news gathering becomes make-believe 'scoops' authorized by governments in Police State territories.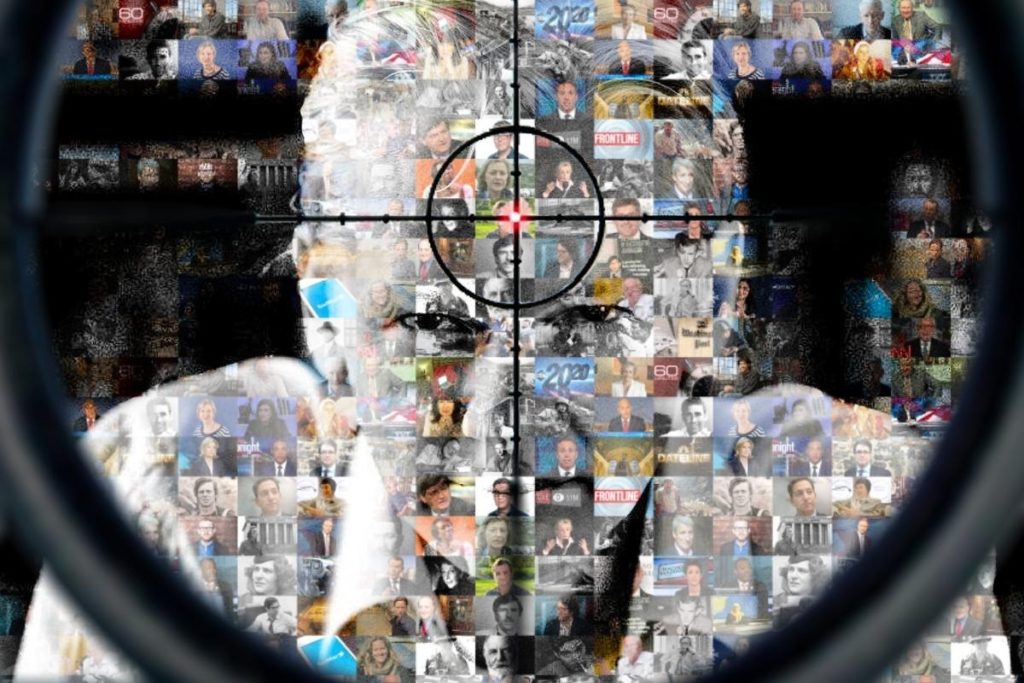 The prosecution is claiming that Assange not only harmed the national security of the United States for publishing material as a result of assisting US Army Private, Bradley Manning (who subsequently became Chelsea Manning), to intrude into government computers to gain classified material, on or around and between March 2 and March 10 2010, with the intention of disseminating such information on the WikiLeaks website.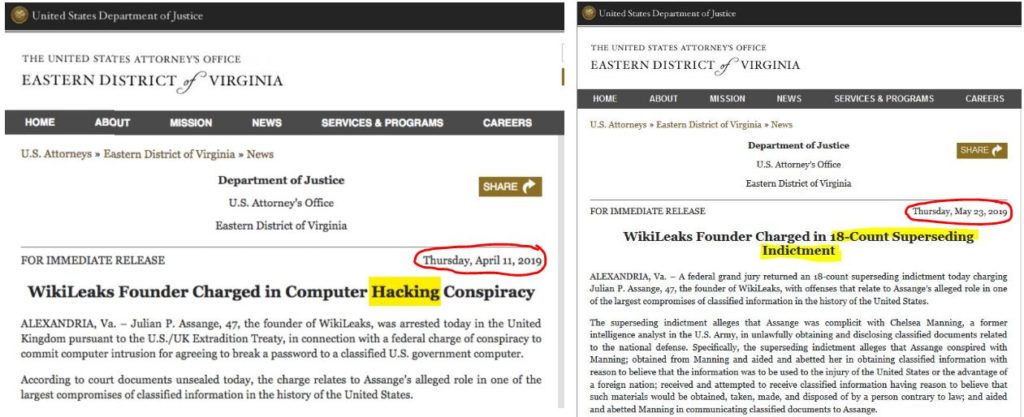 The legal team for the UK Government has not specifically stated Assange has aided and abetted in acts deemed to have assisted terrorists. But, in asserting that Assange cannot claim what he did was a 'political offense' as set out Article 4.1 of the US-UK Extradition Treaty of 2007, this stance insinuates that Assange is complicit in offences described in Article 4.2 which are all about participating, furthering or concealing violent acts to affect political objectives, which fits universal definitions of terrorism. After-all, no one has tried to construe that WikiLeaks is a huge money spinner and therefore that Assange's motive is pecuniary gain. But there has been plenty of scuttle-butt accusing him of being an agent of another regime, or a political leader, a non-state actor who acts like an intelligence agency perpetrating espionage.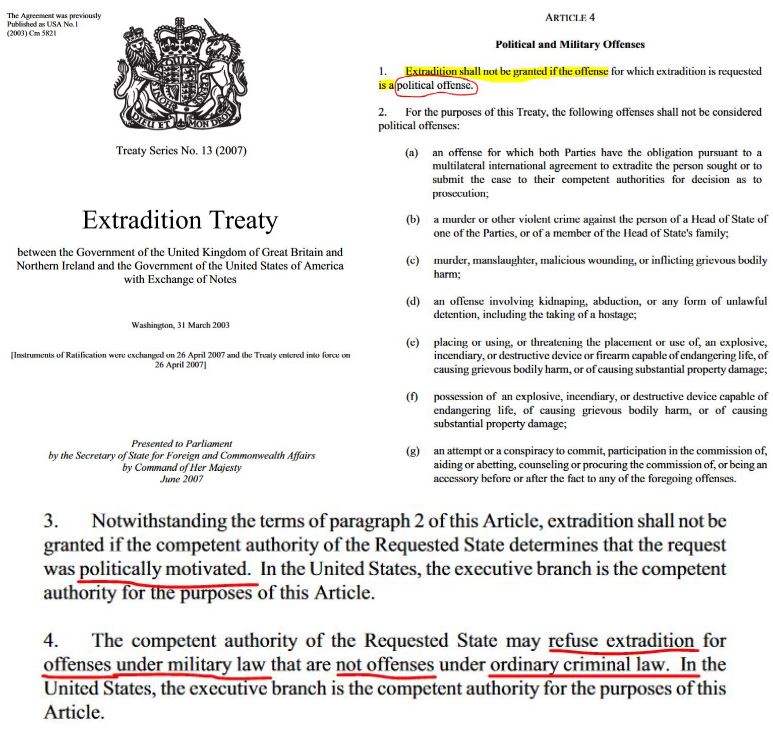 If the extradition request were determined to be politically motivated, the 'Requested State' can refuse extradition, as stated in Article 4.3. Indeed, the Requested State can also decline extradition if the offences are determined to be military ones if such acts were not considered offences under a country's ordinary law, as stated in Article 4.4.
The prosecution, in choosing to advance Assange's case to an extradition hearing, is trying to assert that there is no political motivation behind the US Government's extradition request. In short, the US Department of Justice's 18 indictment counts talk around the central issue: are acts of unauthorized procurement, possession, and publication of classified, or other-wise secret, material of a state – actually espionage or journalism?
In order to better frame Assange with an 'enemy of the state' casting, the US and UK governments advanced the position in last week's extradition trial that even if he had not aided and abetted Manning, he is still liable for extradition because the Official Secrets Act of 1989 removed the 'public interest' argument as a defence and made unauthorized possession of an official secret a crime. Because the United Kingdom's Official Secrets Act of 1989 is a similar law to the United States's Espionage Act of 1917, the principle of dual criminality applies. This means in cases of extradition, an accused person can be extradited from one country to stand trial for breaking a second country's laws only if a similar law exists in the extraditing country.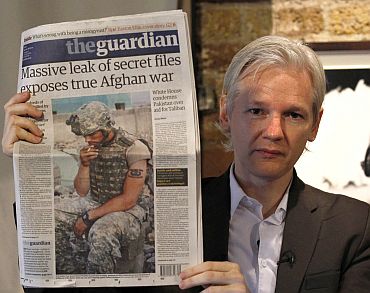 What Assange actually did was leak cables, documents, and video that revealed damning details of war crimes, widespread murder of civilians and corruption that the US Government is ultimately responsible for, in its wars against Afghanistan and Iraq.
Indeed, the war crimes exposed by WikiLeaks included torture, rape, and executions of prisoners of war, kidnapping rendition flights, and the infamous "Collateral Murder" video published by WikiLeaks on April 5th 2010, showing US forces killing two Reuters journalists and nine Iraqis from a hovering helicopter. This publication of this video made WikiLeaks world famous and demonstrated the whistle-blowing platform's damaging reach. WikiLeaks has also exposed classified documents showing cover-ups of official casualty figures and body counts and the suppression of dire portraits warning the American war machine was wading deeper into catastrophe in Iraq and Afghanistan.
A Kafkaesque Trial in a Post-9/11 Dystopian World


The government of the "USA claims universal jurisdiction" over the world – as former British Ambassador to Uzbekistan, Craig Murray, put it in his round-up of Day 4 at this Kafka-esque trial, for crimes of publishing, or to put it in Orwellian terms, thoughtcrimes. In other words, the US and UK Governments are moving to gain buy-in from the world's major media outlets to only publish or broadcast vetted material for which they have an official receipt of permission.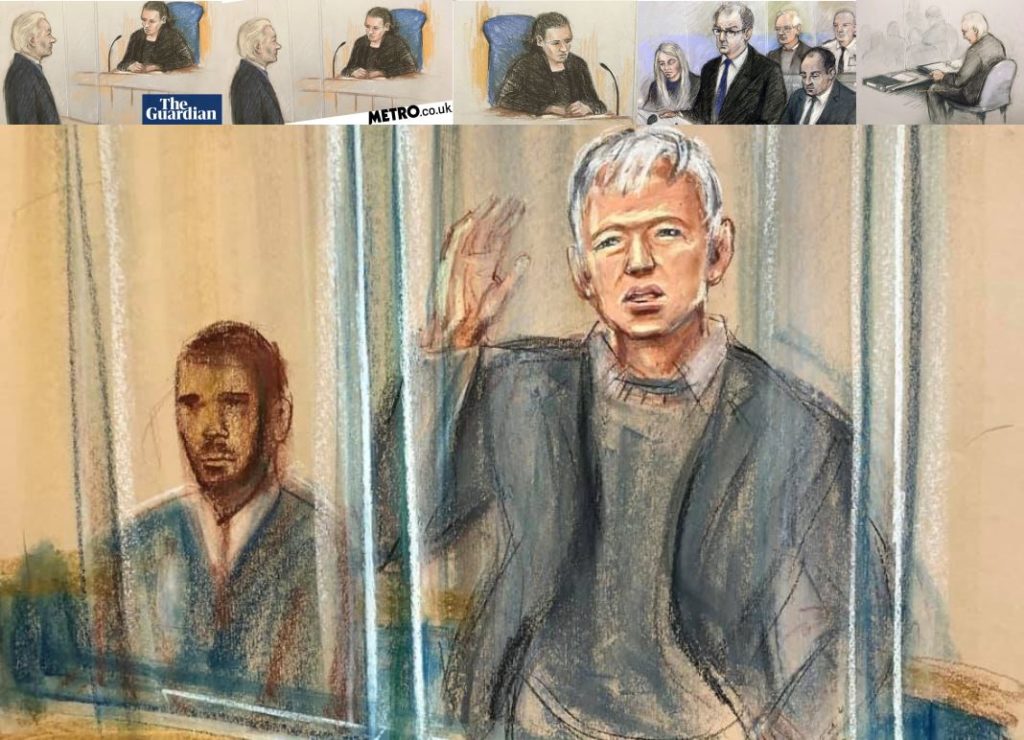 After the first day in court, Assange's Queens Counsel Edward Fitzgerald reported in Woolwich Court his client was handcuffed 11 times, stripped twice, and moved between 5 holding cells, and his handwritten notes were seized by Her Majesty's Belmarsh Prison staff. This was even beyond the theatrical sensibilities for the prosecution, James Lewis QC, who perhaps heard bells dinging in his head and saw a 'Rail-Way/Crossing' sign flash in his mind's eye that declared 'Mis-Trial/Biased Conductor Ahead' instead.
From the glass tank, Assange complained, "I am as much a participant in these proceedings as I am at Wimbledon (tennis)," he told the judge. "I cannot communicate with my lawyers or ask them for clarifications." Meanwhile, three US Department of Justice lawyers sit directly behind the UK Government's prosecution lawyer James Lewis QC, and constantly communicate with him.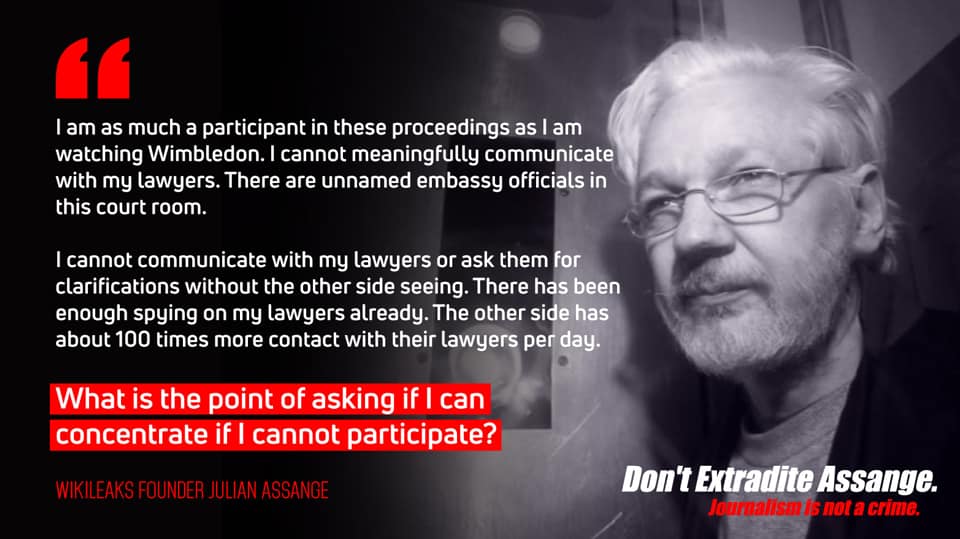 Outside the court, the accused's father, John Shipton, emphasized the persecution of his son by way of summarised the captivity he has been subjected to. "Ten days solitary confinement in Wadsworth Prison. 18 months house arrest in Norich. Seven and a half years in the (Ecuadorian) Embassy. Ten months in Belmarsh maximum security. One year for an appeal for in future. Another appeal to the supreme court – two years. 13 years arbritary detention for a man who hasn't committed a crime," he told the news media after three days in Woolwich Crown Court.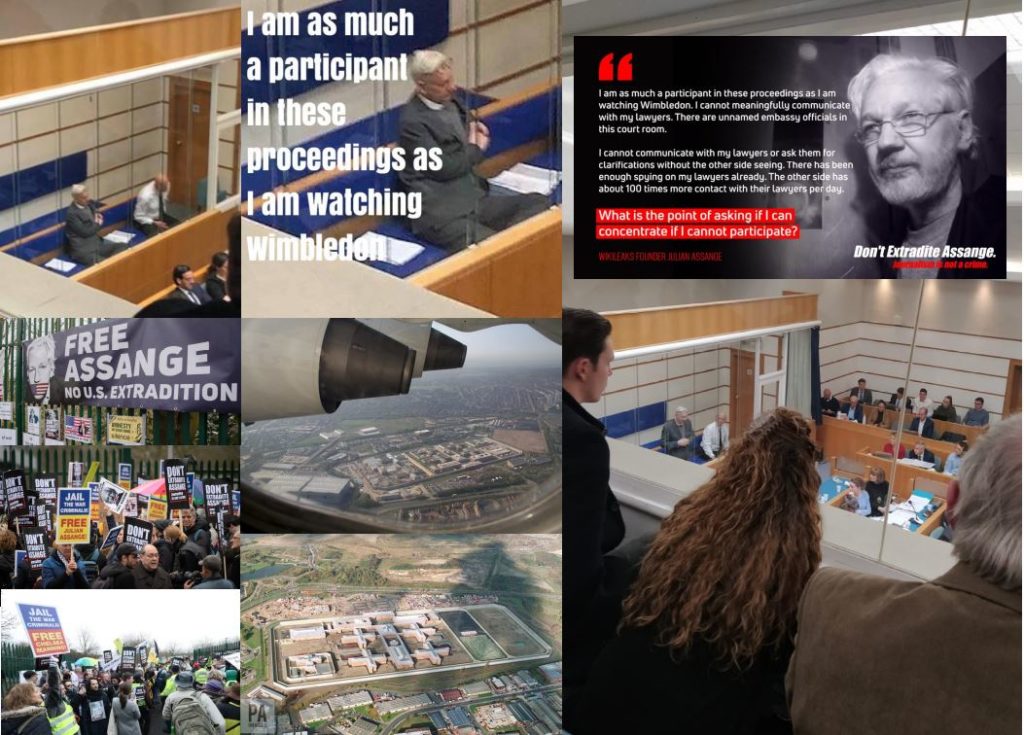 In this Kafkaesque tale, a Stalin playbook show trial took place in Her Majesty's Prison Court at Belmarsh which is designed as a "physical negation of the presumption of innocence", not least because it is located on a windswept marsh amid a maze of dual carriageways by the Thames River on the outskirts of London – as former British Ambassador to Uzbekistan, Craig Murray, stated in his reporting from this Kangaroo Court. It turns out extradition proceedings are supposed to be held at Westminster Magistrates Court, as the application is considered to be delivered to the government at Westminster.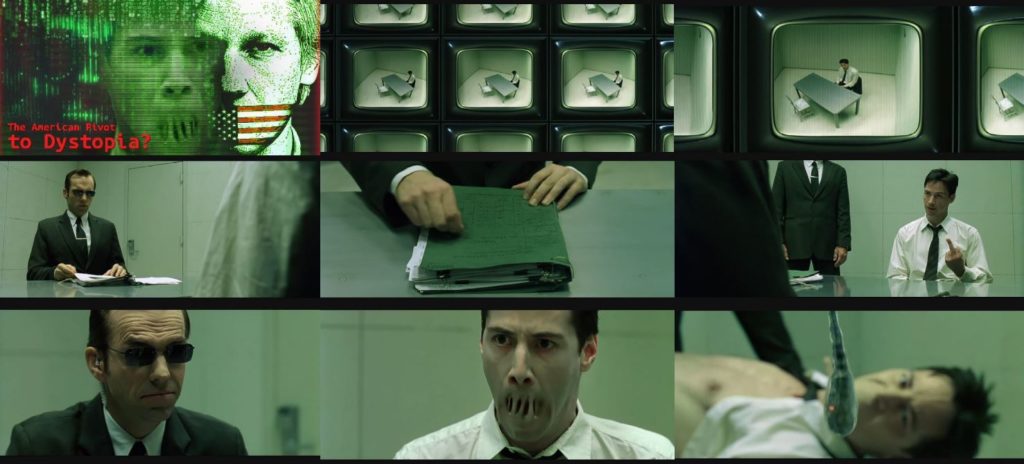 Orwellian British Connections to American Big Brother
Incredibly, Assange's Kafkaesque extradition hearing is deemed to be held at Westminster Magistrates Court, held by Westminster magistrates and Westminster court staff and is supervised by Westminster Chief Magistrate Lady Emma Arbuthnot, about whom Murray said he could not conceive how her involvement in this case could be more corrupt.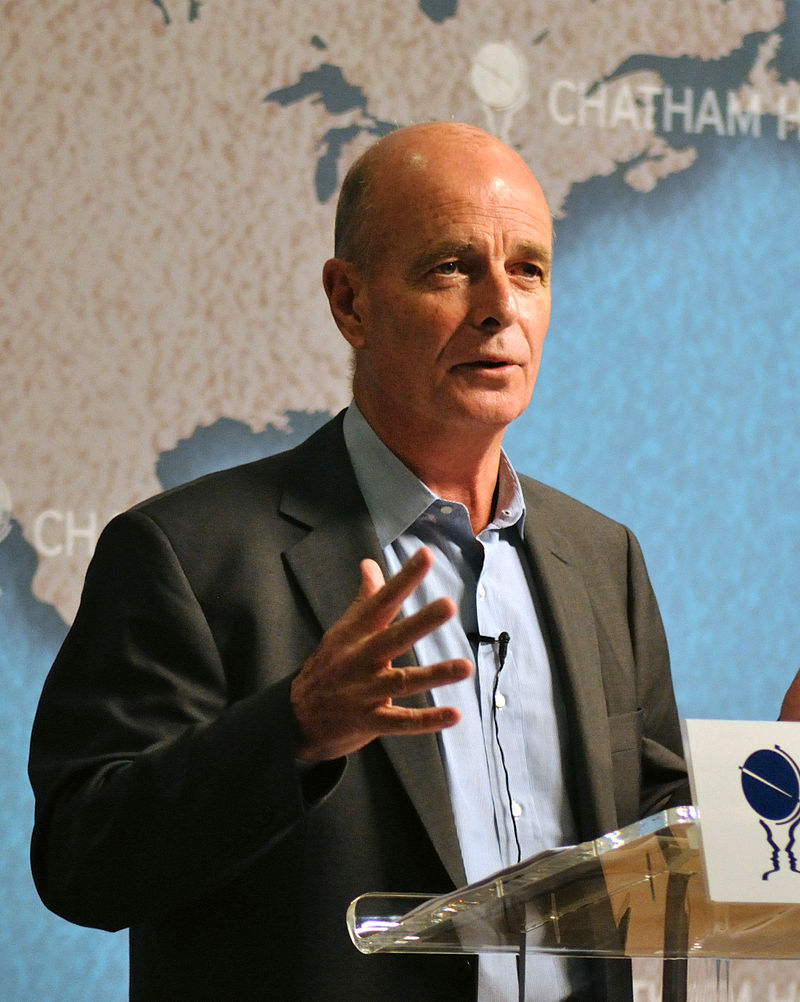 Westminster's Chief Magistrate Lady Emma Arbuthnot is married to a former UK Defence Minister, Lord James Arbuthnot of Edrom, who was overseeing Britain's military engagements during the period that WikiLeaks exposed the Iraq and Afghan 'War Logs'. Lord Arbuthnot subsequently was co-director of SC Strategy consultancy with the former head of MI6, John Scarlett, who was the principle author of the fabricated 'September Dossier' used by the Blair and Bush regimes to justify the America's Iraq War. Tony Blair's Downing Street Director of Communications and Strategy, Alastair Campbell, assisted with the fabrication of the 'September Dossier', formerly titled, "Iraq's Weapons of Mass Destruction: The Assessment of the British Government", published on September 24th 2002 to justify plans to attack Iraq on March 17th 2003. By Scarlett's vicious framing, Iraq possessed WMD, including chemical weapons and biological weapons and had reconstituted its nuclear weapons programme.
In 2004, the Iraq Survey Group, found Iraq possessed only small stockpiles, posing an insignificant threat. Therefore, the Bush Regime and the Blair Regime lied when they construed that Saddam Hussein posed an imminent threat to the world, as Why We Fight showed. Iraq did not even possess intercontinental ballistic missiles.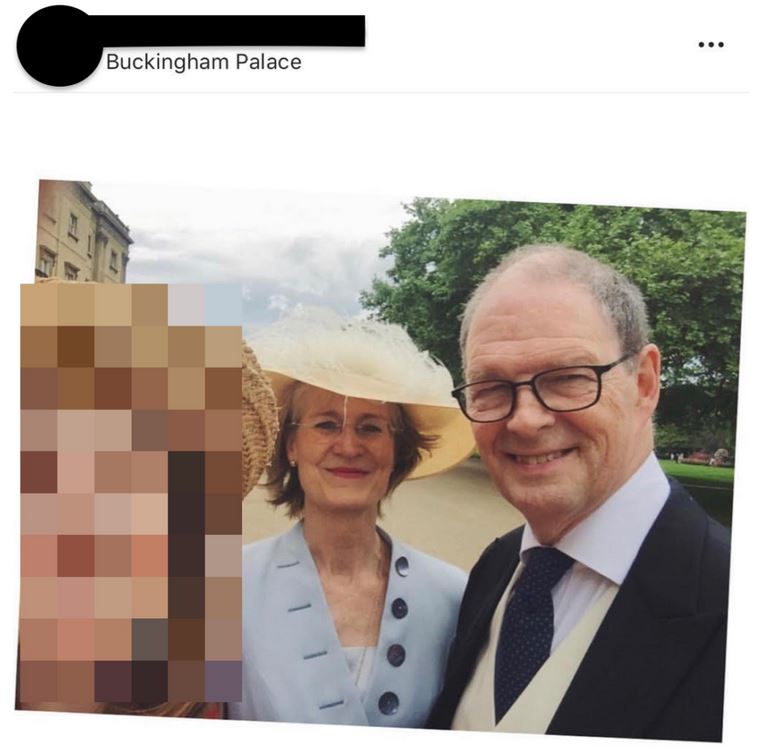 America's war to liberate Afghanistan's poppy fields, build bases and retard development cost the American Tax Herds $1 to $2 trillion dollars, depending on whose count you take, and consumed 150,000 Afghan and 2400 American soldiers' lives, has ended as this special TIME Trouble Issue goes to print. Meanwhile, America's Second War to liberate Iraq's oil, build bases and retard development 2003-2011 has cost American Tax Herds $2.2 trillion dollars, and either total 190,000 lives lost on both sides or as many as 2.4 million Iraqi people and which left the war-torn country vulnerable to Civil War (2014-2017) and attack by the NATO-sponsored, ISIS.
The US extradition request to UK authorities was authorized by Sajid Javid, who was Britain's Home Secretary from April 2018 to July 2019.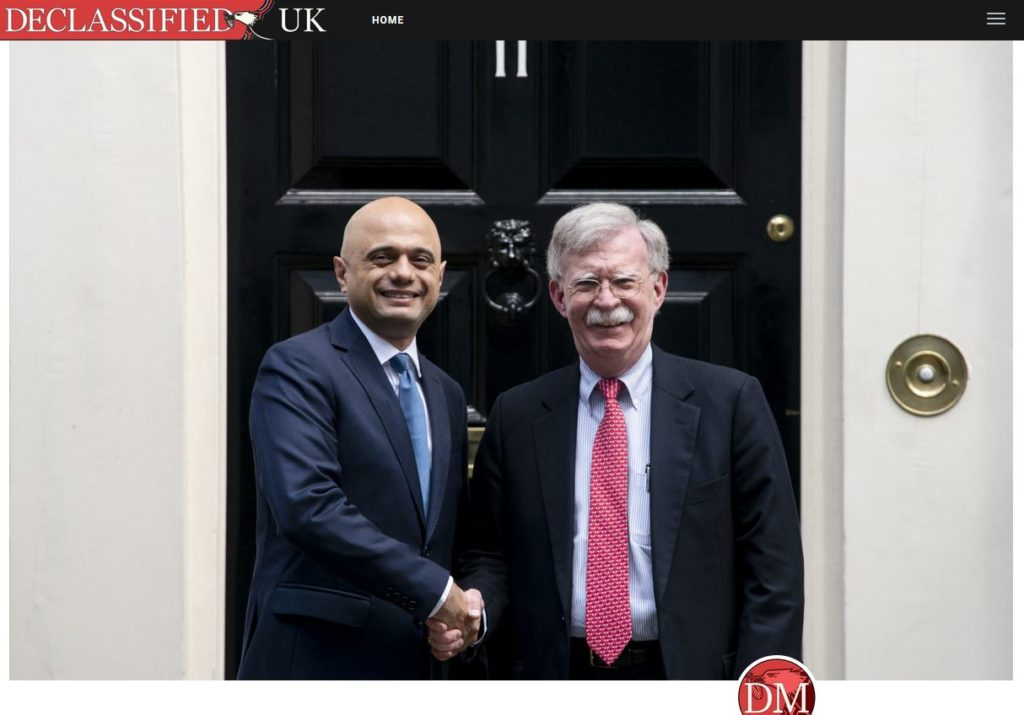 It turns out, Javid was ensconced in the milieu of the American Enterprise Institute (AEI), a pro-US Empire think-tank that holds annual 'World Forum' conferences. Many 'luminaries' of Bush II Regime whom were the architects, enablers or supporters of the Afghanistan and Iraq wars have presented talks at the AEI forums.
Bush II Regimes war-mongering, conspiring élites who participated in AEI World Forums held top official posts, included: Vice President Dick Cheney, Deputy Secretary of Defense Paul Wolfowitz, CIA Director Michael Hayden; Air Force Space Commander William Shelton; and Governor of Florida Jeb Bush.
The Afghanistan and Iraq wars were, in fact, consistent with the diabolical world domination vision of a little-known and now defunct think-tank called The Project for a New American Century (or PNAC). This Zionist-aligned Neo-Conservative think-tank was founded in 1997 by William Kristol, and was riddled with élites such as Richard Armitage, Jeb Bush, Richard B. Cheney, Donald Rumsfeld, and Richard N. Perle Paul Wolfowitz, R. James Woolsey, Dov S. Zakheim Robert Zoellick among others, whom became key figures in the Bush II Regime, as Eugene Jarecki's Academy-Award winning 2005 documentary, Why We Fight shows.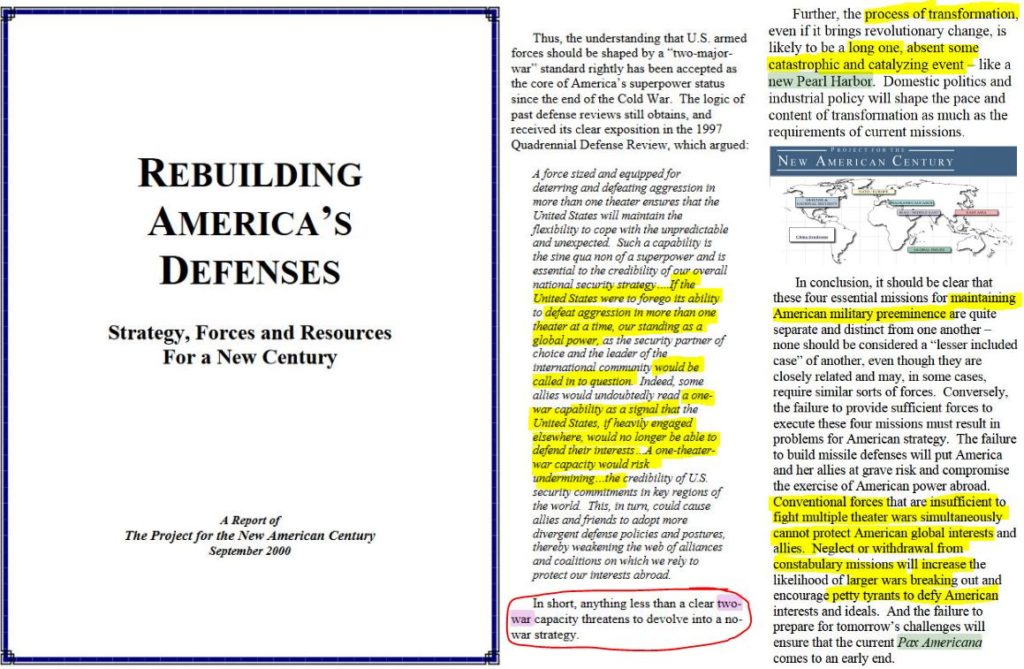 In a white paper titled "Rebuilding America's Defenses", published in September 2000 by the Project for a New American Century, its authors argued that America had to be seen to be fighting two major wars simultaneously. If the US did not, the authors stated, then America would lose its sole superpower status and risk devolving into a no-war power. "Rebuilding America's Defenses" advocated embarking on a 'revolution in military affairs', by which was meant a radical transformation of US military organization, war technologies and deployment to maintain its global domination. This transformation, the authors chillingly stated, would likely be a long one, "absent some catastrophic and catalysing event – like a new Pearl Harbor" – as the NewStatesmanAmerica reported in an article, "John Pilger reveals the American plan: a new Pearl Harbour" on 16 December 2002. The phrase American Century was coined by Henry Luce, the founder of Life and Time magazines, who published an editorial titled "The American Century" in February 1941 proclaiming the United Stated was in the war, 11 months before Pearl Harbor. Luce argued that President Roosevelt was slow to confront the totalitarian threat of fascism and stated the Twentieth Century belonged to America, if the nation used its prestige, power and principles to spread democracy and freedom.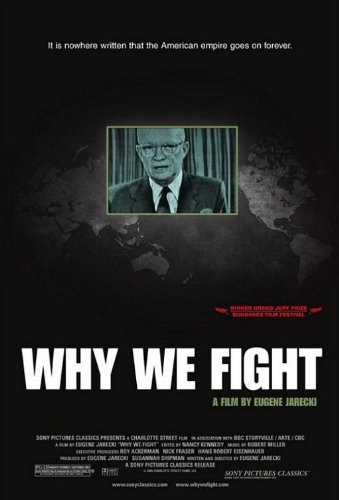 In other words, the rhetoric accusing Assange of recklessly risking US military lives in America's Wars against Afghanistan and Iraq can only hold if the subterfuge remains intact that the United States Government's viciously fraudulent justifications for those wars is forgotten. And, that the magistrates and judges presiding over the UK to US extradition proceedings advance the contrived ignorance game about the fact that the Anglo-American-NATO military empire needed these wars to inflict regime changes to get compliant governments on behalf of super-wealthy billionaire coalitions, as Professor Peter Phillips found while researching, Giants: The Global Power Elite.
The dirty secret of US national security interests is that the American Deep State is locked in to a rivalrous race against the other two super-powers, Russia and China, to secure carbon energy resources, minerals, drug production, and narcotics routes, infrastructure and territories for their Techno-Feudal corporate empires. Those imperial games entail destabilizing governments with coup d'états, dirty wars and strategies of tension and are accompanied by Shock Doctrine economic warfare.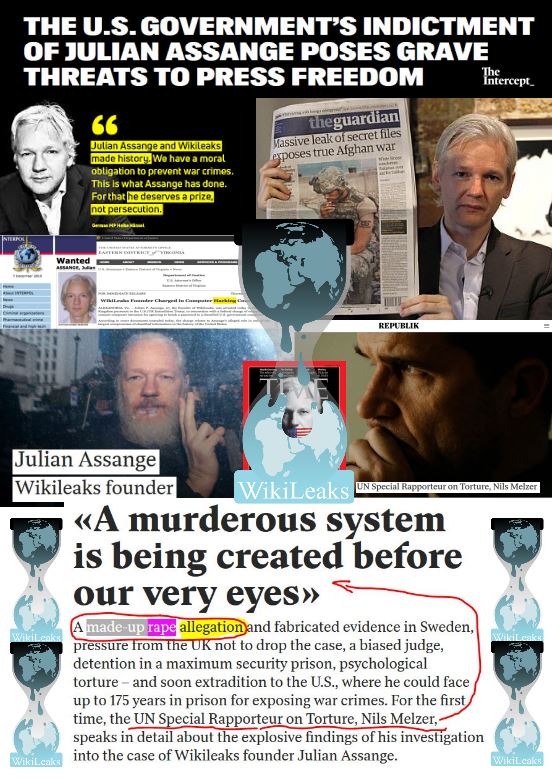 In this epic imperial game complete with contrived ignorance, the extradition trial proceeds only because the American Empire's key players and accomplices feel safe that they believe they won't ever end up in prison themselves. There is now an exquisite data-set revealing applied game theory, complete with players performing to hostage-posting scripts, embedded with codified communications, and signposting the direction to take, as the American Deep State doubled-down like Wiley E. Coyote trying to capture, maim or kill the Roadrunner, Julian Assange.
If Julian Assange is extradited to the United States, he will likely face a show trial grand jury in Virginia. US law requires juries be comprised of the demographics of the state. 80% of the Virginia's population is employed by the government, in a state that is home to the headquarters of the Central Intelligence Agency.
Assange's legal team can be expected to fight the extradition all the way to the UK Supreme Court, which would be a two year legal battle. However, it is disturbing to note that Belmarsh Prison Governor Rob Davis suddenly left his previous post at Woodhill Prison after the 15th prisoner committed suicide in August 2016 on his watch, according to legal advisors DPG. This legal advocacy group reported that Woodhill Prison had the United Kingdom's highest suicide in Britain during the May 2013 to August 2016 period, with one suicide occurring about every 45 days. DPG noted that there was also a high suicide rate on Prisoner Governor Davis's watch at Chelmsford, a stint that Davis boasted managing a £14 million budget and cutting over £5 million over his six year stint. Assange's incarceration in a prison governed by a governor with a history of high suicides not only suggests the fix is in to inflict stresses to impair his will to defend himself, and to drive him to kill himself.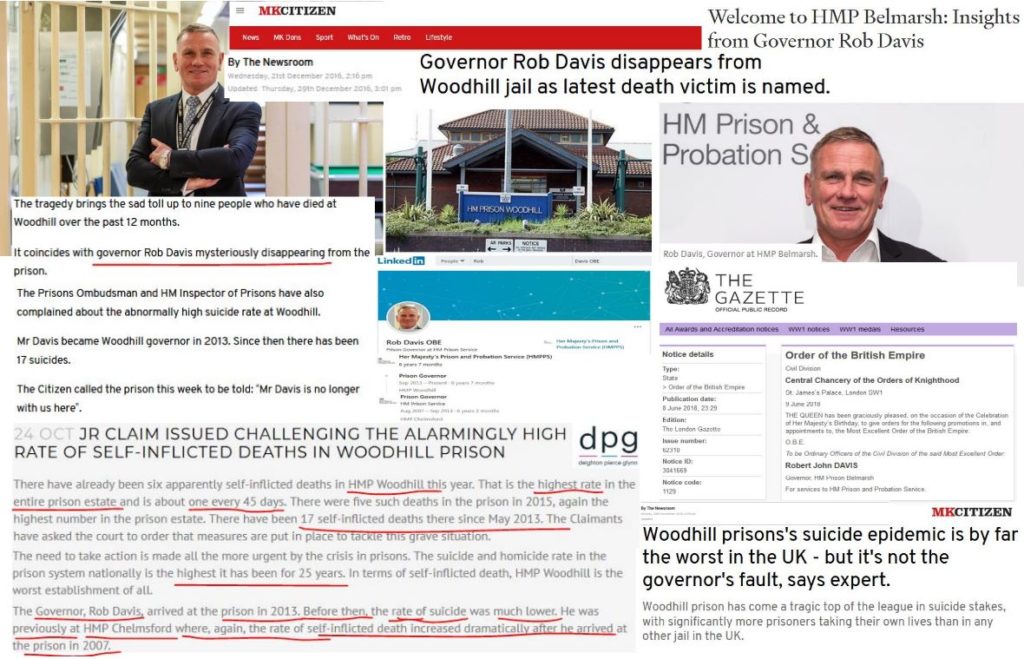 The infliction of a 51-week prison term at Belmarsh for skipping bail appears also to be propagandist. Because Blemarsh is designed for violent criminals and terrorists, his imprisonment there while extradition proceedings occur, works as part of the Kafkaesque show trial that communicates US Government propaganda that he has aided and abetted terrorists.
In January 2020, ITV aired a documentary called Welcome to HMP Belmarsh, which has a reputation for being "Britain's Guantanamo." Welcome to HMP Belmarsh was presented by actor Ross Kemp was formerly married to Rebekah Brooks, trusted deputy of media oligarch Rupert Murdoch, whose News Corp empire promoted the Iraq War. According to World Socialist Website, the fascist poster-boy Tommy Robinson, who was sentenced to Belmarsh for contempt of court after attempting to collapse a serious rape trial, appears in several interviews with Kemp. Evidently, Assange was the subtext to the documentary, inferring that Robinson was more popular than Assange because the fascist poster-boy got more mail.
The documentary appears to be part of the continued smear campaign ahead of the Assange extradition trial since it made clear that the prison has held KGB agents, Al Qaeda cells and criminals of drug syndicates and money laundering.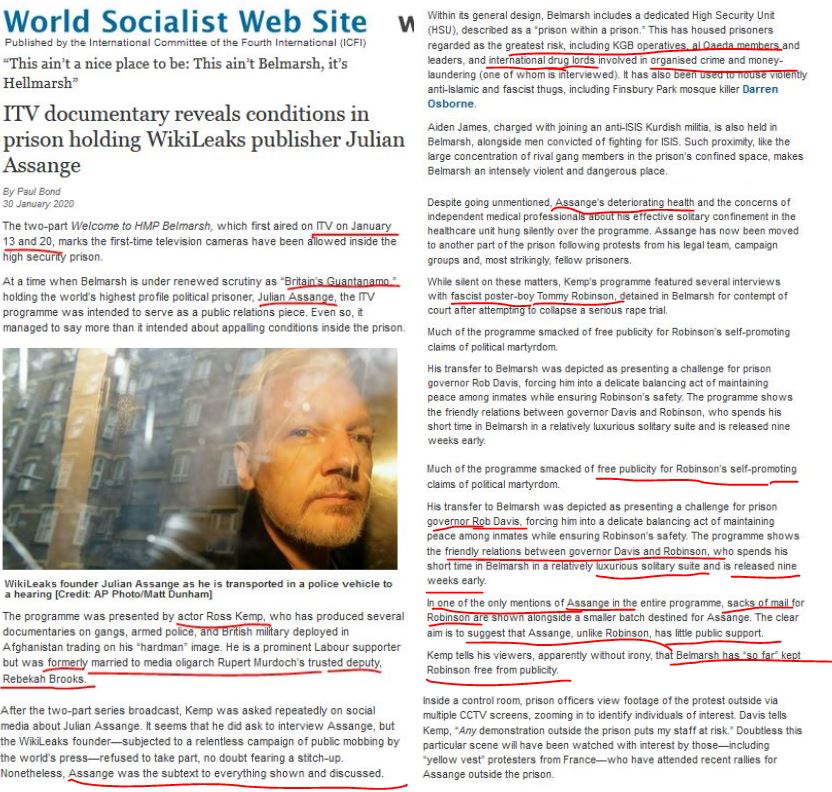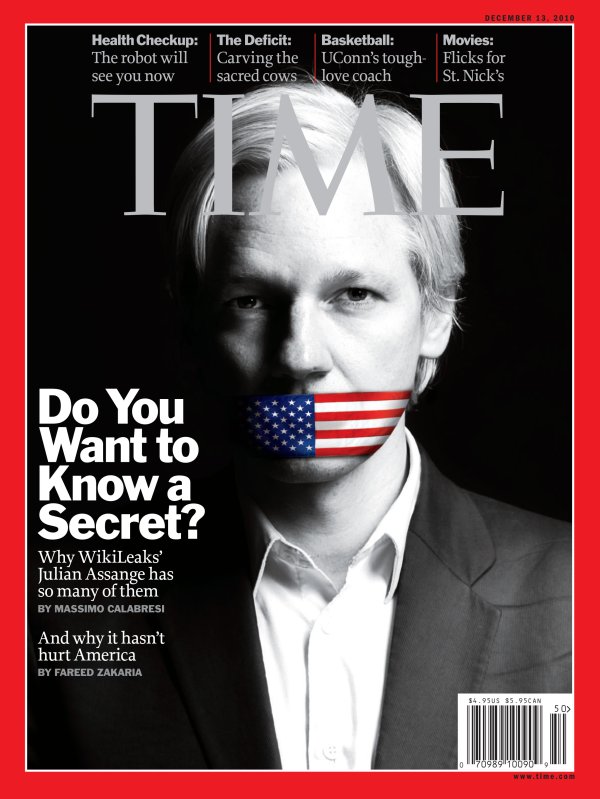 This is the point of no return when the protagonist considers giving up because he and his core supporters find out what is really going on. The situation is bleaker than they imagined. It is a scene that does not necessarily involve big action or a climax.
In a three Act story structure, it is the half way point, where the protagonist is forced to reassess their quest, formulate new more specific, focused goals. The protagonist takes commits to a new overarching goal totally in a way he cannot back out of, raising the stakes, escalating risks and driving the action.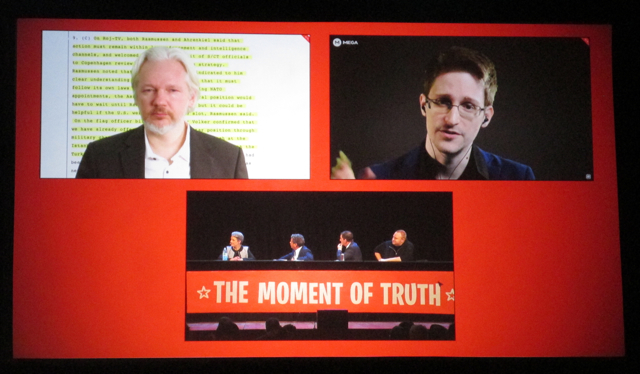 Action is character.
Key Finding: This potentially precedent-setting trans-jurisdictional case boils down to a gambit to construct a global defacto-licensing system for journalists in a post-9/11 dystopian world where news gathering becomes make-believe 'scoops' authorized by governments in Police State territories.
See full exposé: The American Pivot to Dystopia? Casting WikiLeaks Founder Julian Assange as America's Most Wanted Man
— https://snoopman.net.nz/2020/03/02/the-american-pivot-to-dystopia-casting-wikileaks-founder-julian-assange-as-americas-most-wanted-man/ —
Coming soon: "The American Deep State's Diabolical Quest to Make True Love Extinct" in this special "American Pivot to Dystopia" edition.