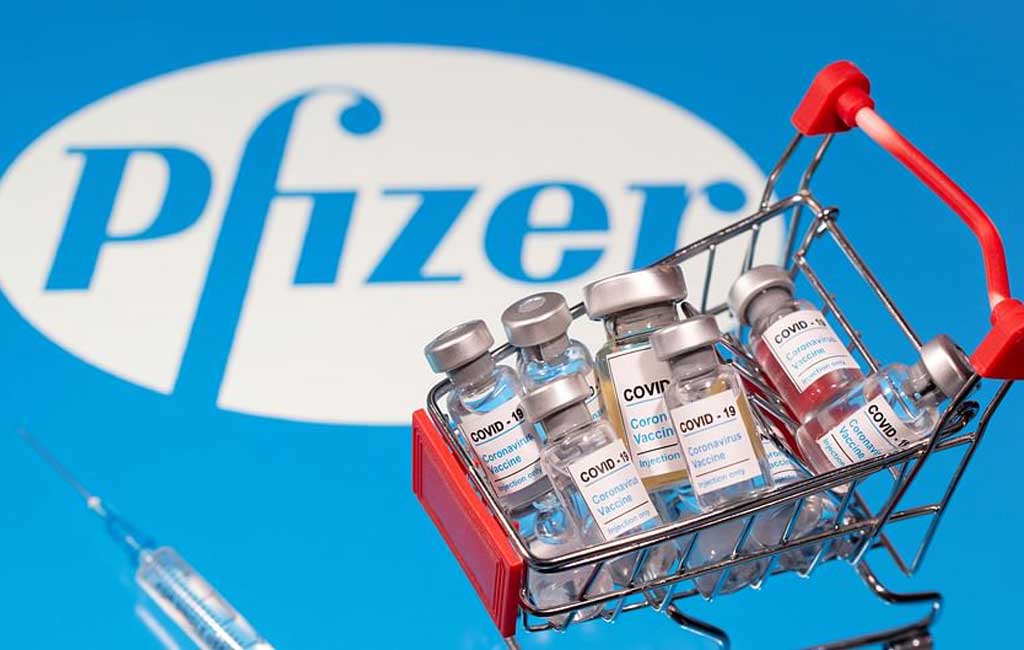 This letter calls on the MEDSAFE NZ to embargo the paediatric version of the Pfizer Comirnaty mRNA COVID-19 vaccine with a due diligence moratorium, rather than rubber stamp Pfizer's application, since its role is to determine the safety of pharmaceutical medicines for New Zealand's Ministry of Health.

It highlights that the principle of sound-science data was breached during Pfizer's original vaccine trials in 2020 and, therefore, calls into question the integrity of the US Food and Drug Adminsitration (FDA) as a regulator.

Since New Zealand's health authorities seem to rubber stamp this major American regulator's decisions, Steve Edwards emphasizes the phenomena of regulatory capture, applied game theory and contrived ignorance that appear to be detectable in the moves made by New Zealand's health officials, the New Zealand Government and Medsafe.

Dissident public figures — who have challenged the global hegemonic Corona narrative — are cited, including international doctors and scientists, along with critics in New Zealand assisting with exposing C-19 vaccine injuries, illnesses and deaths that are either being ignored, ridiculed or poorly handled.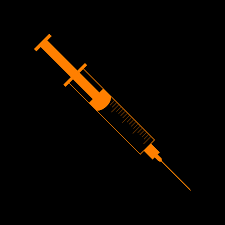 Friday 12 November 2021
Investigation and Enforcement Team,
New Zealand Medicines and Medical Devices Safety Authority (MEDSAFE)
Ministry of Health, PO Box 5013
Wellington 6140, New Zealand.
e: medclearance@health.govt.nz
MEDSAFE Investigation and Enforcement Team,
RE: Immediate Due Diligence Moratorium on the paediatric version of the Pfizer Comirnaty mRNA COVID-19 vaccine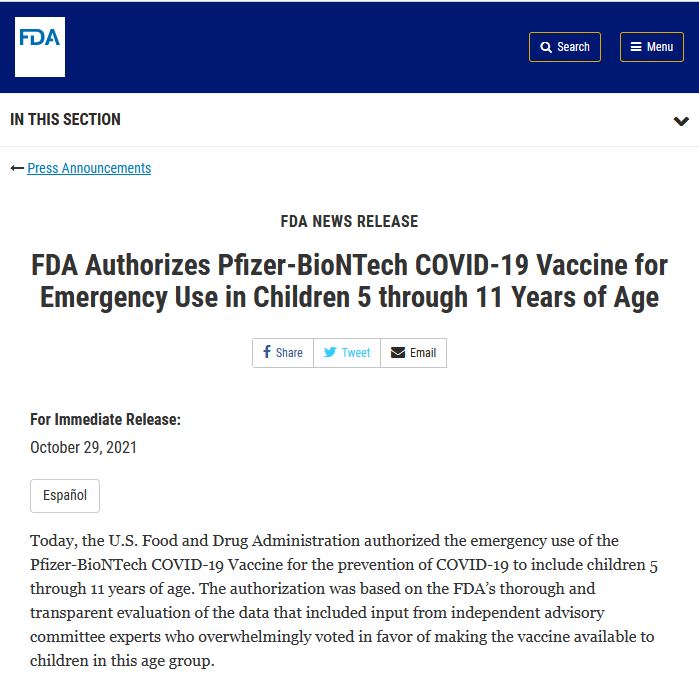 New Zealand's MEDSAFE is presently considering Pfizer's application for its paediatric version of the Pfizer–BioNTech Comirnaty mRNA COVID-19 vaccine, following the US Food and Drug Administration (FDA) authorizing for emergency use the paediatric version of the Pfizer vaccine for 5-11 year old children on October 29th.i
The FDA claimed the approval was "based on the FDA's thorough and transparent evaluation of the data that included input from independent advisory committee experts."
The FDA's October 29th Media Release stated:
"Based on the totality of scientific evidence available, the known and potential benefits of the Pfizer-BioNTech COVID-19 vaccine in individuals down to 5 years of age outweigh the known and potential risks."ii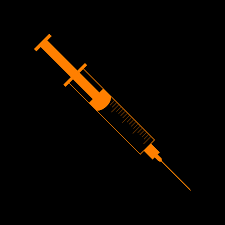 ➼ The British Medical Journal's Whistleblower Story on Pfizer's Covid-19 Vaccine Trials
However, the FDA's approval occurred prior to The British Medical Journal's revelations that the Pfizer pharmaceutical manufacturer's vaccine trails conducted by Ventavia Research Group were falsified in 2020.
In his article for The BMJ, journalist Paul D. Thacker reported that Brook Jackson, a now-fired regional director at Ventavia Research Group, revealed to The BMJ that vaccine trials for Pfizer at several sites in Texas last year had major problems. Jackson said Ventavia broke fundamental trial rules, including falsifying data, unblinding patients, employing inadequately trained vaccinators, and were 'slow' to report adverse reactions conducted in Pfizer's pivotal phase III trial.iii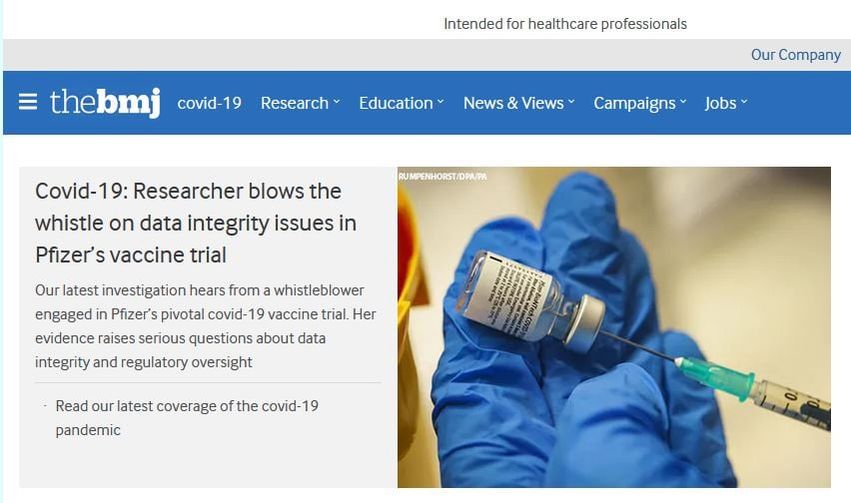 The BMJ article, entitled — "Covid-19: Researcher blows the whistle on data integrity issues in Pfizer's vaccine trial" — raises questions about data integrity and regulatory oversight because the FDA did not take complainant Brook Jackson's testimony in a formal hearing after she complained by email. Nor did the FDA advisory committee challenge Pfizer over the problems at the Ventavia research sites when the pharmaceutical manufacturer met with the committee on December 10 2020, which was the day before the FDA approved the vaccine for emergency use.
And, nor did the administration list any of Ventavia's sites in the small sample of nine 'inspected sites' out of 153 research when it filed its approval of Pfizer's vaccine in August 2021, reported The BMJ.iv Ventavia was not formerly audited by the FDA, as Australian news.com.au reported in "TGA requests information from Pfizer after medical journal alleges contractor 'falsified' safety data".v

Since Jackson reported problems with Ventavia to the FDA in September 2020, Pfizer has hired Ventavia as a research subcontractor on four other vaccine clinical trials for the Covid-19 vaccine in children and young adults, pregnant women, and a booster dose.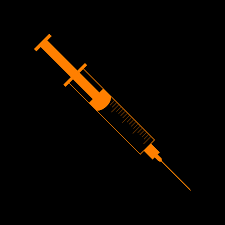 ➼ Worsening the Real Emergency by Doubling Down
The BMJ's findings of the Pfizer vaccine trial cover-up, therefore, means groups such as the international Doctors for Covid Ethics, as well as New Zealand Doctors Speaking Out for Science and Covid Plan B (among others) — whom have been slandered by the New Zealand's media as 'anti-vaxxers' — were actually right to question the rush to inject whole populations.vi
Furthermore, the United Nations' member governments are worsening the real emergency, which involves the dismissal of known therapeutics, biasing mass deployment of poorly-tested harmful experimental nano-gene injections, and fostering a politicization of medicine, public health and personal health choices — as a Covid Pandemic Panel of scientists and doctors stated recently in San Juan Puerto Rico.vii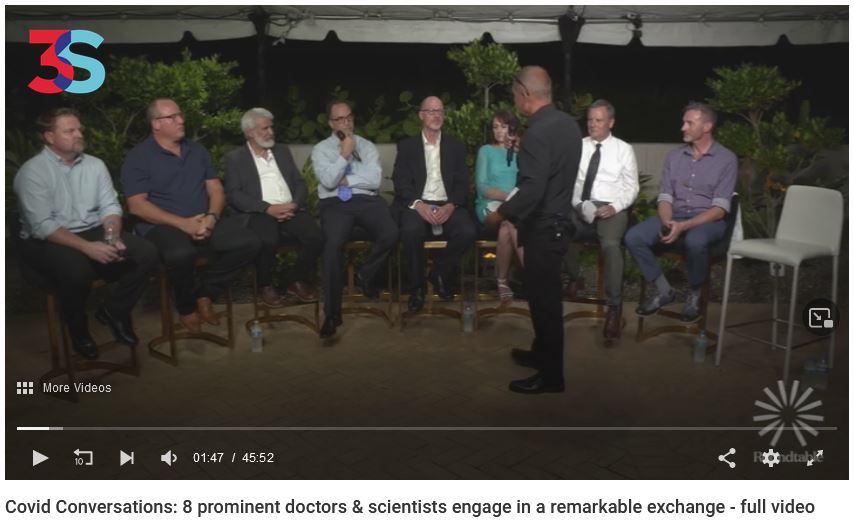 Such groups, forums and symposiums that have been ignored, stigmatized or slandered, include — Doctors for COVID Ethics,viii America's Frontline Doctors,ix Covid Medical Network,x Great Barrington Declaration,xi Vaccine Choice Canada,xii Children's Health Defense,xiii Front Line COVID-19 Critical Care Alliance,xiv Voices for Freedom,xv Covid Plan B,xvi and New Zealand Doctors Speaking Out with Sciencexvii — actually now need to be formally interviewed by New Zealand's Health Authorities.xviii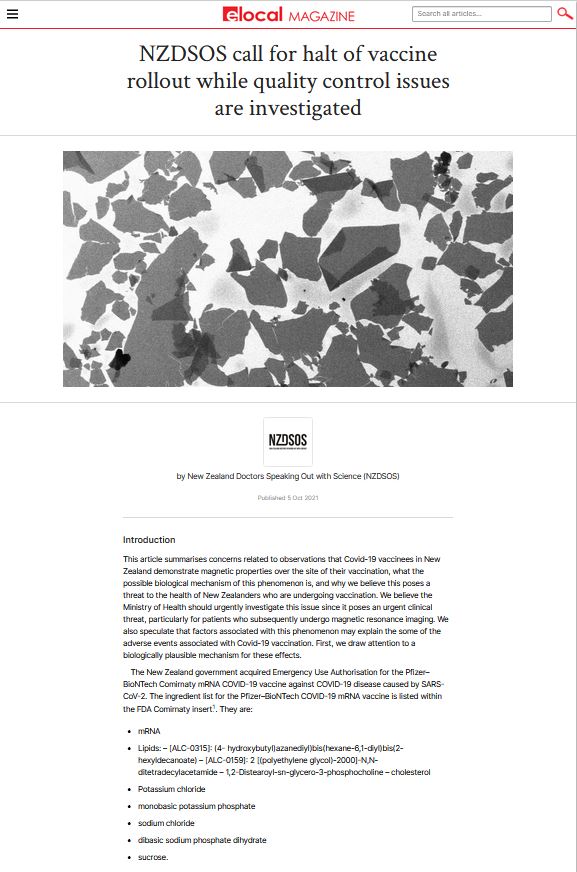 Dr Geert Vanden Bossche has stated mass vaccinations during a pandemic is the wrong action because it causes a huge case fatality wave when expansion of more infectious, vaccine-resistant variants explode.xix German virologist Dr. Sucharit Bhakdi says the vaccine's synthesized spike proteins, that are couriered by lipid nano packages, are the ultimate cause of blood clots. Dr. Robert Malone has asserted that the spike protein is the wrong active ingredient and that it causes blood clotting.
Moreover, New Zealand Doctors Speaking Out with Science have noted the lack of adequate safety data for two patented ingredients, ALC-0159 and ALC-0315 within Pfizer's Cominarty vaccine, in various reports: MEDSAFE, European Medicines Agency (EMA), WHO and even Pfizer's own safety data sheets. The NZDSOS group of concerned New Zealand doctors say some organisations have requested more information on the safety of the use of these two patented secret ingredients, ALC-0159 and ALC-0315 and a breakdown of the production process of these products — in their article "NZDSOS call for halt of vaccine rollout while quality control issues are investigated" of October 5 2021.xx
As numerous groups of dissenting scientists, doctors, nurses and clinicians have found, the spike protein is the wrong active ingredient to be using in the Covid-19 vaccines because it has been found to cause blood clotting.xxi
However, because there was a pre-planned military-grade psychological warfare operation deployed to construct a hegemonic block that would bias the official Corona narrative — it shaped public discourses, institutional responses and a professional malaise throughout the United Nations member countries.
Public figures who have stated that a coordinated global policy, propaganda and de-platforming has occurred with a weaponisation of institutional resources to marginalize political dissent on an epic unprecedented scale during the 'Corona Reset' — include Professor of Communication at the University of Munich, Michael Meyen,xxii former New York University communications Professor Mark Crispin Miller, Patrick Henningsen of 21Century Wirexxiii, and Iain Davis, who is the author of the Pseudopandemic: New Normal Technocracy.xxiv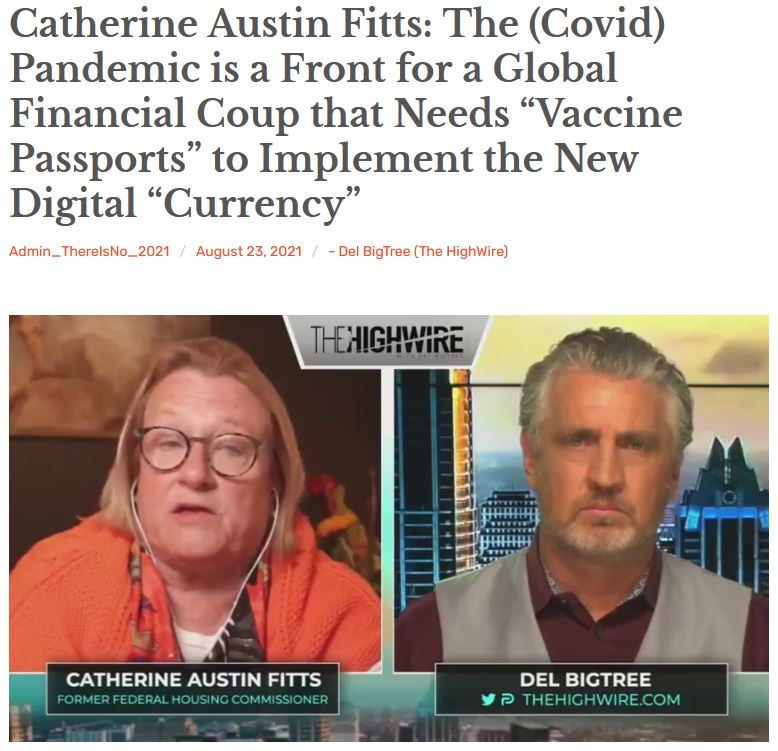 Furthermore, numerous dissenting voices — such as Dr David Martin, Catherine Austin Fitts, Whitney Webb, James Corbett, Cory Morningstar, Denis Rancourt, Iain Davis, Alison Hawver McDowell, Robert F Kennedy Jr, Vandana Shiva, Derrick Broze and Corey Lynn — have provided evidence that is contrary to the Covid narrative, which holds that the world was unprepared for a global pandemic.xxv
Pertinently, a group of eight Covid Pandemic Panel that convened in San Juan Puerto Rico recently, stated that the Covid-19 vaccines are more damaging and lethal to children than Covid, and that short-cuts were taken in the development of the Pfizer, Astra-Zeneca and Moderna vaccines and there is a lack of science to back up safety claims, including the safety of underlying mRNA vaccine technology that has not been fully proven.
In their article, "The Dangers of Covid-19 Booster Shots and Vaccines: Boosting Blood Clots and Leaky Vessels", Doctors for Covid Ethics warn that the gene-based mRNA Covid-19 vaccine's instruct the endothelial cells that line blood vessels to start producing spike protein. The problem is the spike protein has a sharp spike protruding from the cell wall, into the bloodstream.xxvi

Killer lymphocytes — which are trained for combat — travel from the lymph nodes and lymphoid organs to the area, thinking the cells are infected, attack those endothelial cells, which causes damage to the cell walls that line the blood vessels. This damage provokes clot formation.

As German virologist Dr. Sucharit Bhakdi has said, "The first cascade system is the clotting system. Turn it on and the blood will clot."xxvii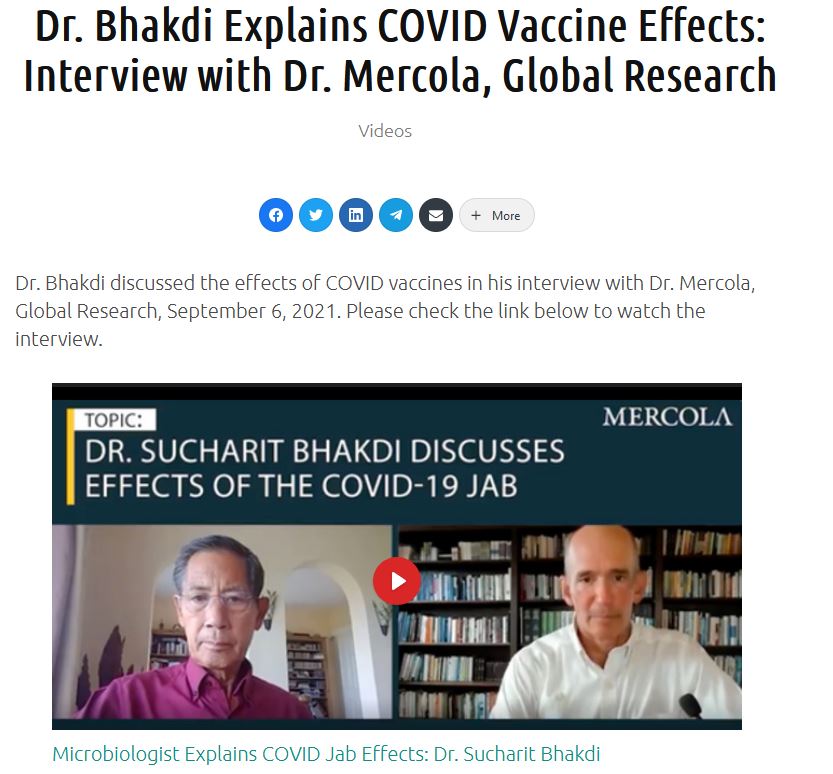 One to two weeks after the first jab, the body starts producing antibodies.
When the second jab is administered, the antibodies join the killer lymphocytes to attack the spike proteins that are projecting from the walls of blood vessels.
Therefore, if the complement system with the antibodies that bind to the vessel wall is turned on, then this complement antibody system will start creating holes in the blood vessel walls.
After a week, the COVID shot fluids can seep into any organ. The organ cells start to make the spike protein themselves. Then the killer lymphocytes also seek and destroy them in that organ, creating more damage and subsequent clotting.
If the holes riddle vessels of the liver, or the pancreas or the brain, then the blood will seep through the vessels into the tissues.
The COVID jabs can also create a 'civil war' in the human lymph nodes, as the lymph nodes are full of lymphocytes and other immune cells. Some of the lymphocytes will die immediately upon contact, causing inflammation.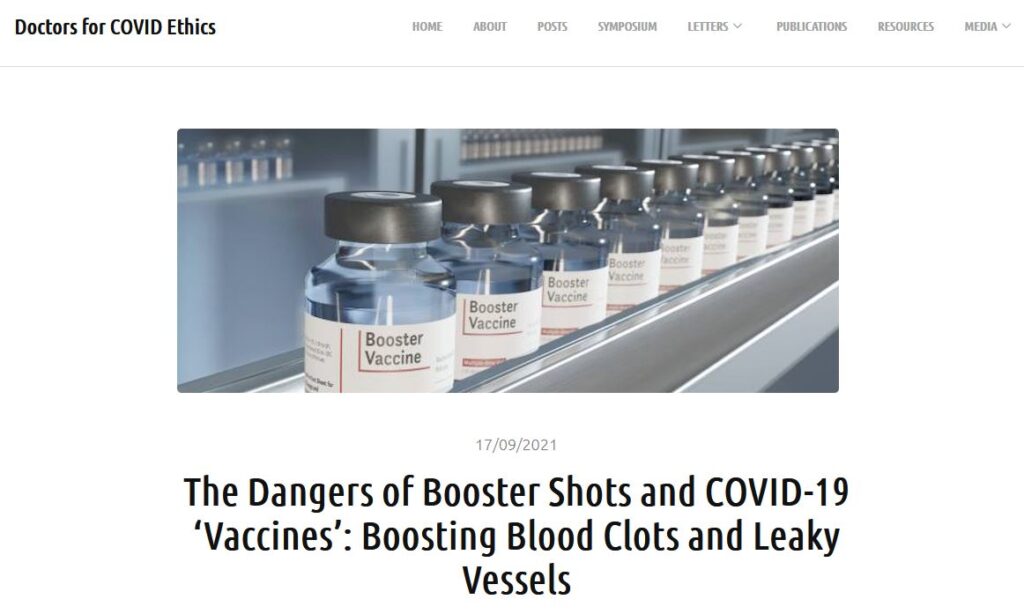 Cells that survive this initial assault and start producing spike protein in accordance with the mRNA coding and will be recognized as virus producers and get attacked by the complement antibody system. As a result of this attack, the lymph nodes swell and become painful.
Doctors for Covid Ethics stated that the mRNA Covid-19 vaccines can be expected to cause strokes, heart attacks, brain vein thrombosis, death, headaches, nausea and vomiting, as observed by now commonplace adverse reactions to COVID-19 vaccines.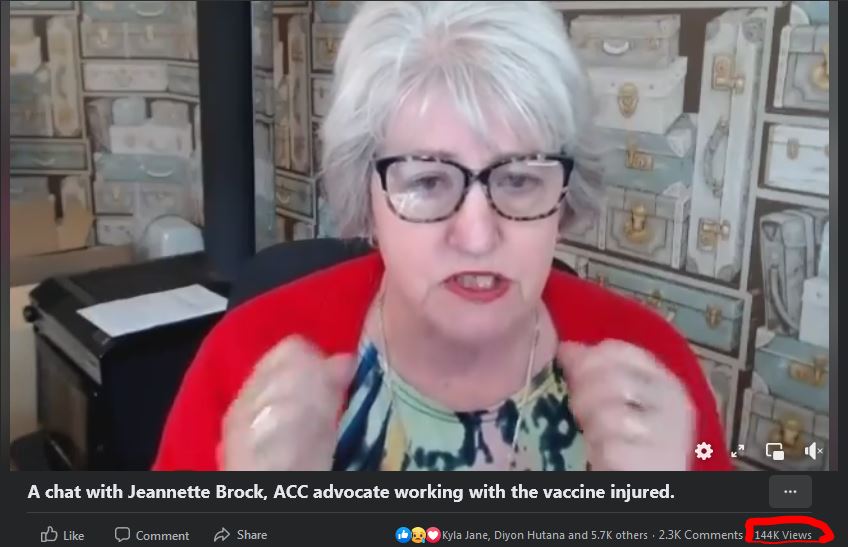 An advocate for Accident Compensation Compensation claims, Jeannette Brock, who is working with the vaccine injured and with Lynda Wharton of The Health Forum NZ, says there have been over 1000 serious Covid-19 vaccine injuries in New Zealand.xxviii
The Citizens Database on the New Zealand Doctors Speaking Out with Science (NZDSOS) website records a provisional figure of 219 Covid-19 vaccine deaths (which requires further investigation). Those provisional adverse events and deaths are at the bottom of the NZDSOS homepage.xxix
These citizen driven efforts have occurred out of a growing concern to assist the numerous apparent victims of the Covid-19 vaccines and, in particular, the Cominarty shots administered in New Zealand.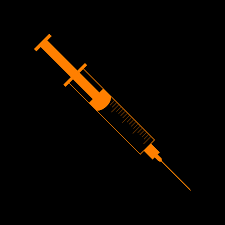 ➼ The Structure of Contrived Ignorance to Avoid a Product Recall Amid an Unstated End-Game?
Critics of the Ministry of Health's Centre for Adverse Reactions Monitoring (CARM) reporting system have claimed there is a slow pace in investigating the complaints regarding alleged vaccine-induced injuries, illnesses and deaths. New Zealand's health system appears to be poorly resourced to detect and deal with such issues.xxx
If a statistical value of life metric were applied to investigating such deaths — as it is for traffic fatalities — then perhaps the resourcing factors would resolve the speed, thoroughness and expertise issues that appear to be inhibiting the investigations into possible vaccine deaths.


Presently, the Value of Statistical Life (VoSL) in New Zealand is set at $4.7 million. This metric was originally developed at the request of the US Congress, because the political lawmakers needed a measure of the value of the US Government's investment in training pilots for the US Air Force, in order to better match resource allocation to maintain their safety.xxxi

One has to wonder if a different formula is being applied.

The concept of the so-called 'recall coordinator's formula' was expressed most infamously in the 1999 movie, Fight Club, in which Edward Norton's character explained the threshold measure for triggering a product recall. In explaining his job as a 'recall coordinator' for a major US car manufacturer, Norton's character said a product recall was not initiated if the value of the estimated out of court settlements was less than the cost of a recall.

If one were to take the number of vaccinated in the population, and multiply the dosed number by the probable rate of product failure causing serious injuries, illnesses and deaths, and then multiple that value by the average out of court settlement to arrive at a metric for total costs to the ACC system, what range of thresholds for a product recall would such an affidavit-backed peer-reviewed report produce?

Is it possible that vaccine impacts metrics are being sabotaged to avoid triggering such thresholds?

Has MEDSAFE considered or applied any such Value of Statistical Life (VoSL) or product recall metrics in its assessments for the Pfizer/BioNTech vaccine and its performance?
The US FDA's avoidance to thoroughly investigate the breaches of the Pfizer vaccine trial protocols — as outlined in The British Medical Journal's exposé of November 2 2021 — is consistent with a structure of contrived ignorance as identified more generally by U.S. litigator David Luban his 2007 book, Legal Ethics and Human Dignity, and in his paper "Contrived Ignorance", published in The Georgetown Law Journal in 1999.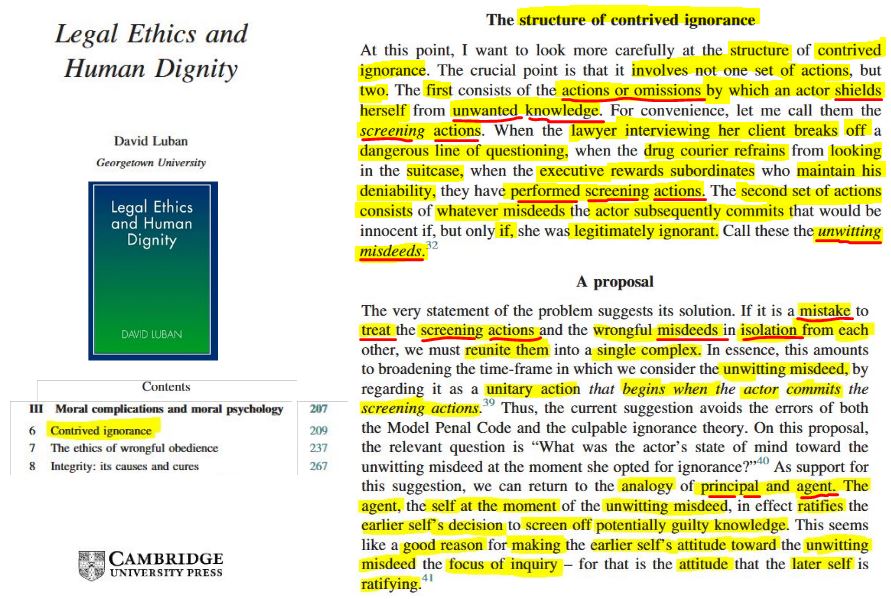 In his modelling for the "Structure of Contrived Ignorance", Luban saw screening actions and so-called unwitting misdeeds as a unitary whole rather than separated by time-frames. Luban proposed viewing the version of the self that wittingly performed screening actions to preserve his or her own oblivion as the principle actor, while the agent is the later self at the time of the unwitting misdeed, who effectively ratifies the earlier self's choice to compartmentalize or screen off potential knowledge of wrong-doing. In making his point that "in criminal law, wilful ignorance is grounds for conviction, rather than acquittal," Luban was in essence, laying out the gaps in catching and convicting group enterprises that contrive ignorance.
If this ultra-serious problem of health officials wittingly performing screening actions to preserve their own oblivion were limited to the United States, then most New Zealanders would not be at immediate, present, and ongoing risk from such corrupt practices. Such corruption is derived from the phenomena of regulatory capture wherein authorities come under the influence or control of corporate funders, predatory philanthropists, and market monopolizing cartels as the 2004 documentary, The Corporation, showed.xxxii

However, because New Zealand health officials appear to have, in effect, rubber-stamped the Pfizer–BioNTech Comirnaty mRNA COVID-19 vaccine, by authorizing its emergency use for a further two years, amid growing concerns in the public domain about widespread adverse events reported in New Zealand and overseas — I am compelled to locate MEDSAFE's own performance and behaviour as an institution that seems to have succumbed to regulatory capture, and may be practising contrived ignorance.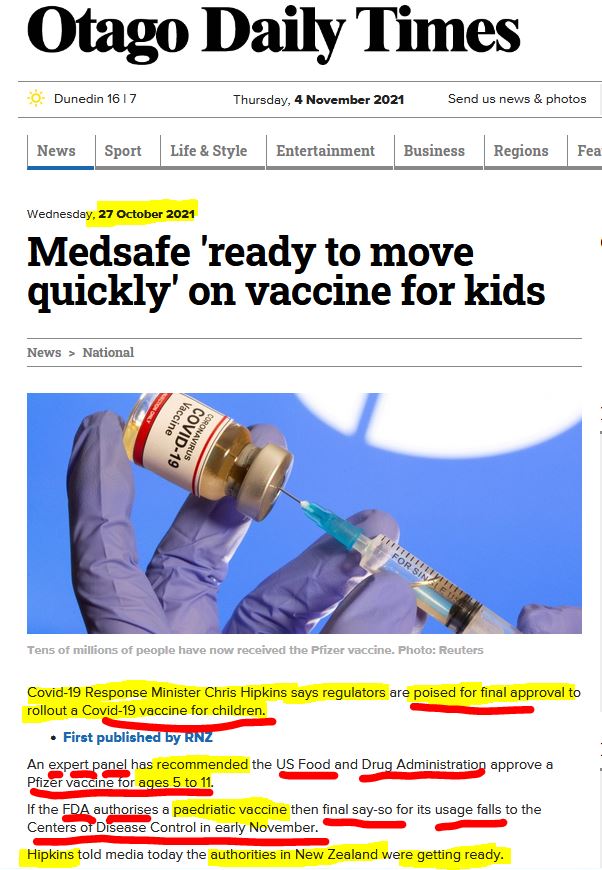 It is disturbing that NZ's Minister for Covid-19 for Response, Chris Hipkins, stated on October 27 2021 that the U.S. Food & Drug Administration's approval of the Pfizer shots for 5-to-11 year old children was a significant regulatory hurdle, that had to be passed before New Zealand's health authorities would consider Pfizer's application for its of its Covid-19 mRNA 'vaccines'.

Disturbing — because Hipkins announced on November 3 that the NZ Government had purchased another 4.7 million doses of the Pfizer/BioNTech vaccine for use in New Zealand over the next year. This development could not have occurred without MEDSAFE's October 28rd decision to extend the time-frame of provisional emergency use to two years, before the original six-month provisional emergency use was due to expire on November 3rd.xxxiii In other words, MEDSAFE's October 28rd extension occurred just one day after the FDA approved Pfizer's paediatric version of the Cominarty.

Such moves are consistent with game theory strategies, which were developed during the Cold War to mitigate the probability of nuclear war, by stabilizing relations among the great powers by 'Hostage Exchanges'. In game theory, 'posting a hostage' is a mechanism to construct stability and is predicated on a provisional promise to cooperate if other players post hostages too. Such as 'Hostage Exchanges' are used by nation states, international syndicates and monopolistic cartels to stabilize power structures while aggressive colluding rivals seek to construct new areas of market dominance by illegal, fraudulent and repugnant means that harm their more dynamic, innovative smaller and peaceful competitors.

In their paper, "Resolving social conflicts through hostage posting: theoretical and empirical considerations," Gideon Keren and Werner Raub noted that "tacit communications of threats and promises are two major message strategies used to influence the behaviours of others".xxxiv Therefore, 'the game' requires an implied threat, which signals a defection on the next move if the other player does not post a hostage too.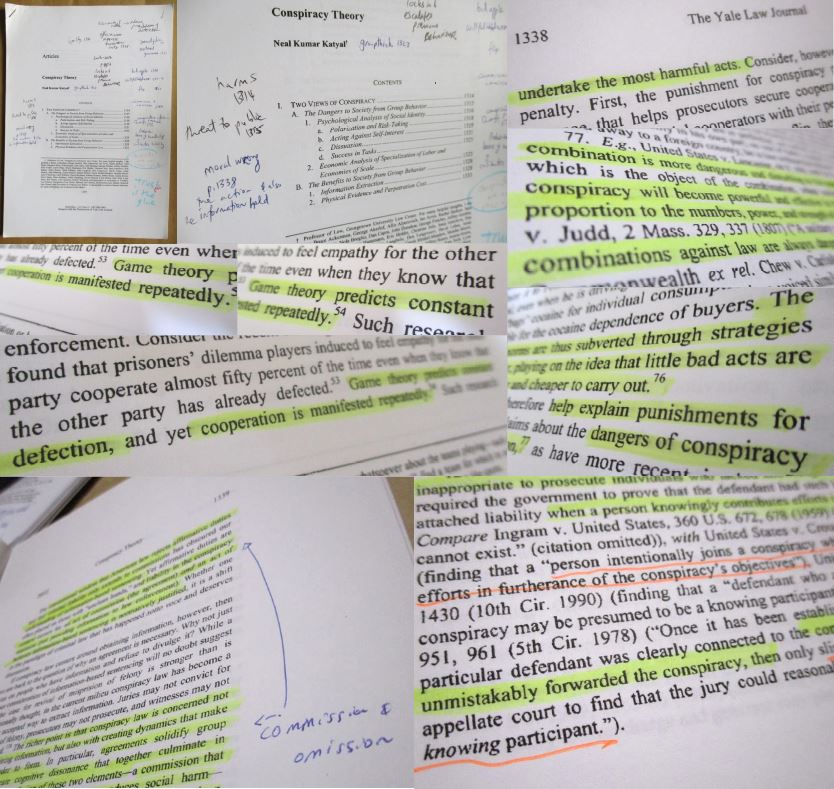 Since game theory requires colluding players to issue and respond to threats and rewards to maintain the motivation, discipline and purposes of the cartel (or cartels), their simultaneous actions are political and betray economic evidence of an unfolding plot.
Recently, Otago University ethicist associate professor Angela Ballantyne wanted to know what the end goal is behind the impending vaccine passport system for New Zealand.xxxv
The end goal is techno-feudal totalitarianism in an emergent universal empire, as crazy as it sounds.
And that's why the Covid narrative is diverging from what the good people of New Zealand expected.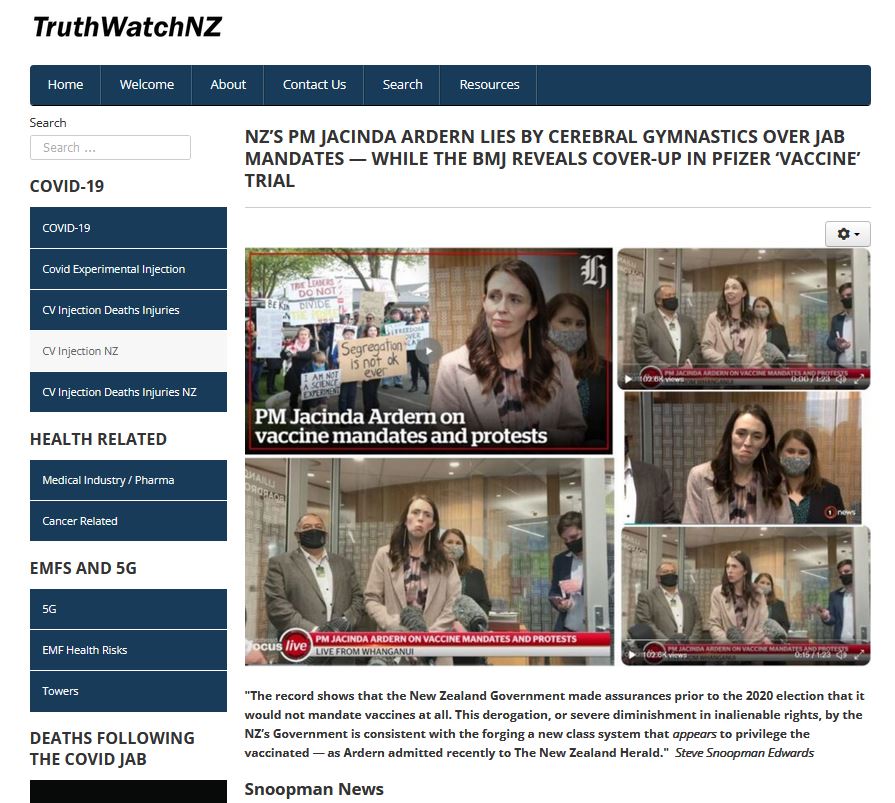 With vaccine mandates announced for so many sectors of workers, New Zealanders are becoming uneasy about what looks like an over-reach of power disproportionate to the threat of Covid, and the advancing introduction of measures with questionable effectiveness, obvious downsides of divisiveness and where such biosecurity mass surveillance is leading.

The record shows that the New Zealand Government made assurances prior to the 2020 election that it would not mandate vaccines at all. This derogation, or severe diminishment in inalienable rights, by NZ's Government is consistent with the forging of a new class system that appears to privilege the vaccinated — as Ardern admitted recently to The New Zealand Herald on October 23 2021.xxxvi
Most New Zealanders have yet to grasp the fact that the coming vaccine passports are the entry point to fuse a social credit scoring system — like totalitarian China — with a carbon tax transactions system and a new digital global monetary system interfacing with mobile phones.
The behavior modifications that have occurred so far — such as submitting to QR-code mass surveillance, swab testing, nationwide house arrest, social distancing, long queues for food, watching daily advisories and mass vaccinations — have presaged the objective to segregate society with a stealthy medical apartheid system.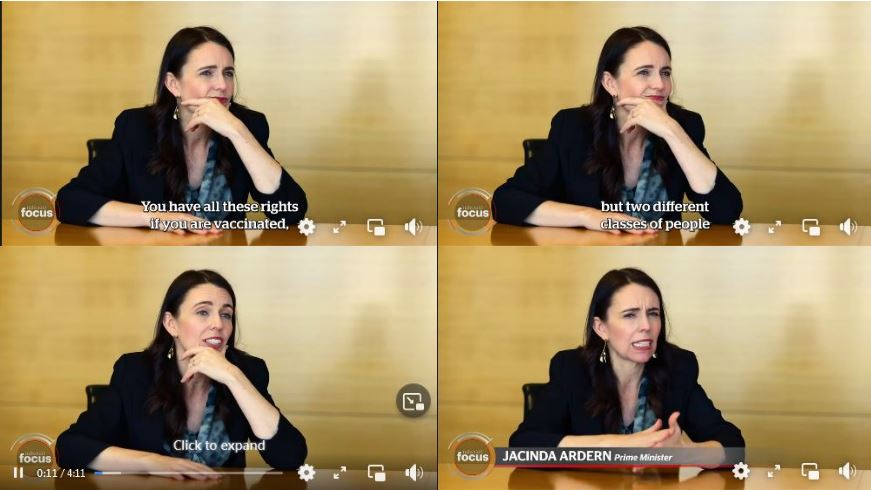 In a recent interview conducted by German attorney Dr Reiner Fuellmich, Nazi Holocaust survivor Vera Sharav related the similarities between the casting of the Jewish population as disease carriers and today's targetting of the unvaccinated as dangers to public health. Sharav also mentioned the overturning of moral norms by eugenicists and erosion of social conscience by fear spread through all-pervasive propaganda in the Nazi era, as a way to compare the present machinations to gas-light the world in Medical Martial Law.xxxvii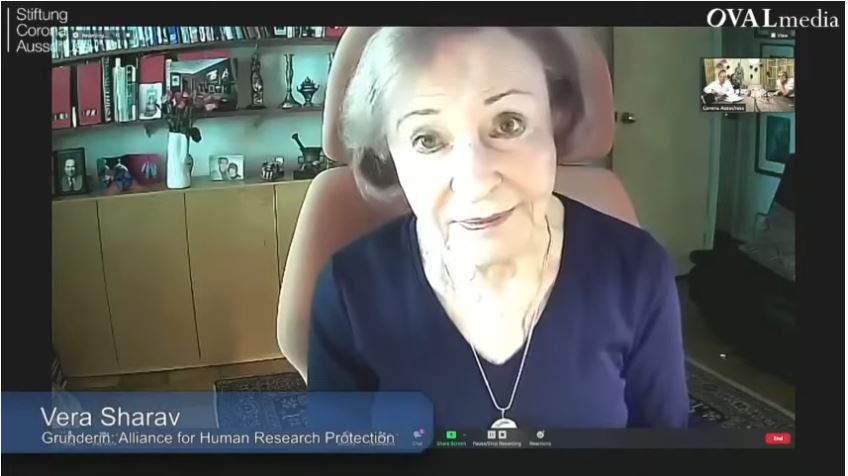 Sharav emphasized to Dr Fuellmich that member countries of the United Nations cannot lawfully overturn the post-World War II settlement of the Nuremberg Code. The New Zealand Government is breaching the Nuremberg Code by construing that the Pfizer-BioNTech Covid-19 vaccine is not experimental.xxxviii
When, in fact, the truth is the trial phases have been truncated due to a hidden asymmetric pandemic preparedness architecture, the political interference in medical and science practices, and a pre-planned mass contagion of fear porn news that displaced substantive evidence based on due diligence, as I have shown in, New Zealand's Stealthy Pivot to Police State Status — Part 2: Lying by Numbers, Hyped Fear-Porn News and the U.N.'s 2nd Global Pandemic Exercise, starring 'Covid-19'.xxxix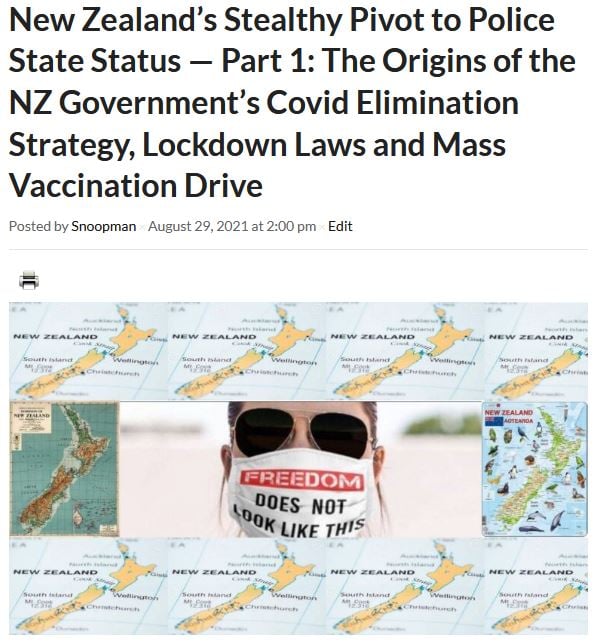 If MEDSAFE approves the paediatric version of the Pfizer-BioNTech Covid-19 vaccine, then New Zealand Medsafe staff responsible for that decision actually run the risk of being held personally liable — along with other New Zealand health and government officials — for any injuries, illnesses and deaths of children aged 5 to 11 years old whom were subsequently administered the jabs.
With The BMJ's revelations of a systemic cover-up of Pfizer's falsified data, flawed protocols and fraudulent vaccine trial presentations that occurred in a conspiracy with its contracted research company, Ventavia, and the US FDA, it would be unwise, unsound and unlawful for NZ's health authorities to ignore The British Medical Journal's findings. Particularly, because New Zealand's Health Act 1956 requires all who have authority during an infectious disease outbreak to act in good faith.
If the principle of sound scientific data is applied to criticisms over a vaccine's safety once it is mass deployed, then that same 'sound scientific data' principle ought to hold true for the same vaccine during its safety testing trials — should it not?

Given the forgoing counter-evidence, if any individuals, entities, or institutions assemble a legal team dumb enough to construe my efforts to get MEDSAFE to do its job properly – as breaches of section 237 of the Crimes Act 1961 for blackmail – such individuals, entities, or institutions will lose.


Without prejudice and with grace,
Steve Edwards of Auckland, New Zealand.
Steve 'Snoopman' Edwards is a Pākehā independent journalist, who worked at indigenous broadcaster, Māori Television, for 14 years as an editor of news, current affairs and general programmes. He forged his 'Thunk Evil Without Being Evil' super-power while writing his ground-breaking thesis on the Global Financial Crisis (GFC), titled – "It's the financial oligarchy, stupid"– to figure out the means, modus operandi and motives of the Anglo-American Oligarchy.
Editor's Note: If we have made any errors, please contact our administrator, Steve Edwards, with your counter-evidence. e: steveedwards108[at]protonmail.com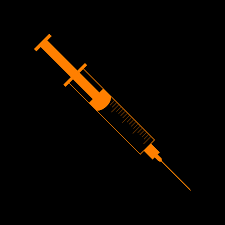 Sourced References:
iAmy Ridout and Melanie Earley. (Oct 31 2021). Covid-19: When will New Zealand approve Pfizer-BioNTech vaccine for children 5 to 11? Retrieved from: https://www.stuff.co.nz/national/health/coronavirus/126837532/covid19-when-will-new-zealand-approve-pfizerbiontech-vaccine-for-children-5-to-11
iiFDA News Release FDA Authorizes Pfizer-BioNTech COVID-19 Vaccine for Emergency Use in Children 5 through 11 Years of Age. Retrieved from: https://www.fda.gov/news-events/press-announcements/fda-authorizes-pfizer-biontech-covid-19-vaccine-emergency-use-children-5-through-11-years-age
iiiPaul D. Thacker. (November 2 2021). Covid-19: Researcher blows the whistle on data integrity issues in Pfizer's vaccine trial. The BMJ. Retrieved from: https://www.bmj.com/content/375/bmj.n2635
ivBMJ INVESTIGATION. (November 2 2021). Covid-19: Researcher blows the whistle on data integrity issues in Pfizer's vaccine trial >> https://www.bmj.com/content/bmj/375/bmj.n2635.full.pdf
v Frank Chung. (November 10, 2021). TGA requests information from Pfizer after medical journal alleges contractor 'falsified' safety data. Retrieved from: https://www.news.com.au/technology/science/human-body/tga-requests-information-from-pfizer-after-medical-journal-alleges-contractor-falsified-safety-data/news-story/342806323e802035bb1d810e561977f4
viExplosive British Medical Journal Exposé: Researcher blows the whistle on data integrity issues in Pfizer's vaccine trial. https://doctors4covidethics.org/explosive-british-medical-journal-expose-covid-19-researcher-blows-the-whistle-on-data-integrity-issues-in-pfizers-vaccine-trial/
vii Covid Pandemic Panel. [23 September 2021] 8 Prominent Doctors & Scientists Engage in Remarkable Exchange. San Juan Puerto Rico. Retrieved from: https://3speak.tv/watch?v=pandemichealth%2Fraukfhng
viiiDoctors for Covid Ethics. Retrieved from: https://doctors4covidethics.org/
ixAmerica's Frontline Doctors. Retrieved from: https://americasfrontlinedoctors.org/
x Covid medical Network. Retrieved from: https://www.covidmedicalnetwork.com/
xi Great Barrington Declaration. Retrieved from: https://gbdeclaration.org/
xii Vaccine Choice Canada. Retrieved from: https://vaccinechoicecanada.com/
xiiiChildren's Health Defense. Retrieved from: https://childrenshealthdefense.org/
xiv Front Line COVID-19 Critical Care Alliance. Retrieved from: https://covid19criticalcare.com/
xv Voices for Freedom. Retrieved from: https://voicesforfreedom.co.nz/
xvi Covid Plan B. Retrieved from: https://www.covidplanb.co.nz/
xvii New Zealand Doctors Speaking Out with Science Retrieved from: https://nzdsos.com/
xviiiDoctors for Covid Ethics Symposium. Gold Standard Covid Science in Practice: An Interdisciplinary Symposium, held on 29 and 30 July, 2021. https://doctors4covidethics.org/symposium/
xix Dr Geert Vanden Bossche (July 27 2021). A last word of caution to all those pretending the Covid-19 pandemic is toning down. Retrieved from: https://www.geertvandenbossche.org/post/a-last-word-of-caution-to-all-those-pretending-the-covid-19-pandemic-is-toning-down; Dr Geert Vanden Bossche (September 10 2021). The Last Post. >> https://www.geertvandenbossche.org/post/the-last-post
xx New Zealand Doctors Speaking Out with Science. (October 5 2021). "NZDSOS call for halt of vaccine roll-out while quality control issues are investigated". .NZDSOS. Retrieved from: https://www.elocal.co.nz/Articles/4096
xxi Doctors for Covid Ethics Symposium. UK Column News. https://doctors4covidethics.org/symposium/; 8 Prominent Doctors & Scientists Engage in Remarkable Exchange Covid Pandemic Panel [23 August 2021, San Juan Puerto Rico] https://3speak.tv/watch?v=pandemichealth%2Fraukfhng; Crisis in America: Millions of Nurses are Resigning or Being Fired Over COVID Vaccine Mandates https://www.bitchute.com/video/gcUSRI0y3c0E/
xxii Doctors for Covid Ethics Symposium – Session 3: First Do No Harm >> https://www.ukcolumn.org/video/doctors-for-covid-ethics-symposium-session-3-first-do-no-harm
xxiii Doctors for Covid Ethics Symposium – Session 3: First Do No Harm >> https://www.ukcolumn.org/video/doctors-for-covid-ethics-symposium-session-3-first-do-no-harm
xxiv Whitney Webb. (3 September 2021). Propaganda in the Covid Era with Mark Crispin Miller. Episode#22. https://podcasts.apple.com/us/podcast/propaganda-in-the-covid-era-with-mark-crispin-miller/id1551492441?i=1000534589193; Corbett Report. (10/18/2021). Interview 1668 – Iain Davis Dissects the Pseudopandemic
https://www.corbettreport.com/interview1668/; Session 3: First Do No Harm at the Doctors for Covid Ethics Symposium – hosted by the independent news platform, UK Column, Doctors for Covid Ethics Symposium – Session 3: First Do No Harm. https://www.ukcolumn.org/video/doctors-for-covid-ethics-symposium-session-3-first-do-no-harm
xxv David Martin. Full Interview | Planet Lockdown >> https://rumble.com/vd6jjp-david-martin-full-interview-planet-lockdown.html⁠; Dr David Martin with Reiner Fuellmich – There is no variant… not novel… no pandemic >> https://forbiddenknowledgetv.net/there-is-no-variant-not-novel-no-pandemic-dr-david-martin-with-reiner-fuellmich/; Catherine Austin Fitts: The (Covid) Pandemic is a Front for a Global Financial Coup that Needs "Vaccine Passports" to Implement the New Digital "Currency". https://thereisnopandemic.net/2021/08/23/catherine-austin-fitts-the-covid-pandemic-is-a-front-for-a-global-financial-coup-that-needs-vaccine-passports-to-implement-the-new-digital-currency/; Whitney Webb. (April 20, 2020). Techno-Tyranny: How The US National Security State Is Using Coronavirus To Fulfill An Orwellian Vision >> https://www.thelastamericanvagabond.com/techno-tyranny-how-us-national-security-state-using-coronavirus-fulfill-orwellian-vision/; Whitney Webb & Diego. (April 1, 2020). All Roads Lead to Dark Winter. https://www.thelastamericanvagabond.com/all-roads-lead-dark-winter/; Alison Hawver-Mcdowell (July 2021). Globalisation 4.0:Predatory Energy, Planetary Computer Agenda. https://www.goyimtv.tv/v/2674626017/Globalisation-4-0-Predatory-Energy–Planetary-Computer-Agenda—Alison-Hawver-Mcdowell-July-2021- ; James Corbett. (09/13/2020). COVID-911: From Homeland Security to Biosecurity https://www.corbettreport.com/covid-911-from-homeland-security-to-biosecurity/; Brave Vandana Shiva Speaks Out Against the Great Reset https://truthpeep.com/brave-vandana-shiva-speaks-out-against-the-great-reset/26/11/2020/; Who Is Bill Gates? (Full Documentary, 2020) https://www.corbettreport.com/?s=bill+gates; Doctors for COVID Ethics. (11/10/2021). Articles on COVID-19 Mortality By Dr. Denis Rancourt https://doctors4covidethics.org/more-articles-on-covid-19-mortality-by-dr-denis-rancourt/; Robert F Kennedy Jr — Special Guest Voices for Freedom NZ. https://odysee.com/@voicesforfreedom:6/Robert-F-Kennedy-Jr:b; Unlimited Hangout. (September 2021). The "New Deals" of the Ruling Class with Cory Morningstar. rokfin.com/post/49856/The-New-Deals-of-the-Ruling-Class-w-Cory-Morningstar
xxvi Doctors for COVID Ethics 17/09/2021 The Dangers of Booster Shots and COVID-19 'Vaccines': Boosting Blood Clots and Leaky Vessels >> https://doctors4covidethics.org/boosting-blood-clots-and-leaky-vessels-the-dangers-of-covid-19-vaccines-and-booster-shots/
xxvii Dr. Bhakdi Explains COVID Vaccine Effects: Interview with Dr. Mercola, Global Research. https://doctors4covidethics.org/dr-bhakdi-explains-covid-vaccine-effects-interview-with-dr-mercola-global-research/; Dr Sucharit Bhakdi On The Pfizer Vaccine. Voices For Freedom Sept 28 2021 https://odysee.com/@voicesforfreedom:6/Courageous-Convos-VFF-chat-to-Dr-Sucharit-Bhakdi:a; How mRNA Vaccine Affects Cells: Dr. Charles Hoffe >>https://concernedamericandad.com/2021/08/21/how-mrna-vaccine-affects-cells-dr-charles-hoffe/
xxviii Leighton Baker. (1 November 2021). A chat with Jeannette Brock, ACC advocate working with the vaccine injured. https://www.facebook.com/watch/?v=289747493000891&ref=sharing; Lynda Wharton. The Health Forum NZ >> https://www.facebook.com/groups/thehealthforumnz
xxix New Zealand Doctors Speaking Out With Science. https://nzdsos.com/
xxxPost Covid Jab Deaths Recorded on the NZ Citizens' Register now number 198 – Health Forum NZ [11 Oct 2021, Truth Watch NZ] >> https://truthwatchnz.is/covid-19-experimental-injection-nz/post-covid-jab-deaths-recorded-on-the-nz-citizens-register-now-number-198
xxxi Is a life worth $4.7 million? https://www.newsroom.co.nz/@boardroom/2019/02/20/453077/is-a-life-worth-47-million
xxxii The Corporation. https://www.youtube.com/watch?v=Tf9yWNiIEZU
xxxiii MEDSAFE. COVID-19 Vaccine Approval – Questions and Answers. https://www.medsafe.govt.nz/COVID-19/q-and-a-vaccine-approval.asp
xxxiv Keren G. & Raub W. (1993). Resolving social conflicts through hostage posting:
Theoretical and empirical considerations. Journal of Experimental Psychology, 12, 429
448. doi:10.1037/00963445.122.4.429
xxxv Vaccine certificates run risk of dividing Kiwis, expert warns >> https://www.1news.co.nz/2021/10/24/vaccine-certificates-run-risk-of-dividing-kiwis-expert-warns/
xxxvi: PM Ardern on how NZ will look under the 'traffic light' system October 23 2021 nzherald.co.nz
>> https://www.facebook.com/watch/?v=622218025626998; NZ's PM Jacinda Ardern lies by cerebral gymnastics over jab mandates — while The BMJ reveals cover-up in Pfizer 'vaccine' trial. https://snoopman.net.nz/2021/11/05/nzs-pm-jacinda-ardern-lies-by-cerebral-gymnastics-over-jab-mandates-while-the-bmj-reveals-cover-up-in-pfizer-vaccine-trial/
xxxvii Attorney Dr Reiner Fuellmich interviews Vera Sharav Nazi holocaust child survivor Global Genocide. Retrieved from: https://www.youtube.com/watch?v=FjUOHGY2K14
xxxviii BRITISH MEDICAL JOURNAL No 7070 Volume 313: Page 1448,7 December 1996. Retrieved from: https://nzdsos.com/wp-content/uploads/2021/06/Nuremberg-Code-1947.pdf
xxxix New Zealand's Stealthy Pivot to Police State Status — Part 2: Lying by Numbers, Hyped Fear-Porn News and the U.N.'s 2nd Global Pandemic Exercise, starring 'Covid-19'. Retrieved from: https://snoopman.net.nz/2021/09/04/new-zealands-stealthy-pivot-to-police-state-status-part-2-lying-by-numbers-hyped-fear-porn-news-and-the-u-n-s-2nd-global-pandemic-exercise-starring-%e2%9d%9bcovid-19/