Blackrock Funds South Pacific Nation's Transition to 'Net Zero Carbon Economy'
The stealthy signing of a partnership deal between BlackRock and New Zealand's Government sets the South Pacific nation on a course to test out how a small, English-speaking, developed Western country copes with full immersion into a net-zero carbon energy economy. Amid the controversy, Kiwis are baited to argue with 'left-right' lines, despite the moated South Pacific archipelago's long casting as the world's premiere test facility for political strategies, social engineering, and new technologies.

Former Auckland Star paperboy, Steve 'Snoopman' Edwards, locates the $2 billion climate infrastructure fund to finance New Zealand's transition therapy to 100 percent renewable electricity, as a stepping stone to a 'yellow-brick-big-data-road'. New Zealand's very own Snoopman not only sketches this future of doom, complete with green sustainable development rhetoric for investment in infrastructure, hi-tech systems, and governance structures — to achieve permanent social control.

This dispatch is also a big picture view on how de-carbonization fits into a techno-feudalist paradigm, amid the ongoing Third Hundred Years' War to forge a universal empire. The grand chessboard game involves inflicting 'managed conflict' with the application of a 'Hegelian Dialectic' social engineering to cause clashes between two opposing ideologically-driven forces, so that a 'synthesis', or a desired final solution, is created. The idea is to use the crises to forge a fusion of capitalism and communism to control populations. This hybrid totalitarian system is, I contend, techno-feudalism.
---
By Steve 'Snoopman' Edwards
BlackRock Op: De-Carbonization Transition Therapy
New Zealand's Government announced 8 August 2023, a deal with BlackRock, the world's largest asset management firm, to find funds for the nation's transition to a 'net zero economy'. Prime Minister Chris Hipkins said a $2 billion climate infra-structure fund assists New Zealand's transition to 100 percent renewable electricity.
The hype to reach the target of 100% renewable electricity generation by 2030, was presented like a telethon fundraising goal for de-carbonization transition therapy.
The estimated cost is $42 billion, with New Zealand energy companies pledging to stump up $26 billion, and BlackRock pledging $2 billion, in Kiwi dollars.
BlackRock, also pledged to find $16 billion in new investment, Newshub reported.
Ironically, in 2021, when Newshub and Māori Television co-hosted a Vaxathon to needle their audiences to submit to Pfizer's Cominarty injecticide, Newshub was in effect pimping a BlackRock-sponsored transition therapy psychological operation to a global biosecurity system — on behalf of one it's ultimate owners: BlackRock.
The CIA's mouthpiece, The Washington Post, reported BlackRock Chief Executive Larry Fink's green-spin on a business mini-blog platform, Linked-In, that "the world is looking for models of cooperation between the private and public sectors to ensure an orderly, just and fair energy transition." BlackRock denied it was using NZ to greenwash its $11 trillion asset management, speculation and investment operations.
RNZ said the Government is not contributing any funds. All capital will be private, with BlackRock acting as broker and asset manager of the climate infrastructure fund.
But, the New Zealand Herald said investment would also be sourced from Crown companies and entities, including superannuation funds as well as private sector funds. Like crowd-funding, but since the BlackRock contract is confidential, the only place Kiwis will find any transparency is in the lingerie section of a department store.
With public debt at $155 billion, has the gargantuan financial firm simply coerced the Government, and invested $2B from profits made off managing NZ's pension funds?

BlackRock Australasia head, Andrew Landman said, "For BlackRock, this is the first time we've done a country-specific op, er, initiative, like this [operation]".
Hipkins claimed having the capital available for major investments is critical to rapidly increase renewable energy. Lawfirm Meredith Connell introduced the deal.
The deal comes after Hipkins' predecessor, Jacinda Ardern, attended a private meeting with BlackRock in New York last year, on May 25. Attempts to gain information about why Ardern met BlackRock's Larry Fink, at the BlackRock Investment Roundtable Meeting with the United States Chamber of Commerce — proved fruitless.
Kiwis were shocked by this transition therapy mandate. No-one voted for BlackRock.
Tellingly, back in the simpler times of 2011 — amid civil unrest in the wake of the staged strategic sabotage of economies inflicted by the global banking oligarchy — a smirking Mr Fink told Bloomberg, the reaction was "confusion".

Fink explained, "Markets don't like uncertainty, markets like, actually, totalitarian governments where you have an understanding of what's out there. Democracies are very messy. You have opinions changing back and forth." Markets is code for oligarchs.
Back in the post-Corona Hostage Crisis world of 2023, BlackRock Asia-Pacific co-head of climate infrastructure Charlie Reid bragged to NZ's milk and toast media missionaries, it would cost the world $200 trillion to achieve 'net-zero' — by 2050.
No jaws dropped to the floor. Pulling a fake alien invasion seems a plausible idea, too.
Evidently, it would take until 2050 to re-build the planet on a 'sustainable' trajectory.
The concept of net zero is used to describe a broader and more comprehensive commitment to de-carbonization and climate change mitigation, than the carbon neutrality concept. A net zero approach often includes a 'science-based' targets on emissions reduction, as opposed to relying solely on carbon offsets.
A carbon-zero economy means shifting away from coal and oil, and towards the use of renewable energy such as wind, geothermal, and solar power, as well as zero-energy systems like passive daytime radiative cooling, reduces greenhouse gas emissions.
Naturally, de-carbonization transition therapy requires — rather ironically — gas-lighting whole populations that humanity has a new common enemy: CO₂.
Weirdly, the infamous scape-goated gas — carbon dioxide — is best friends with trees.
Meanwhile, World Economic Forum élites fly to Davos for the first conflab in the annual migration for global policy census programming. Selected sycophants consume technocratic technical tactics for shaping regional technates to mitigate 'climate catastrophe', improve diversity quotas, and generally corral humanity.
BlackRock's involvement has been pitched as a first for the largest single country deal to broker finance to fund a climate infrastructure fund. The New Zealand Herald reported that BlackRock's Climate Finance Partnership fund, was announced at Cop26 in Glasgow, November 2021. The Herald needs to dive deeper into Google.
BlackRock CEO Larry Fink and French President Emmanuel Macron had announced the Climate Finance Partnership in 2018 with a clarion call for $100 trillion to invest in the planet's sustainable development. BlackRock plays Monopoly 24/7, all year.
The Davos-connected World Economic Forum (WEF) élites such as Larry Fink of BlackRock fronted the establishment of the Climate Finance Partnership in 2018 to re-purpose capital managed by institutional investment corporations, including pension funds, to bankroll smart-gridded cities, hi-tech infrastructure and a global money control grid, under the rubric of sustainable development to mitigate climate hazards.
In the 2013 documentary Take Back Your Power, Josh de Sol shows that through smart meters, power companies and their 'partners' gain the power to snoop into peoples' lives via wi-fi radio signals harvesting data from digital communications devices, next generation chipped-appliances, RFID-tagged consumer products. Electricity is data.

Despite the slick brands, 'clean-green electricity' firms become corporate surveillance 'partners' stealthily pimping out personal information by scraping the patterns of Kiwis' lives, to big data harvesters, marketers and the national security apparatus.
In this shiny green way, the casting of New Zealand as an experimental test case for renewable energy transition therapy — with new climate infrastructure privately financed — represents a technocratic public private partnership co-governance model.
It's like New Zealand is in a parallel universe-cum-redux version of Ground Hog Day.
Except, Kiwis don't get to restart the day over until they get their desired love interest.
Instead, Kiwis are recast as 'Carrot Landers', who are expected to behave like cheerful bright orange bags of export-quality carrots — unblemished, perfectly formed and too polite to challenge the toxic regime. Kiwis are marketed like tourism industry extras.
The moated South Pacific archipelago has long been used as the world's premiere test facility for new technologies, political strategies and social engineering. 'New Zealand has more pilot studies than pilots', a retired joke claimed. The country is practically run in accordance to political strategies, policy frameworks, and technocratic tactics shaped in unseen processes by political strategists, polling companies, think-tanks, law-firms and accountancy agencies, ratings agencies and P.R. agents.
N.Z.'s perennial role as a location to field-test political strategies, social engineering pilot studies and technology innovations has not simply been predicated on the idea that the guinea pigs will not find out they are test subjects — as the Bilderberg Group mouthpiece magazine, The Economist, reported in 2015. The assumption in-built into the experiments is that the South Pacific test-lab's isolated location affords the experimenters the capacity to shutdown any contagion of truth from spreading around the world — should an experiment go badly wrong, or if its dark secrets are decoded.
---
Sustainable Development or Permanent Enslavement?
Ironically — given that the 'United Nations' has been complicit in advancing the subversion of nation states — the milestone year of 2050 can be found throughout discourses in support of the United Nations Sustainable Development Goals (SDGs).
The global élite advance a utopian vision of 'sustainable development' that a few years ago required either $50 trillion, $90 trillion or $100 trillion. Now it is either $200 trillion, or even a colossal $270 trillion, depending on whose estimates you take.
An October 2022 report by Swiss Re, the famous Swiss reinsurance company, claimed that a whopping $270 trillion in investment is needed for the planet to meet a climate target of net-zero emissions by 2050. This epic sum implies collateral of hard assets.

In an article headlined, "Investments of $270 trillion needed to meet net-zero targets by 2050, study shows", reported by the news agency, Reuters, that Swiss Re made the observation that Russia's invasion of Ukraine had elevated energy security to the top of the policy agenda. Ironically, Reuters was established in London in 1851, and exploited the opportunity to cover the British-engineered Crimean War (1853-1856) — which weakened the Russian Empire. Britain aspired to forge a universal empire.
The Crimean War is best known for the strategic errors of both sides, the tactical use of the telegraph and the railways for communication and logistics, as well as being the first war to be documented extensively in written reports and photographs.
Poignantly, the current Russian-American Ukraine War is not only a fight to retain control over Crimea, since Russia needs a warm water port to remain a Eurasian Empire because the Gulf of Finland can freeze, blocking access to St Petersberg's port. The war is driving dozens of nations to apply to the BRICS trade alliance (Brazil, Russia, India, China and South Africa), as well as to accelerate the development of Central Bank Digital Currencies and fuel a new arms race amid epic de-stabilization.
The Ukraine Government has bragged that by 2030, the country will be the first 'European Tiger' cashless economy with wide-scale privatization, growth at 70% of GDP, and a hi-tech paperless administrative system to manage grandly designed cities and all billed as the 'Israel of Europe'. Naturally, BlackRock will assist with managing investment funds to make this totalitarian technocracy shiny.
This 'Eurasian Chessboard War' will also become known for the tactical use of the satellites and the airways for communication and logistics, as well as being the first war to be fought extensively with AI software, drones and hypersonic weaponry. Observers see this war as a live βeta field-test before America rumbles with China, while also attempting to wear down Russia; China's likely ally in a superpower war.
Former CIA operative, 'Andrew Bustamante' says there's a time-window open to 2033, beyond which China may surpass America economically, technically and militarily.
The line "Kong bows to no-one" in the 2021 film Godzilla vs Kong, is potent symbolism.
In the 2D chessboard world of geopolitics, Russia became the new scape-goat to resolve a crisis of the global élites' own making. While there are real world aggressive competive and violent rivalries on the 2D chessboard of nation states, transnational corporations and global policy setting think-tanks — on the 3D chessboard, the core global élite are all in agreement about their need to maintain social control through the sustainable development of hi-tech megalo-maniacal compliance systems.
This is not to say there aren't rivalries, disagreements or competition. Nor am I suggesting that the factional global oligarchy and their loyal professional armies of puppet politicians, corporate leaders and government officials agree on manipulative initiatives such as sustainable development goals, diversity quotas or social credit scores. There is a distinction between achieving the sustainable development of enslavement, and how to frame such schemes so that the professional class doesn't digest the totality of the metaphorical devil's details about how to achieve such ends.
When the economic activity, industrial mobilization and the social dislocation underpinning that massive $270 trillion proposal is comprehended, the purpose of this unspoken plunder of the planet becomes clear: corral humanity into Smart Mega-Cities for their permanent enslavement and control of human evolution.
Presently, there are nine mega projects that exceed $100 billion. A construction software company called 1Build estimates that before the end of the decade, the world will see the first construction megaproject with a cost estimation exceeding $1 trillion.
'Tyler Durden' of Zero Hedge reports that "Out of all nine ongoing megaprojects identified by 1Build, International Construction Magazine and Construction Review to cost $100 billion or more, four were being built in Arab Gulf States."
"But why?" you may ask as your mind reels at these proposals to invest gargantuan money numbers, while we're told the previous three industrial revolutions caused the planet to warm dangerously with too much emissions — especially bad-gas CO₂ — who's friendly with trees, as ecosystems collapse, and resources get stripped.
Because, if ruling élites lose control over the componentry that comprise the structural forces, then humanity gains autonomy or independence, while the rulers' hierarchical systems become irrelevant.
It turns out, sustainable development is a euphemism for investment in infrastructure, hi-tech systems, and governance structures to achieve permanent social control.
This proposed build-out of a SMART-chipped green global economy implies epic-scale plunder, mass dislocation and wars. This ruse is about sustainable management of poverty, continuous behaviour modification and permanent enslavement.
In 2021, the United Nations said there was a $100 trillion financing gap to supposedly achieve the 2030 'sustainable development goals' worldwide.
The year 2050 is one of global élites' milestone years within the United Nations' blueprint called Agenda 21 — as the author of Behind the Green Mask: U.N. Agenda 21, Rosa Koire explained to dissident journalist, Spiros Skouras in mid-June 2020.
By 2050, the planet's overlords expect to have their blueprint completed and locked in place. This 100-year plan is designed to destroy the concept of the nation state, by devolving control into mega-city states governing mega-regions, thereby breaking county, city and state borders. This action plan seeks to inventory all lands, minerals, plants, animals, water, food, energy, production, humans, money, and data, Koire said.
With this plan implemented, the global élite plan to destroy representative government, wreck free enterprise and independent households, and control populations with unreachable technocratic governance systems.
Thus, this BlackRock chess move occurs amid a broader plan to remake the world by 2050 with SMART cities, 15 minute cities and satellite towns for a price tag of only $200 to 270 trillion — and all under the rubric of 'sustainable development'.
---
Un-Braiding the De-Carbonization Cult
Carbon emissions have been emphasized as the common enemy because it is the linchpin to the objective of re-setting the world on a trajectory complete with a carbon-based technocratic political-economic system.
Under the rubric of reducing greenhouse gas emissions, A.I. has been tasked with measuring every stage of the extraction-production-distribution-consumption-pollution chain to quantify measure the resources consumed. These complex algorithmic calculations are quantified into a single measure, known as carbon equivalence units that relate all compounds to an equivalent amount based on the carbon atom. Larry Fink's speciality is profiting from slices of diced assets.
By claiming the means to measure every material, process and exchange with a single metric — carbon equivalence units — the financial industry will be able to combine these carbon equivalent values with financial derivatives. Fink's blood is derivatives.
Because derivatives can price risk into a single unit (of whatever currency is stipulated to settle transactions), banking consortiums will gain the capacity to fuse the quanta of resources underpinning every transaction with financial derivatives, so that wealthy investors can earn income off the biosphere. Fink's heart is natural capital.
Under the rubric of a 'Fourth Industrial Revolution', the development of computing technologies are drawing all processes, transactions and relationships into digitally-mediated protocols — under the rubric of the that the Fourth Industrial Revolution.
BlackRock's A.I. Alladin financial-casino computer will be in a synthetic nirvana.
The 'Fourth Industrial Revolution' is the fusion of computing chip technologies such as artificial intelligence, robotics, nanotechnology, 3-D printing, and telecommunications — with brain research and biological life sciences and aims to alter biological functionality of all life-forms to fit the new 'economic model'.
Proponents of the 'Fourth Industrial Revolution' seek the eventual fusion of humans with machine as an enslaved workforce, data-mined, mind-controlled and shelled-out to perform tasks in vast hi-tech mega-cities ruled by the system of technocracy, or a scientific autocracy, administrating on behalf of unseen super-rich oligarchs.
World Economic Forum founder Klaus Schwab has said "We have to decarbonize the economy in the short window still remaining and bring our thinking and behaviour once more into harmony with nature."
Fink's mind is hardened black rock.
In other words, the Fourth Industrial Revolution (4IR) is a euphemistic label for a Techno-Feudalist World Order where the vast majority are being set-up to etch out a living as techno-serfs, continually retrain, compete with AI, robotics and automation, and to work ultimately for unseen super-rich oligarchs, who plan to own everything.
And, the Great Reset is a sanitized term for an engineered pivot onto a totalitarian technocratic trajectory. A technocracy is a totalitarian form of government managed by technicians, engineers and scientists brainwashed to believe they are building unbiased equality-enhancing governance infrastructure, as the author of Technocracy Rising: The Trojan Horse of Global Transformation, Patrick Wood, described to Spiro Skouras. When, in fact, technocracy transforms imperfect mechanisms of social control into turn-key totalitarianism for the benefit of unseen, super-rich oligarchies.
In his 1968 book, Between Two Ages: America's Role in the Technetronic Era, Columbia University's Zbiginiew Brzezinski stated the Technetronic Era would be humanity's fourth and final stage of evolution and would feature a controlled, directed global society dominated by an élite claiming superior scientific knowledge, manipulating public behaviour, and maintaining control through control with universal surveillance.
Evidently, this degenerate Technetronic Era vision was the culmination of three great stages of human evolution — religious cultism, nationalism and Marxism. Brzezinski saw the impacts of technology, but revealed a glimpse of the players driving the world toward an end-run around the nation state system. Brzezinski stated the:
"nation-state as a fundamental unit of man's organized life has ceased to be the principal creative force: International banks and multinational corporations are acting and planning in terms that are far in advance of the political concepts of the nation-state."
In other words, to achieve the vision of the Technetronic Era, the old administrative system of liberal democracy would have to replaced by technocracy.
According to Patrick Wood, it was Between Two Ages that endeared Brzezinski to David Rockefeller. Yet, it did not occur him or his writing collaborator, Anthony Sutton, when they wrote a book Trilaterals over Washington, Volumes I and II, that Brzezinski had swapped out his invented term 'technetronic' for technocracy. Neither Wood or Sutton knew about technocracy. Brzezinski's book reinvigorated technocracy.
The technocracy movement emerged during the Great Depression, as a misplaced solution by scientists, engineers and technicians who blamed politicians for their part in building the war machines that laid waste to millions during World War I. The technocracy movement envisaged a utopia where a resource-based economy that allocated such resources via politically-free metrics calculated by scientists, engineers and technicians. Thus, a technocratic utopia requires massive computing power.
Therefore, technocracy threatens freedom since it seeks to displace democracy with centrally-planned technates, or regional blocks, governing resource allocation using thermodymanic accounting to serve the global oligarchy. In short, it is a long-range political-commercial, cultural and martial systems merger between communism and capitalism to construct a 'sustainable' totalitarian super-structure: techno-feudalism.
Media marionettes have missed the news about civil oligarchies ruling the West.
Representative democracy, or limited democracy, based on the Westminster parliamentary system was spread around the world as a strategy to protect the extremely wealthy from the riskiness of 'pure' or participatory democracy.
Typically, an 'oligarchic-mass settlement' was 'necessary' to form a democracy, the purpose of which is to manage issues that are of little importance to the oligarchs.

Broadly, the condition for allowing representative or limited democracy is that the democratic society does not bother the oligarchy, as Jeffrey Winters stated in his seminal 2011 book, Oligarchy. Economic wealth is transformed into political power.
From the perspective of the super-rich, the public and private sectors are viewed as two divisions of capitalism, and democracy as its administrative system, as Jonathan Nitzan and Shimson Bichler found in their 2009 study, Capital as Power.
In civil oligarchies, where the state apparatus defends the wealth of an oligarchy by upholding property rights as a trade-off for disarming and abiding by its laws, it is not necessary for democratic processes to work. Together, oligarchs as super-rich coalitions steer the trajectories of whole societies by harnessing their enormous wealth to maximize their 'accumulation of power' since capitalism is primarily a power system that uses economics as a means of social control.
On her website, The Wrong Kind of Green, independent journalist Cory Morningstar lays out a labyrinthine network of the NGO-Bioindustrial Complex, and its funding linkages to billionaire predatory philanthropists, transnational corporations and international institutions to transform the world — with an imperial-scale greenwash. In her book, The Manufacturing of Greta Thunberg, Morningstar also demonstrates the inorganic propulsion of Greta Tintin Thunberg to celebrity activist status, and the greenwashed ecology of astro-turfed environmental NGOs.
Morningstar describes the capture of the environmental movement with its vanguard campaign — climate — by the NGO-Bioindustrial Complex, as a reworking of capitalism to construct a dystopian future for the permanent enslavement of humanity.
A proliferation of slickly-marketed astro-turfed environment organizations have been funded by billionaire predatory philanthropaths, to partner with the established organizations such as Greenpeace, Friends of the Earth, and the World Wildlife Fund.
Non-Governmental Organizations such as 350.org, Greenpeace, WWF, Avaaz, Net Zero, Power Shift, We Don't Have Time, Zero Hour and slew of other connector NGOs such as the Natural Capital Coalition, The Climate Group, Nature4Climate, Business for Nature, Natural Climate Solutions, the World Resources Institute and Conservation International, the European Climate Foundation and the Global Covenant of Mayors for Climate and Energy — are either funded by billionaire predatory 'philanthropist' foundations. Or, this astro-turfed revolutionary habitat of 'Earth Legioneers' are backed by, or partnered with, transnational banks, petrochemical companies and hi-tech big data firms and other NGOs of the Green Cartel-Non Profit 'NGO-Bioindustrial Complex'.
The build-out of Smart-chipped mega-cities under the rubric of sustainable development, including the Ford and Rockefeller dynasty-seeded America 2050 Project, also implies epic-scale plunder, mass dislocation and geopolitical wars.
At least 10 emergent mega-regions are earmarked to be forged in the United States, which would be governed by mega-cities, and would be built out by the dystopian year of 2050, as envisaged in 2006 by a project called "America 2050".
The "America 2050" project — that was originally sponsored by the foundations of two of America's leading dynastic families, the Rockefellers and the Fords — has been incorporated into the U.S. Federal Highways Administration's plans, which feature these 10 mega-regions. Neither Democrats or Republicans would vote for this plan.
The idea of hi-tech mega-cities sprawling across USA America implies a demise of the mangled Remnant 1st Republic — despite the rhetoric.
Not surprisingly, the "America 2050" project envisaged trillions of dollars in investments would be needed for infrastructure, urban development and new energy systems — with environmental protection promoted as a core principle, naturally.
---
Debt-Based Monetary Systems and Strategic Sabotages of Industries
At the press conference to announce BlackRock's operation to manage New Zealand's Climate Infrastructure Fund, Kiwis were gas-lighted about the watershed moment to "unlock" capital to finance the target of 100% renewable electricity.
Despite its natural resources, industrious population, and developed infrastructure (notwithstanding the sabotaged Marsden Point Oil Refinery), NZ's Government does not produce its own money debt-free to fund necessary public projects. Like almost everywhere, the global banking cartel centrally plans economies on behalf of dynastic banking families, in cahoots with dynastic rulers, transnationals and think-tanks.
Conspicuously, 'sustainable development' discourses on plans for city re/design including buildings, transport and energy infrastructure rarely delve into the question of why financing has to involve either public borrowing, taxation, or private capital.
Yet, it is the structural control of the underlying monetary system that determines what is possible. The world's largely unseen dynastic bankers — through their transnational banking empires — have ensured that actual cash is scarce.
This perpetual cash scarcity compels not only families and businesses but also governments to 'borrow' the bankers' manufactured credit to build homes, enterprises, or infrastructure, respectively, and to compete for scarce cash to 'repay' the privately conjured credit. Interest is not the time value of money. Rather, interest is the rental rate for conjured currency since credit is borrowed into existence when a loan is created. The rate of interest is an extortionist fee to not withhold supply.
Since the funds to cover the interest component are not created when the 'loan' principle is manufactured, the competition among mortgage 'borrowers' is intensified. Together, the manufactured credit and the interest act as the key driver in pushing up prices over time since each generation of 'borrowers' are compelled to sell their homes, businesses or other investments at ever higher values just to break even because of this 'rent' banks charge as a fee for not withdrawing supply. A debt-based monetary system creates a 'multiplier effect' of ballooning credit bubbles, which the global banking cartel are able to exploit to gain the collateral by applying their crony 'boom-bust-bailout' formula.
In short, the debt-based monetary system that fuels capitalism is the key driver of incessant resource-plundering corporations, wars and debt-slavery.
The ruse on the world gets worse. The Federal Reserve is a privately-owned banking cartel with a monopoly market over the US currency. The US central bank's rules for the structure of its Board of Governors' reads like a playbook, wherein the banker in the end always wins the game of Monopoly. The Federal Reserve Systems' member banks are its joint-stockholders — every one of which receives a six per cent annual dividend. The Federal Reserve System has 12 regional banks, each being a corporation, and their member banks include all national banks and any state-chartered banks that are awarded membership status to the cartel.
Through this cartel system, not only can the American Oligarchy influence strategies, monitor rivals and enforce tacit agreements that would not be legally enforceable via courts or legislation. As a money cartel with a monopoly over the currency supply, the Federal Reserve maintains a scarcity of cash and an abundance of credit, sets interest rates, and controls America's economic policy — while Americans unwittingly pay income tax to service the interest on the public debt.
In his book, The Secrets of the Federal Reserve: The London Connection, Eustace Mullins names the shareholders, and included charts detailing a 'London Connection'. In 1914, when the initial 203,053 shares were allocated, 40% of the Federal Reserve Bank of New York stocks were bought by five banks, with the Rockefeller-Stillman banking dynasties controlling the nearly a quarter. By the early 1960s, five London based merchant banks controlled the US Federal Reserve's dominant bank, the Federal Reserve Bank of New York. Those five were: N.M. Rothschild, Schroder Bank, Lazard Brothers, and Morgan Grenfell, the London Branch of the House of Morgan, and Brown Shipley Company, the London branch of Brown Brothers Harriman.
On Reality Check Radio, Farzin Irani said one major source of BlackRock's funds is the US Federal Reserve, 'borrowing' at interest rates "close to peanuts", and it uses those funds to buy up assets across the globe. Mr Irani said land and sovereignty is in question right now, since banks create fictional currency out of thin-air and 'loan' to businesses, households and governments at interest, despite the industry-wide scam.

Such epic scale ponzi money creation operations means businesses, governments and banks, can be vulnerable to collateral seizures for defaulting on 'loans'. Behemoths such as BlackRock can swoop in like vultures collecting assets for oligarchs.
At the time of the 2008 Global Financial Crisis, BlackRock had $300 billion in assets under management. BlackRock Inc. was a member of the Financial Services Roundtable, along with several of the key beneficiaries of the public insurance bail-outs such as: J.P. Morgan Chase, Citigroup, Bank of America, Barclay Capital, Bank of New York Mellon, and UBS. There is evidence of behind the scenes planning by the Financial Services Roundtable, a powerful lobby group for US finance. This Roundtable had already written draft legislation for the infamous $700 billion bailout bill when Treasury Secretary Henry Paulson and Federal Reserve Chairman Ben Bernanke met with congressional leaders on the evening of Thursday September 18, three days after the staged collapse of Lehman Brothers — as The Wall Street Journal reported in "Industry Lobbyists Go After Candidates" on September 19 2008.
As I proved in my groundbreaking thesis, "It's the Financial Oligarchy, Stupid", on US and UK media coverage of the Global Financial Crisis of 2008, the financial authorities of the US and UK colluded with the global banks to steer the Global Financial Crisis to a climatic point producing a fear-laden spectacle, to coerce their respective governments to bail-out the bankers. During the bank bail-outs, BlackRock became one of five 'vendors' that administered the mortgage-backed securities purchased by the Federal Reserve Bank of New York to stabilize the financial system, which meant maintaining the global banksters racketeering business model.
Therefore, credit manufacturing is a key mechanism of social control over humanity.
Where the credit revolution rose as the primary instrument of expansion from 1500AD to 1900AD, to finance colonial expansion, industrialism and the cartelization of commerce, it is now the chip revolution that is collectivizing all other instruments of expansion, including oil. And that explains why all options for infrastructure, including transport, as well as security, health, education, housing, and even work across all public and private sectors — are mediated by the computing chip.
This accelerated pivot to computer chip-mediated processes, transactions and relationships occurs at a time when central banks seek to introduce privacy-destroying central bank digital currencies as a new mechanism of social control.
Critics of the Central Bank Digital Currencies (CBDCs) system warn that intrinsic to their design, is programmable money. Central Banks will gain the power to mediate what is permissible for individuals as classes of consuming humans. Where presently, cash makes anonymous transacting possible, and digital transactions are tracked by commercial banks, credit card companies or cooperative banks, a CBDC currency confers the capacity for the central banks to collect the meta-data of every transaction.
This means the algorithms can be programmed to instill compliance in mass populations, to limit consumption, travel and association. US financial advisor Catherine Austin Fitts has stated that over time, the balance of power has shifted in favour of the central banks and the dynastic bankers calling the shots from the shadows, such that governments no longer possess or exercise the sovereign power to determine economic policies. In his documentary, The Secret of Oz, Bill Still explores the stealthy siege of America's economy by an international banking fraternity that led to the Congress of the United States giving away its sovereign money power.
This sovereign power has been progressively lost across the world to the dynastic banking families and the subservient central banks who have financed wars, inflicted financial crises and economic warfare to accumulate wealth, power and control.
Presently, the world's three major powers — America, China and Russia — are re-forging their empires in a great game of 3D geo-political chess. The objective of 3D geo-political chess is to win control over the entire game board, by orchestrating the conflicts on the 2D chess board of nation state jurisdictions, 'run' by political leaders.
Typically, the 2D chess board conflicts are designed to distract, divide and defeat humanity. The battles to over resources — including land, dominant institutions and strategic technologies — underpin the structural forces that both bind civilizations and have the potential to free humanity.
The critical structural forces include technological innovations, human cultural patterns, changes in demographics, and the struggles, tensions and impacts of organizing systems to determine whether access to the world's valued resources is restricted or open. Thus, epic 'chess games' are inflicted to re-set the arc of history.
Historian Carroll Quigley's civilization model showed every civilization needs an instrument of expansion. In the classical age, the primary instrument of expansion was slavery. The medieval knight became the surplus-creating instrument of expansion in Europe's system of feudalism, which was an organizing pattern of agricultural units known as manors that were worked by the peasant class or serfs to provide food for the knights, their horses and the rest of the upper class hierarchy of landlords, the monarch and the pope. Feudalism became an institutional system when it was created around 970 A.D. and this lasted until 1270 A.D.
During the Columbian Era of Colonial Empires from 1500 to 1900, the credit revolution rose as the primary instrument of expansion to usurp feudalism's serf-slavery and fund wage-labour and the rise of the machines as an instruments of expansion. This era ended with the beginning of the Third Hundred Years' War.
A Hundred Years' War occurs when there are tectonic shifts in the world system, brought about by scientific discoveries, technological innovations, and new organizational hierarchies that competing ruling classes fight over to dominate the trajectory of structural forces. In doing so, the West's oligarchies, or coalitions of the super-rich, have been very successful at harnessing an Age of Conflict as a means to enter a new Age of Expansion by periodically moving the centre of operations from the Empire's core to a peripheral state. In short, the West's Rulers have staved off total collapse by invading the territories of other Empires.
This present epic age of conflict began as a fight over the control of gold and diamonds in Southern Africa with the Boer War of 1899-1902, in order to fill a war chest for the new prize, oil. In 1880, Germany had surpassed Britain as an industrial power, and in the 1890s began moves to plan, invest and build the Berlin to Baghdad Railway to transport oil. In response, a British Secret Élite envisaged a diabolical double-global war strategy in an attempt to forge a universal empire.
The British Secret Élite embroiled Europe in war against Germany in order to smash the Russian Empire, since the British Oligarchy feared an alliance between Germany and Russia would led to the Russia Empire dominating the world.
At the beginning of 'Act II' — a 'Grid' of international bankers entered a secret pact to forge and conduct a Second Global War, as Guido Preparata recounts in his masterful book, Conjuring Hitler: How Britain and America Made the Third Reich. The Grid's objective sought "nothing less than to create a world system of financial control, in private hands, able to dominate the political systems of each country and the economy of the world as a whole", as Carroll Quigley wrote in his 1966 tome, Tragedy and Hope.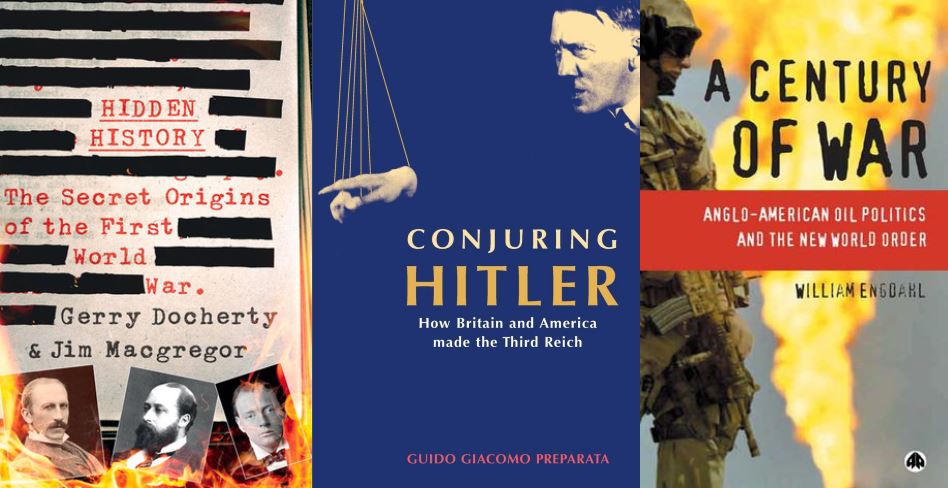 It is my contention that this epic ongoing global war now seeks to destroy household autonomy, wreck free enterprise and construct a totalitarian universal empire through domination of the Chip Revolution, which began in 1959.
In short, the computing chip is the new instrument of expansion in the ongoing Third Hundred Years' War that began as a struggle over the control of oil in 1899.
Given this history, Larry Fink's admission in 2011 that 'markets' prefer totalitarian regimes because authoritarianism provides certainty — reveals the oligarchic mind.
The current trajectory has provable historical precedents of diabolical machinations by Western Élites, who built-up Soviet Russia, Nazi Germany and Communist China.
In his book, Wall Street and the Bolshevik Revolution, Professor Anthony Sutton explained the totalitarian socialist state — whether international socialist (communist), or national socialist (fascist) — was the perfect captive market for monopoly capitalists. After the American 'Robber Barons' forged cartels, Sutton said Wall Street insiders comprehended by the early 1900s, that the most efficient way to forge a monopoly market without contest, was to "go political" and compel society to work for the monopolists, under conditions of unfettered political power, individual coercion and spellbound by ideological persuasion that their toil benefits society.
In an epic plot with brinkmanship, plot twists, and betrayals, British, German and American bankers, along with other élites, conspired through networks of Freemasonry in their attempts to forge competing utopian visions of universal empire, as readings of Gerry Doherty's and Jim Macgregor's Hidden History: The Secret Origins of the First World War, and Anthony Sutton's Wall Street and the Bolshevik Revolution and Wall Street and the Rise of Hitler and Nicholas Hagger's The Secret History of the West — together make clear. Plots involved infiltration, bribery and intrigue.
To this end, London, Wall Street and German bankers financed Russia's Revolutionary Era, albeit with brinkmanship, plot twists, and betrayals. These interests included: Rothschild banking asset Lord Milner (of the British Secret Élite), who supplied $3m to communist Alexander Kerensky to establish a Rosicrucian Masonic Russian State; German banker Max Warburg who supplied $20 million to Leon Trotsky via Nya Bank of Stockholm and $5 to $6 million in gold to Vladimir Lenin to inflict a Masonic Grand Orient Bolshevik Revolution of 1917-1918; J.P. Morgan asset William Boyce Thompson, bank director at the New York Federal Reserve supplied $1 million and as head of the Red Cross Mission, $2 million for a propaganda press to persuade Russia to stay in the First World War as an ally of Britain against Germany. The immediate objective of the Russian Revolution — which received support of the American, German and British governments — was to sabotage Russia's independence, by gaining control over its banking, oil-fields, and vast industrial combines. Sutton said the long-range strategy was to reduce Russia to the status of a captive technical colony.
Wall Street banks also financed the build-up of the Nazi war machine, including the Chase National Bank (now JP Morgan Chase); the Schroeder-Rockefeller Company; the Manhattan Bank; the National City Bank of New York (now Citibank); the New York Trust Company; V. A. Harriman & Co.; and Dillon & Read, as historian Anthony Sutton showed in, Wall Street and the Rise of Hitler. This conspiracy also involved the New York Federal Reserve Bank, and the Board of Governors of the Federal Reserve.

Additionally, the New York-based Union Banking Corporation acted as a conduit for securities and bonds between Germany and the United States, that were owned by Fritz Thyssen, who funded Hitler's rise and bailed-out his Nazi Party. The Union Banking Corporation was managed by seven Americans; including Averrill Harriman, George Herbert Walker and Prescott Sheldon Bush (the father of George Herbert Walker Bush and grandfather of George Walker Bush, who were all Skull & Bonesman). A banking and steel magnate Fritz Thyssen, and his brother, Heinrich Thyssen Bonemisza, ultimately owned the Union Banking Corporation (UBC) since they owned the Dutch Bank Voor Handelen Scheepvarrdt, the parent bank to UBC.
American industrialists also conspired with the American 'Fraternity' of bankers, to build up the Nazi war machine prior to World War II. Thirteen US industrial firms, who contracted with German corporations prior to and during World War II, were: the Ford Motor Company, General Motors, International Business Machines (IBM), Standard Oil of New Jersey (now Exxon-Mobil), DuPont, Dow Chemical, Alcoa Aluminum Company, American I.G. Chemical Corporation (later renamed General Aniline and Film), American International Telephone and Telegraph (IT&T), Radio Corporation of America (RCA), General Electric; Ozalid, and Agfa-Ansco.
The backstory of the rise of American capitalism's 'partners' gets worse.
In June 1980, David Rockefeller met with the chairman of China International Trust and Investment Corporation, Rong Yiren, and senior executives of 300 major US corporations. And from the mid-1990s, Western tech-companies invested in R&D centers, supplied technology transfers, and skilled personnel. Scores of Fortune 500 companies established headquarters in Beijing's new Central Business District that not only kick-started China's rise as an AI power, as independent journalist James Corbett laid out in his excellent 2015 report, "Deal With the Devil: How the Global Elite Re-colonized China." The rise of China as the world's factory, was not merely about outsourcing of cheap labour. China is the West's totalitarian test facility.
The brutal truth is that Anglo-American capitalists spawned the worst totalitarian regimes of the 20th Century, to control their development, create vast industrial conglomerates and stoke the conditions for mass genocide, war and arms races.
In Sutton's America's Secret Establishment: An Introduction to the Order of Skull & Bones, the Yale University society was shown to have been dominated by 20 to 30 families, who were all of puritan heritage. Their game was to spearhead institutions, initiatives and intrigues in order to inflict 'managed conflict' with the application of a 'Hegelian Dialectic' based on the philosophical outlook of Georg Wilhelm Friedrich Hegel.
Sutton found that Hegelian social engineering was the dominant philosophical driver stealthily deployed to pit communism against capitalism and dumb-down education systems to undermine Western Civilization. By causing clashes between two opposing ideologically-driven forces, a 'synthesis', or a desired final solution, is created.
This Hegelian Dialetic has relevance for humanity's present situation. For example, the systems of capitalism and communism have been pitted against one another in countless conflicts, big and small. Yet, the conflicting forces of capitalism and communism are not intended to result in either system being victorious, Sutton said.
Rather, the idea is to use the crises to forge a fusion, by their cunning inventiveness to control populations. This hybrid totalitarian system is, I contend, techno-feudalism.
In devious ways, dominant capitalist coalitions, or super-rich oligarchies, periodically inflict strategic sabotages of industries and public sector institutions to destabilize societies, rival empires, or a civilization to reset the structural forces in their favor — lest they lose control as they forge new fences to keep the human stock penned.
As American liberal journalist Chris Hedges identified in 2014, corporate totalitarian super-states are being constructed that will thrive inside fictitious democratic shells.
On Joe Rogan's podcast, Iranian-American entrepreneur Patrick Bet-David said the largest stockholder of 88% of the Standard & Poors' top 500 ranked companies is either BlackRock, Vanguard or State Street. These three core of institutional investors own stakes across all major transnational corporations that dominate all industries across Western Civilization — as Tim Gielen's Monopoly: Who Owns the World, shows.
Therefore, BlackRock & Associates' Monopoly Board game is a mega-cartel syndicate hell-bent on developing a hi-tech sustainable system of permanent social control.
This dispatch has shown how de-carbonization fits into a techno-feudalist paradigm, amid the ongoing Third Hundred Years' War, that was initially fought to forge a universal empire to capture territories, treasures and technologies to control oil.

But, this epic conflict — which began with the Boer War in 1899 to gain a treasure chest in preparation for World War I — is now a struggle over the new instrument of empire expansion: the computing chip. This fight is set to escalate.
It appears the Global Élite are manipulating the major powers into forging three or more super-states on the other side of another epic global war. A global conflict where precious areas remain intact, while target locations face apocalyptic horrors. Doomed areas will likely be ear-marked for re-development or mass dislocation, to open access to strategic geographical features, resources and skill-sets. Or, to attack symbolic locations to activate their emotional potential as Talismans to escalate hostilities.
This horrific prospect is not inconceivable. After all, historian Carroll Quigley wrote in his 1966 tome, Tragedy and Hope: A History of the World in Our Time, that:
"as early as 1940, it began to appear that some new basis of allegiance for these new superstates of continental scope must be ideological rather than national. Thus the nineteenth century's national state began to be replaced by the twentieth century's ideological bloc." — Carroll Quigley, Tragedy and Hope, 1966
It was Quigley who pointed out that the planet was in another 'Age of Conflict'; a Third Hundred Years' War, which occurs when the world system is transforming.
To be super-clear, I'm not opposed to technological innovations to improve energy production, or consumption efficiency. I'm saying we're all being played to submit to a smart-tech surveillance control grid, with its infrastructure, componentry and payments packaged into a carbon-equivalence tax-credit transaction finking system.
The planet's climate is changing due to many destructive human causes, including: deforestation (over millennia); desertification (massive soil erosion); species extinction (including 'fisheries' collapse); geo-engineering climate and weather modification programs; eco-colonialism and industrial agriculture, pollution and planned obsolescence; resource destruction caused by war; imperial and corporate driven migration to mega-cities, slums and refugee camps; the cult of industrial consumerism; psychological warfare to manufacture brainwashed consent; and the whammy of all human-causes, hierarchical oligarchies — and foremost among their instruments are monopoly cartels, client regimes and totalitarian partners.
But, is it not also true that the planet's journey in the solar system's journey in the galaxy's journey, is a larger player in Earth's ever-changing climate than CO2 emissions? And, therefore, do we need to re-focus human effort on emancipating ourselves from the rule of the super-rich oligarchies so that we can get on with replenishing the planet with forests, founding marine sanctuaries and forging flourishing self-determining communities? That is, forging resilient civilizations.

Such collective action from above requires sustained, coordinated mutiny from below.
A three-pronged approach of resistance, resilience and rejuvenation to re-imagine the world, thrive in our swagger and participate in humanity's emancipatory evolution.

This is our time to shine!
---
---
Steve 'Snoopman' Edwards is a dissident journalist, who worked at indigenous broadcaster, Māori Television, for 14 years as an editor of news, current affairs and general programmes. He forged his 'Thunk Evil Without Being Evil' super-power while writing his ground-breaking thesis on the Global Financial Crisis (GFC), titled — "It's the financial oligarchy, stupid" — to figure out the means, modus operandi and motives of the Anglo-American Oligarchy.
Editor's Note: If we have made any errors, please contact Steve 'Snoopman' Edwards with your counter-evidence. e: steveedwards108[at]protonmail.com