Dirty Politics. It's favoured by 'right'-wing parties in the United States, the United Kingdom, Australia, and Canada. It turns off 'left'-wing voters. It's negative tactics undermine political participation, voter turnout and grass-roots efforts to develop politically and economically self-determining communities.
In mid-August 2014, journalist Nicky Hager's book Dirty Politics: How Attack Politics is Poisoning New Zealand's Political Environment sparked a scandal for the incumbent National Party in far-flung New Zealand, a 'free market' economy led by prime minister John Phillip Key.
The key finding of Hager's book is that key insiders of the Key regime have been running a two-track public communications strategy, led by the prime minister's top PR-man and senior advisor, Jason Ede. This two-track strategy cast John Key as "Mr Nice Guy", while using right-wing bloggers, and a sympathetic news media to attack National's opponents and influence the outcomes of elections.
(Warning: This article contains sprinklings of ridicule in the absence of a healthy political-economic-media-cultural environment willing to provide resources for satire, critical accounts of our time and the historical continuities regarding the kinds of 'deep politics' touched upon here).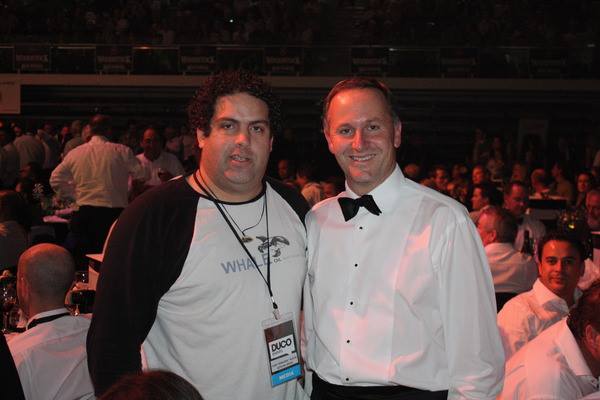 By Snoopman, 25 August 2014 (Updated August 28)

John Key and the 'No Surprises Doctrine'
Journalist Nicky Hager argues in chapter three of his book Dirty Politics that New Zealand's Security Intelligence Service (NZSIS) got politically involved in discrediting opposition leader Phil Goff, by fast-tracking the release of a SIS-Goff briefing record to a right-wing blogger Cameron Slater.
Where the mainstream media were denied the document, Slater was able to feed the news media, via his Whale Oil blog, negative stories about Goff for 2-3 weeks in the lead-up to the 2011 election period. The negative media barrage made the opposition Labour Party leader look dishonest and ill-equipped to handle flak.
Late last week a video resurfaced that shows New Zealand Prime Minister John Key acknowledging to the news media that he was personally briefed by the head of the SIS, Warren Tucker, that the SIS chief was going to release the SIS-Goff document under an Official Information Act (OIA) request from Cameron Slater.
But, now that the Dirty Politics scandal has erupted, with just over four weeks to the 2014 election, the prime minister has changed his story to say that what he meant at the time in 2011 was that it was his office that was informed, not him specifically.
Here is what NZ Prime Minister John Key said at the press conference on 8 August 2011 in the capital city of Wellington:
"Cameron Slater went to the SIS. And under the Official Information Act, asked for the release of that document. Ah, what happened was Warren Tucker (SIS Chief) didn't come to me. He went to his legal advisors, and his legal advisors told him this is the process they have to follow. And when he was going through that process, it was at that point he told me he'd release it because he has to tell me that under the 'No Surprises Doctrine'." (See link here or at end)
This resurfaced August 2011 video is important because John Key has told the media, including TV3's John Campbell that he had not been personally briefed on the matter, but that it was the prime minister's office that had been briefed. (See link here or at end).
Key's statements in this three-year old video is also crucial to the Dirty Politics scandal exposed by Nicky Hager's 128 page book, "Dirty Politics" because the SIS got politically involved in discrediting opposition leader Phil Goff. By providing Whale Oil blogger Cameron Slater with the SIS-Goff document in super-quick time, the SIS enabled Slater to feed the news media for 2-3 weeks leading up to the 2011 election period.
What the fast-tracked SIS leak did was deflect media attention from a gaff that John Key made while he was in the United States visiting Barack Obama. Key's gaff was that he jumped to conclusions over a mass killing of Norwegian Labour Party members by a far-right racist at a summer camp outside Oslo.
At a press conference with Obama, Key used the tragedy as an occasion to justify New Zealand's involvement in America's War on Afghanistan.
The media reported Key's gaff. Then key insiders from Key's administration exploited an apparent mistake by Goff when he claimed he had not been briefed on an earlier security issue when he had. The occasion in question was when a group of Israeli backpackers, who were suspected of spying, hurriedly left New Zealand after one died in the Christchurch earthquake of February 2011.
Blogger Cameron Slater was given the SIS document regarding Goff's security briefing on the Israeli backpackers' matter three days after making his request, which is unheard of speed for Official Information Requests. (The news media usually do not get a response in the 20 business days required by law).
In this dirty deflection move, Key's 'incompetence' to justify an unjustifiable foreign policy was forgotten and his National Party went onto win the 2011 election, helped by poor voter turn-out.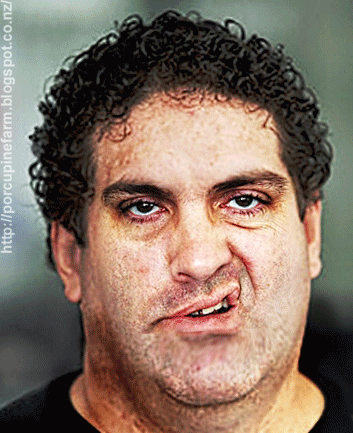 In contradiction to what John Key said in August 2011, upon his return from the trip to the US, the prime minister claimed last week to the news media that  "in this particular case, I wasn't personally informed", (as reported in the video accompanying the report, "PM: No political interference over spy papers"). In the text of the same report, Key states in regard to the SIS document release of the SIS-Goff brief to Whale Oil blogger Cameron Slater, "…prior to the release of this one I didn't have any discussions at all."
If 'ordinary' people changed their story, like Key has over the SIS-Goff brief, when being questioned by the authorities they would be prosecuted.
No Shit, Sherlock! Satire 'n Ridicule but Mainstream Media (MSM) are Still Children

In point of fact, Ladies and Gentlemen of Forging a New Grass-roots Way Jury, Key's blatant lying, regular resort to pre-scripted PR lines and 'Mr. Nice Guy' casting is being ridiculed left, right, left, right and bull's-eye.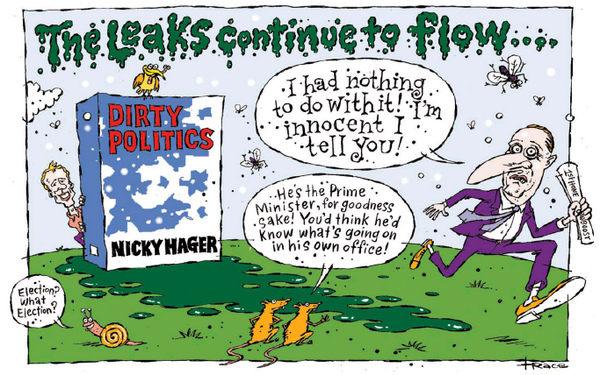 But, as political commentator-turned Internet Party press secretary Pam Corkery essentially pointed out on Sunday 24 August, what is missing is the news media fessing up themselves. Because the mainstream media has been complicit in being a conduit for Cameron Slater, other right-wing bloggers, PR companies and media trainers to massage the John Key as 'Mr. Nice Guy' media messages, play along with Slater's and fellow right-wing blogger David Farrar's attack stories and let the prime minister get away disparaging remarks about oppositional voices.
Instead of pressing Key's people at the National Party campaign launch on Sunday 24 August, the news media fell into line and limited their questions to Key at the press stand-up ritual afterwards.
Meanwhile, 3News political reporter Brook "puffed-up little shit" Sabin described the Internet-Mana's campaign launch as "completely derailed by talk of hacking, Kim Dotcom running off and media abuse", in his Sunday 24 August story. But, it was not derailed by the first two of phenomena Brook Sabin described.
It was the news media's conscious parallel decision to frame the Internet-Mana launch of Sunday 24 August with the search for the answer to what would seem a defunct question about whether Dotcom was the hacker behind Hager's book.
Journalist Toby Manhire had already reported on Saturday September 23 that the book's author, an internationally-respected journalist, had said the MegaUpload founder was not his source. The question was puzzling because Nicky Hager told Manhire he would have "run a mile" if Kim Dotcom had anything to do with the hacked material.
It gets more puzzling when Brook Sabin could have asked fellow 3News journalist Patrick Gower who the source is. Gower told the prime minister in an interview the previous Wednesday (August 20) that 3News had been given thousands of documents earlier that day by the person claiming to be the hacker source for Hager's book. Gower presented the story on the 6 o'clock August 20 bulletin as though the new information was obtained via the anonymous source's Twitter account, Whaledump. Did Gower know who the source was?
On Sunday August 24, Corkery was frustrated with journalists who were harassing for an answer to a question about whether the Internet Party founder Kim Dotcom was the source of leaks for Hager's book, that same source that had set up a Twitter account called Whaledump. With her signature voice belying decades of drinking and smoking and a finger of blame stabbing the air between them, Corkery angrily asked, "When will you glove puppets of Cameron Slater just piss off?"

Brook Sabin et al failed to think about answering Corkery's question. Nor did he or 3News, One News, or any other major news outlet reflect on their complicity in the largely uncritical coverage that Key's National government has enjoyed for nearly six years. Corkery was angry because as an experienced media person she could see how the media were playing the launch. The reporters had pre-decided not to focus on the combined party's policy proposals.
As media scholar Herbert Schiller observed in The Mind Managers (1973), manipulation is so widespread, that a "myth of neutrality" pervades societies, in which manipulated populations think that the core institutions – "government, the media, education and science" – function without being overly compromised by vested interests.
This myth of neutrality media ritual cements an authenticity of media institutions to legitimize ideologically constructed news frames (or angles) with a "common sense" façade that, as Fairclough observed in  Media Discourse (1995), renders the underlying worldview invisible (p.42).
Indeed, TV3's news anchor Caroline Robinson and Brook Sabin failed to disclose that the political reporter's father, Mike Sabin, is the incumbent National candidate for the large, black-sand rich Northland electorate! Brook Sabin's failure to disclose his conflict of interest in the story is ironic given that his father, Mike Sabin, who is of Tainui whakapapa (genealogy) on his mother's side, was proud to declare his Māori heritage during his Maiden parliamentary speech.
In a world where people are conditioned by the news media to judge on perceptions, it is crucial to note that TV3 led their 6 o'clock news bulletin of Sunday August 24 with bad news manufactured by National's outsourced media hit men at the Internet-Mana Party launch. 3News anchor Carolyn Robinson opened the Sunday 6 o'clock bulletin saying:
Kia Ora, Good Evening. The Internet-Mana Party election launch has ended in farce with Kim Dotcom running from the building as journalists were sworn at. It all started when Kim Dotcom referred to hacking in his speech. And when journalists wanted to ask him more, it turned ugly. Here's Brook Sabin.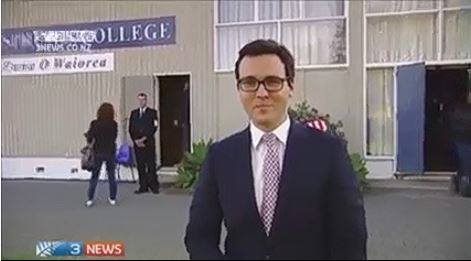 Yet, it  did not all start "when Kim Dotcom referred to hacking in his speech." It all started with Brook Sabin's decision to go into bat for #TeamKey and Ngati National, along with the other journalists who participated in the politics of distraction.
TV3′s and Brook Sabin's failure to disclose this conflict of interest is ironic because it is more in keeping with the Ngati Pākehā (the great English/European tribe) private political system known as capitalism, which uses economic means to control societies, than it is with  whanaungatanga (Māori cultural values to do with relationships, kinship, sense of family connection). Mike Sabin was clearly chosen for his Māori heritage (as well as his institutional affiliations) by National to take on the popular Mana Party leader Hone Harawira, whose party joined forces with newcomer, the Internet Party, earlier this year.
Meanwhile, reporter and deputy political editor, Michael Parkin at OneNews also went for the 'hacker source angle' to determine if Kim Dotcom was the anonymous source for Nicky Hager's book. This is evident by Parkin accosting Dotcom as he arrived at the Internet Mana Party launch. Dotcom is clearly heard saying, "It's all wrong" in response to being asked if he was behind the Whaledump Twitter account, and therefore the source of the hacked Facebook and emails used in the Dirty Politics book. But, still Parkin persisted, as did Brook Sabin, who can be seen in the 3News story blocking Dotcom in the foyer to the hall where the party's election campaign launch was held.
3News' 'free market' enthusiast Patrick Gower, filed a critical-lite report that focused on National's housing policy that essentially amounted to tax-funded scheme to subsidize developers, banks, real estate agents and building supplies cartels in order to win votes from the wealthy and naive Middle New Zealand first home-buyers alike.
At the end of Gower's story, Key can be seen and heard meekly and nervously saying 'at the end of the day', "We've moved on." Unless you can come up with something absolutely amazing. We've dealt with that issue. Thanks very much."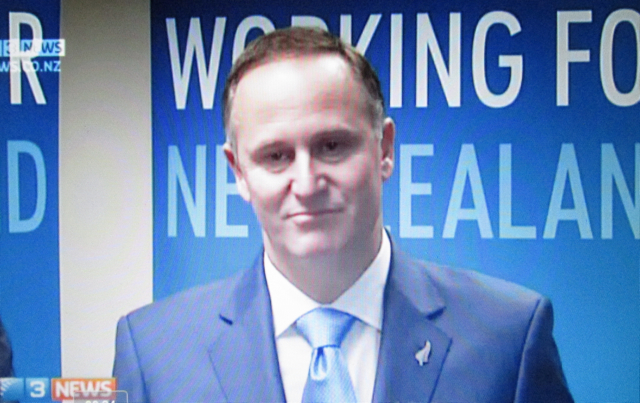 Losing his confidence, Key then scarpered out of there. Confidence, as any reporter should know, especially purple-tie wearing ones who love blood, not matter who's, such as Patrick Gower, is so crucial to all psychopaths, who must maintain their spell over their intended victims (TV3 22 July 2014). A psychopath's biggest fear is everyone knowing that deep down inside, they are scaredy-cats.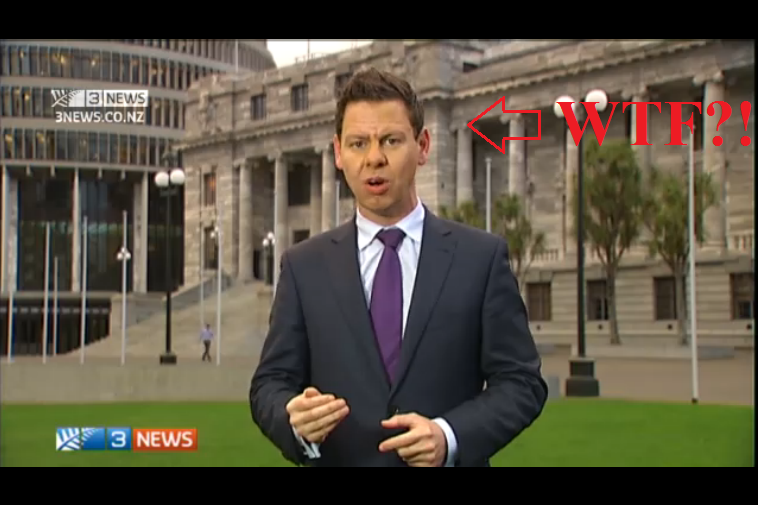 Meanwhile, on Sunday August 24, OneNews also filed a biased report "National Reboots election with housing plan", that focused on National's policy platform of housing, instead of challenging Key on his lies that the SIS had only briefed the Prime Minister's office on the Slater Official Information Act request and not him personally.
OneNews muppet Corrin Dann, who introduced the story, stated, "John Key needed to draw a line under this whole Dirty Politics saga, he got the big crowd, and to some extent he put the show back on the road." (#DirtyPoliticsNZ is a scandal not a saga, Corrin Dann. A saga is Game of Thrones). In the middle of the report, in the interests of the ritual of 'balance', the reporter Corrin Dann included a montage of Key not answering questions but instead saying repeatedly, "That's my answer".
A sock muppet could be more articulate.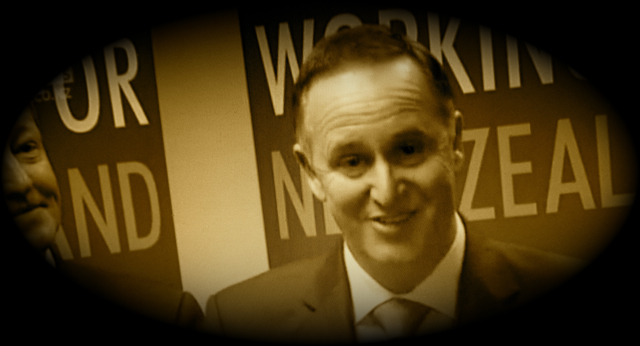 So, as the Dirty Politics scandal has unfolded, the mainstream news media has not been honest, or reflective. To rub it in, in the academic pointy-headed smarty pants terms, the cartelized media has lacked reflexivity about their pro-National Neo-liberal Blue Party news coverage.
The dirty secret of New Zealand's mainstream media, that the super-rich owners, the executives, big advertisers (who are the big-daddy bucks primary audience), and pro-corporate editors, producers, and reporters do not want naive Middle New Zealand to know is that the economy of New Zealand is dominated by just four media corporations. These are: Fairfax Media, Sky TV & Prime, MediaWorks, APN News and Media. While TVNZ dominates on the state-owned side, it is also funded by big corporate advertisers.
Since major news outlets will be the last to admit how they filter the news in the absence of obvious state censorship, comparing 'paired examples' is an effective way to detect the biases at work in a propaganda media system. The different treatments in paired examples of news stories, from a similar point in time, can reveal institutional allegiances and the underlying power relations, as described by American media scholars Edward S. Herman and Noam Chomsky in their book, Manufacturing Consent: The Political Economy of the Mass Media.
So, with the myth of neutrality and the manufacturing of consent in mind, the news media's light-touch treatment of John Key and National at their party campaign launch the same afternoon is worth some scrutiny.
In effect, both two major TV networks had manipulated their news audiences by blaming Kim Dotcom and Pam Corkery for giving them the material for a story that did not focus on their party policies, even though they had decided that hacking was their 'angle', as was clear by their questions when Dotcom arrived.
Both news networks also focused on detailing National's housing, while they let John Key off the hook on the Dirty Politics scandal, despite the fact that Key was clearly nervous about facing numerous questions. None tried to follow him as he left hastily, nor harass him as he arrived, as they did with Kim Dotcom, which was evident on the unedited tape.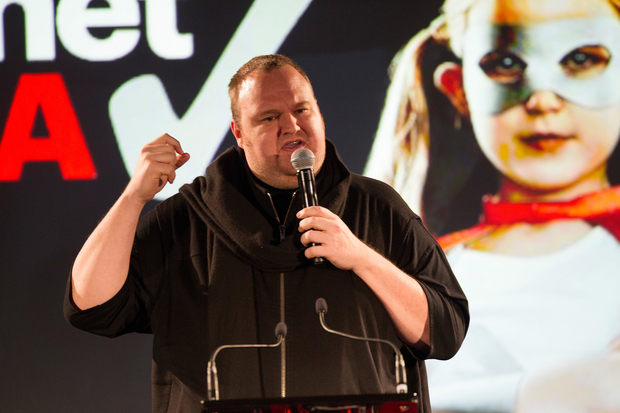 The two major media outlets behaviour indicates "conscious parallel business behaviour" or a "meeting of the minds", as cartel and conspiracy law theory could predict. Such parallel behaviour reveals "conscious parallelism" which means commercial behaviour that displays the same pattern, wherein rivals are aware of their competitors' activities, and that the content of this awareness is factored into their actions.
Both news outlets had the same treatment for both political party launches, even down to elaborate graphics to present National's housing policy and no effort made to cover Internet-Mana's policy platforms, such as committing to full employment, instead of the persistent job destruction, that has been a covert state policy for 30 years.
In other words, OneNews and TV3 had already made a decision to take corrective action to help the National Party, while it baited the Internet Party founder on his arrival, selected that part of the entire launch where Dotcom unwisely bragged about his hacking 19 years ago, and ignored the important candidate speeches by Laila Harré and Annette Sykes. By colluding, the OneNews and TV3 players serve their secret goals, to reinforce the power of big corporate advertisers that back the pro-corporate party, National.
Thus, such "enjoinable conduct" can be expected to surface in the news again and again until the key perpetrators are rounded up, and jailed for deceiving their audiences, the New Zealand citizenry and subverting the country's capacity to strive for a 'free and open' society.
As for the media abuse that TV3's Brook Sabin claimed, the media abuse really came from the news media, especially OneNews and 3News, for their agenda or enjoinable conduct, to derail the reportage of the Internet-Mana campaign launch. Whereas, Māori Television's Te Kāea news reports of the two party launches were what viewers need from a news service, mature coverage that summarized the issues, policies and engaged with some of the candidates.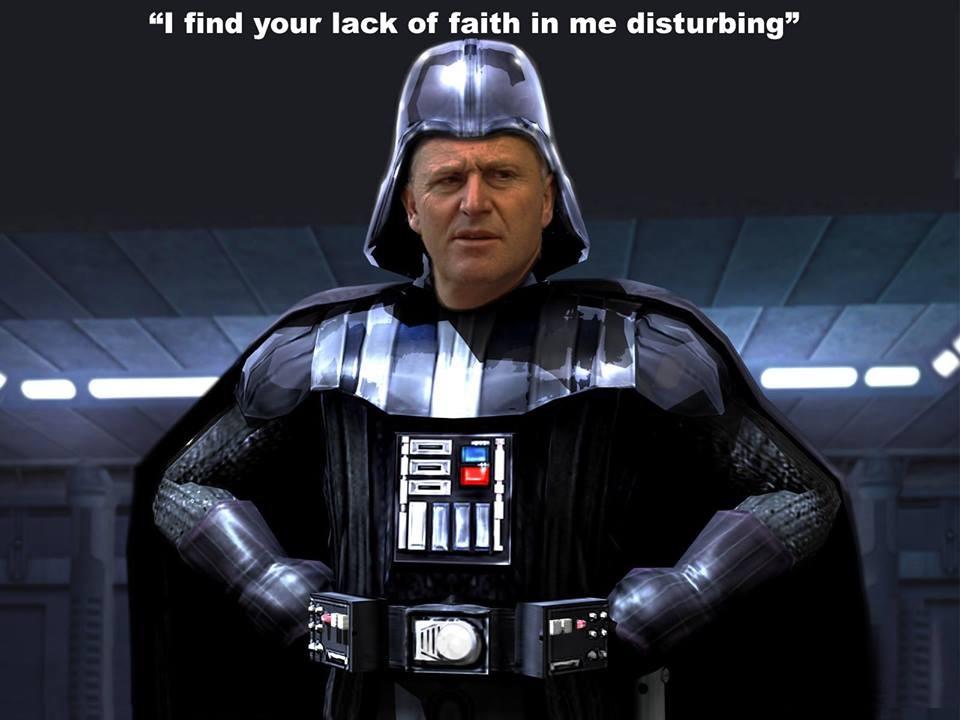 OneNews and 3News failed to do what the New Zealand Monarch's top representative, Governor-General Sir Jerry Mateparae, said he expected of the news media at a Press Gallery dinner speech late last year.
Mateparae, or 'the GG', as the media refer to him in their non-celebrity moments, made clear that the media's role is to assist the communication of political issues, political party communications and how voters choices in a multi-party electoral environment can translate into seats in parliament. Being a militarist, the Governor-General framed his terms as "the rules of engagement".
If OneNews and 3News had a genuine reason to think that Kim Dotcom was the source of the leaks for Hager's Dirty Politics book, both networks had the resources to do two stories each, one that focused on Dotcom, the other on Internet-Mana's launch policies. After all, their main focus at the National Party's launch the same day was on their policy platform, in keeping with the Governor-General's, "rules of engagement".
The two main TV networks failed to give the Internet-Mana Party combo a fair go, when it is the prime minister and his insiders lying, deflecting and running that they should be worried about. Applying cartel theory to the multi-party political environment, OneNews and 3News were, in effect, acting as 'glove puppets' or agents in the interests of the National Party and its big corporate sponsors to undermine the new 'market' entrant on the political scene: Internet-Mana.
The refusal of OneNews and 3News to supply coverage of the Internet-Mana Party's policy platforms is in keeping with how cartels practice asymmetric supply restrictions to market, wherein insiders get preference over non-complying rivals.
But it is also in keeping with the key finding of Hager's book, which is that key insiders of the Key regime have been running a two-track public communications strategy. This two-track strategy, which cast John Key as "Mr Nice Guy", relied on a covert operation that used right-wing bloggers, and a sympathetic news media to attack National's opponents and influence the outcomes of elections.
The idea of the dirty politics stratagem, an import from Republican party politics in the United States, where minor scandals, embarrassing smears, and gaffs are inflated out of proportion to their importance, is designed to turn young people and 'left'-leaning constituents off voting first. As Nicky Hager has compellingly argued, National's and John Key's strategy has been conducted with the Republican's lesson that conservative 'right'-wing voters still vote in a dirty political environment. It is a lesson that has been exported covertly around the world. The problem is global in scale.
In other words, dirty attack politics, with its modus operandi to cast the leader as friendly, wholesome and folksy or blokey (or whatever fits mainstream cultural norms and values), projects the idea to most people that politics is a mucky business, and cannot possibly be done 'above-board' in a clean, mature and fair way.
Through the Looking Glass
Key is operating on 'speed politics' confidence tricks, wherein if he makes contradictory claims he will simply test the resolve of the news media to keep track of the story. It is a strategy to confuse the public and get him through the weekly media cycle, a formula #TeamKey has been exploiting all along.
The 'Mr. Nice Guy' image that Key continues to operate with has an inherent smugness. A smugness not unlike Humpty Dumpty's egotistical, unhinged confidence.
In Lewis Carroll's book Through the Looking Glass, when the adventurous Alice met Humpty Dumpty, he revealed his sense of self-importance and smug belief that his risk-taking wall-perching exhibitionism would not result in a fall someday – an event he regarded as purely theoretical.
When Alice catches Humpty Dumpty trying to confuse her, he replies: "When I use a word, it means just what I choose it to mean – neither more nor less," said Humpty Dumpty.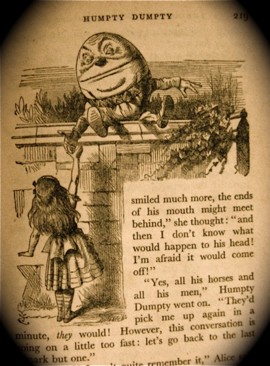 Indeed, scholars have found that Humpty Dumpty was "a monster of private language".
Similarly, Key's plays are nothing more than 'rabbit out of hats' tricks. To see them requires the observer to grow out of the childish aspirational following that #TeamKey cultivated for John 'Mr Nice Guy' Key, the 'rags to riches' story, from state house-boy to rich-lister ex-banker, that everyone's supposed to desire for themselves.
Why it's crucial to G.A.S. (Give a Shit) about Hager's book
The "Dirty Politics" book is an important one for New Zealanders to read, because attack politics hurts left-wing parties more because 'left'-minded people tend to be more compassionate, sensitive and principled. 'Left'-minded people are more likely to be turned-off voting because the dirty politics dominates news media coverage, while right-wing pro-corporate people, who are less principled or more naive, than their left-wing contemporaries, will still turn out to vote.
Therefore, dirty attack politics works in the favour of right-wing pro-corporate, pro-wealthy parties such as National.
Yet, John Key remains brazen as ever, projecting blame onto Nicky Hager, who the prime minister slanderously called a "left-wing conspiracy theorist" and his anonymous hacker source, who provided him with the damning information.
At a press conference on Thursday August 21, Key said to the media: "I think there's a real risk that a hacker, and people with a leftwing agenda, are trying to take an election off New Zealanders."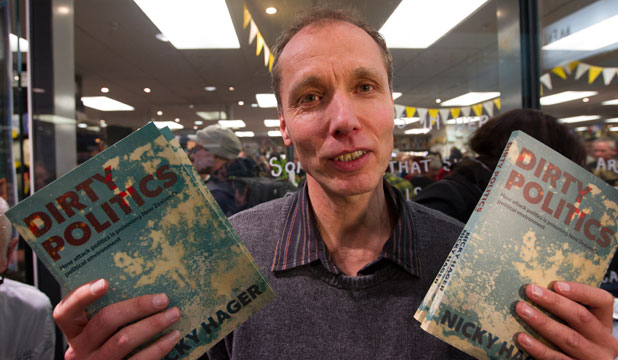 In other words, investigative journalist Nicky Hager, the hacker, citizens or legal residents with 'left-wing views, and the mainstream media who are finally beginning to do their jobs properly, are not New Zealanders.
So, if you are investigative journalist Nicky Hager, the hacker, citizens with 'left-wing views, and the mainstream media who are finally beginning to do their jobs properly and you were born in New Zealand, or have gained citizenship or residency, you need to ask your parents, the authorities, and especially the Electoral Commission if you are still a New Zealander.
Hearty knee-slapping joke humour aside, Key's projection of blame is brazen when it is remembered that 1,000,000 people of voting age did not vote in the last election, in a country of 4.5 million people (at the time of the 2011 'general' election).
Indeed, as New Zealand's top official, Key has left himself wide-open because he has breached Article 12 of the United Nations' Universal Declaration of Human Rights of 1948. Article 12 includes the provision to protect people against arbitrary attacks against their honour and reputation.
In making this egregious accusation multiple times to multiple reporters from multiple news outlets, the prime minister created the intended  propagandist effect, six and then five weeks out from the election. As a consummate propagandist, Key is trading on the gullibility of Middle New Zealand, who are not taught that the omission of key evidence is a propagandist's crucial weapon.
The Key regime's brazen reaction is most serious, unsafe for the ideal of a 'free and open' society and so deliberately manipulative in the circumstances, it can only be regarded as furtherance of conspiracy (to gain more political power), as defined in the thesis, "It's the Financial Oligarchy, Stupid" (p.21-22).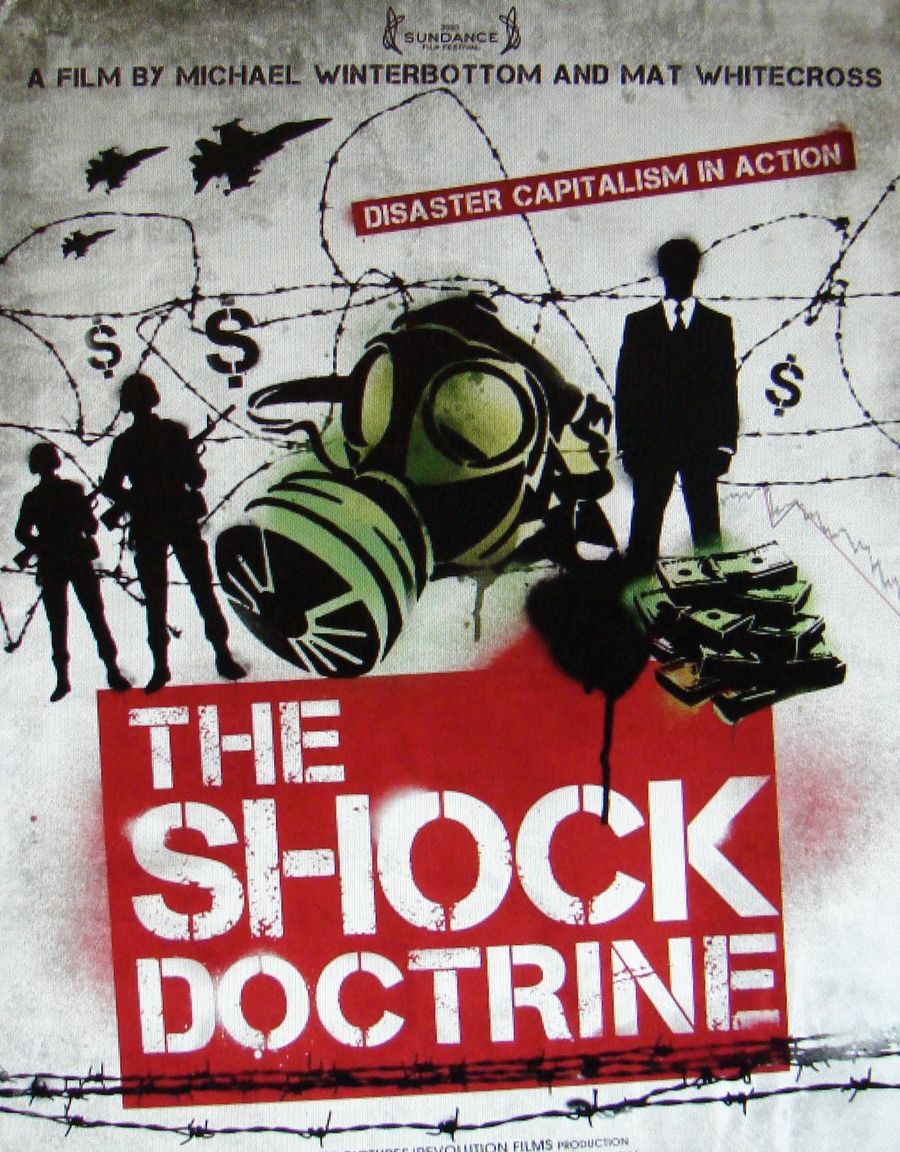 It becomes even more important to care about the implications of the dirty politics Hager's book reveals, when one learns that key insiders that comprised a North Atlantic capitalist class set a course in the early 1970s to transform the world under a 'free market' framework in order to impose 'market discipline', or reassert control over the world. Although this blueprint to transform the world, called the 1980's Project is not covered in Hager's book, it is a vital piece of a bigger picture, because elite planners planned to spread what I call systemic political apathy worldwide.
Elite policy planners at a New York-based global policy-shaping think-tank, the Council on Foreign Relations, resolved to "depoliticize" important issues and remove them from popular political consciousness, because the rise of the counter-cultural movements in the 1960s were deemed a threat to capitalist power.
'Free market shock treatments' included lifting financial controls to increase the fluidity of capital flows between countries, the corporatization and privatization of state infrastructure and services, the introduction of user charges, shifting the tax burden 'downward', and down-sizing public sector employment. Targeted populations were overwhelmed with the economic shocks as whole sectors of society were transformed and coerced to support the new framework.
The free market economic shock therapies were themselves mechanisms of coercion, because all sectors of society were thrown into crisis. Everyone suffered, except key insiders, who became richer and accumulated more political power.
It is the dirty politics of the 'free market economic framework', or the  Shock Doctrine, that was deployed in the 1980s and continues to wreck havoc on New Zealand's population that is the deeper story behind Hager's Dirty Politics.
=================
By day, Snoopman works undercover as an ordinary mortal, editing news at a television station. By night, Snoopman researches the wicked deeds of the powerful, and is Editor-in-Chief at Snoopman News. (See Snoopman News for pictures and sourced references)
=================
Sources (Videos, Articles & Documentaries):
Load Link to play video:
http://www.radiolive.co.nz/VIDEO-John-Key-says-he-was-briefed-by-Warren-Tucker-over-SISs-2011-OIA-Phil-Goff-release-to-Whale-Oil-Cameron-Slater/tabid/504/articleID/52931/Default.aspx
Key counterattacks over SIS boss letter — but tripped up by video
http://www.nbr.co.nz/article/goff-produces-smoking-gun-letter-ig-opens-slater-sis-investigation-ck-161142
PM: No political interference over spy papers at: http://www.stuff.co.nz/national/politics/10406760/Goff-Evidence-shows-Key-was-briefed
The whale that swallowed New Zealand's election campaign at: http://www.theguardian.com/world/2014/aug/23/-sp-new-zealand-election-john-key-alleged-dirty-politics
National launches key home buyers policy at: http://www.3news.co.nz/politics/national-launches-key-home-buyers-policy-2014082415
Te Kaea News (Sunday 24 August 2014)  at: http://www.maoritelevision.com/tv/shows/te-kaea/S11E236/te-kaea
Laila Harré Internet-Mana Party election  campaign launch at:
https://www.youtube.com/watch?v=f19D0jnM-N4
Ayres, I. (1987). How Cartels punish: A structural theory of self-enforcing collusion. Columbia Law Review, 87(2), 295-325. Retrieved from http://www.columbialawreview.org
Katyal, N. K. (2002). Conspiracy theory. The Yale Law Journal, 112, 1307-1398. Retrieved from http://yalelawjournal.org/
Marks, R. D. (1986). Can conspiracy theory solve the "oligopoly problem"? Maryland Law Review, 45, 387-431. Retrieved from http://www.law.umaryland.edu/academics/journals/mdlr/
Article 12: "No one shall be subjected to arbitrary interference with his privacy, family, home or correspondence, nor to attacks upon his honour and reputation. Everyone has the right to the protection of the law against such interference or attacks." (http://www.un.org/en/documents/udhr/index.shtml#a1)
Planet Key (Music Video Censored by the NZ Electoral Commission)
at: https://www.youtube.com/watch?v=Nv25tcS6J-s
Decision 2014: Part 1 at: https://www.youtube.com/embed/wNGrI7evk8o
Conjuring the Smiling Assassin at: https://snoopman.net.nz/?p=1610
Puolokka (2006, p. 17). "There's a Nice Knockdown Argument for You". Postgraduate Journal of Aesthetics, April, Vol. 3, No.1.
Dismal turnout as 1 million don't bother to vote at: http://www.odt.co.nz/source/apnz/188465/electionturnout28
A Poorly Understood 'Bargain': How Democracy and the 60s Movements became Orphans in the 'Free Market' Era at: https://snoopman.net.nz/2013/08/31/a-poorly-understood-bargain-or-how-democracy-and-the-60s-movements-became-orphans-in-the-free-market-era/
Code Purple: Whistle Blowing on 'Free markets', the 'Shock Doctrine' and 'New Constitutionalism' at: https://snoopman.net.nz/2014/03/10/code-purple/
The Shock Doctrine at: http://www.youtube.com/watch?v=7iW1SHPgUAQ
Inside Child Poverty at: http://bryanbruce.co.nz/feature/child-poverty/inside-child-poverty-full-documentary
Mind the Gap at: http://www.tv3.co.nz/INSIDE-NEW-ZEALAND-Mind-The-Gap/tabid/3692/articleID/94816/Default.aspx
Someone Else's Country (5 parts) at: http://www.nzonscreen.com/title/someone-elses-country-1996
In a Land of Plenty (5 parts) at: http://www.nzonscreen.com/title/in-a-land-of-plenty-2002
The Hollow Men (In 5-parts) at: http://www.nzonscreen.com/title/the-hollow-men-2008
Story mirrored "Liar, Liar Pants on Fire: Or How NZ's PM John Phillip Key is Now Fucked!" at: http://snoopman.wordpress.com/2014/08/27/liar-liar-pants-on-fire-or-how-nzs-pm-john-phillip-key-is-now-fucked/