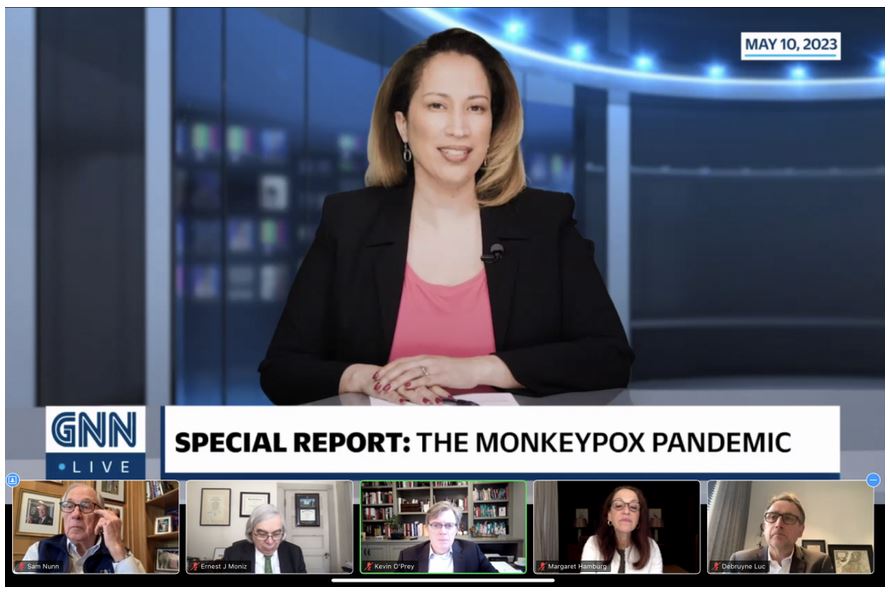 In this heretical exposé, the uncanny 'monkeypox outbreak' occurring at roughly the same time as that depicted by a simulation that took place at the Munich Security Conference in March 2021, is shown to be consistent with the gaslighting used narrate the 'Great Pandemic Playbook'.

The uncanny timing ahead of a sovereignty-smashing vote due to occur at the World Health Organization (WHO) at the end of the same month, has the hallmarks of a strategically timed psychological operation designed to coerce nation states to submit to pandemic powers centralization.

The cross-institutional linkages of some of the Covid Orchestra, Pirates, and Privateers are sketched here, to reveal a hybrid bio-warfare plot meshed with military-grade psychological warfare to dupe the world's human population into playing the role of trick-learning monkeys walking into their own demise.

By Steve 'Snoopman' Edwards, 29 May 2022
The Magical Appearance of Monkeypox
A 'monkeypox outbreak' beginning in early May 2022 appears to be uncanny timing ahead of a sovereignty-smashing vote due to occur at the World Health Organization (WHO) at the end of the same month.
Under the guise of amendments to the 2005 International Health Regulations, the World Health Organization would gain the power of international law to impose emergency response measures upon nations if it deemed an outbreak arose.
Geopolitical analyst F. William Engdahl reported that the so-called proposed amendments to the 2005 International Health Regulations are a 'stealth coup' because the proposed powers are essentially a new treaty. The WHO is set to be conferred far-reaching pandemic powers since they over-ride the sovereignty of nation-states, as well as states within states, and cities to govern their own health authorities, Engdahl told on 21stCentury Wire.
In his 2004 book, A Century of War: Anglo-American Oil Politics and the New World Order, Engdahl found that primary purpose of the wars of the 20th Century was to destroy nation-state sovereignty.
Magically, the news of a monkeypox case in the United Kingdom, on confirmed May 6 2022, become a viral news contagion. The contagion of over-hyped fear-porn news about the monkeypox outbreaks has the hallmarks of an orchestrated military-grade psychological to coerce health officials, political lawmakers and technocrats of UN member states to submit to this escalation of the 'stealth coup'.
It turns out that in March 2021, a bioterrorist-driven monkeypox pandemic that was simulated during the Munich Security Conference and was designed by the Nuclear Threat Initiative, ended with 271 million deaths.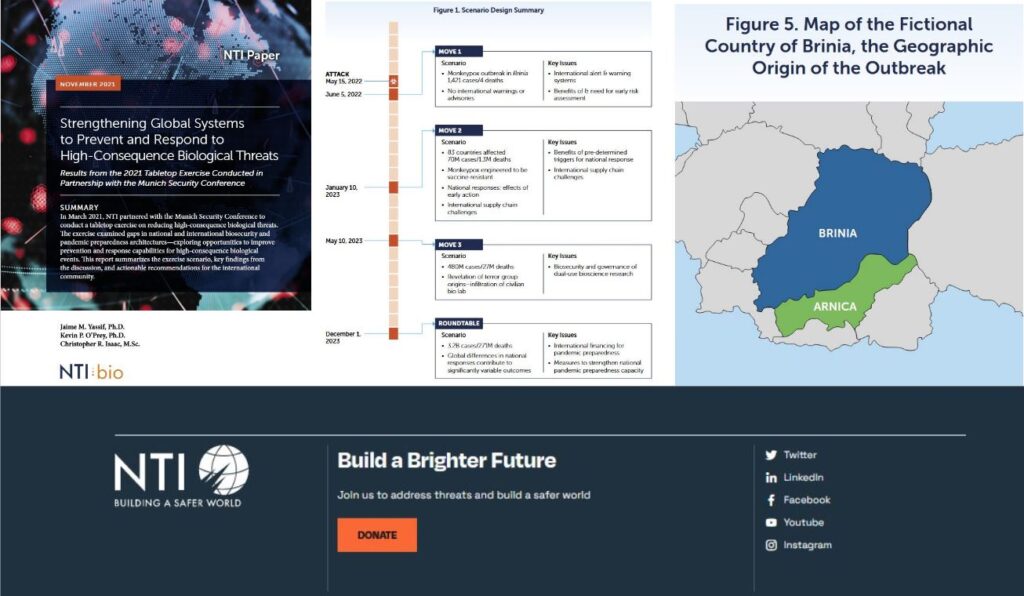 In the corny table-top scenario, in which the biological attack was inflicted on May 15 2022, in the fictional nation of Brinia.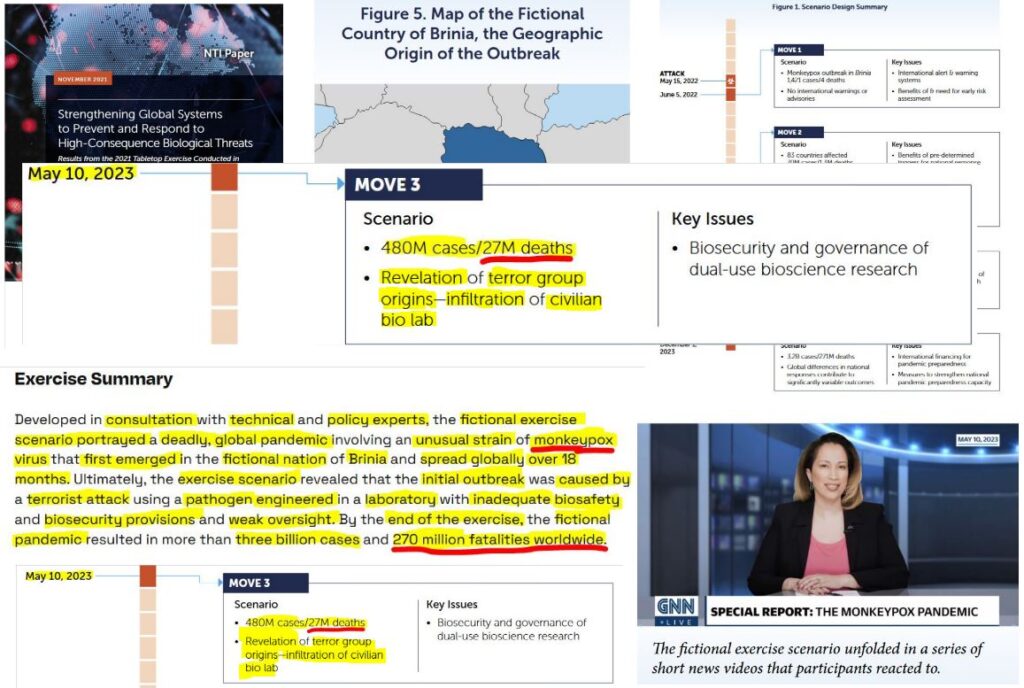 Yet, it took Brinian's intelligence community almost a year — depicted in 'Move 3' — to figure out the "engineered monkeypox virus was developed illicitly at the fictional country of Arnica's leading institute for virology".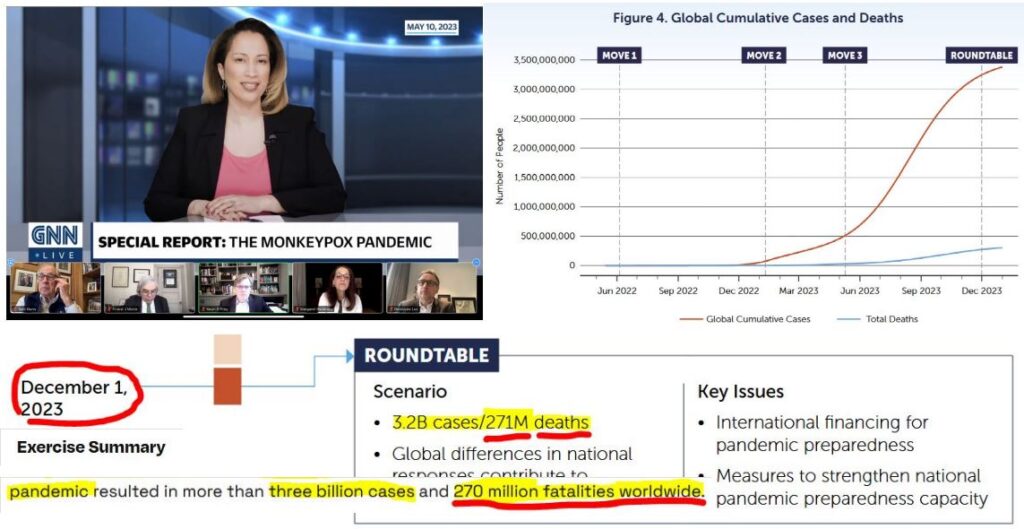 In their scathing article Monkeypox Mythology of May 23 2022, and republished with on 21stCentury Wire, headlined "The Origins of Monkeypox Mythology", New Zealand medical doctors Sam and Mark Bailey, wrote:
"Amazingly, the scenario had the monkeypox outbreak emerging as a result of an act of bioterrorism in May 2022, right where we are now."
With exquisite wit, the NZ doctor-duo stated that NTI's case and mortality charts appeared to be "produced by Neil Ferguson's calculator", which was a sarcastic reference to the London Imperial College professor's scaremongering Covid-19 mortality models that were used to game the world into lockdown measures, social distancing and contact-tracing. The Imperial College of London's Covid-19 Research Team received $263m for 'global health' from the Gates Foundation between 2002 and 2020.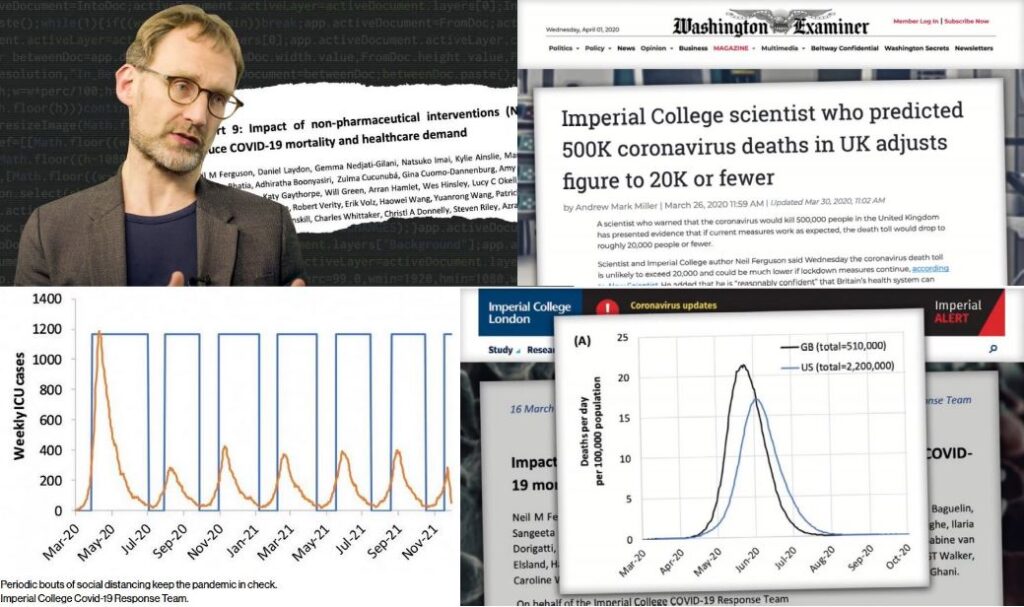 The Bailey's went onto say that NTI's fictional monkeypox pandemic charts show that nations that fail to comply with aggressive measures — will be far worse off.
In a statement published 24 May 2022, the Nuclear Threat Initiative downplayed the coincidence stating:

"The fact that several countries are currently experiencing an outbreak of monkeypox is purely a coincidence. The key takeaway from our exercise is not the specific pathogen in our fictional scenario; it's the fact that the world is woefully unprepared to guard against future pandemics, and that we need to take urgent action to address this vulnerability."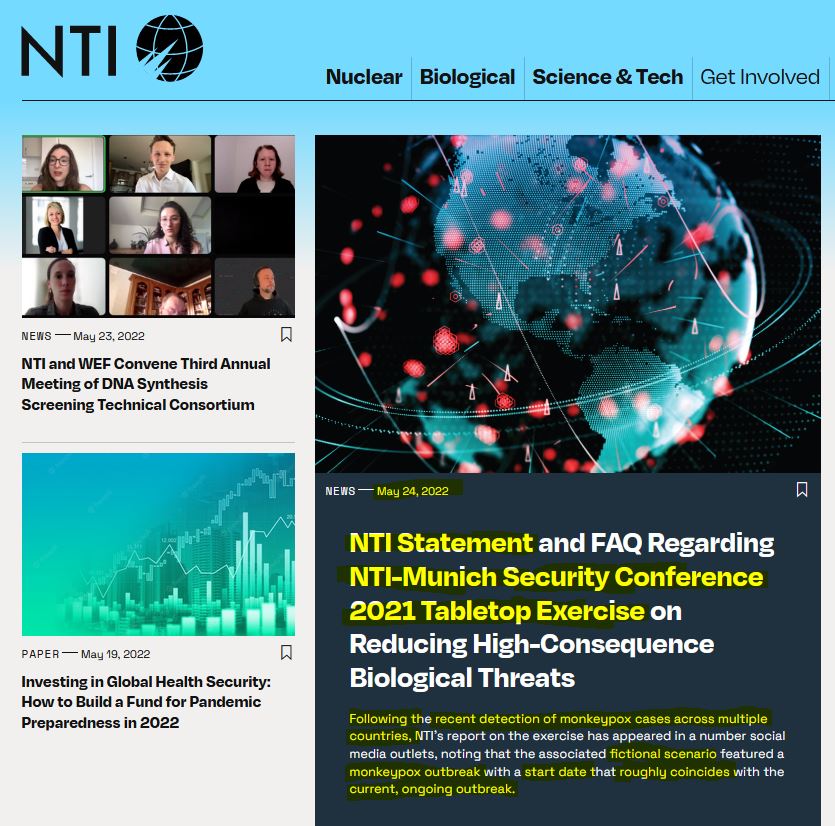 Like gaslighting performers, the Nuclear Threat Institute pretends like its overblown catastrophic pandemic mortality figures is just a fictional scenario fr pandemic preparedness purposes, and not intended as a veiled threat on behalf of the racketeering Global Health Syndicate.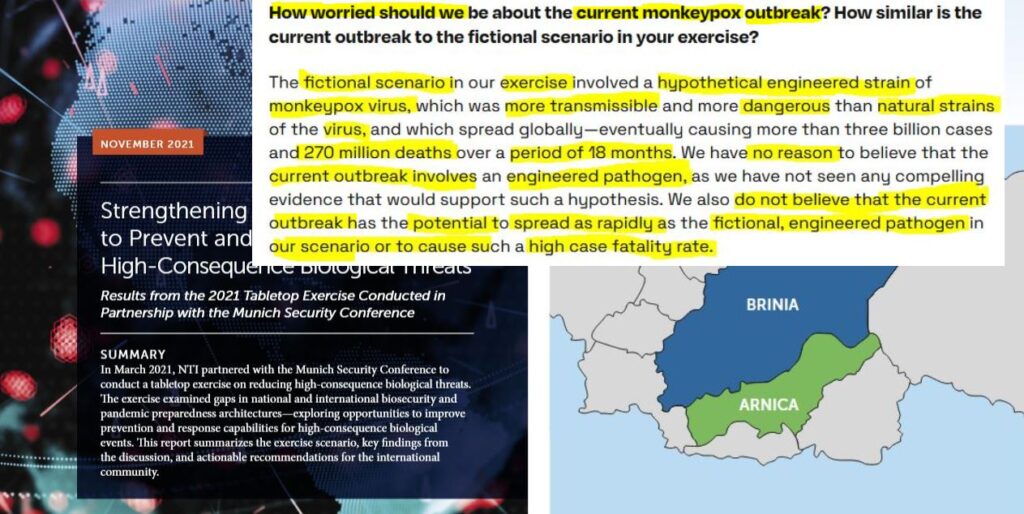 One important set of the proposed amendments to WHO's regulatory powers came from Biden Administration submission, entitled, "Strengthening WHO preparedness for and response to health emergencies: Proposed Amendments to the International Health Regulations (2005)", which was transmitted to WHO, January 18 2022. The submission of Government of the United States were not published by the WHO until April 12 2022, meaning Americans had six weeks notice to contest the proposal.
The changes of several provisions in United States submission, shift the WHO's role from an international organization making recommendations to a supranational authority with new enforceable pandemic powers.
For example, article 10, states that a State Party shall be given the offer of 48 hours to collaborate with WHO, amid an alleged outbreak. If the State Party is deemed to reject this offer of collaboration, "WHO shall may, when justified by the magnitude of the public health risk, immediately share with other States Parties the information available to it, whilst encouraging the State Party to accept the offer of collaboration by WHO".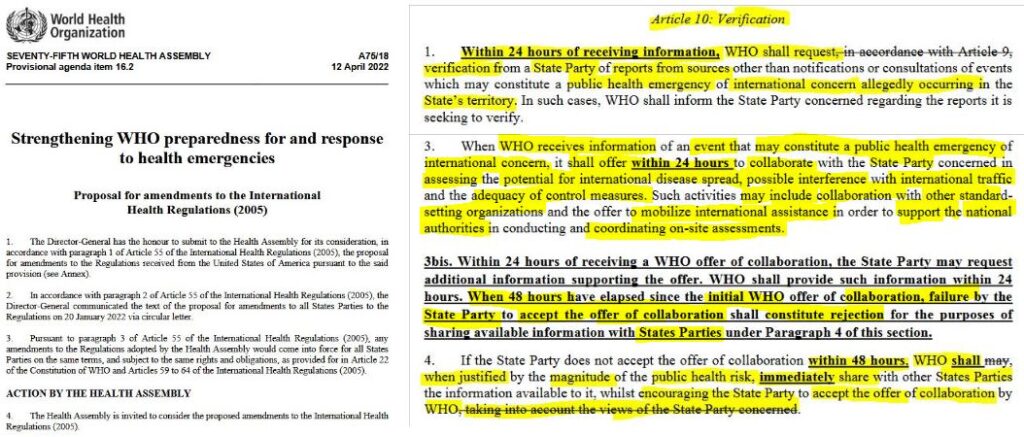 With this provision, the WHO — which projects itself as a squeaky-clean corruption-free international health body — gains the power to collaborate with its racketeering BIG Pharma funders, to engineer an outbreaks and member nations of the UN to submit to Medical Martial Law measures.
Moreover, Article 12 further over-rides the nation state members of the UN, conferring the power of the WHO Director-General to circumvent the State Party and seek the views of the "Emergency Committee".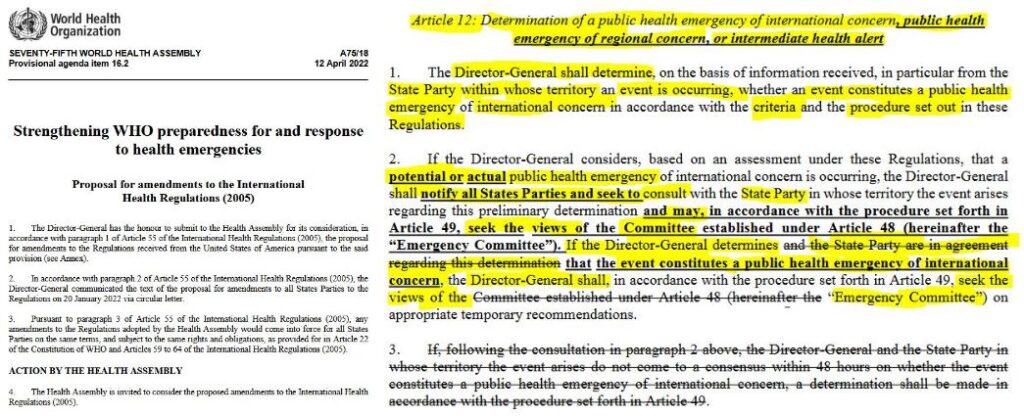 In this way, the leading state of the US-NATO Military Empire is advancing the game of weaponizing public health sector at a time when so many human mortals have been duped into believing it is the one sector that immune from corruption, collusion and conspiracy.
When the WHO designated Covid-19 as a global pandemic at a time when there under 5000 deaths, this geopolitical chess move was a stealthy declaration of World War III — as Snoopman News has previously reported in "How the World is going to Hell in a Corona Hand-Basket".
Pandemic Preparedeness or Simulation-Hacking?
The remarkable timing of the real-world monkeypox outbreak arising in May 2022 – which coincides with the monkeypox bio-terror attack dated May 15 2022 in the simulation — raises the suspicion that the scenario was taken 'live'.
As I pointed out in part 3 of my Corona World Games series entitled, All Techno-Feudalist Roads Lead to 'Dark Winter' Amid World's Third Hundred Years' War, a major flaw of such exercises, drills and war-games that they 'neglect' to model for the central safety and security problem that such scenarios could be penetrated by 'bad actors' intent on committing simulation hijacking.


In my exposé of the pandemic exercises of John Hopkins University, as well as its futuristic coronavirus SPARS pandemic scenario of 2025 to 2028, I showed an underlying plan to cement a totalitarian global health infrastructure by orchestrating over-hyped pandemics as a Trojan Horse to up-end nation states, destabilize households and destroy free enterprises.
For example, I pointed out the record shows that John Hopkins University lacked the capacity to be circumspect about its casting of players following it very first pandemic exercise, Dark Winter, when one of its players, a former CIA Director, took aspects of the pre-9/11 bio-terrorist scenario 'live'.
The 'Dark Winter' exercise, which took place three months prior to the terror attacks of September 11 2001, included a sub-script scenario that imagined Saddam Hussein's Iraq threatening to release a weaponized anthrax virus. The Dark Winter simulation speculated Iraq was involved in providing technology for the biological attacks to terrorist groups based in Afghanistan.
In the aftermath of 9/11, one Dark Winter participant, James Woolsey, who was a former CIA Director from 1993 to 1995, flew to London to "firm up" the 'evidence' that Iraq was involved in 9/11, as The Guardian newspaper reported in "Iraq 'behind anthrax outbreaks' " on 14 October 2001.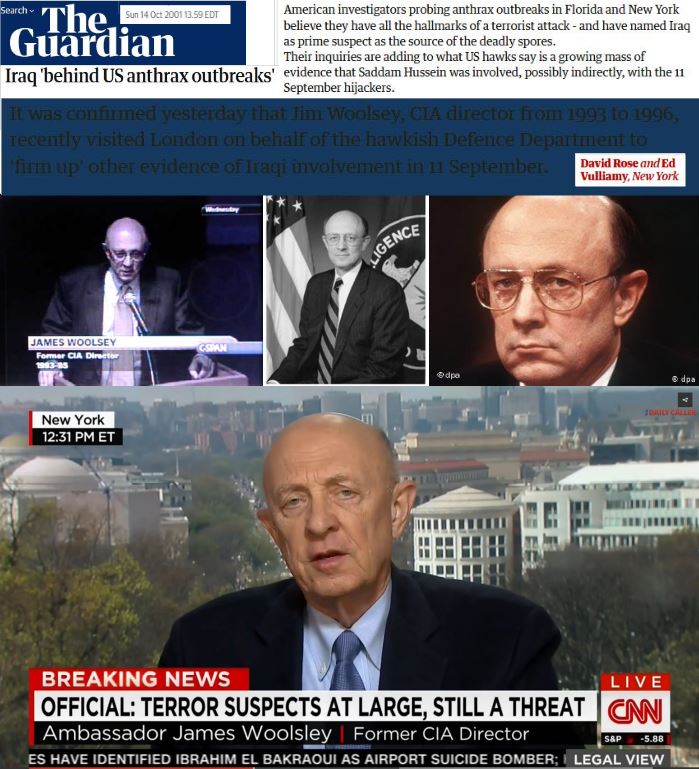 In other words, Woolsey, who played the Director of Central Intelligence, mimicked his real life stint as CIA Director and, in effect, took the anthrax narrative beyond the confines of simulation and made it a 'live exercise'.
The modus operandi of exercises, war-games and drills being taken provide the cover for deep state actors to take the scenarios live and exploit the national security state's compartmentalized operation classifications.
Yet publicly, intelligence and security agencies 'play dumb' that such false flag black operations could actually be commonplace occurrences, as many Fourth Generation Warfare operations, such as Operation Gladio, have been proven to be state-sponsored terrorism campaigns in-which blame was projected elsewhere.
It is, therefore, important to note that in their November 2021 report entitled, "Strengthening Global Systems to Prevent and Respond to High-Consequence Biological Threats", the Nuclear Threat Initiative cued nation state governments to lower the threshold for trigger mechanisms to a "no regrets" rubric.

This 'no regrets' governance approach envisages "adjustments to institutional relationships and decision making processes to facilitate rapid, whole-of-government response to emerging pandemic threats."
Moreover, the report advocated the triggers mechanisms to super-cede silos of bureaucratic stove-pipes, with whole-of government governance structures collectivized into decision-making bodies activated by the early warning system.
Crucially, the the NTI-Munich Security Conference monkeypox exercise featured an over-blown catastrophic pandemic death toll befitting a graphic novel. With over 270 million deaths in 18 months, it is reminiscent of other pandemic exercises that have been designed by John Hopkins University's Center for Health Security.
The NTI-Munich Security Conference monkeypox exercise also featured the fictional Global News Network (GNN) as had been depicted in three previous tabletop pandemic exercises designed by John Hopkins University's Center for Health Security.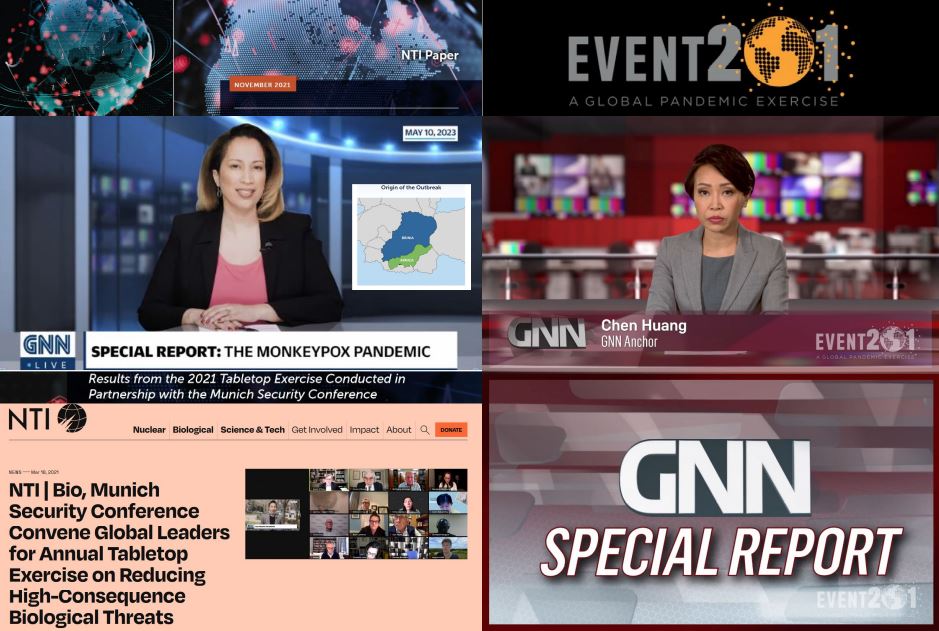 The most recent John Hopkins' pandemic exercise, called Event 201, featured a coronavirus outbreak dubbed Coronavirus Associated Pulmonary Syndrome (CAPS) which was said to be 2-4 times more lethal than the 1918 influenza pandemic and eventually clocked up a death toll of 65 million people after 18 months.
Event 201 took place in New York on October 18th 2019, or just under one month before the origins of the so-called Wuhan coronavirus was attributed to patient zero.
It appears to be a tradition in the pandemic exercise community to over-hype the the threat with catastrophic death tolls and to signal the transmission of a fear-porn contagion via the global news-chain, as each of the John Hopkins University simulations have demonstrated.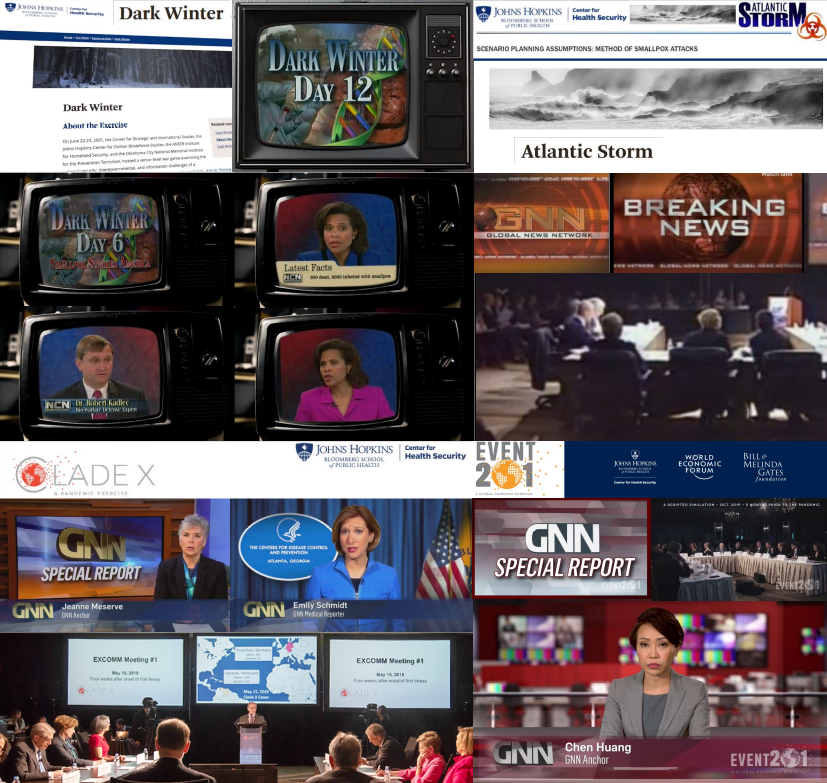 The estimated worse case scenario death tolls or actual final mortal figures for each of the pandemic simulations designed by John Hopkins Bloomberg School of Public Health within its Center for Health Security, are as follows: Dark Winter of June 2001, projected 1 million deaths; Atlantic Storm of January 2005, millions of cases estimated, Clade X of May 2018, 150 million die in 1st year, and Event 201 of October 2019, 65 million deaths after 18 months.
Who is the Nuclear Threat Initiative? The Covid Pirates Connection
The Nuclear Threat Initiative (NTI) claims to be a non-partisan not-for-profit global security organization focused on reducing nuclear and biological threats imperiling humanity.
It was co-founded in 2001 by former Senator Sam Nunn and Ted Turner, who founded CNN, which is now owned by one of America's media cartel 'big six' corporations, AT&T, whose top 3 owners are Vanguard, State Street and Blackrock – who happen to be the top owners of Covid-19 manufacturer, Pfizer.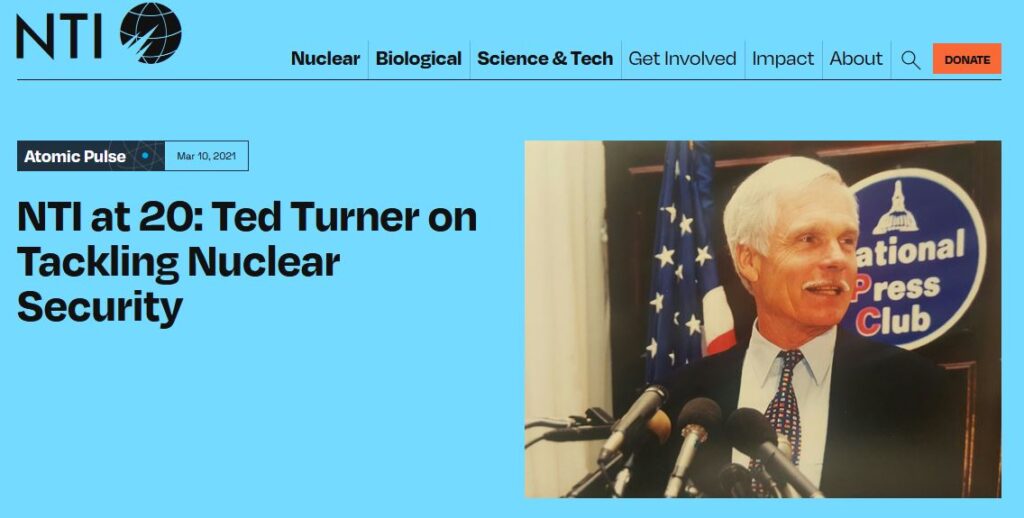 Crucially, on October 23 2019 — or just under month prior to the date that 'patient zero' was attributed to Wuhan, the Nuclear Threat Initiative launched its Global Health Security (GHS) Index in collaboration with the Johns Hopkins Center for Health Security.
The GHS Index rated the health security and related capabilities across the 195 countries that make up the States Parties to International Health Regulations, and was a three-year project developed with research by The Economist Intelligence Unit (EIU), of the Economist Group. Their flagship publication is The Economist magazine, which is a mouthpiece for the Bilderberg Foundation, a key global-policy shaping group for the Western Empire Syndicate.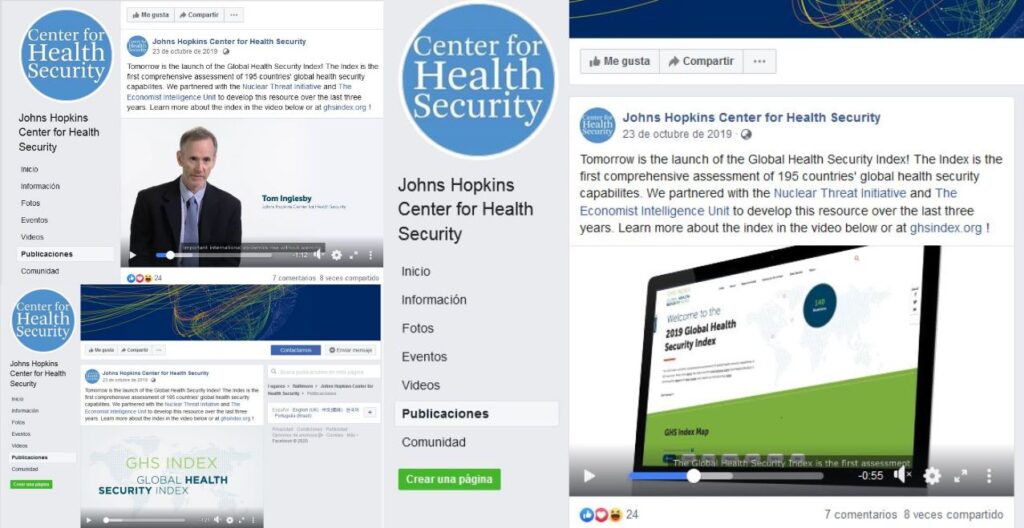 Crucially, the Economist Group is part-owned through a Netherlands-based holding company, Exor, belonging to the Italian Fiat industrialist family, Agnelli, as well as stock-holdings owned by the Rothschild, Cadbury, and Schroder dynasties.
The funders of GHS were the Bill & Melinda Gates Foundation, and the Open Philanthropy Project and the Robertson Foundation.
Among Open Philanthrophy's backers is billionaire, Dustin Morkowitz, who helped Mark Zuckerberg launch Facebook from his Harvard dorm in 2004 — according to heart-warming tech-billionaire mythology. Founding Facebook investor, Peter Thiel, who initially stumped up $500,000, in turn, received $2 million from the CIA's investment arm In-Q-Tel in 2005, for his big data start-up, Palantir, to build a surveillance computer called Gotham.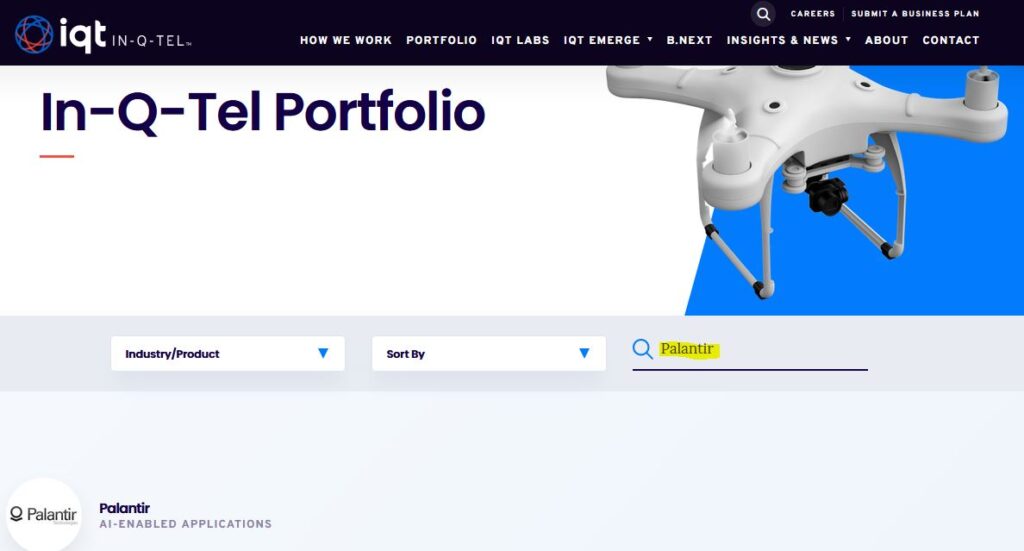 In a recent lecture, Dr Martin names Palantir as one of the 'Covid Privateers', because he claims its Gotham Data Tracking is being used to collate the meta-data of the Covid-19 'pandemic'. Among the 'Covid Orchestra' of key players Dr Martin names is: Dustin Moskovitz, Open Philanthropy founder; Klaus Schwab, World Economic Forum founder; Christine Lagard, President of the European Central Bank; Kristalina Georgieva, Managing Director of the International Monetary Fund (IMF); Larry Fink, Chairman of Blackrock and Bill Gates, co-founder of the Gates Foundation.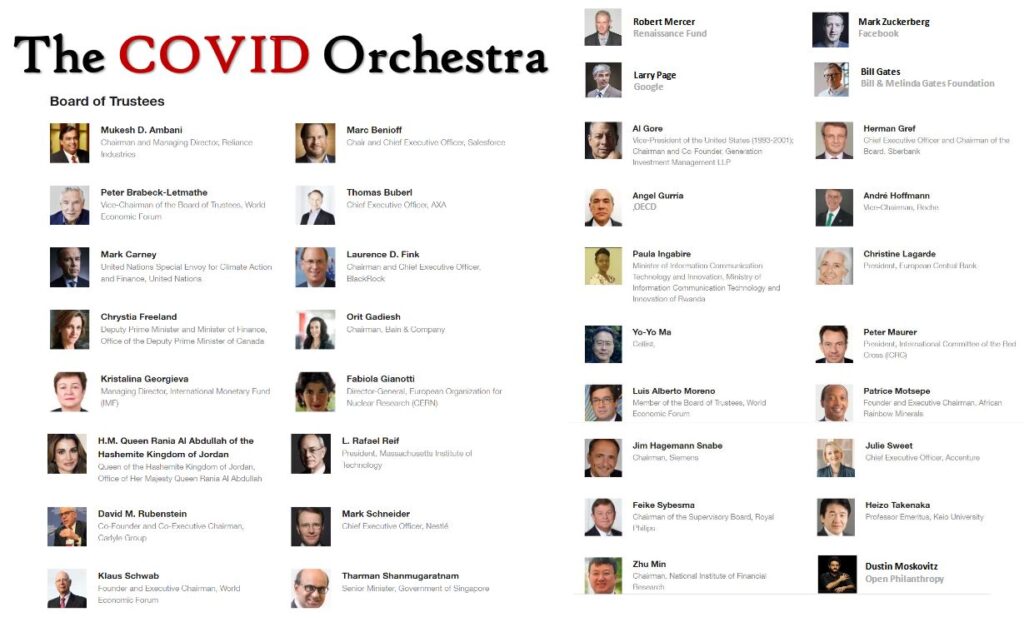 In 2017, the Bill & Melinda Gates Foundation were ranked as the WHO's second largest funder between the United States and the United Kingdom, and jumped to first place in 2020 when then-President Donald Trump suspended US contributions to WHO.

As a highly functional psychopathic predatory philanthropist, Bill Gates, is one of the front-men leading corporate takeover of public health. While the coronavirus was being manipulated, patented and weaponized, the Gates Foundation orbited for two decades at the center of the Global Health Syndicate consisting of Big Pharma, billionaire-funded foundations, centers for public health, regulatory institutions and non-profits advocacy groups.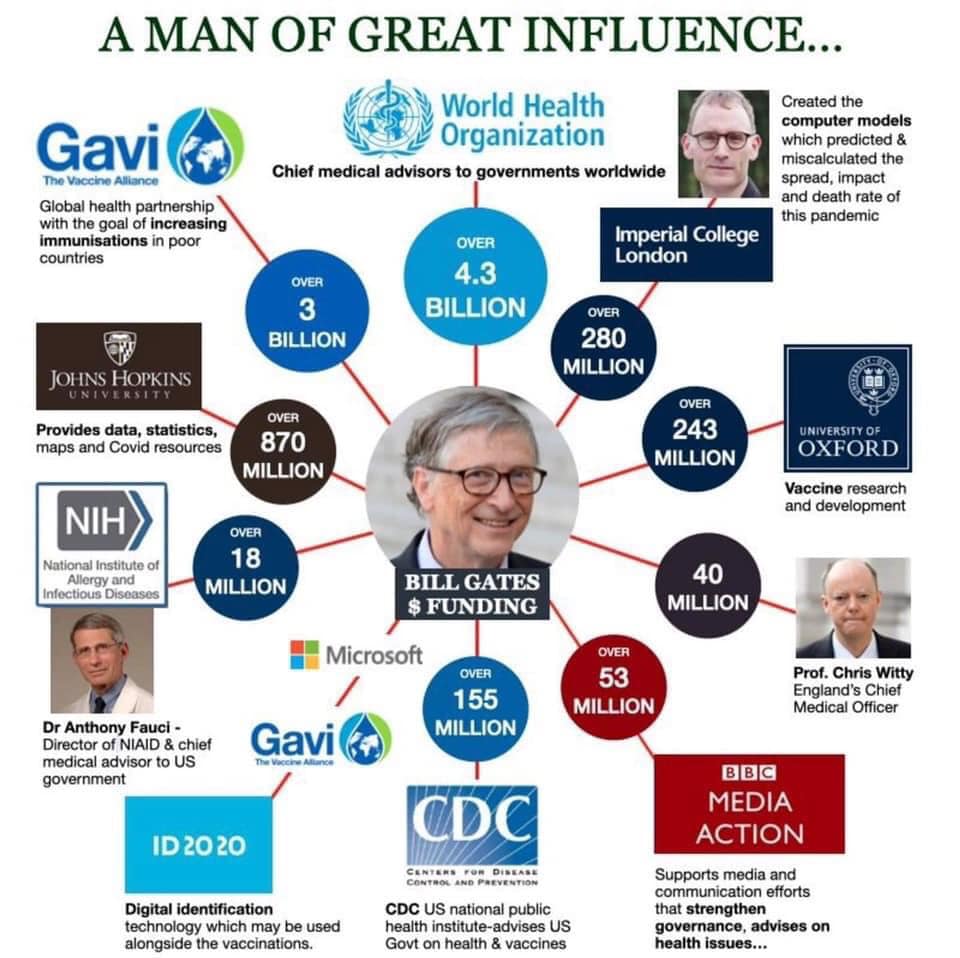 In the school night length-documentary, Plandemic InDoctorNation, by Mikki Willis, patent investigator Dr David Martin said the World Health Organization was captured by a 'Global Health Syndicate'. Dr Martin traced the patents on the coronavirus since 2002 — and believes that life insurers are the dominant group among the Covid Pirates, Privateers and Orchestra.
In a recent lecture, Dr Martin stated that the weaponization of the coronavirus saved life insurers from huge payouts on policies by shortening the lives of the elderly.Dr Martin also asserts the mass Covid-19 'vaccination' programs across the world is really biowarfare, since he regards the 'vaccines' as bioweapons.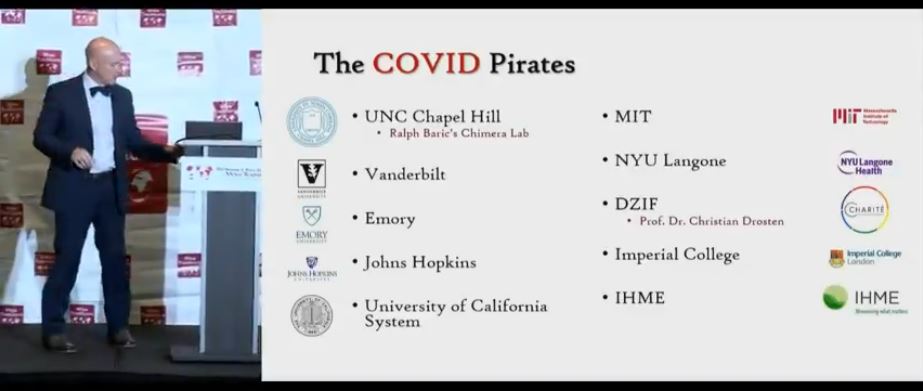 This architecture of asymmetric pandemic preparededness was sponsored by a Global Health Syndicate that included the World Economic Forum, the Bill and Melinda Gates Foundation, the Wellcome Trust and many other billionaire funded foundations, as well as corporations, think-tanks, universities and governments playing their parts.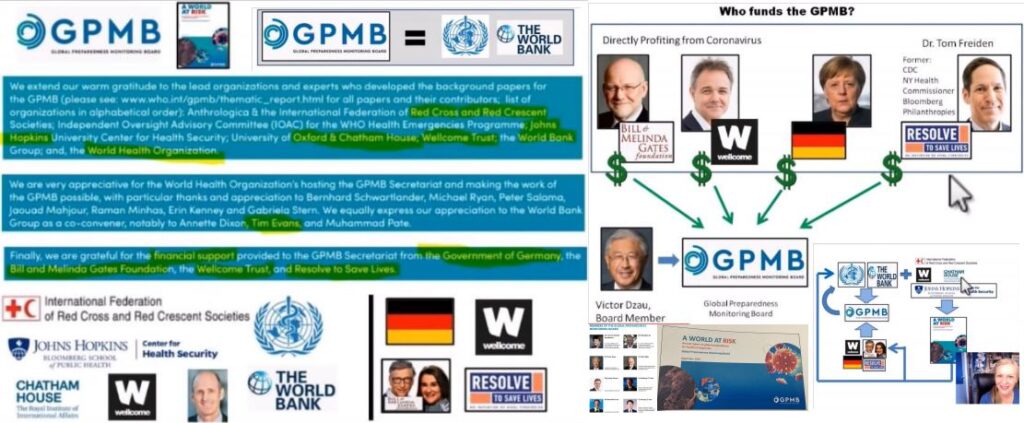 The totalitarian crony cross-institutional connections don't stop there.
There is cross-over between the exercise participants in the monkeypox simulation and the United Nations' first global pandemic exercise, Event 201, which took place in Gotham City, on October 18th 2019 — just five days before the launch of the Global Health Security (GHS) Index.
The players in monkeypox simulation at the 2021 Munich Security Conference included Dr Chris Elias, who is also the President of the Bill & Melinda Gates Foundation's Global Development Program; Dr Jeremy Farrar, the Director of Wellcome Trust; and Dr George Gao, Director-General, Chinese Center for Disease Control and Prevention (China CDC), and Dr. Michael Ryan Executive Director WHO Health Emergencies Programme.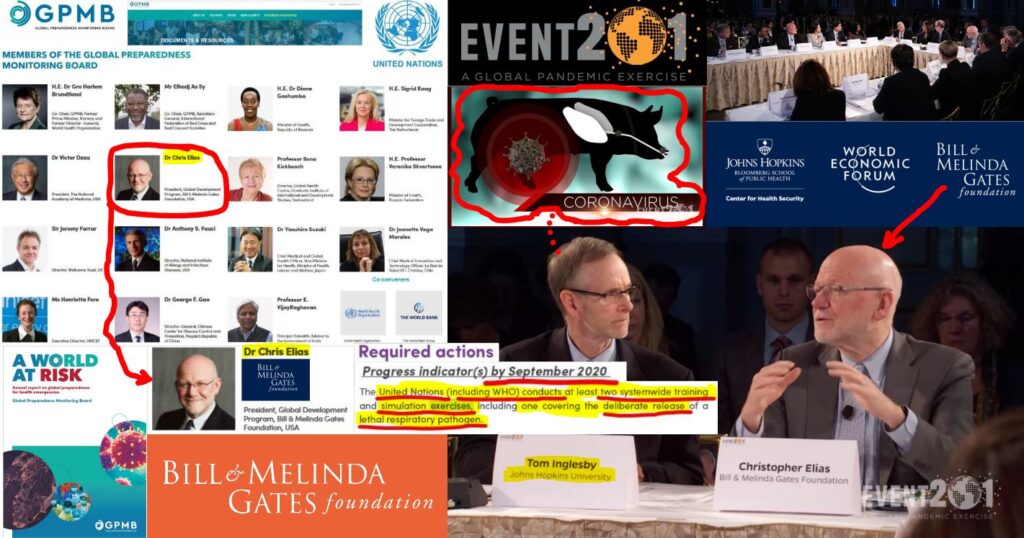 Both Dr Elias and Dr Gao were players in the tabletop pandemic simulation, Event 201, which featured a jet-setting zoonotic bat-pig coronavirus, that was said to have killed 65 million humans in 18 months. Dr Ryan addressed the players via a pre-recorded video link in which the script had him assert that epidemics were the "new normal".

Dr Farrar, who is the Director of Wellcome Trust — which was established with the an endowment of pharmaceutical magnate, Sir Henry Wellcome — is also a member of the U.N.'s Global Preparedness Monitoring Board, along with Dr Elias and Dr Gao and Dr Anthony Fauci, who has been the Director of the U.S. National Institute of Allergy and Infectious Diseases since 1984.
The one-year-old institution, which behaved like a teething baby biting at the nipples of its mother, issued a directive, dated September 18 2019, that actually obligated member countries of the United Nations to participate in a global pandemic exercise involving the deliberate release of a lethal respiratory pathogen – by September 2020.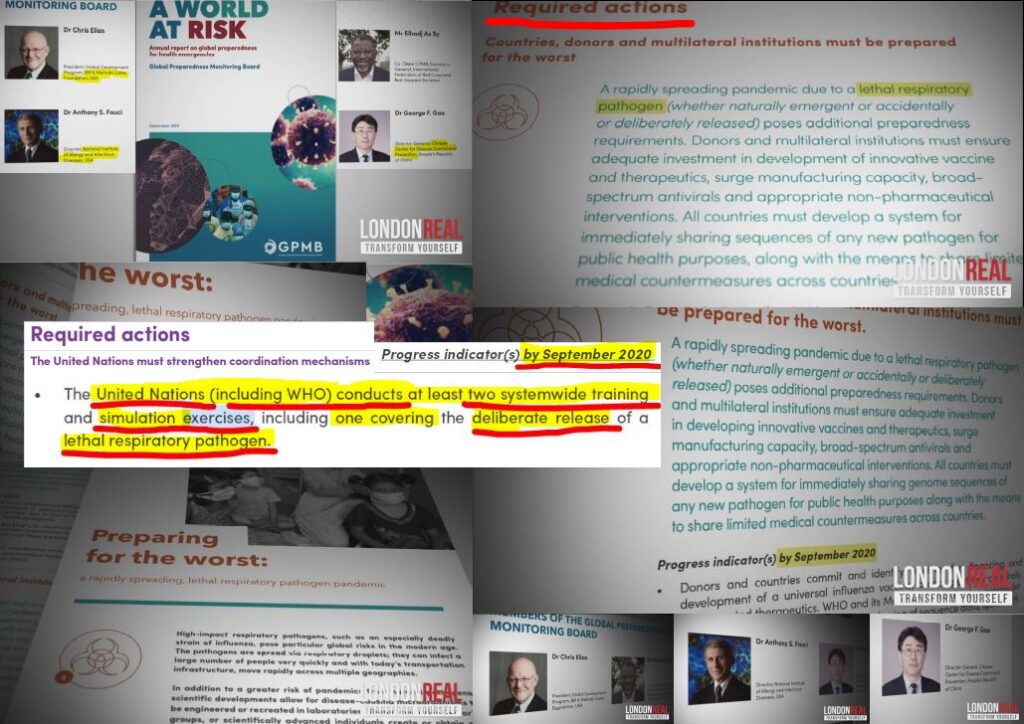 Given that Event 201 was the First Pandemic Exercise, and since the scenario involved a natural outbreak, and it occurred one month after the Global Preparedness Monitoring Board's directive for global pandemic exercises, the turn of events led to the suspicion that the exercise had been used as a 'start signal' to 'go live' with the deliberate release of a weaponized biological corona agent.
Especially since the U.N.'s 1st Global Pandemic Game took place in Gotham City on the same-bat day as the opening of the 7th Military World Games in Wuhan City, China, where it was claimed the corona-virus outbreak originated in bat-soup at the Huanan Seafood Market.
Another Event 201 player, Avril Haines, who was a member of the Nuclear Threat Initiative bio-security advisory group — which had worked with John Hopkins Center for Health Security to develop the Global Health Security (GHS) Index.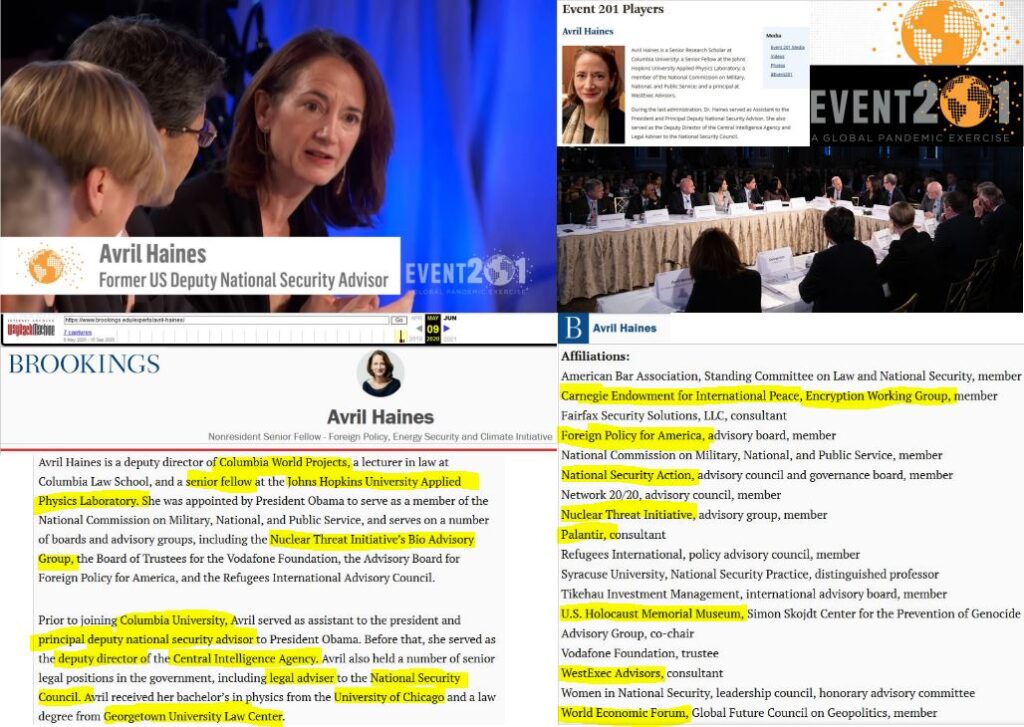 Haines was also a consultant to Palantir, meaning the former CIA deputy director was contracted to work with the data-harvesting firm seeded with CIA venture capital.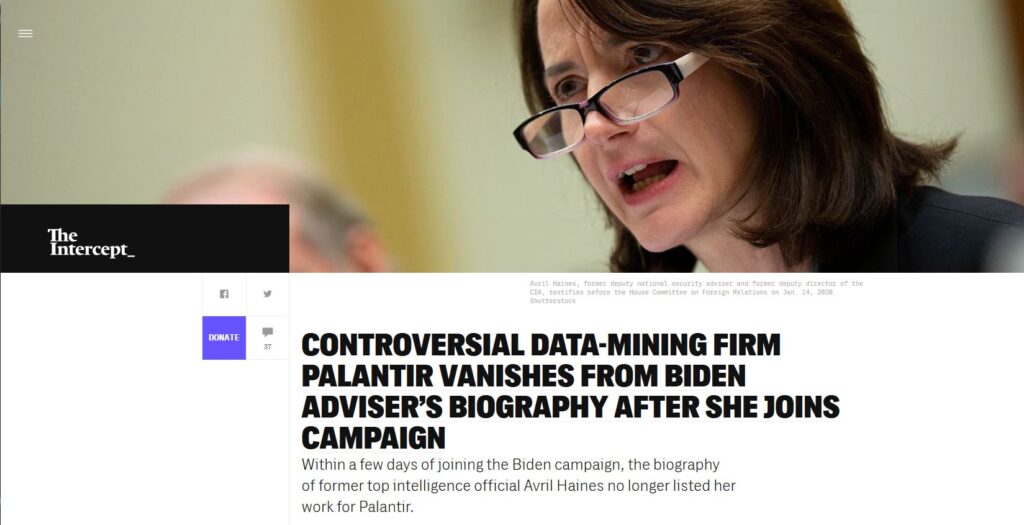 In my exposé All Techno-Feudalist Roads Lead to 'Dark Winter' Amid World's Third Hundred Years' War, in which I traced the sketchy track record pandemic exercises designed by John Hopkins University — I pointed out that the former CIA deputy director and deputy National Security Advisor during the Obama Administration was also a principal of WestExec Advisors.
Because WestExec is a geopolitical strategy firm that teaches concepts such as "red teaming" — which is a strategy used in simulations to flush out "bad actors" in organizations — as the Snoopman noted the irony the Event 201 players used "bad actors" term to cue government observers participating online on the 'need' to place such "bad actors" before the courts deemed to be producing "fake news".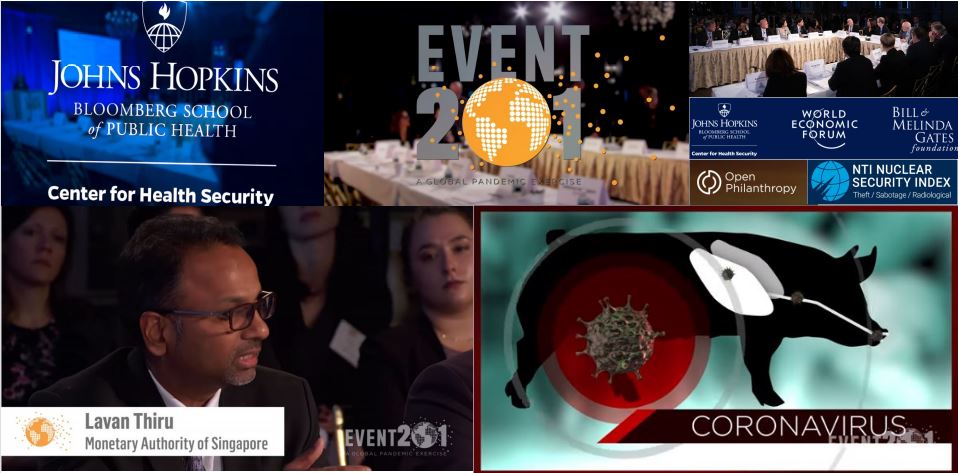 These omissions were crucial in the public communications of 'public health experts' during the Covid-19 pandemic', otherwise if they emphasized such connections behind the new Global Health Security Index, its currency as an objective scientific tool of analysis would have been shattered.
Instead of presenting skepticism about the vested interests behind the funding, architecture and biases of this project, paid scientists, doctors and health officials of the Global Health Syndicate steered the public toward their over-hyped meta-data depicting the spectacle of pandemic doom.
Ironically, Dr Martin also names John Hopkins University, Imperial College London and Imperial Colleges' kindred spirit, the Institute for Health Metrics and Evaluation (IHME) at the University of Washington, as being among the tertiary education institutions that have played vital roles in facilitating epic imperial-scale democide.
The Institute for Health Metrics and Evaluation (IHME) received $279 million from the Gates Foundation in 2017 to produce models and collect health data.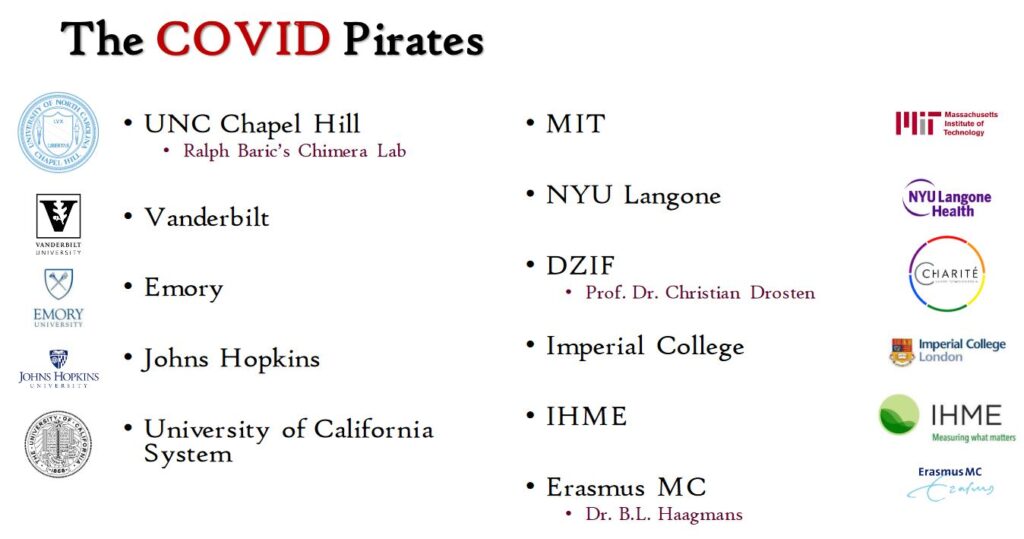 Among his list of Covid Privateers that Dr Martin names, are the Big Pharma companies Pfizer, Johnson& Johnson, Gilead, Merck, and Moderna. Dr Martin asserts that by the time the anticipated swathe of class-action lawsuits loom large to bankrupt the Big Pharma Cartel, the entity behind them will be decommissioned and disappear like a puff of smoke. That entity, is ANSER, short for Analytic Services, which has overseen the 'Operation Warp Speed' Covid-contract procurement.
Dr Martin believes ANSER is a CIA front-company.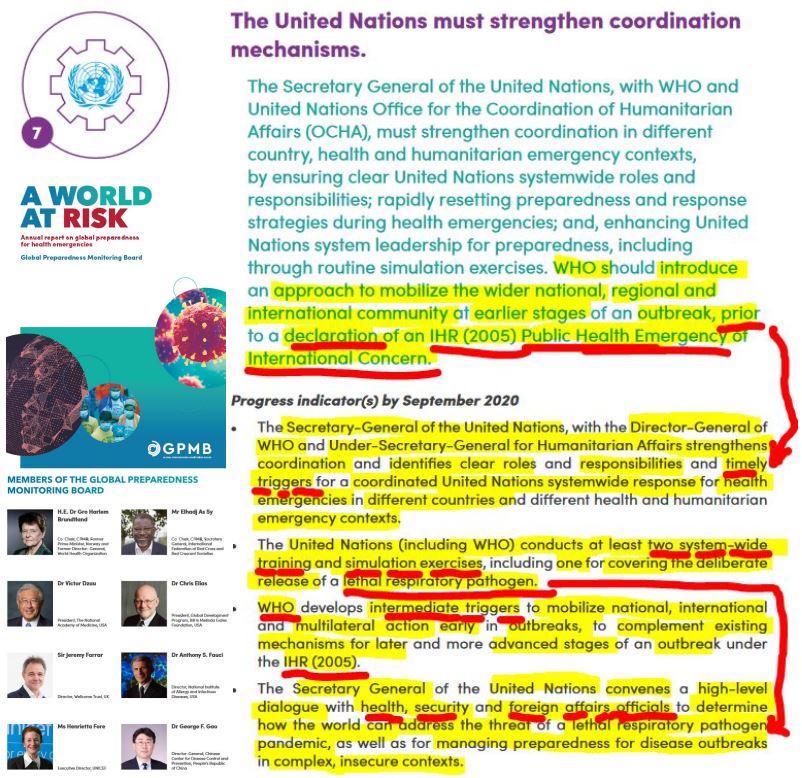 In an interview about his book, The Real Anthony Fauci: Bill Gates, Big Pharma, and the Global War on Democracy and Public Health, Robert F. Kennedy, Jr. said Fauci's playbook has been to over-hype or fabricate pandemics in order to accelerate implementation of militarized response measures, boost Big Pharma profits and set a system of totalitarian control.
The Munich Security Conference Connection
Chillingly, in 2017, at the Munich Security Conference, Gates also foreshadowed the spectre of bio-terrorism. He spoke in the language of war as he called for surveillance, R&D, and training exercises as part of a new arsenal of weapons such as anti-viral drugs, vaccines, anti-bodies and new diagnostics, to address the linkages between health security and national security, which he said continued to be ignored "at our peril". Gates said with a smirk:
"We also face a new threat that the next epidemic has a good chance of originating on a computer screen of a terrorist intent on using genetic engineering to create a synthetic version of the smallpox virus, or a contagious and highly deadly strain of flu."

Bill Gates – Munich Security Conference 2017
And on April 24th 2020, in an appearance on The Late Show with Stephen Colbert, Gates foreshadowed a deliberately inflicted 'Pandemic 2.0' with a weaponized pathogen. He added the good news is that much of the preparation for such a bio-terrorist attack is being done as a result of the Covid-19 pandemic.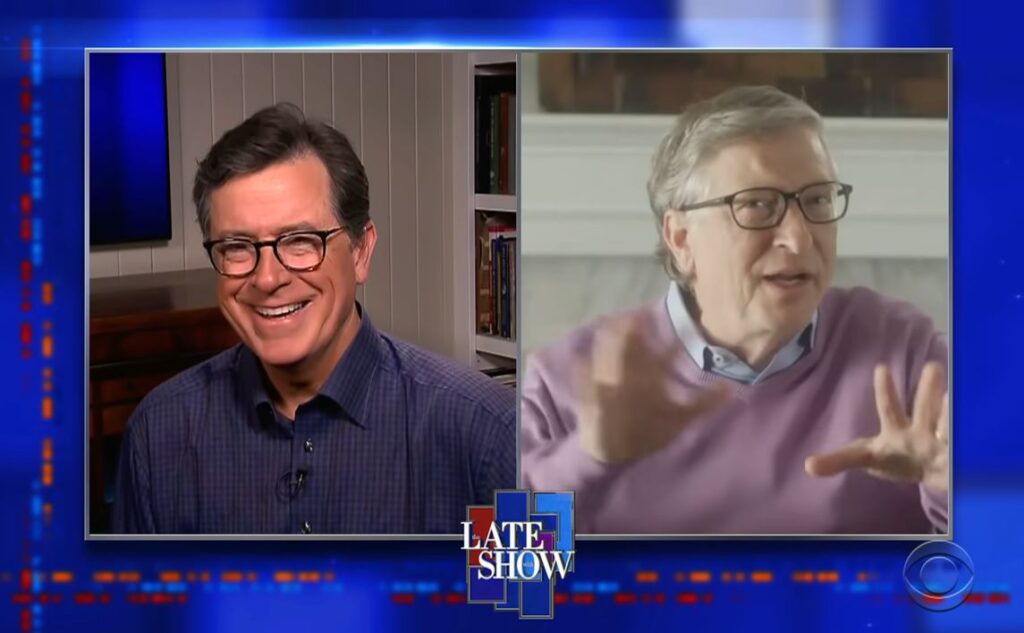 In another appearance with his wife, Melinda, a smirking Bill Gates, said the first pandemic didn't really get a lot of attention, but that the next one will get noticed. Both of them sniggered.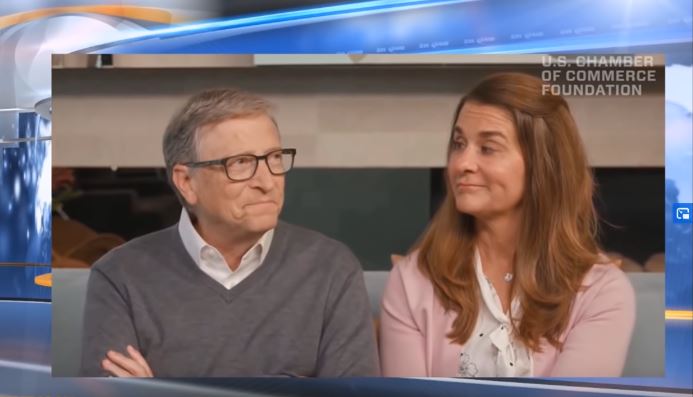 Similarly, the appearance of WHO Director-General Dr Tedros Adhanom Ghebreyesus at the 56th Munich Security Conference on February 15th 2020, appeared to have been a 'War Drum Beating Ritual'. Brazenly, 'Dr Tedros' said:

"Two years ago, WHO and the World Bank founded the Global Preparedness Monitoring Board, an independent body to assess the state of the world's readiness for a pandemic. Last year the board published its first report, which concluded the world remains badly prepared. The world spends billions of dollars preparing for a terrorist attack, but relatively little preparing for the attack of a virus, which could be far more deadly and far more damaging economically, politically and socially."

After all, Ghebreyesus was following in the footsteps of Bill Gates, who three years prior had 'warned' the next pandemic could originate on a terrorist's computer screen.
And, because the Co-Chair of the Global Preparedness Monitoring Board, Dr. Gro Harlem Brundtland, attended the Munich Security conference with Ghebreyesus – you really have to wonder whether their performances were really about pivoting the world onto a trajectory with a totalitarian bio-security operating system.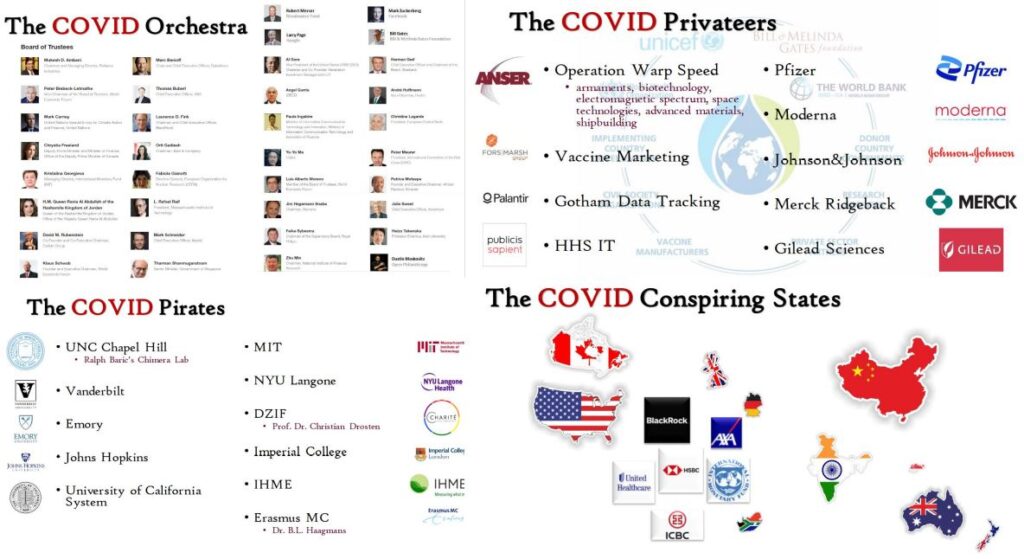 In 2009, Bill Gates took part in a 2009 "Secret Billionaires' Club" meeting with Ted Turner, Warren Buffet, David Rockefeller Sr, Michael Bloomberg, and Oprah Winfrey. The objective of was "to consider how their wealth could be used to slow the growth of the world's population." This may sound benign, until you realise that super-rich oligarchs never fund projects to investigate their crimes of power to accumulate such wealth. Because oligarchs cannot exist without immense disparities in wealth, their philanthropy— which is used to steer the politics of whole societies in their favour — is predatory.
As dissident journalist James Corbett revealed in his 2020 documentary — Who is Bill Gates? — the background of the Covid Bandit, Bill Gates, his family and their ties to the Eugenics Movement shows that the Western Empire Syndicate has a stealthy agenda to control the world's population with a two pronged approach.
One prong of this eugenicist vision is limiting general population growth through vaccines and other pharmaceuticals and, chemical compounds in foods and nanotechnology with stealthy sterility functions — as their track record indicates.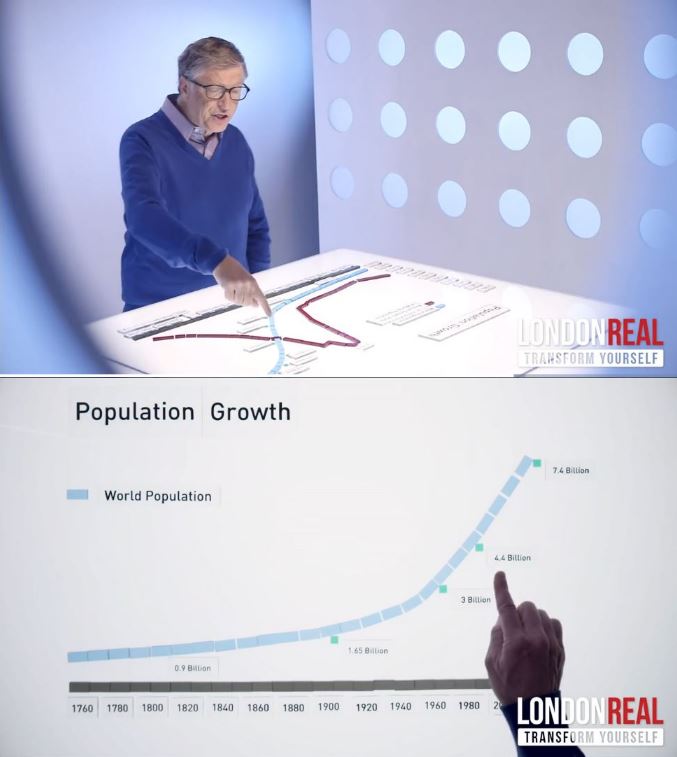 The second prong of population control is about maintaining social control on a permanent basis through investment in a technological super-structure of global governance, SMART-Grid infrastructure and mega-cities. These projects, which are hardly on the public's radar as looming threats to the liberty of open and free societies, are marketed to appear to be apolitical because the 'sustainable development' rhetoric seems to have buy-in from all walks of life, age groups and political segments.
The roll-out of a Techno-Feudal system with chipped immunity passports, mass biometric data collection and the deployment of 5G telecommunications technologies are crucial infrastructure to track, trace, tax, toll, tithe, ticket and tether everyone on the planet.
We are now seeing a new stage unfold in the pandemic playbook.
The predatory philanthropy record of a co-founder of Microsoft, Mr Gates shows his role as a prominent Global Health Syndicate front-man for the past two decades. At the beginning of the Covid 'pandemic', he played the cardigan-wearing billionaire, whose pastel colors helped his 'Orangutan arms' express his words, while he lent a kindly rich-lister face.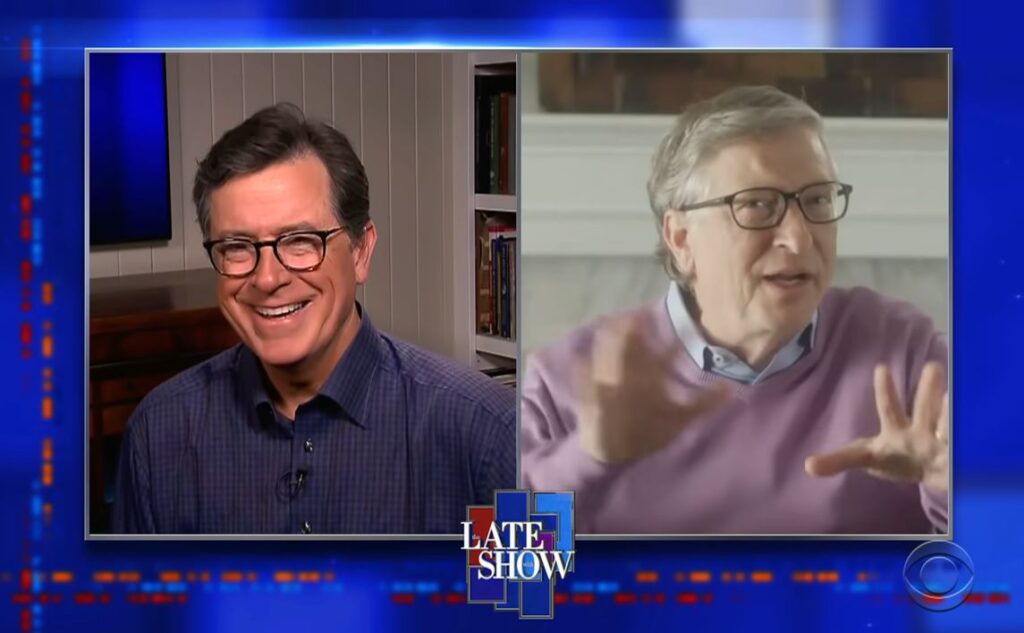 His performance was part of an ensemble cast — which included many witting and unwitting technocrats, political actors and celebrity actors — to trick all the humans with the aid of the global media cartel acting as vector for the transmission of fear-porn contagions.

The purpose of the multi-season Great Corona Psy-op was to program as many humans as possible to behave as monkeys, who would learn new social norms, or tricks, and walk into their own evolutionary demise.
As dissident journalist James Corbett said in a New World Next Week podcast, the global elite are still implementing their global biosecurity system.
The emergence of the monkeypox outbreaks appears intended to stoke fear, set-up a new pandemic narrative requiring new 'tools', while working as a way to deepen division between those who see through the theatrics and those who continue to believe the global media cartel, their auxiliary fact-checkers and an ensemble cast of multi-hatted officials.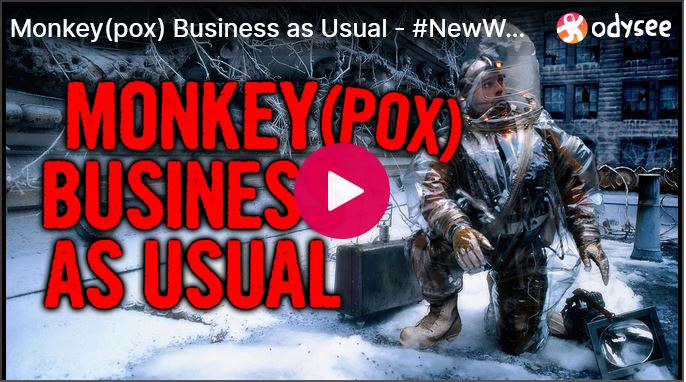 Given the foregoing, it's hard not to conclude that with this geo-political chess move that the totalitarian have revealed a new sinister playing card.
The many who have been duped to consent to the global experimental roulette of weaponized nano-gene shots through psychological manipulation, including economic coercion, face the prospect of ill-health as time, boosters and the 5G-wireles radio-wave technology goes live.

Meanwhile, for those who have opted out of complying with more s-called vaccines, whether for 'Covid-19' or for monkey-pox, or who never submitted in Round One — the spectre of ring vaccinations awaits. A ring vaccination program is the theory that the spread of a disease is hindered by vaccinating only those who are most likely to be infected.
However, given the scientism that has prevailed during the Great Corona Reset, with systemic structural discrimination inbuilt into the Medical Apartheid system, we can expect Round Two of the Global Pandemic Games to intensify with more targeted coercion at the resistant human monkeys.
That is to say, the authorities may contrive case outbreaks and use contact-tracing as a mass surveillance tool to track down pandemic suspects. With the use of specially trained pandemic teams, resistant human monkeys could be quarantined to break their resistance, until they submit to 'treatments' deemed necessary by orders of health officials.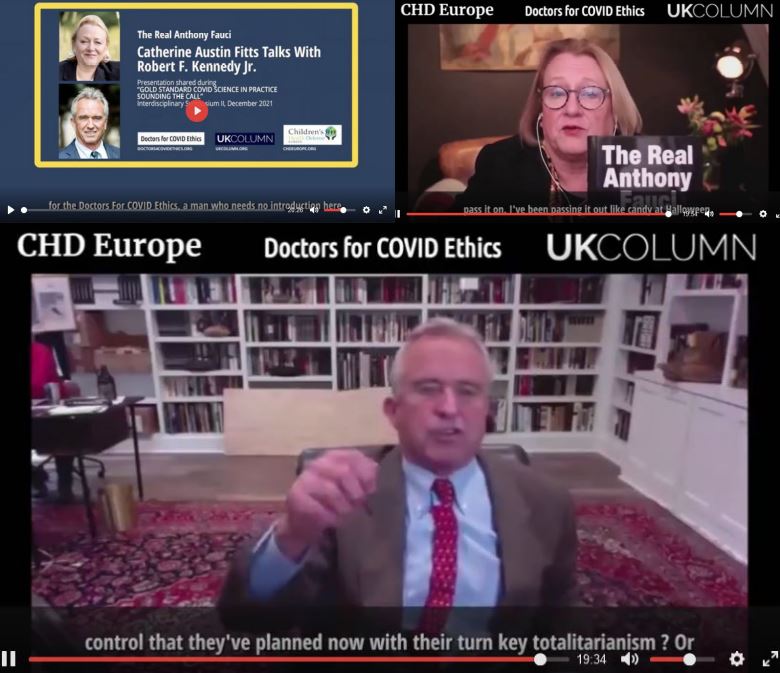 Robert Kennedy Jr emphasized the need for the awake and aware to build a resistance effectively and quickly to counter the turn-key totalitarianism that is presently being fast-tracked — because the the totalitarian global elite possess enormous wealth, technologies and political power.
Kennedy warned that if the mass of humanity wakes up after the totalitarians have turned on their technocratic systems of total social control, it will be too late to attempt to dismantle or replace their totalitarian super-structure.
======
Steve 'Snoopman' Edwards is a dissident journalist, who worked at indigenous broadcaster, Māori Television, for 14 years as an editor of news, current affairs and general programs. He graduated with First Class Honours in a Master in Communication Studies at AUT University after writing his ground-breaking thesis on the Global Financial Crisis (GFC), titled — "It's the financial oligarchy, stupid" — to figure out the means, modus operandi and motives of the Anglo-American Oligarchy.
Editor's Note: If we have made any errors, please contact Steve 'Snoopman' Edwards with your counter-evidence. e: steveedwards108[at]protonmail.com