Part I: How the Media & PR Agents Protect MVPs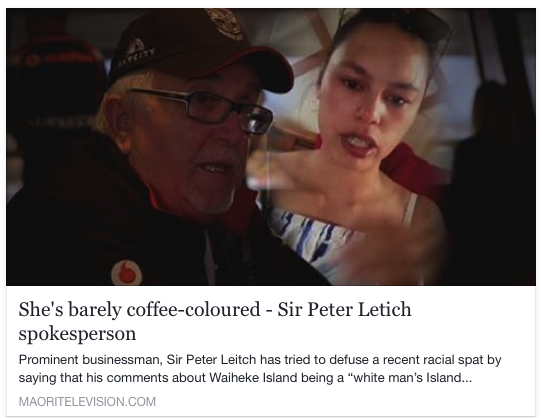 By Steve 'Snoopman' Edwards
Fluffy White Ignorati Stir the Storm
The news and social media storm that has ensued since Waiheke-born Lara Wharepapa-Bridger posted a gutsy, stroppy 13-minute video on Facebook telling New Zealand about her disgust at Sir Peter Leitch for saying that Waiheke is a "white man's island", cannot be contained in one coffee cup.[1]
Yet, this storm in a slow-news spin cycle about the racist remarks made by the multi-millionaire founder of the Mad Butcher chain, Sir Peter Leitch, to Lara Wharepapa-Bridger and her group as they were arriving at the Stonyridge Vineyard for a wine-tasting on Waiheke Island, contains some fascinating omissions that are not simply one-offs to this incident.
According to Lara Wharepapa-Bridger's post of Tuesday 3 January 2017, Leitch condescendingly offered them unsolicited advice about not drinking and driving. Wharepapa-Bridger says Leitch singled her out, pointing to her saying they must not be local, which seemed to foreshadow what he is alleged to have said next. In her Facebook video post, Wharepapa-Bridger said, "I go 'Yeah, I'm actually born here'. That's when he said 'this is a white man's island, you need to go. You need to acknowledge that this is a white man's island'."[2]
"I was joking with her group about not drinking too much because there were lots of police on the island. She said that she was tangata whenua and could do what she liked," Sir Peter Leitch said in a statement. But Wharepapa-Bridger responded saying, "Record straight I did NOT say 'I could do what I like' he came at us with a whole you're not a local in which I responded "yeah I'm tangata whenua born here mate 23 years ago".
Of course, the GCSB could settle what was actually said since they helpfully 'listen' to every conversation in earshot of a digital device that has a microphone hooked up to wired or wireless telecommunications systems and routinely feed our private communications to the vampiric US National Security Agency (NSA).
In an interview with Māori Television, Michelle Boag, who is a 'public relations consultant' for Peter Leitch said Lara Wharepapa-Bridger was "barely coffee coloured", meaning she is a light-skinned Māori. This evidently was in response to Leitch's claim to Māori Television that nothing in his banter was racially targeted. Boag said it was ridiculous that Wharepapa-Bridger had said she was targeted by Leitch for being "black", but Wharepapa-Bridger never said the word 'black' in her video post.
I would know because I recorded the video at Māori Television in response to reporter Wepiha Te Kanawa's request to make a copy before it got deleted. Newshub incorrectly reported that Wharepapa-Bridger never mentioned her skin colour in the video, but she actually says several times she was the brownest in her group.[3]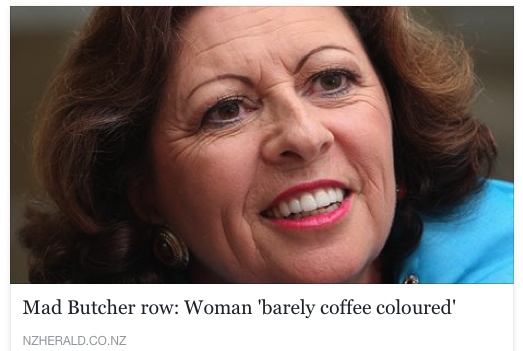 Boag's remark that Wharepapa-Bridger is "barely coffee coloured" and the 23 year old wahine's claim that she was racially targeted was ridiculous, in effect, made Boag's counterargument inconsistent because she was making an assessment on indigeneity on the basis of how brown Wharepapa-Bridger's skin colour was. Furthermore, Leitch's claims that it was not racist to say that Waiheke is a now "a white man's island" because it was just banter has been shown to be casual racism – at best – which occurs where someone says or does something without realising that it is, or intending to be, racist.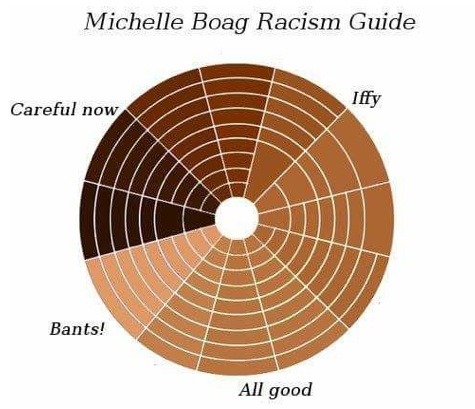 Māori quickly mocked Boag's 'barely coffee coloured' appraisal on social media, with self-assessments such as "I must be a long black", "I'm a double shot vanilla latte" and "I'm a short black".
Mad Butcher offered Patronage? – of sorts
It is fascinating that numerous news outlets reported that Peter Leitch apologised to Wharepapa-Bridger when he realized his remarks had not gone down well, yet there is a pattern of omissions here that remind me of a previous scandal involving a Most Valuable Player. (To be fair, Wharepapa-Bridger also swore a lot, and the news media were kind enough to her not to focus on it). The major omission in this news coverage is that Wharepapa-Bridger repeatedly claimed in the video that Peter Leitch offered to give her a cash donation, and to pay for kai and wine in an attempt to smooth over the bad feelings.[4] Wharepapa-Bridger said several times it was offensive that Leitch tried to use his wealth to make amends, when he had just apologised for saying Waiheke is 'a white man's island'.
The news media's failure to report this aspect is indicative of how Most Valuable Players (MVPs) and Politically Valuable Persons (PVPS) are protected in a crisis. When the Ponytail scandal broke on April 22 2015 and revealed that John Key had harassed a waitress for six months at his neighbourhood cafe in the posh suburb of Parnell, Auckland, by pulling her ponytail – the news media initially reported the former prime minister's serial harassment as such.[5] But, by the very next day, news outlets magically referred to the harassment as an 'incident', like they had all been cast with a zombie spell in their sleep.[6] According to Bailey, Key taunted her by making the sounds of the Jaws movie theme tune as he approached her with his hands in the air. At the end of her teether, Bailey alleges she asked Key, "is it self defence, with your security here, if I have to physically stop you from touching me?" and he countered, with a smile, "defence against what?" Even after this, Key tugged her ponytail one last time while she was working the till. The news media did not report this most damning part, even though every news outlet read Bailey's account,[7] because it would have sunk the then-prime minister's fake Mr. Nice Guy image.
Instead of being a big person, Leitch's PR agent Michelle Boag downplayed and belittled Wharepapa-Bridger's video post, claiming it was an attempt to become famous.[8] Former track athlete and current Auckland City Councillor Dick Quax also sarcastically opined on Twitter, "Peter Leitch does not need to apologize to a race hustler seeking her 15 minutes of fame".

The news media did not widely report Quax's importation of a cultural reference, specifically Andy Warhol's 1968 claim that, "[i]n the future, everyone will be world-famous for 15 minutes". Ironically, Lara Wharepapa-Bridger, who has embraced the labels flung at her by featuring the descriptor 'coffee coloured race hustler' on her Facebook page, does have a history of video-blogging on issues. Condescendingly, The New Zealand Herald editorial of Saturday 7 January 2017, "Waiheke row raises some interesting questions", framed Wharepapa-Bridger's video post as intended only her social circle, which betrays the brainwashing publication's fecklessness. Wharepapa-Bridger specifically addresses 'New Zealand' as her audience at the beginning and, rather colourfully, Peter Leitch throughout.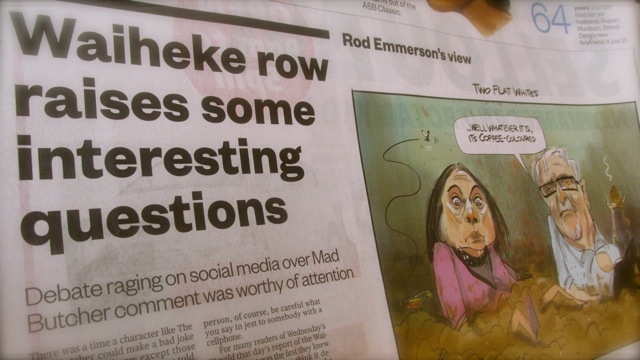 The Illustrious New Zealand Herald advised "well-known person[s]" to "be careful about what they say in jest to someone with a cellphone" and gave the Pakeha majority a pep talk pointing out that, "an indigenous minority claiming special rights and status" is not racism. In other words, te Herald is framing the editorial to say to the majority Pakeha and white wealthy privileged audience to manage the issue. If I were a subeditor at te Herald, I would like to have added the line:
"We, the Vampiric New Zealand Herald people, seek to form a perfect union blah blah … but we have

been producing propaganda for 153 years now and can't stop without an intervention. Help us Maori on Waiheke, you're our only hope. "



Evidently, "an indigenous minority claiming special rights and status" is not racism because the indigenous minority's aspirations, "does not hurt the majority." It would only become a real problem when the Pakeha majority worked out that everyone is either indigenous to somewhere or our forebears were, meaning that we have all been driven off ancestral lands by an understudied minority of super-rich rivalrous oligarchs who have benefited from their own plots or those schemes of their forebears, or unscrupulous deceivers like them. Today, coalitions of oligarchs, who are super-rich people that use their enormous economic wealth to steer the politics of whole societies, are in a mutual race to accumulate as much control over infrastructure, technologies, territories, institutions, ideas and natural resources as alliances to forge the superstructure for a World Dictatorship of the Wealthy. Those coalitions with the most controlling combinations of these monopoly-risk-chess pieces are intended to gain the dominating positions on the intended World Government power structures, which can quickly unravel if the world undergoes remarkable unfiltered conversations about the powerful New World Order movement.[9]
Meanwhile, in this relatively small-scale stousch over how to share a little island in a picturesque gulf in a South Pacific Realm where it is hard enough to figure out what the hell has really been going on, the news media continued to limit the story to the narrow Racism Row news frame. Thus, news outlets widely reported Leitch's defensive statement made from an unknown gone-to-ground location, "There is no way I can ever be accused of being racist."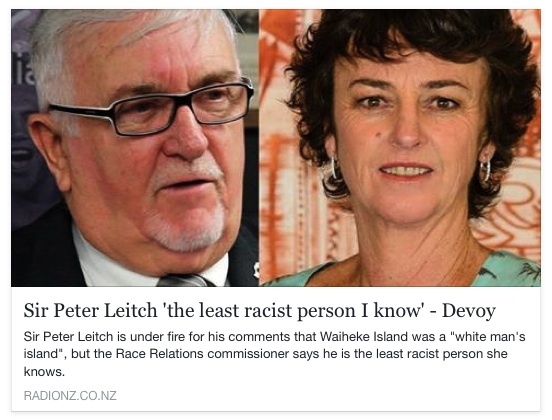 Radio NZ reported that Race Relations Commissioner Dame Susan Devoy at first backed up Leitch, saying the Mad Butcher was the "least racist person I know in the world".[10] Then the former squash champion came back serving up the more considered response that casual racism hurts too. This back-peddle, then sudden-clanking third gear change, onto the middle sprocket two hours later – perhaps from a lookout offering a better perspective – prompted me to imagine the reactions and communications as the news reached Human Rights Commission people between holiday locations.
To be fair to Devoy, she did spearhead a thoughtful initiative last September on casual racism, and amid this episode she did make the effort to contact Peter Leitch and Michelle Boag, who subsequently saw that saying 'barely coffee-coloured' was an exquisite example of casual racism.
As the fluffy white ignorati were stirring the storm into previously unchartered coffees, others have added more thoughtful comments.[11]
In her post, "My beef with the Mad Butcher", the daughter of a former New Zealand Kiwis league player, Leilani Tamu,[12] saw Leitch up close when she was growing up. The famous patron of New Zealand league looked after people so long as they looked after him, which included not calling him out on his habit of racially labelling people, such as Pacific Island people whom he often called coconuts, author Tamu said.

In "Peter Leitch racism row a learning opportunity", Laura Walters did an appraisal of the news and social media storm, emphasized the key element of respect is needed in an exchange, and interviewed Massey University professor of sociology Paul Spoonley who said Lara Wharepapa-Bridger has "done us a service" and "[i]t should be a moment where we redefine the boundaries."
Māori TV presenter Oriini Kaipara stated,
"Here's an opinion straight out of my bicultural brain: Knights should not tell indigenous women their motu belongs to white men. Ever."
In this far-flung outpost of 'The Empire' where singer-song writer Dave Dobbin mentioned it in passing in a song, Pakeha ought to be giving more thought to how and why exactly Māori came to be so dispossessed of land that in the early 1970s, Māori activists campaigned with the slogan of 'not one more acre'.
In a discussion on national identity hosted by Robert Rakete on TV3 late last year, one Māori guest made the point that Māori see Pakeha metaphorically 'looking over the fence' wondering how to join in, while Māori need to pursue ways to involve Pakeha more. An observation made was that recent immigrants are sitting back seeing that Pakeha and Māori have unresolved issues and are waiting for both cultures to do that. There are plenty of Pakeha who are empathetic about Māori still being treated poorly.
Indeed, Māori are treated as the preeminent perennial scapegoat, a casting not of Māori doing or choosing, but one foisted upon Māori since the days when they were frequently referred to as 'the natives', 'savages', and 'rebels'. This disgusting perennial scapegoat casting persists because it performs the function of resolving the crises of the white Neo-Colonial ruling class, and will continue to be the case until this racist mechanism of political, economic, technological, social and cultural control loses its potency. Fortunately, there will be plenty of Pakeha on Waiheke (and elsewhere) who would not be happy with it being labelled a 'white man's island'. (I know Pakeha who either own or rent or house-sit bachs or houses, or who have hired the posh mansions on Waiheke, and none would find it acceptable to belittle or undermine Māori).
Perennial Scapegoat from Imperial Central Casting Agency (ICCA)
So, Dame Devoy's clunky statement about the multi-millionaire Mad Butcher 'being the least racist person [she] know[s]' makes me wonder where the super Rich-Listers would be located on a racism scale, since many boast philanthrophic vanity projects, but none seem keen on indigenous-led mass land redistribution, or funding projects to build self-autonomous communities.
For example, property tycoon Robert Jones, who will never be described as a friend of Māori when the happy day comes to write his obituary, would surely be out on the extreme end of the most bigoted spectrum. To be fair to Sir Peter Leitch, he is no Sir Robert Jones. The Mad Butcher has lived, worked and played among brown people all of his life. When I was editing a sport's program called 'Code' for Māori TV, I said to one of the producers that Leitch's banter would not go down well in a context outside of sport. Jones, with a net worth of $650 million, has long been recognized by Māori as possessing a vile wine-addled tongue with which he pens his rituals of animosity.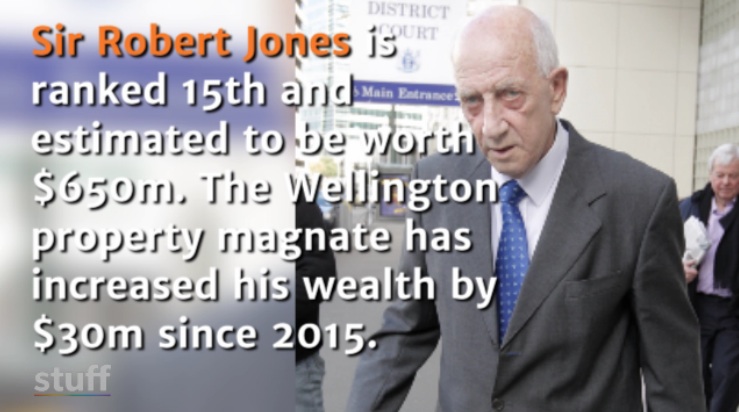 Not so funnily enough, The New Zealand Herald had provided plenty of print space for Jones to write un-casually racist gems such as 'hui hoodlums', 'hooey babblefests', and mock the Kingitanga while not critiquing the Neo-Colonial Civil Oligarchy and their foreign accomplices for raiding state assets, charging exorbitant fees, and introducing taxes on every purchase while maintaining the universal tax system as Shock Doctrine mechanisms of economic warfare. In late September 2012 in his now-defunct The New Zealand Herald column, Jones oversimplified Māori efforts to have a stake in freshwater and air – while ignoring the flipside that Rich-Listers can afford to pay professionals to hide wealth in tax shelters – by casting iwi leaders as parasites.[14] Bob Jones wrote:

What Bob Jones was not saying in his columns is that he was happy to see the maintenance of a Pakeha dominated class system that is tied to Anglo-American power. A teethering that he and his fellow invisibly-handed Neo-Colonial Civil Oligarchs had been entwined in, as accidentally as the wealth that defied gravity by magically trickling upward through Monopoly Board toll taps.
New Zealand's white ruling class, and the major media outlets they dominate with foreign owners, have a history of producing and facilitating racially-loaded doosies. One of the most infamous being TV and radio broadcaster and multi-millionaire Paul Holmes' "cheeky darkie" slur against then United Nations Secretary-General Kofi Annan in 2003. Ralph Hotere, who painted two works that he called White Drip, said in a statement at the time "White Drip is a very mild rebuke to Mister Holmes," which emphasized the spelling of 'mister' defined by some dictionaries as the owner of a slave.
But lesser known racist incidents can also cause proportionally more damage than what a broadcaster's racial slur can do – even if one turned out to have been the owner of a slave or two.
At the beginning of 2014 election year and back when John Key pretended to be a prime minister, he dog-whistled in Parliament's lobby that Hone Harawira was the most absentee MP in the House. At the time, then-3News political reporter Brook Sabin found that all of Harawira's leave had been approved by the House Speaker, while both the National Party and Labour Party would not release their records. The Prime Minister did not show his own party's attendance spread-sheets, or signed forms either.[15] In other words, John Key had performed a dog-whistling ritual aimed at Hone Harawira, a dirty political attack to undermine his popularity. On one level, it was an attempt to play on the racial stereotype that Māori are lazy shirkers. Dog whistling is a manipulative public relations technique, that deploys messaging intended to sound reasonable, but for the target audience with ears attuned to prejudices – it will reinforce their ignorant beliefs, as the documentary The Hollow Men shows.

But, on a deeper level, Key was also slyly signaling an act of oligarchic wealth defence, since Hone Harawira and the Mana Party were campaigning on the need to address child poverty and 'feeding the kids'. This campaign to alleviate the harshest impacts of poverty implied eating into infrastructure spending that supports big business investments and inconveniently highlights the wealth gap caused by the super-wealthy. Key was signaling to the National Party's political donors to rally against a common enemy, by drawing upon New Zealand's perennial scapegoat and historical enemy image of the white ruling class: Māori.
Typically, the major news outlets pass by these incidents, barely scratching the surface and only conceding ground where they have to. Thus, New Zealand society sometimes makes progress on identity politics, such as race at a geological pace, while deeper issues that underpin aspirations of communities to pursue genuine self-determination usually stay outside the dominant news frames.
As you will see in the following two articles, because the Neo-Colonial Crown and Civil Oligarchy refuse to relinquish Māori land stolen through swindle, stealth and struggle, they are careful to ensure there is little public debate on land redistribution to Māori.
=======
Steve 'Snoopman' Edwards is Pakeha, a television editor and blogger.
Coming Soon:
Part II: Maori Land Loss Barely Allocated a Bubble in Coffee Cup Storm
Part III: Why 'Barely Any Acres Back' Still Persists as State Policy
=======
Sources:
[1] 'White man's island': Woman stands by video decisions Mihingarangi Forbes (4 January 2017). New Zealand te ao Maori 4 Jan 2017 War of words over Sir Peter Leitch's 'white man's island' http://www.radionz.co.nz/news/national/321767/%27white-man%27s-island%27-woman-stands-by-video-decisions; http://www.radionz.co.nz/news/national/321731/war-of-words-over-sir-peter-leitch%27s-%27white-man%27s-island%27; 4 Jan 2017. Sir Peter Leitch under fire over Waiheke 'white man's island banter' https://www.tvnz.co.nz/one-news/new-zealand/sir-peter-leitch-under-fire-over-waiheke-white-mans-island-banter; 4 Jan 2017. Mad Butcher Sir Peter Leitch says Waiheke Island comments weren't racist but 'misinterpreted' after woman's video goes viral http://www.nzherald.co.nz/nz/news/article.cfm?c_id=1&objectid=11776258
[2] Sir Peter Leitch's 'banter' denial rejected by family http://www.radionz.co.nz/news/national/321710/sir-peter-leitch%27s-%27banter%27-denial-rejected-by-family
[3] Simon Wong (05/01/2017). Michelle Boag regrets 'coffee coloured' skin comment. http://www.newshub.co.nz/home/new-zealand/2017/01/michelle-boag-regrets-coffee-coloured-skin-comment.html?ref=RLrotator
[4] New Zealand Herald. (Jan 5, 2017). Mad Butcher row: Sir Peter Leitch's spokeswoman responds to criticism over comments to Maori woman Lara Bridger. http://www.nzherald.co.nz/nz/news/article.cfm?c_id=1&objectid=11776797; Sir Peter Leitch made a 'racist' comment, but isn't racist – Dame Susan Devoy     05/01/2017 Dan Satherley http://www.newshub.co.nz/home/new-zealand/2017/01/sir-peter-leitch-made-a-racist-comment-but-isn-t-racist-dame-susan-devoy.html; THE PRESS. (January 6 2017). Editorial: What does a 'white man's island' look like?
[5] A former senior journalist says the John Key ponytail pulling scandal has turned political after conflicting reports of an interview with the woman at the centre of the incident emerged. https://www.tvnz.co.nz/one-news/new-zealand/ponytail-saga-public-won-t-really-know-what-happened-until-herald-releases-transcript-6298704.html
[6] 23 April 2015. Ponytail-pulling Prime Minister John Key makes world headlines. http://www.stuff.co.nz/national/politics/67975327/Ponytail-pulling-Prime-Minister-John-Key-makes-world-headlines; Ponytail pulling: 'A thing' John Key does. http://www.nzherald.co.nz/nz/news/article.cfm?c_id=1&objectid=11437343; John Key's ponytail pull 'highlights sexism in NZ'. http://www.newshub.co.nz/nznews/john-keys-ponytail-pull-highlights-sexism-in-nz-2015042216 ; Ponytail text to John Key revealed: 'Massive political agenda'. https://www.tvnz.co.nz/one-news/new-zealand/ponytail-text-to-john-key-revealed-massive-political-agenda
[7] Amanda Bailey (April 22, 2015). EXCLUSIVE: The Prime Minister and the Waitress http://thedailyblog.co.nz/2015/04/22/exclusive-the-prime-minister-and-the-waitress/
[8] She's barely coffee-coloured – Sir Peter Leitch spokesperson https://www.maoritelevision.com/news/regional/shes-barely-coffee-coloured-sir-peter-leitch-spokesperson
[9] Invisible Empire: A New World Order Defined https://www.youtube.com/watch?v=NO24XmP1c5E;  Requiem for the American Dream [with Noam Chomsky] https://www.youtube.com/watch?v=PH1rudlN_Qw
[10] Sir Peter Leitch made a 'racist' comment, but isn't racist – Dame Susan Devoy https://www.newshub.co.nz/home/new-zealand/2017/01/sir-peter-leitch-made-a-racist-comment-but-isn-t-racist-dame-susan-devoy.html
[11] Waiheke iwi extend olive leaf branch to the Mad Butcher https://www.youtube.com/watch?v=Yp7KrPpwgQM&feature=share
[12] Leilani Tamu https://leilanitamu.com/mystory/
[13]  Laura Walters (7 January 2017). Peter Leitch racism row a learning opportunity| Stuff.co.nz www.stuff.co.nz/national/88182831/peter-leitch-racism-row-a-learning-opportunity
[14]  Bob Jones (25 September 2012). Blatant try-on shows it's time to derail Treaty gravy train http://www.nzherald.co.nz/opinion/news/article.cfm?c_id=466&objectid=10836260
[15] Simon Wong. (28 January 2014). Wagging MPs to be held accountable. TV3. Retrieved from: http://www.newshub.co.nz/politics/wagging-mps-to-be-held-accountable-2014012810#axzz4ArdoCYXl