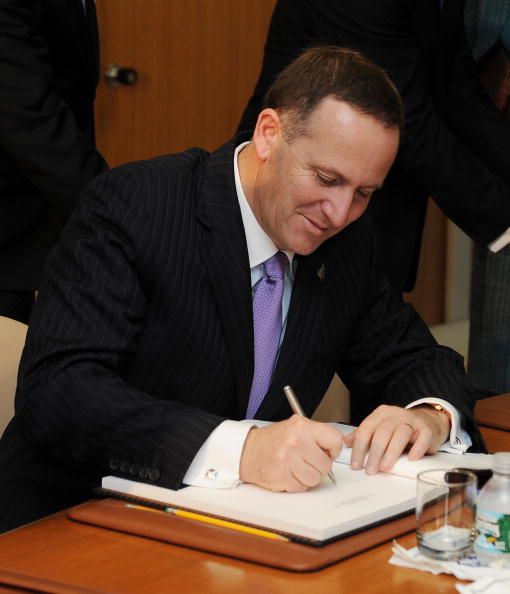 21 September 2014
[INSERT NON-VOTING LOSER'S ADDRESS HERE]
Dear [INSERT NON-VOTING LOSER'S NAME HERE],
Congratulations for being one of the 'Missing Million' Voters who chose not to vote in the New Zealand economy's 2014 general election. Your absenteeism was not only crucial for the National Party's hat-trick win. It was also the result of a deliberate, and let's be honest, ruthless strategy to turn lefties, and especially young people, off voting.
Since I became leader eight years ago, we at National (AKA Brand Key) have pursued a 'two-track' communications strategy to quite literally undermine 'democracy'. The key to our hidden agenda was to outsource dirty political attacks of the kind that journalist Nicky Hager exposed in his book Dirty Politics, to right-wing blog-sites, such as Whale Oil and Kiwiblog.
These nasty assaults were mostly aimed at National's opponents to discredit them, attack centrist National Party politicians to shift the party further to the right, and influence the outcomes of elections.
My top PR-man and senior advisor, Jason Ede, led these dirty political attacks while he was on the National Party payroll, which meant he could perform his covert activities outside pesky official information request processes. In other words, unless you had a fly on the wall inside his office, two doors down from mine, you couldn't tell – as a naive New Zealander – what he was doing.
The media focused mostly on right-wing 'attack dog' blogger Cameron Slater, whose communications were hacked. Slater did a great job attacking left-wing opponents. But, it was right-wing blogger David Farrar of Kiwiblog fame (Est. 2003) who, essentially, lived a double-life as National's chief pollster since 2004. Farrar was well-placed to write 'attack dog' articles on his popular right-wing blog-site, Kiwiblog, utilizing insider information about issues that National and our opponents were either strong or weak on, according to population demographics across the country, tracked over time.
Meanwhile, I was cast as 'Mr Nice Guy' so that the slucker-lucker public wouldn't think for a moment that the minor scandals, embarrassing smears, and gaffs that were blown out of proportion by a compliant propagandist news media system, had anything to do with me. Indeed, it's a damning reflection on New Zealand's mainstream media because they all failed to lead their news bulletins, front-pages and magazine covers with these key findings of Nicky Hager's meddling investigation.
The intent behind dirty political attacks is that they project the idea politics is a mucky business, and cannot possibly be done 'above-board'. To make it super-clear, we at Team Key have perpetrated these crimes of power knowing that it benefits right wing parties such as ours because conservative right-wing voters with investments; whether businesses, financial portfolios, or houses they never intend to pay for, will still turn out to vote in a dirty political attack environment.
I make these brazen disclosures because I regard you as not only stupid. But, also because you are a bona fide Fightless Kiwi that is too disempowered to organize, strategize and mobilize (much like your apathetic suck-lucker voting cousins).
So, thanks for not voting, loser. Don't feel bad. There are 999,999 other losers just like you.
Yours smugly,
John Phillip Key.
AKA Prime Minister of New Zealand,
or The Prime Minister's Office,
or The Department of the Prime Minister,
AKA My Henchmen.
P.S. Thanks a Million. Like transformers, there's more to this scandal than meets the eye.
====================
SEE FULL SATIRICAL STORY: NZ PM Writes to 'Missing Million' Voters, "Thanks for not voting, loser".  at: https://snoopman.net.nz/?p=2371