How the News Media Plays NZ's Freedom Movement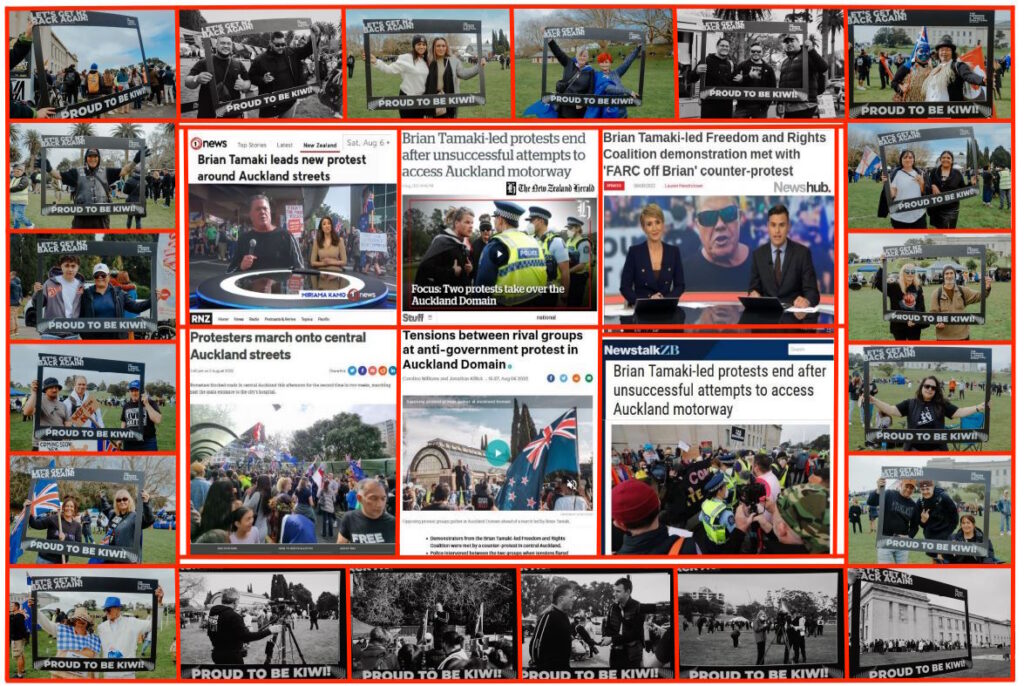 By Steve 'Snoopman' Edwards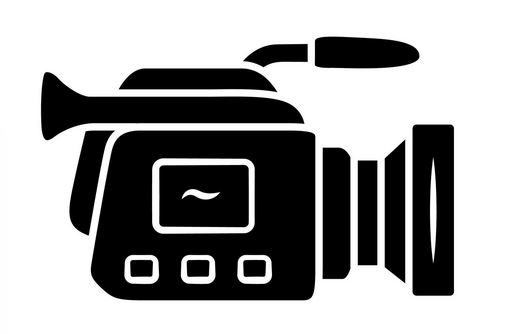 Critical Speeches Missing in 'Free Speech' News Action — 'Kiwi Patriot Day' Rally Auckland
A 'Kiwi Patriot Day' at Auckland Domain on August 6 2022 — which was attended by approximately 1500 people in a sprawling city of 1.6 million — drew the mainstream media, a counter-protest and considerable police resources.
Much of the media coverage was delivered to New Zealand's news audiences with a news staple — the 'law and order' framing — with reporters myopically focussed on policing, disruption to traffic and two incidents of minor conflict.
For the most part, news outlets did not cover demonstrations in other cities. Stuff News appeared to be the only news organization with footage from the Christchurch protest. But Stuff assumed that protestors with the 'Z' symbols on their face cheeks or clothing meant they supported Russia's invasion of Ukraine, rather than patriotic Kiwis with the 'N' symbol on the other cheek, or out of camera sight, to read 'NZ'.
This biased coverage was not surprising because the media universally treats every civic movement with disdain until the groundswell is ground to pulp, or it wins respect — by being super-organized, or for becoming controlled opposition.
Yet, the media biases were ironic because the significance of four brief speeches were missing in action from 'the news'.
Especially ironic — because only slither of one of those four speeches was aired by the Establishment Media, and that particular speech was a man who was cast as an anti-vaxxer. This anti-vaxxer casting occurred in spite of the fact that the humble and visibly shaking man told the crowd he had become injured after getting vaccinated.
He was also a 'frontline' medical worker. It is, therefore, deeply ironic to contemplate on the term 'frontline workers'.
Deeply ironic — because the term 'frontline' comes from military conflicts. A 'frontline' usually refers to opposing land forces positioned in an area where the armed struggle occurs over territorial gains and can lead to mass casualties, loss of strategic resources and shell-shock or post-traumatic stress disorder.
And given that the wheel chair-bound man speaking on camera was sitting next to a wheel chair-bound woman and they have been the most frequent injection injured to bravely speak publicly — even though ACC have not acknowledged their claims to be linked to the Covid jabs.
Particularly ironic — when we recall that another military term 'Missing in Action' (MIA) is applied to a member of the armed forces who has not yet been traced or confirmed as either alive or dead.
Not surprisingly — given the Establishment Media is a machinery arm of state power — news anchor Miriama Kamo at the crown-owned TVNZ's flagship news bulletin, 1News, described the 'Kiwi Patriot' demonstrators as 'anti-establishment', 'anti-government' and 'anti-vaccine'.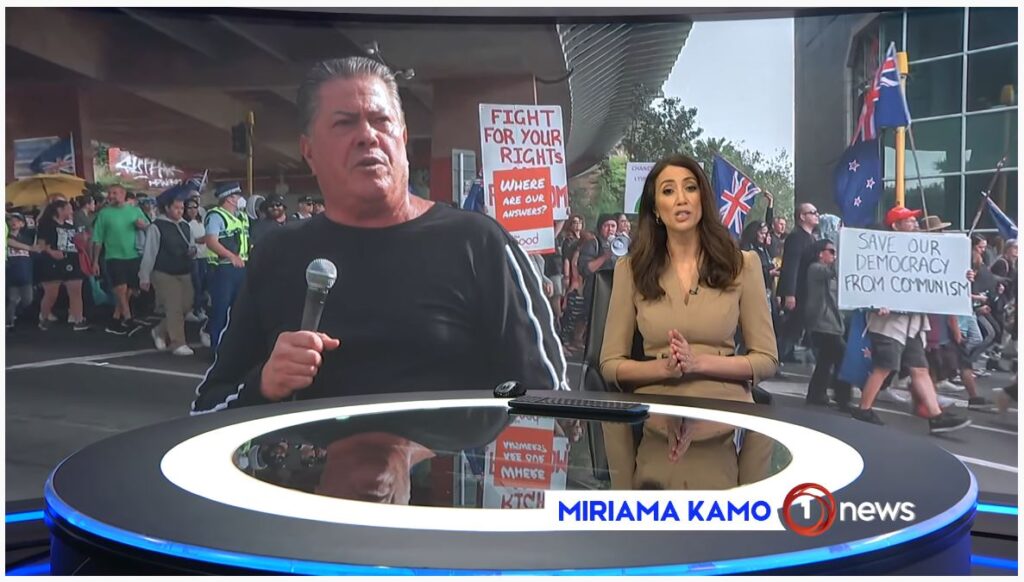 Veteran 1News journalist Simon Mercep reported Destiny Church founder Brian Tamaki's announcement that an umbrella political organization called the Freedom Party was in formation. Tamaki claimed he had verbal agreements with four minor political parties to join the Freedom Party. The other media outlets reported this development.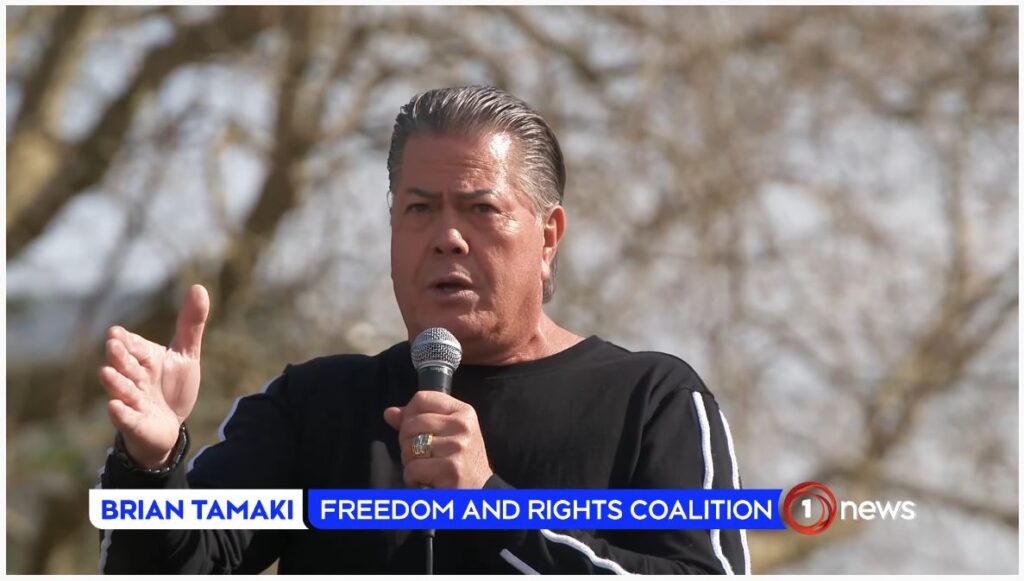 Newshub's Lauren Hendricksen asked Brian Tamaki if he thought he was above the law after she had performed a piece-to-camera on Grafton Road to report that the march had blocked entrances to Auckland Hospital.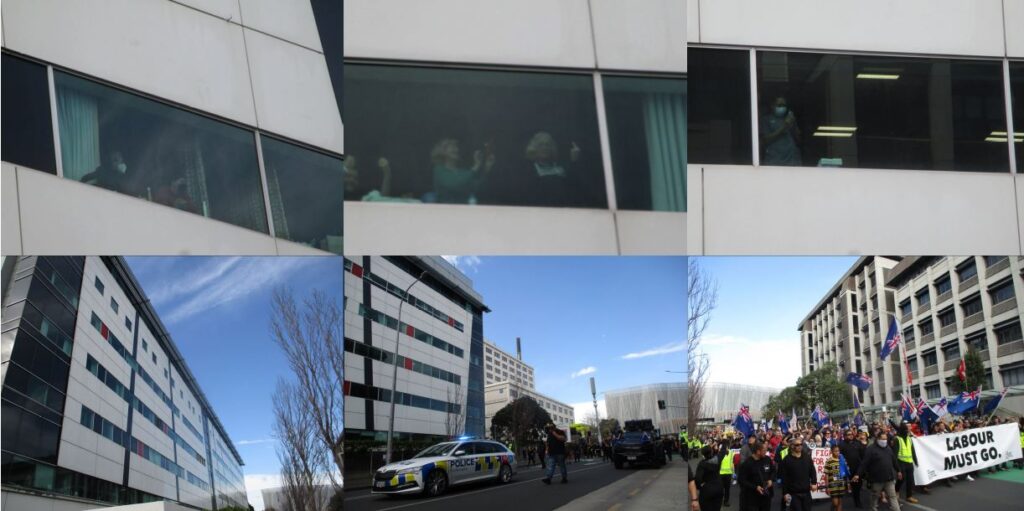 Tamaki said he acts within the law. Hendricksen later performed a 'live cross' from outside the Auckland Central Police Station, where she said Police would review whether or not action against protest organizers would occur.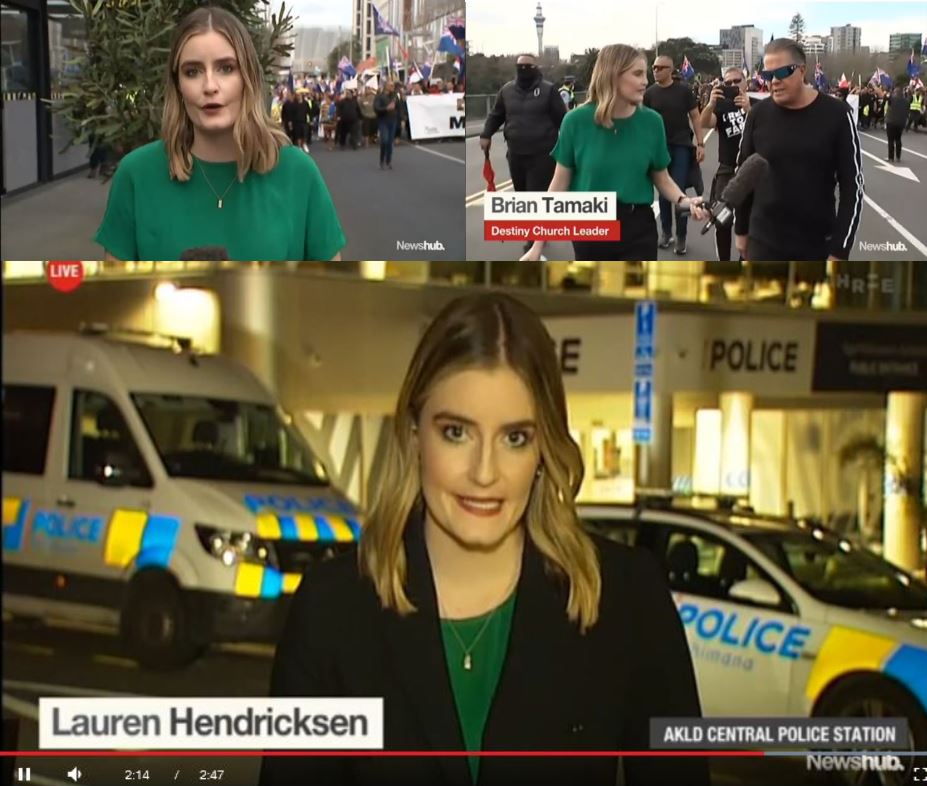 The Freedom demonstration, which was organized by The Freedom and Rights Coalition (TFRC), commenced a march at about 1:30pm leaving the Auckland Domain, and headed along Park Road past the front emergency entrance of Auckland Hospital, and continued onto Grafton Bridge, where it paused for photographers to get shots of the lead banner without any pesky protesters spoiling the composition.

At this point, I weaved my way through the crowd, and had to nudge my way through a couple of layers of heavy-set men from The Freedom and Rights Coalition who walked shoulder to shoulder with the intention of preventing anyone breaching their 'frontline'. At the last line of 'defence', one of The Freedom and Rights Coalition 'marshalls' tried to prevent me making my way forward into my near future, where I envisioned getting shots of the march on the bridge.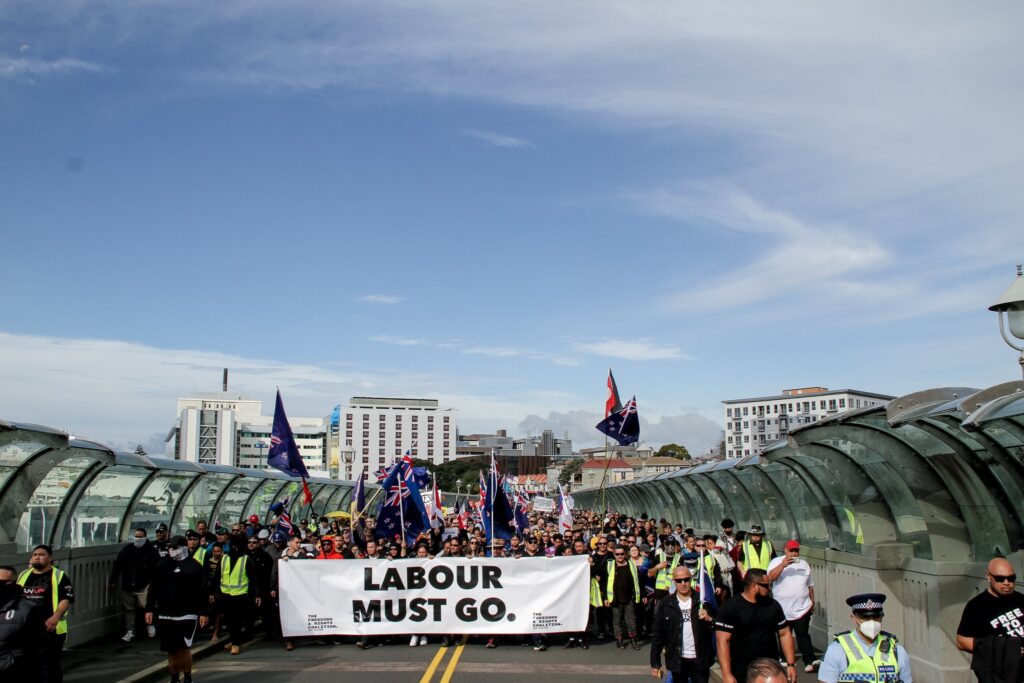 The man — who looked like he moonlighted as a bouncer — grabbed my arm while I said, "I'm media", but I noted he didn't warm to me. So, as the Snoopman I transformed my body as best I could into Jellyman by emulating a Mexican Wave ninja move. As his grip slipped, we shared a tender moment holding hands.
But, since both of us are het-men with pronouns 'he', 'him', and 'mine' — it didn't occur to either of us to share our phone numbers. As I broke from his grip, he called out to me "Don't go!"

[Editor's note: Dystopian movie spoiler alert ahead!]
This pitiful request set off a neural pathway in my highly organized brain-thing to recall the ending of the darkly humorous dystopian film, THX-1138, by George Lucas. At the film's end, a robot cop pleads with the protagonist, THX-1138, played by Robert Duvall, as he climbs his way out of the underground technocratic totalitarian city ruled over by the All Earth Council, a Biochemical Forum and a technocratic class — and where love is a crime.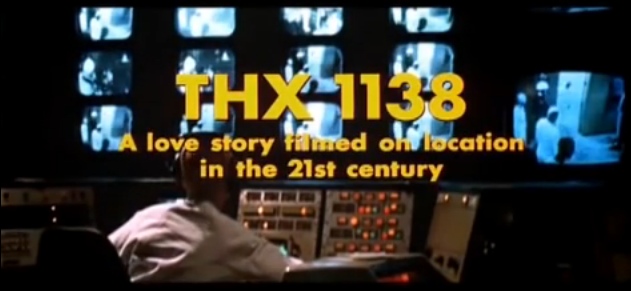 Evidently, The Freedom and Rights Coalition haven't fully comprehended the noun words between 'The' and 'Coalition'.
Meanwhile, in 2022, the Rally at the Auckland Domain was confronted with a counter-demonstration, called 'FARC off Brian', located beside the War Memorial Museum. The 'FARC off Brian' group played on Brian Tamaki's name and reworked The Freedom and Rights Coalition's acronym to produce a variant: FARC.
The 'Anti-FARC' organizer Mark Graham said he found The Freedom and Rights Coalition "whole approach repugnant", which he claimed was "American right-wing extremist talk".
Unfortunately, the 1News reporter didn't appear to ask Mr Graham for any examples.

Mr Graham seems to have been influenced by biased media coverage that has emphasized a small minority who show up with Trump tee-shirts, American flags and MAGA (Make American Great Again) caps. Such biased news coverage is in keeping with dirty attack politics that was ironically imported by the National Party under Don Brash and John Key.
Ironic because — when Key's dirty political attack machine was exposed by Nicky Hager in his 2014 book Dirty Politics, those on the spectrum of the 'political left' essentially believed they were immune from behaving in such under-handed ways. Lefties also came to believe they wouldn't fall for the kinds of media propaganda that had been fed to news audiences via National Party-aligned Cameron Slater's Whale Oil blog, and David Farrar's Kiwiblog.
In November 2021, Hager wrote an open letter to his "vaccine hesitant friends" because he said he was disturbed to hear they joined an anti-vaccine mandate protest in New Zealand's capital city, Wellington.
Hager typed:
"When people I know march down the road with white supremacists, Trump supporters, fundamentalist Christians, people who are pro-guns, anti-UN, anti-immigrant and anti-Jewish, people who believe a powerful "them" want to kill millions and enslave the earth, things have got totally out of hand."

— Nicky Hager, The Spinoff, November 12, 2021
Ironically, in November 2015, Hager featured in an interview with former Parliamentary Press Gallery reporter Toby Manhire in The Spinoff, in which he spoke about the "retaliation phase" that included the Crown Police raiding his house following the publication of his book Dirty Politics, and the court case against the Police.
Hager said:
"Like all countries, we are experiencing a new intolerance to whistleblowers and people who provide leaked information."

— Nicky Hager, The Spinoff, November 3, 2015
Yet, Hager in 2021 failed to realize — due to his own ideological blinkers — that he had fallen for the military grade media propaganda that spread through the global newschain. The fear-porn and hopium packaged as 'news' were designed to forge a new hegemonic bloc of Corona Cult dogma based on scientism, rather than sound science, debate and wisdom.
In other words, Hager was blind to his own 'ideological injuries', just as his fellow freedom-loving folk — who can be located on the spectrum of the 'political right' — have blindspots. Because, grown-ups everywhere have been indoctrinated to internalize left or right wing dogma, regardless of whether or not such mortals identify as political animals.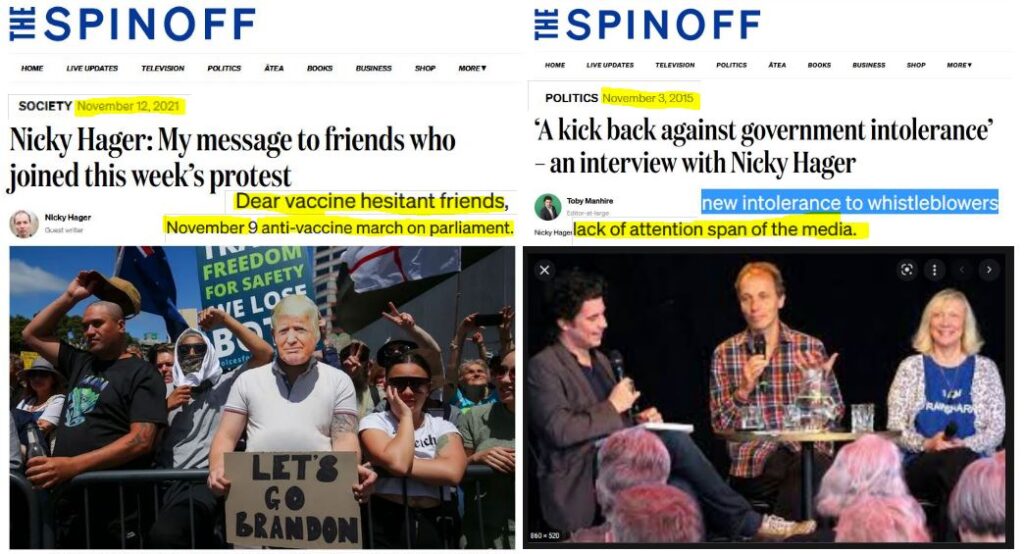 Where 'Mr Nice Guy' Key would have been slammed by the highly organized political 'left' activist networks if he had locked-down the country, the Ardern Government has largely gotten off scot-free for inflicting draconian 'pandemic response measures'. In other words, because nearly all United Nations countries responded in lockstep — and without any major corporations pushing back, nor any widespread public debate — those who internalized the behavioural modification programming failed to question whether a global coup d'état had occurred right before our very eyes.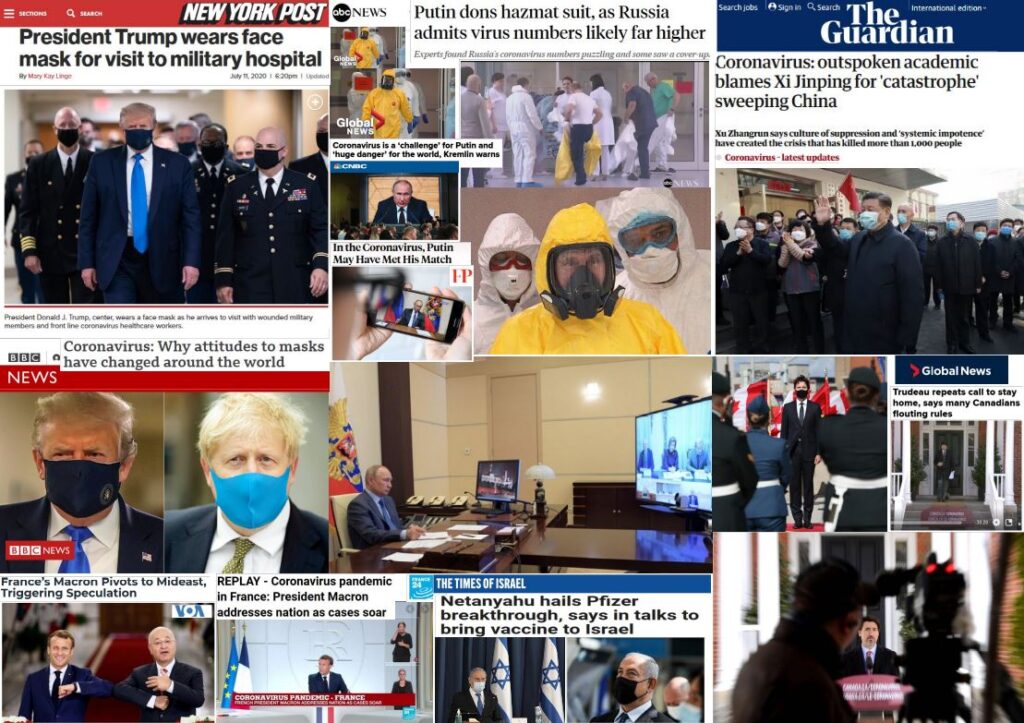 Amid a climate of fear, confusion and physical isolation, the planet was subjected to a relentless propaganda campaign that had been work-shopped, field-tested and honed for nearly two decades.
The propaganda fortress network built by the Ardern Government included the monitoring of New Zealanders' social media accounts, its sponsored gaslighting campaign to brainwash New Zealanders, and which in turn supplied valuable advertising revenue to the establishment media and the so-called 'independent media.
As a result of the military-grade propaganda, the 'FARC off Brian' group's main banner essentially accused The Freedom and Rights Coalition of being fascist and haters of community. The news media did not ask Mr Graham if the 'FARC off Brian' group's main banner was an extremist view.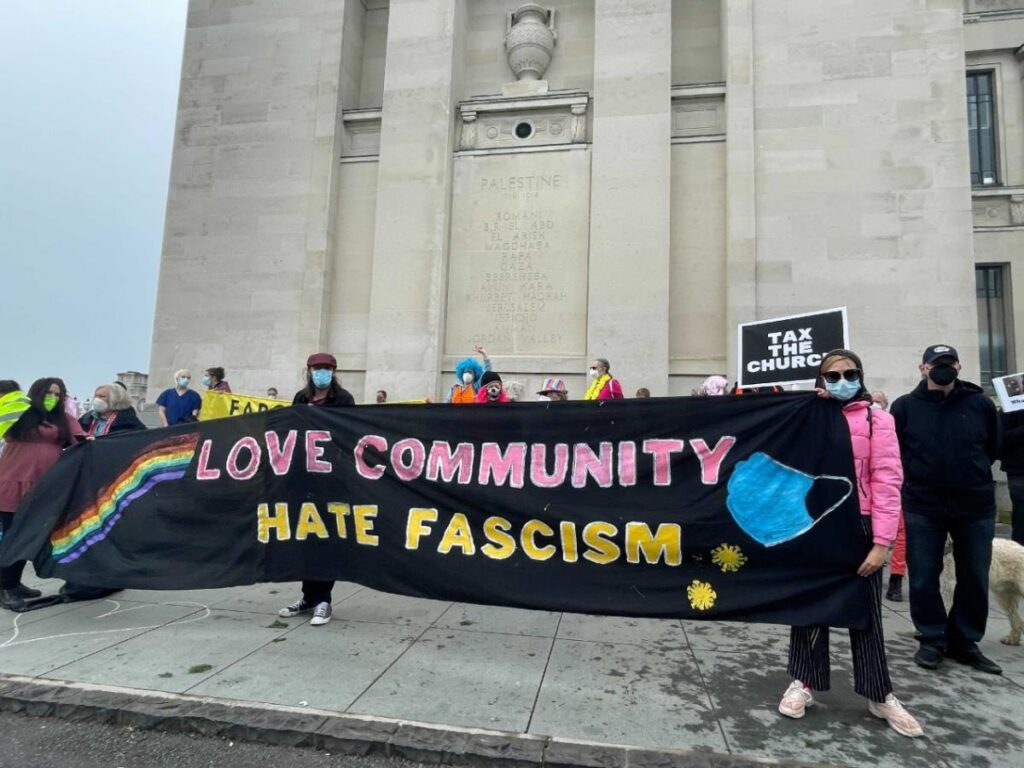 In the interests of advancing the divisive 'anti-vaxxer' narrative, TVNZ's 1News played a shot of a nameless Māori man speaking from a wheelchair, while sitting beside him was a Pākehā woman, who was also sitting in a wheelchair. The reporter, Mr Mercep, narrated:
"It was a day of two protests. The Freedom and Rights Coalition sticked to its anti-government, anti-vaccine message."

— Simon Mercep, 1News, 6 August 2022
The unnamed Māori man said:
"We're not going to stop. I'm standing up for the vaccine injured and those who are suffering and are going through hell at the moment."

— Rob Martin, former Auckland DHB worker, 6 August 2022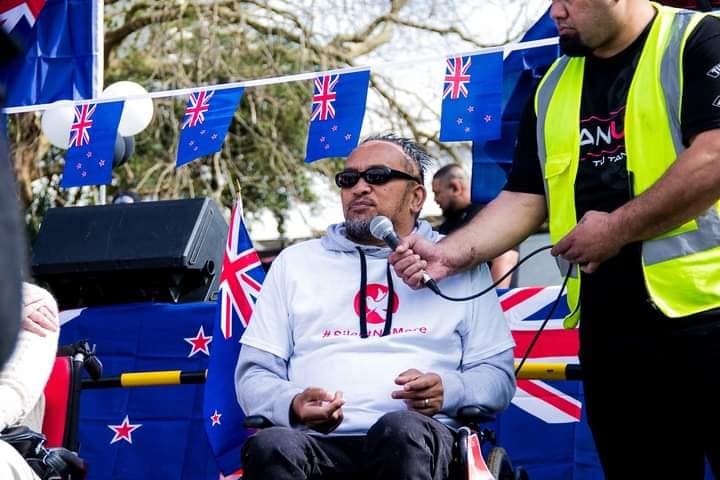 But, because 1News — along with Newshub, NZME's New Zealand Herald and NewstalkZB, Stuff News,Radio NZ and Māori Television — are vaxxist institutions, they continue to uncritically support the NZ Governments' vaxxism policies.
"Vaxxism is a contagious strain of totalitarian ideological dogma that prejudices individuals based on their vaccination status by discriminating, penalizing, ostracizing or otherwise violating their human rights because they refuse to comply with a medical apartheid regime, due to its cultural coercion, economic blackmail and Nuremberg Code-breaching treatment of populations as test subjects in mass scale product demonstrations of invasive technological innovations."

— Steve 'Snoopman' Edwards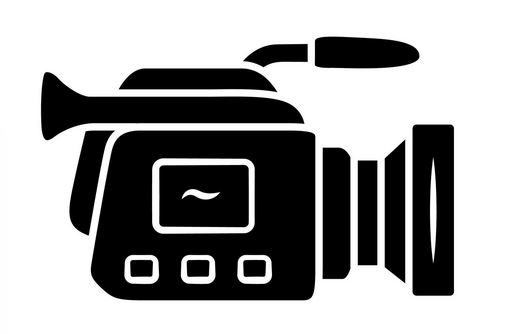 Speaking for the Vax-Injured
The unnamed Māori man was actually former Auckland District Health Board (DHB) worker, Rob Martin, who had worked at the Auckland District Health Board (DHB) for 25 years.
Mr Martin also said, "I was good provider for my family." He said his dreams and aspirations for his family were ruined because he had listened to the NZ Government.
At the end of March 2022, following a vigil for the Covid 'vaccine' deceased in Wellington and a handover of a petition, Mr Martin told the news media he had suffered a stroke after receiving the second Pfizer shot.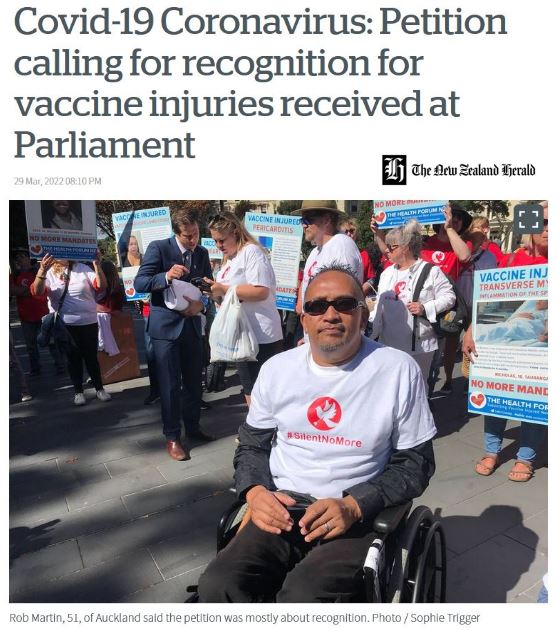 In a Facebook post of July 22, entitled "Standing for All", the wheelchair-bound 51-year old Auckland man said he had suffered a stroke and subsequently a heart attack because as a DHB worker, such 'frontline' workers were the first to be mandated for the jab.
At the Auckland Domain, Mr Martin also spoke of the lack of accountability in New Zealand and around the globe regarding the jab's health impacts. He said of the NZ Government, "You need to be held (accountable) for crimes against humanity."
The Pākehā woman sitting in a wheelchair next to Mr Martin, was former Mighty Ape worker, Casey Hodgkinson, who in November 2021 had recounted her 'vaccine' injuries during an interview with former One Network News anchor, Liz Gunn.
Hodgkinson had told Gunn that she could not complete a full week's work as a warehouse picker the following week after her first Covid shot on 25 September 2021.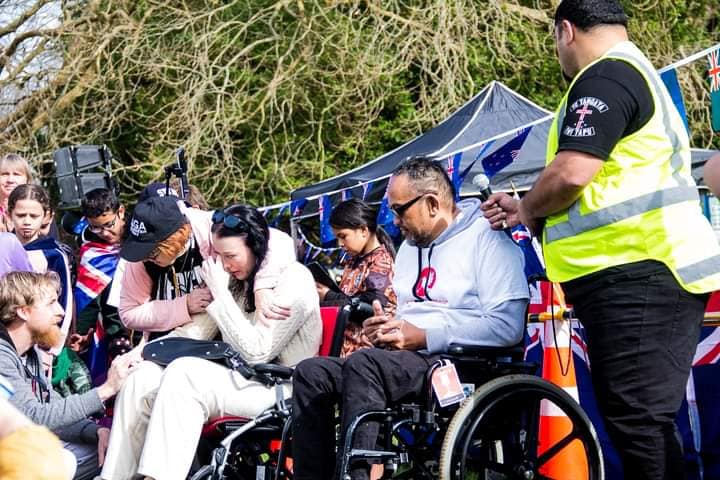 Clearing tears from hers eyes before the Domain crowd, Hodgkinson said:
"You're my community. You guys are what are getting me and many like me through this, because you're here for us. You don't realize how much that gets us through for our struggles."

— Casey Hodgkinson, former Mighty Ape worker, 6 August 2022
Hodgkinson said to Gunn she had moments when she feels like she is stuck in her own body, when she can't move, and she has to fight her body to "come back". The North Shore woman also told Gunn she had stabbing pain in her legs when she walks, has numbness throughout her body and has constant spasms.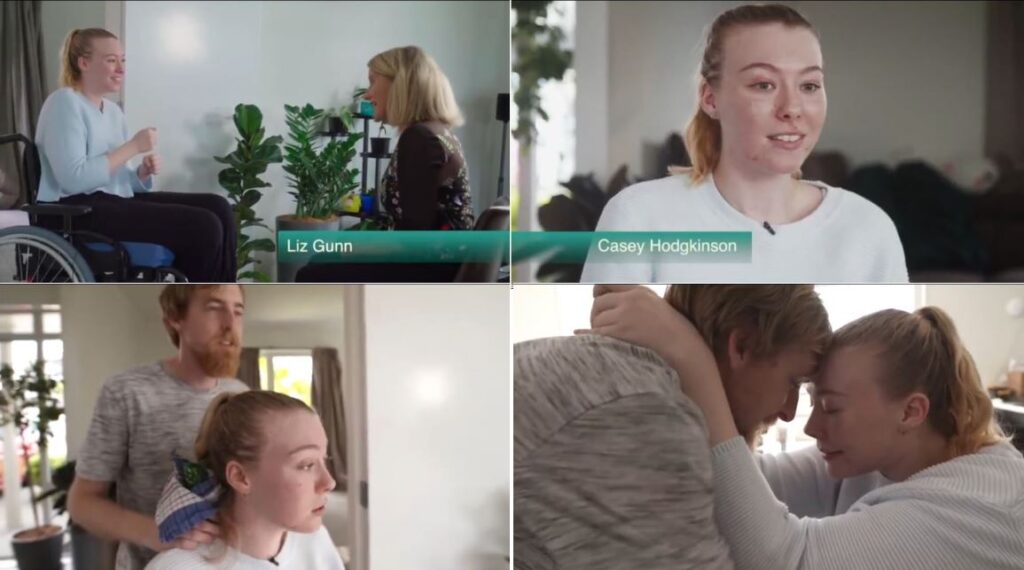 Advocate for Accident Compensation Compensation (ACC) claims, Jeannette Brock, said in an interview with former New Conservative Party leader, Leighton Baker, that Casey Hodgkinson has been diagnosed with severe Tourette syndrome.

Despite this diagnosis of Hodgkinson's illness, and Martin's post-stroke and heart attack health conditions, neither have received any ACC support. This means ACC would not acknowledge the injuries, illnesses or conditions were caused by the Covid 'vaccines' — as Hodgkinson and Martin claim — according to a Health Forum source.
With resolve, Hodgkinson said in her speech on Saturday:

"I've had to endure a lot of hate through this [experience]. And trust me I'll go through it again if I have to, for all the awareness that I hopefully [and] others like me and Rob (Martin) can bring to others as well."

— Casey Hodgkinson, former Mighty Ape worker, 6 August 2022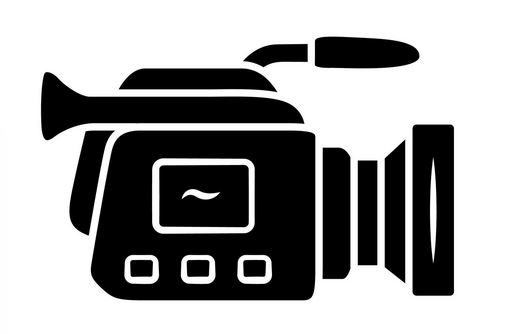 Health Forum NZ and The Hood
Another of the speakers was, Lynda Wharton, who spoke about how she established Health Forum NZ out of sheer frustration because she could see there was no systemic support for the vaccine injured and the loves ones of those that died post-vaccine.
Lynda Wharton said, with the help of "an amazing team of volunteers", Health Forum NZ had built their own database, with testimonials of the Covid-vaccine injuries, illnesses and deaths. The Health Forum has 30 doctors and nurses, who were mandated out of their jobs, to gather testimonials, check paperwork and assist with getting help and care.

"This is my full time sixty-hour-a-week job for over a year, talking to and recording the stories of damaged New Zealanders who are ignored, subjugated, sidelined and dropped by the state," said Wharton.
Despite, The Health Forum's valuable work filling a gap in New Zealand public health system, its first Facebook page had 55,000 members prior to it being pulled in the aftermath of the ballsy, rebellious community-building Parliament Grounds Occupation of February 8 to March 2022.

At the Auckland Domain Rally, Wharton stated in New Zealand there had been 171 post-Covid injection deaths reported to Medsafe New Zealand, which administrates an adverse events database called CARM (Centre for Adverse Reaction Monitoring). Wharton said in a typical year, there were one to two deaths reported for all vaccines.
There are currently 68,000 adverse reaction events reported to Medsafe NZ, Wharton said. She added that Medsafe New Zealand's voluntary reporting typically captures only 5 percent of all pharmaceutical drug-related adverse events.
During an interview with former ACT Party leader Rodney Hide on The Platform, Wharton said that the voluntary nature of Medsafe's drug injury reporting system meant that it is an inadequate safety signal mechanism.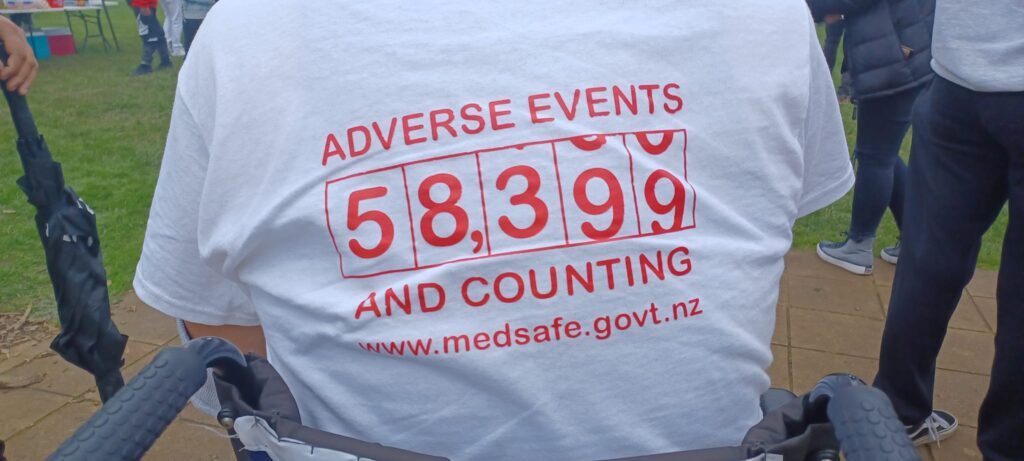 Wharton handed the mic to the founder of 'The Hood', Sereca Skye, who organized "eight brave families", nine expert doctors and a legal team to challenge the NZ Government in the Wellington High Court on June 27 and 28.
The legal case was about overturning the government's program to vaccinate 5 to 11 year-olds, since the "children do not need" the 'vaccine' product.
Sereca Skye told me The Hood also focussed on the 5 to 11 year olds' bracket because she felt young children's rights were being sidelined, especially since they are too young to advocate for themselves.
In an interview with Liz Gunn, Sereca Skye said that among the issues they raised in the High Court was the apparent breach of childrens' rights to not be subjected to medical treatments for the benefit of others. The justification for mass injections administered to children was on the basis of protecting others with co-morbidities, especially the elderly.

Skye said to the crowd at the Domain, Dr. Robert Malone, Dr. Peter McCullough and Dr. Geert Vanden Bosch were among the nine experts who provided reports, and the judge acknowledged their evidence was valid for consideration (which is taking place presently). Skye said that this judicial acknowledgement "was a big win".
Indeed, in a new Canadian documentary titled Uninformed Consent, the creator of mRNA technology Dr. Robert Malone said the mass production of the Covid 'vaccines' was the first time the technology had been used on humans. He stated the global roll-out of the injectables has occurred while the stage 3 human clinical trials are still in progress.

In a panel discussion with The Highwire health news show host, Del Bigtree, Dr Malone said the Covid jabs were "all risk and no benefit" and the mass vaccine programs needed to be stopped immediately.
Furthermore, the experts in the Uninformed Consent documentary argued that the use of known effective therapeutics such as ivermectin and hydroxychloroquine were besmirched and banned. This systemic propaganda was inflicted in order to favour the use of a known lethal drug remdesivir — as well as to herd populations towards mass 'vaccination immunity' programs — as Robert F. Kennedy Jr proved in his 2021 book, The Real Anthony Fauci: Bill Gates, Big Pharma, and the Global War on Democracy and Public Health.
Therefore, the news coverage of this 'Kiwi Patriot Rally' demonstrated the unwavering fervour of evangelical media missionaries to carry-on maintaining the vaxxist bigotry forged in a climate of scientism dogma amid the 'Great Corona Hostage Crisis'.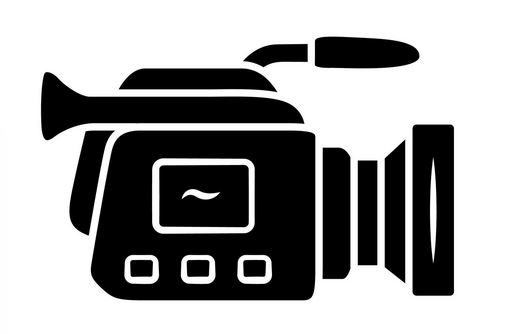 The Politics of Re-Forging Freedom
Following the 'Patriot Day Rally and March', I messaged Voices for Freedom to ask why VFF did not have a presence, since they have 40,000 members and 100,000-strong email list.
One of VFF's co-founders, Alia Bland, responded:
"We observed huge marches occurring overseas with little change as a result and decided that we would take a more creative and flexible approach with VFF in NZ. Also, we are careful to assess the ability for any potential action to successfully reach and engage what we call the 'wobbly middle'. Across the board we have noticed lower enthusiasm for actions such as marches, as evidenced by low turn out at all of the recent march events. When these public gatherings consistently pull smaller crowds it makes the freedom movement appear much smaller than it actually is."

— Alia Bland, Co-founder, Voices for Freedom, 8 Aug 2022
The news media reported a couple of moments when apparent supporters of the 'Kiwi Patriot Day' had verbal and physical exchanges with the anti-FARC demonstrators. In one incident, Damien De Ment, who organized the first anti-lockdown protests under the banner of the Auckland Liberty Movement, did a mock dance in front of the anti-FARC demonstrators, which included a pair wearing unicorn helmets, as they chanted "go away".
An anti-FARC demonstrator called Mr De Ment a "dickhead".
The friction between the two sides, as depicted by Counterspin Media, demonstrates the division that has amplified across the Western democracies since the pandemic, to the benefit of the global élite — who thrive on crises.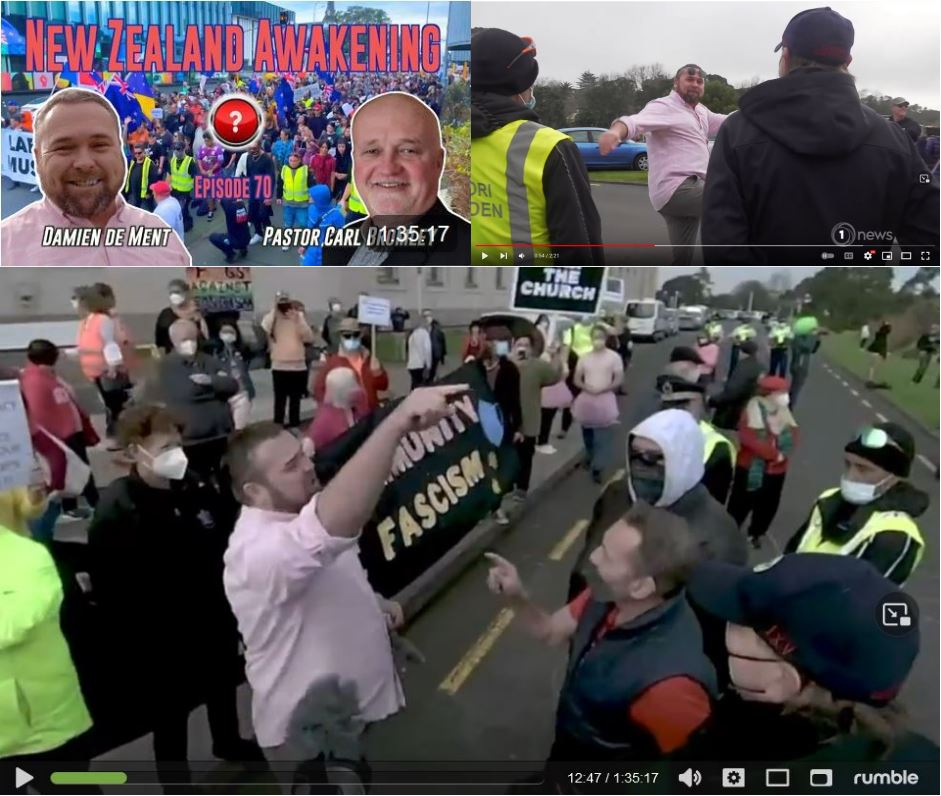 Another apparent TFRC demonstrator was arguing and then gave a mask-clad anti-FARC demonstrator a soft nudge.
Mask-wearing Māori Wardens and Crown Police intervened, while the media recorded the conflict and the anti-FARC demonstrators got the disruptive imagery they came for.
The New Zealand Herald and NewstalkZB claimed the Freedom and Rights Coalition attempted to enter the motorway at Kyber Pass, but were rebuffed by police.
The Freedom and Rights Coalition claimed on their Facebook page that the MSM was lying and posted a map claiming to be the route they sent to NZ Police on August 4 2022. The Freedom and Rights Coalition NZ Facebook page stated:


"We clearly let them know, and the New Market Business Association, that we weren't going on to the motorway."

— Freedom and Rights Coalition NZ, 6 August 2022
However, the map shows the protest march route down Kyber Pass would take a left-turn at Nugent Street, and then a right-turn onto Carlton Gore Road, where the marchers would head back to the Auckland Domain.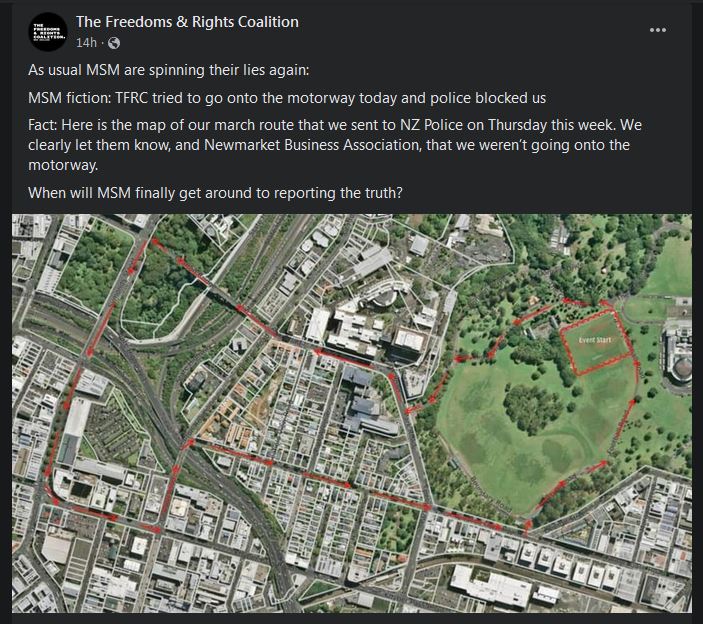 Instead, once the march approached the Nugent St intersection on Kyber Pass Road, the lead vehicle, a black Holden, attempted to go straight ahead and was intercepted by a police patrol car.
A discussion between a police officer and the lead scout for the Freedom and Rights Coalition took place, while Brian Tamaki watched beside the Holden SUV.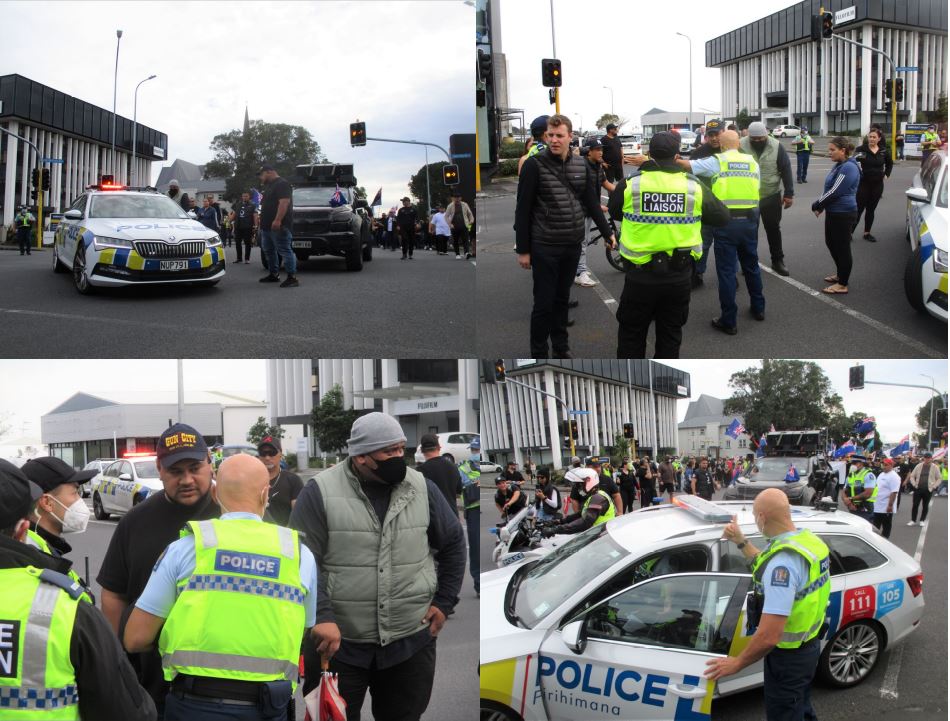 The lead scout negotiated for the march to continue down Kyber Pass Road, past the heavy police cordon blocking the motorway on-and-off ramps.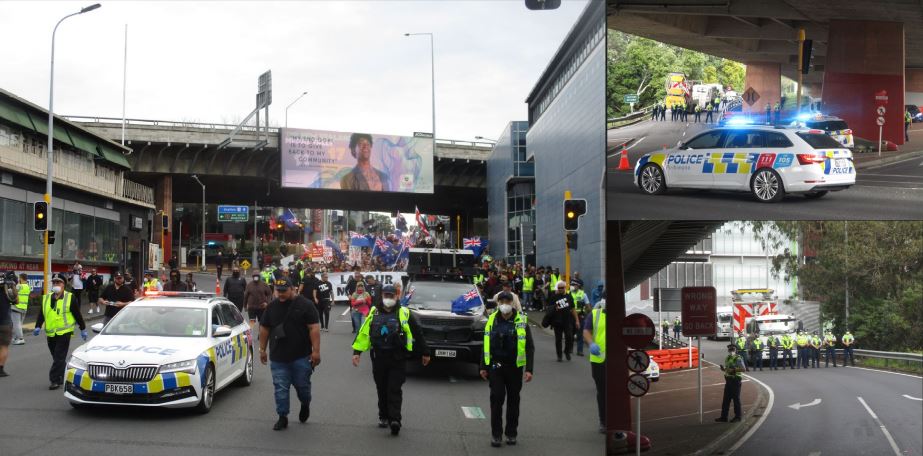 With this apparent deviation from the Freedom and Rights Coalition route, the news media were fed more conflict material with which to fill their coverage.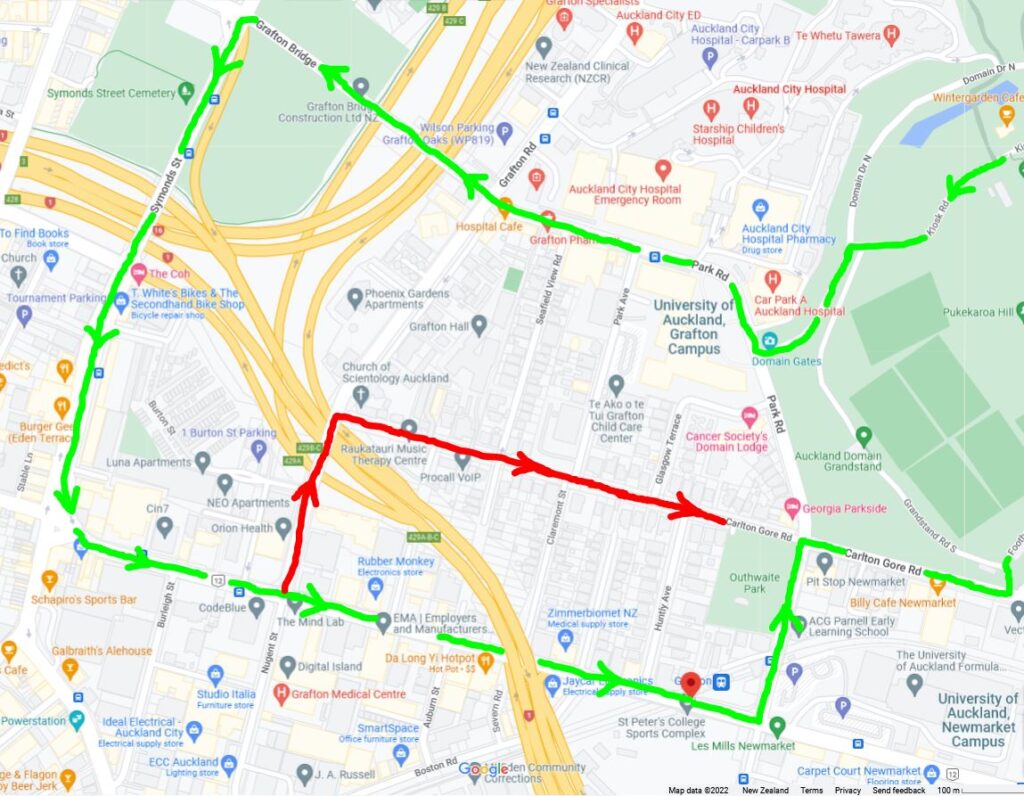 Two weeks prior, the Freedom and Rights Coalition march breached the motorway in Newmarket, causing traffic delays, disruption to the New Normal and embarrassment for Auckland's Police Constabulary.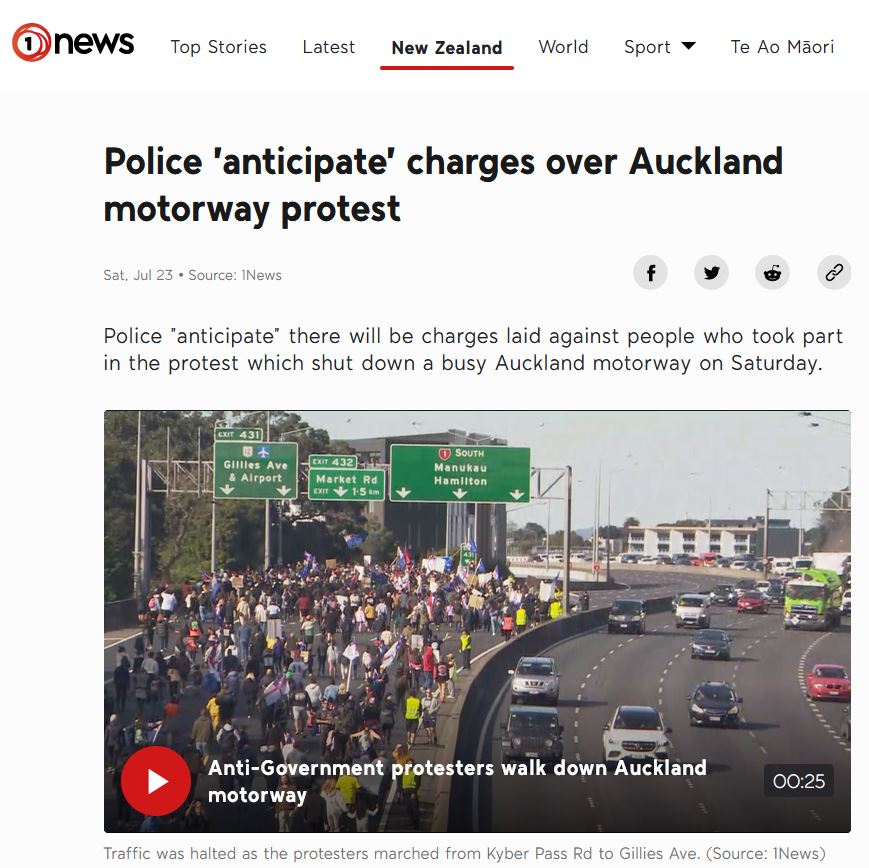 Of The Freedom and Rights Coalition's recent pivot to politics, Voices for Freedom co-founder Alia Bland wrote:
"TFRC have been clear that their direction has become political. Our coordinators let their members know which events are coming up and people are free to attend whichever events they like. At this time we remain focused on a different path to national politics and our activities reflect this decision."

— Alia Bland, Co-founder, Voices for Freedom, 8 Aug 2022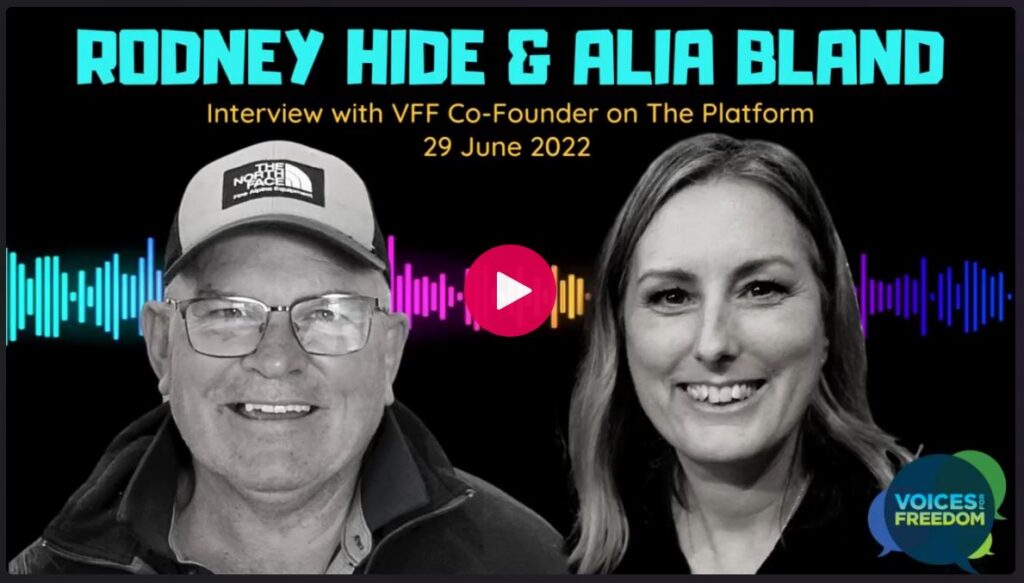 In mid-July 2022, VFF produced a video titled "What is Rebuild Free — An Introduction" to promote their newest initiative, Project Rebuild Free. The initiative is focussed on forging national resilience at the community level by rebuilding the culture.
The Project Rebuild Free video identifies the need to build in resilience among a core of the population by educating communities on the immediate need to develop food security, and other reserve supplies such as cash, water, and general goods including clothing, and off grid fuel, energy and communications networks.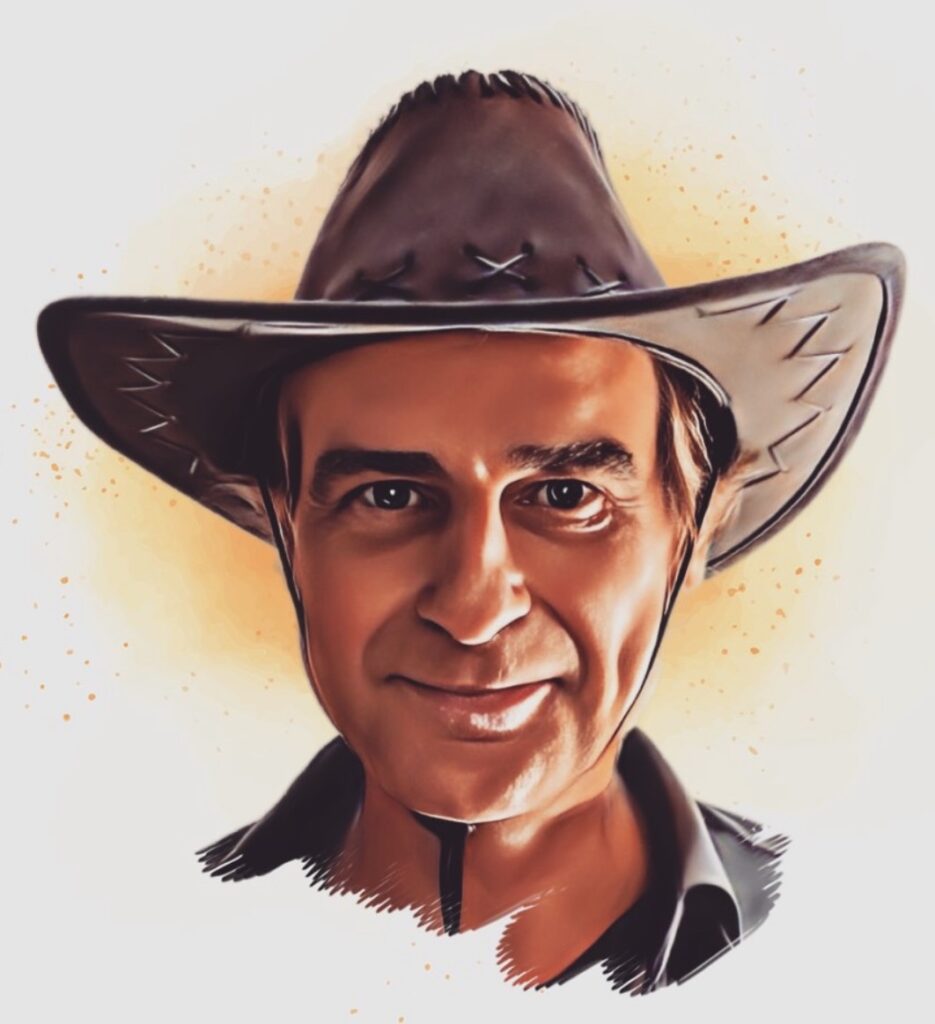 Snoopman's Analysis: Media Amnesia and The Big Picture
The news media plays by its own set of rules, which are different from the principles that most humans expect of organizations that brag about their media awards for best investigative journalism.
As I stated in the beginning of "Frame My Media", the media universally treats every civic movement with disdain until the groundswell is ground to pulp, or it wins respect — by being super-organized, or for becoming controlled opposition. The news media doesn't care about the nuances of ideas written on placards, banners or skin, or the substance of counter-arguments in speeches, nor on the depth or diversity of support — until the culture has changed.
Absent a core that transforms the culture with resistance, research and resilience, the news media will continue to feed on conflict, like psychic vampires. The media maintains a status quo to manage human herds for revenue, power and ego, by amplifying any moments of drama out of proportion like the moralizing, scolding, fear-mongering evangelical missionaries who lectured aboriginal or indigenous populations back when the cannon powers were expanding their colonial empires.
If the newsrooms of 1News, Newshub, and the newspaper chains, Stuff and NZME, as well as Radio NZ, NewstalkZB and my former employer, Māori Television, had bothered to inquire, jog their memories, or check online, they would have realized the wheel-chair bound man's former employer was the Auckland District Health Board — for a quarter of century.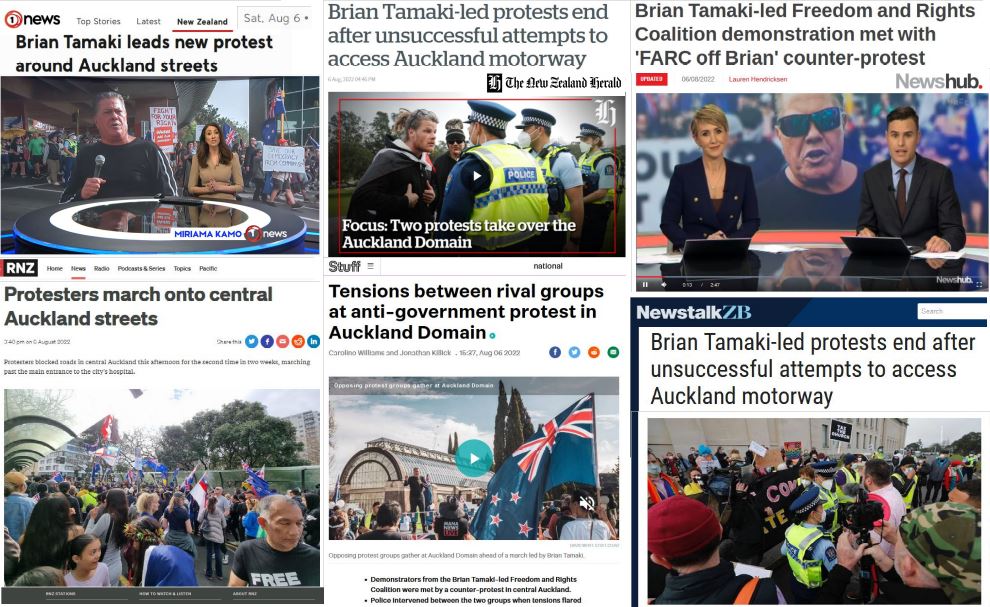 The deep irony that Rob Martin was a 'frontline' medical worker, and therefore he was in the very cohort that was mandated by the New Zealand Government first — speaks volumes of the repugnant rot at the core of the pandemic response measures.
Similarly, Casey Hodgkinson's case highlights the corporate compliance pressure to get vaccinated, since she was a warehouse picker, and therefore was not interacting directly with customers or clients.
Both cases prompt a reasonable question: How many ACC claims have been declined, stymied or otherwise blocked?
And have ACC denied there is a causal link to the Pfizer's Cominarty product in the cases of Rob Martin and Casey Hodgkinson because they took up the jab injury awareness cause?

As Lynda Wharton said, the "vaccine injuries and deaths are real" and the victims have been "dropped by the state."
Even jab-injured frontline workers could be forgiven for thinking they are victims in a silent health war.
After all, during the 'pandemic', it was the New Zealand Army that was managing the operations of the Managed Isolation and Quarantine MIQ 'facilities' many of which were hotels and motels, in accordance with the broad subversive vision predatory philanthropist, Bill Gates.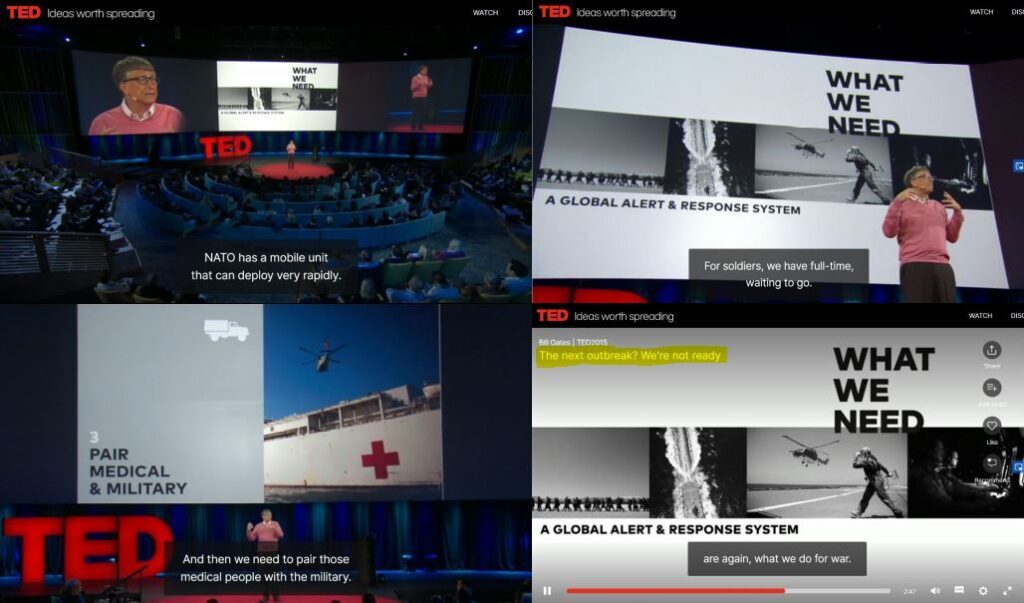 It was Gates, who sowed the seed of the subversive idea to merge the military with the medical field, based on NATO's medical corps, during a 2015 Tedtalk in which he lobbied for germ games, rather than war games — as I showed in part 3 of my Corona World Games series — "All Techno-Feudalist Roads Lead to 'Dark Winter' Amid World's Third Hundred Years' War".


Robert F. Kennedy Jr found while researching his book, The Real Anthony Fauci: Bill Gates, Big Pharma, and the Global War on Democracy and Public Health, 17 pandemic exercises served as a staging ground for programming hundreds of thousands of people to work like automated parts of a machine once a global pandemic was declared.
Therefore, it is ironic to observe that from the outset of the pandemic, the NZ Government's monitoring of New Zealanders' social media accounts, its sponsored propaganda campaign and its bullying dismissal of credible criticism are precisely the behaviours consistent with a police state that has waged a war — whether declared or undeclared.
For its inglorious parts, it would appear that the media has become addicted to the type of politics of attack, scapegoating and bigotry that Nicky Hager complained in 2014 had turned the New Zealand political environment toxic.
Where 'Mr Nice Guy' Key innovated on Brash's use of a political strategist firm Crosby|Textor to forge an attack machine to 'outsource' the dirty political hits that were fed to the media, the Ardern Government essentially forged a fortress network out of the existing media, advertising and communications infrastructure during the over-hyped pandemic.
Moreover, New Zealand's media appear to have become addicts of the Ardern Administration's media subsidies and journalism grants, while the Government outsourced the monitoring of New Zealanders' social media accounts to a subsidiary of a New York-based global media company called, Omnicom Media Group (OMG).
Crucially, this global media company was described by Professor Peter Phillips in his 2018 book Giants, as one of several propaganda firms specializing in advertising, public relations and marketing to serve the global power élite.
As I reported in my article Spy My Media:


"Under the 'corporate umbrella' of Omnicom Media Group (OMG), the NZ Government has been able to manipulate the thoughts, feelings and understandings of the archipelago's captive population by out-sourcing social snooping to Omnicom, whose top three owners reveal the 'Blackrock-Vanguard-State Street Connection' to Pfizer."


— Steve 'Snoopman' Edwards, 5 May 2022


As if that weren't bad enough, I also found:


"During the Corona Plandemic, one of Omnicom's advertising agencies, Clemenger BBDO, created the NZ Government's 'Unite Against Covid-19' campaign, which contained four functions of ideology that are essential for successful propaganda to brainwash a population."
Once it is known that New Zealand's Epidemic Response Plan stated the Ministry of Health's surveillance system was calibrated to be triggered by the World Health Organization, and it is learned that the WHO removed the crucial threshold of scale and proportionality from its pandemic definition just weeks before the H1N1 Avian Flu outbreak of 2009 — any smart nine year-old would begin to see the UN's member nations have been gamed by players seeking more wealth, power and control.
In essence, the peoples of Western 'liberal democracies' were subtly cast as Covid suspects while being asked to believe the ironically childish notion that public health is the only sector immune from corruption, conniving and collusion.
For two years, New Zealand's Director-General of Health Dr Ashley Bloomfield had been one of the key officials who had overseen the infliction of measures disproportionate to the threat, when more targeted public health measures to take care of the old, sick and otherwise vulnerable people, would have been a sound, wise and lawful approach.
Instead, Bloomfield participated in the infliction of Medical Martial Law and was assisted in that unsound course by New Zealand's media cartel who acted as a vector for spreading a contagion of fear porn news amid a global propaganda pandemic that over-hyped the health threat — as I wrote in my 8th Wellington Dispatch headlined, NZ Newsrooms Cover-up Police Breaches of Peace at Parliament Occupation.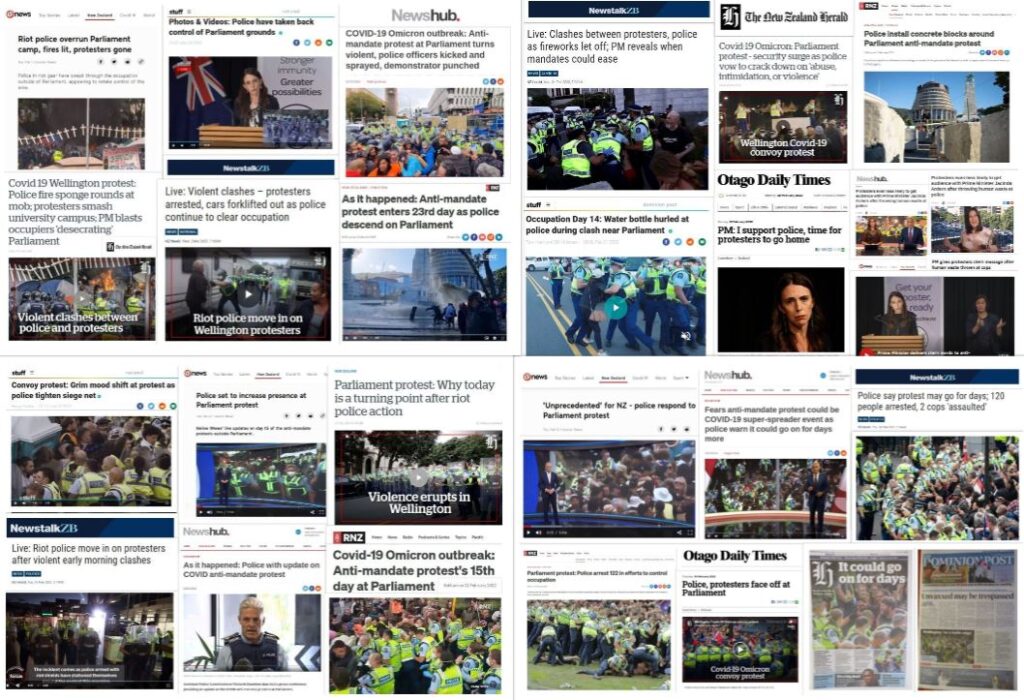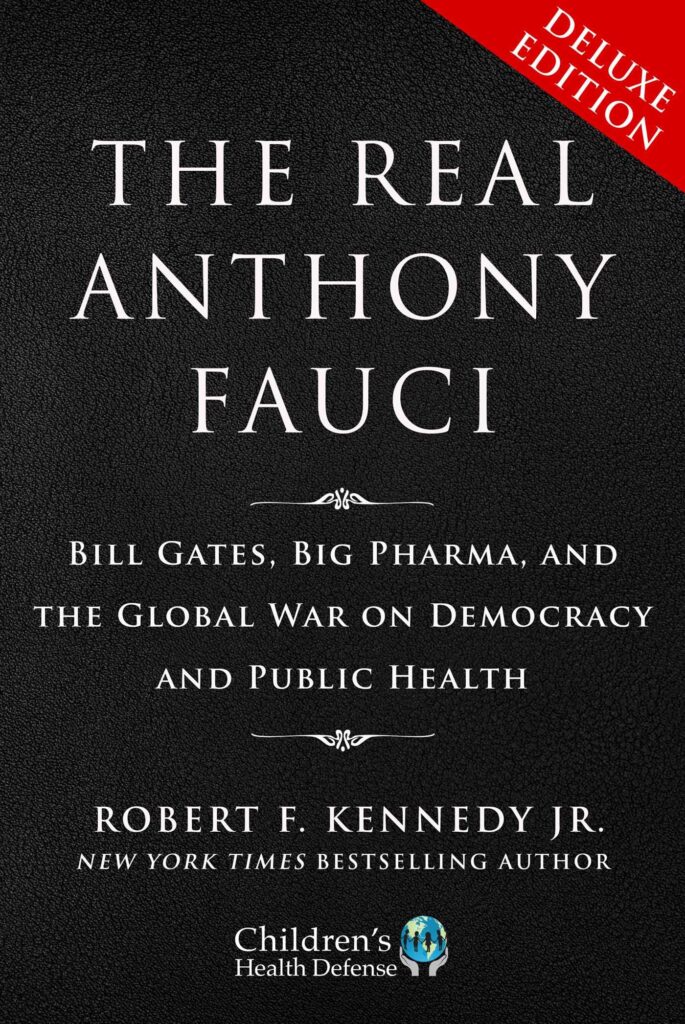 Acting as a check on abuses of power, is after-all, the marketed purpose of media journalism, as every newsroom that has won investigative awards will boast. And yet, for over two years, New Zealanders have been gaslighted, along with much of the Western world, to tolerate incursions into their daily lives that most would have thought only possible in the police state of Russia or in totalitarian China.
Instead, an enemy image was forged out of dissenting voices who were labelled anti-maskers, anti-lockdowners, anti-vaxxers, conspiracy theorists and far-right extremists — with the complicity of New Zealand's newsrooms.
The lack of news diversity, while biasing the perspectives of official sources, is in keeping with the five news filters of the Propaganda Model as explicated by Edward S. Herman and Noam Chomsky in their 1988 book, Manufacturing Consent: The Political Economy of the Mass Media.
Crucially, in recent interviews following the publication of his book, The Real Anthony Fauci: Bill Gates, Big Pharma, and the Global War on Democracy and Public Health, Robert F. Kennedy Jr, said Fauci's playbook has been to over-hype or fabricate pandemics in order to accelerate implementation of work-shopped militarized response measures, boost Big Pharma profits and set a system of totalitarian control.
Kennedy — whose uncle was assassinated because his vision was to forge a genuine peace based on supportive co-development rather than a peace enforced by an imperial Pax Americana paradigm — warned that humanity needed to act effectively and quickly, to build a resistance to counter the turn-key totalitarianism that is presently being fast-tracked.
Kennedy warned that if the mass of humanity wakes up after the totalitarians have turned on their technocratic systems of total social control, it will be too late to attempt to dismantle or replace their totalitarian super-structure — because the totalitarian global élite possess enormous wealth, technologies and political power.
======
Steve 'Snoopman' Edwards is a dissident journalist, who worked at indigenous broadcaster, Māori Television, for 14 years as an editor of news, current affairs and general programs. He graduated with First Class Honours in a Master in Communication Studies at AUT University after writing his ground-breaking thesis on the Global Financial Crisis (GFC), titled — "It's the financial oligarchy, stupid" — to figure out the means, modus operandi and motives of the Anglo-American Oligarchy.
Editor's Note: If we have made any errors, please contact Steve 'Snoopman' Edwards with your counter-evidence. e: steveedwards108[at]protonmail.com

Coming Soon: In Part 3 "Frame My Freedom: How NZ's Freedom Movement can Re-Imagine our Emancipatory Evolution", I explore the challenge for the New Zealand Freedom Movement is — as with elsewhere across the world including the Western liberal democracies —to forge resilient parallel social structures to which everyone is invited.